This Sky-Scraping NYC Installation Will Blow Your Mind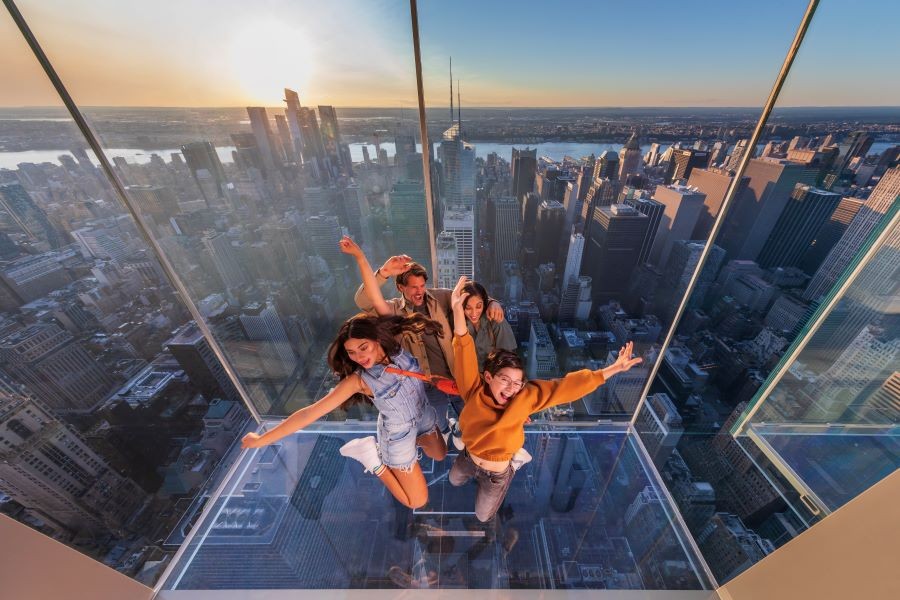 Courtesey of SUMMIT One Vanderbilt.
I've been very lucky to be a part of some of the most unique and one-of-a-kind experiences over my 44 years in the events industry. People always ask, "How do you get to do these amazing events?"  
Because we know that every event that we do at Cerbelli Creative has only one shot to be perfect—there is no tomorrow to go back and fix it!—our clients put their trust in us. They see it year-after-year, how much we care about the outcome of their events.  
And because we have the most amazing clients, we are lucky to be asked to be a part of these incredible experiences. I personally believe we are an enigma, and that there is such a synergy/connection to our corporate and social events.  
How It All Began 
It started many years ago when a client, after his son's bar mitzvah, said to me, "You're going to Puerto Rico to do our incentive program." 
Well, I didn't know what an incentive program was, but I certainly heard him say, "Puerto Rico!"  
Our corporate and social events efforts have now merged. One day we are doing a company gala and the next day we are producing the CEO's 50th birthday. Because of that, we know all the C-level executives and often their entire families. From birth to weddings to anniversaries and unique milestones, we are a part of their lives.  
[See more of Michael Cerbelli's: The Hot List™]
A wonderful friend and client who I met in the early 2000s after his nephew's bar mitzvah said to me, "You have to come in and meet the team." 
From that day forward my incredible fortune with this company has led me to be a part of not only their events and family milestones, but I also participated in their biggest endeavor, which changed the landscape and skyline of NYC—from the groundbreaking to "the topping off" to the grand opening of the most amazing building in Manhattan: One Vanderbilt.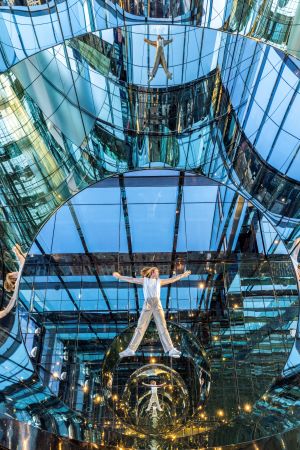 Reaching the SUMMIT 
Saying that One Vanderbilt is an architectural marvel is an understatement. 
Located right next door and connected to Grand Central Station, the crown jewel of this building is 1,200 feet straight up and has become a viral sensation, with influencers and social media fanatics posting to the masses—welcome to SUMMIT One Vanderbilt! 
On October 21, 2021, SL Green Realty Corp., Manhattan's largest office landlord, celebrated the grand opening of SUMMIT One Vanderbilt, the world's most immersive observatory experience. I was lucky to produce this historic ribbon-cutting event for SL Green executives, SUMMIT One Vanderbilt creators, One Vanderbilt partners and New York City leaders. 
In some respects, SUMMIT One Vanderbilt also opened New York City by welcoming back visitors from across the globe, allowing them to take in New York's most stunning views through the truly unique pairing of Air, a multi-sensory art installation, and the thrilling experiences of Levitation and Ascent.  
"We set out to create a truly unique destination for New Yorkers and visitors from around the world to explore, and SUMMIT One Vanderbilt delivers—you need to experience it to understand it," said Marc Holliday, chairman and CEO of SL Green. "From thrilling ways to take in the best views of Manhattan to the multilevel and multi-room immersive art experience called AIR, we expect people to visit again and again."  
A Mind-Bending Art Experience 
Air is a mind-bending new immersive art experience within SUMMIT One Vanderbilt created by Kenzo Digital, in collaboration with SL Green Realty Corp. 
In a true love letter to the city, Kenzo Digital has taken a thousand-foot-high venue with a view that spans from Coney Island to the Bronx Zoo to create a multi-sensory, transformative experience that is groundbreaking, euphoric and will forever change the way we view the New York City skyline.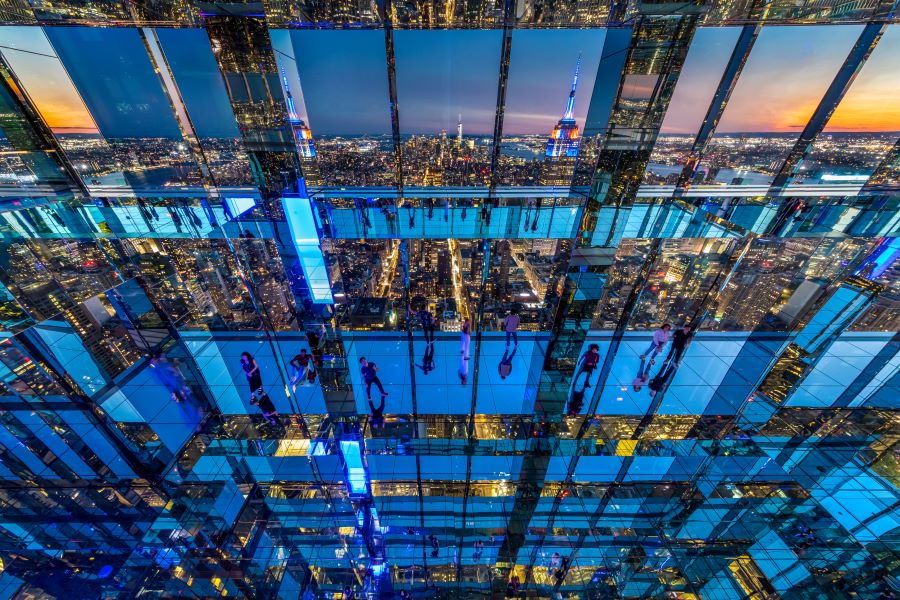 Kenzo is an artist who creates emotionally powerful, mind-bending alternate worlds in physical and virtual spaces, juxtaposing elements of art, film, theater and architecture to produce groundbreaking work that upends your sensory experience in service of story. His goal is not just to entertain or excite, but to engage in ways that create memories of lasting meaning.  
"New York City is my home, my constant source of inspiration; it has molded me and given me so much," he said in describing the installation. "With Air, I wanted to create a space that shares the intoxicating sense of aspiration and inspiration that New York gives me with everyone who visits it—a beacon of possibility that pays tribute to all that New York is, can be, will be."  
[Related: This Meditative Sound Bath Will Immerse and Relax Attendees]
Air is a walkthrough art experience that begins after entering SUMMIT One Vanderbilt, adjacent to Grand Central Terminal, and extends through a mirrored, light-infused elevator ride up a thousand feet to the 91st floor. 
Once atop the building, Air offers visitors a multi-floor, multi-space immersion that challenges their notions of physical reality, the city that surrounds them, and their sense of self. Air is a story of both literal and figurative reflection.  
Through the use of glass mirrors on every structural surface, Air appears boundless, without fixed form, and offers a tantalizing and singular experience for each visitor at each moment. With everything mirrored, each step rearranges what visitors see with incredible complexity and scale, as if in defiance of physics. Air defamiliarizes the world, and the process of finding a new equilibrium opens up a sense of elemental curiosity. 
Central Park in the Sky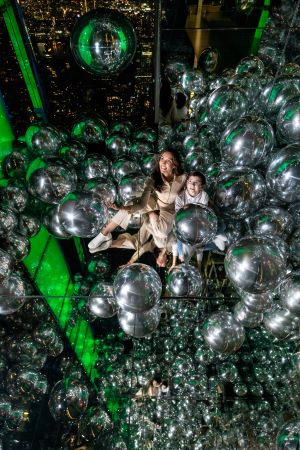 Air is an immersion in nature in the heart of Manhattan, likened to a "Central Park in the sky." With its unique vantage point, Air brings the outside environment into the space and then magnifies it infinitely. Whether sunrise or sunset, blue sky or cloudy, rain or snow, inside Air, every weather pattern conjures a revelatory world that provides endless opportunity for exploration.  
In addition to its remarkable materiality, Air is a living, breathing entity, expressed through its multi-sensory use of sound, lighting, production design and game engine. It's a story that evolves with each successive space, bringing visitors deeper and deeper into the experience until finally, they become part of it. Though Air is deeply personal, the experience reveals shared consciousness, inviting visitors of any age to revel in collective wonder.  
After the sun sets, the magic of Air takes new form as the space is transformed through a one-of-a-kind light and sound story, turning it into a beacon of energy visible to all of New York City.  
"Air is another dimension, where you discover that time rearranges itself as fluidly as the view," Digital said. "Through its boundless juxtapositions of form, Air compels you to live in the present moment: calm, aware, free."  
Air represents a bold, innovative leap forward in physical-space storytelling and the remarkable potential at the intersection of art and real estate on a grand scale. Air serves as the crown jewel of SUMMIT One Vanderbilt, with its unique illusions visible from the street all around the city.  
Air is now open to the public, so the next time you and your clients are in New York City, take them up to SUMMIT at One Vanderbilt. Trust me, add this one to the list because there is NOTHING like it in New York City.  
Air can be viewed and experienced exclusively at Summit One Vanderbilt. Tickets are on sale now at: https://summitov.com/tickets.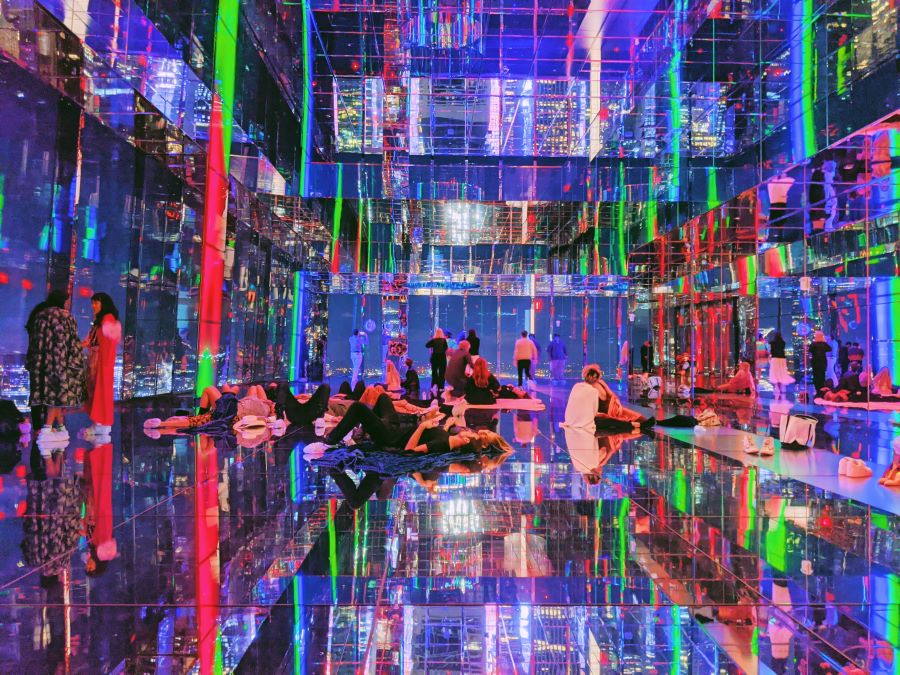 And if you are in New York City on New Year's Eve, you can join us for a very special presentation right before midnight. Tickets are on sale now at https://tickets.summitov.com/webstore/landingpage. 
Stay #EventStrong. 
For more information on booking, please send an email to info@cerbellicreative.com.  
Back to life, back to reality.  
M
Read Next: SuperReal Brings Projection Mapping Technology to Iconic NYC Venue