Pump Out the USO-Style Retro at Your Event With The Satin Dollz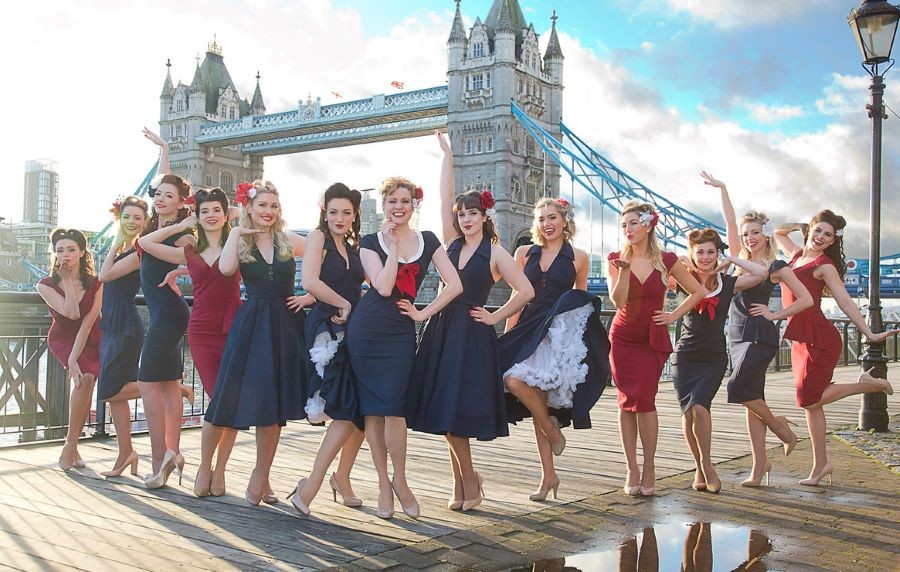 Happy 2022 everyone. It's a crazy time in our lives, and I know we are all ready for live events again.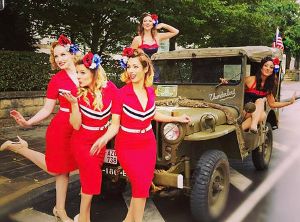 People are constantly calling me and telling me they are getting ready for the second quarter and beyond of this year: "Michael, we want ideas!" So let's kick off with celebrating live events together with some amazing entertainment—check out The Satin Dollz.  
From all corners of the U.S., the lovely Satin Dollz were brought together on one stage in 2005 to deliver top-notch entertainment reminiscent of the WWII USO Camp Shows. These pin-up darlings, a stunning ensemble of singing, tap dancing and downright charming ladies, have delighted audiences young and old, stateside and overseas, with their blended vocal harmonies, high- energy tap dancing, sparkling charisma and stunning beauty wrapped up in a retro bow.
[Related: This Sky-Scraping NYC Installation Will Blow Your Mind]
Hooray for Hollywood! 
Originally formed in Hollywood, The Satin Dollz recently expanded their "pin-up army" in 2016 across the pond, in both London and Paris, embarking on tours throughout the U.K. and rest of Europe.  
This international family of over 60 vintage talent powerhouses can be seen currently on the sold out "Party Like Gatsby" tour spanning 16 countries throughout Europe and North America, having followed a successful run on the "Big Beat Revue" tour with The Jive Aces in 22 theaters across the U.K. 
Beginning in 2022, The Satin Dollz will now be offering entertainment coast-to-coast as "Satin takes Manhattan" when they expand their home base to New York City. 
The Satin Dollz always enjoy entertaining veterans in the U.S. as well as overseas. Jazz residencies have included Los Angeles' famous Cicada Club with Dean Mora's Swing Orchestra, the historic Queen Mary in Long Beach, California, and at the Jazz Cave in St. Julien's Bay on the island of Malta.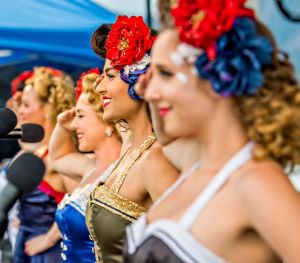 Other notable appearances have included: 
Battle of the Big Bands California Tour 
Sharing the stage with 30 big band musicians at the famed Swing 46 in New York with the 17-piece George Gee Swing Orchestra 
Edinburgh Fringe Festival  
Royal Chelsea Flower Show 
Viva Las Vegas Rockabilly Weekender 
Los Angeles' annual Fleet Week  
As return headliners for the ever popular bi-annual 1940s Ball in Denver with the World Famous Glenn Miller Orchestra 
NYC Here We Come! 
The Satin Dollz are looking forward to performing on stage again in 2022 as conditions become safer with an exciting expansion to New York City, making it more convenient for clients coast-to-coast.
[Related: SuperReal Brings Projection Mapping Technology to Iconic NYC Venue]
Without a physical stage in 2020, The Satin Dollz trail blazed the virtual stage with innovative livestream performances and shifted to spotlighting individual Satin Dollz on a weekly basis. Please be sure to check the official Facebook page, YouTube and Twitch channels for monthly livestream performances featuring combined appearances from all international divisions in Los Angeles, London and Paris.   
In November 2020, The Satin Dollz released their debut album "Pin Up Revolution," which is currently available to download on Apple Music, iTunes, Amazon Music and streaming on Spotify.  
Dollface Entertainment, creative director and agency for The Satin Dollz, is committed to the continuation of producing the highest quality performances and concerts in an array of vintage-style music true to the era with the most talented jazz vocalists, tap dancers and big band musicians around the globe.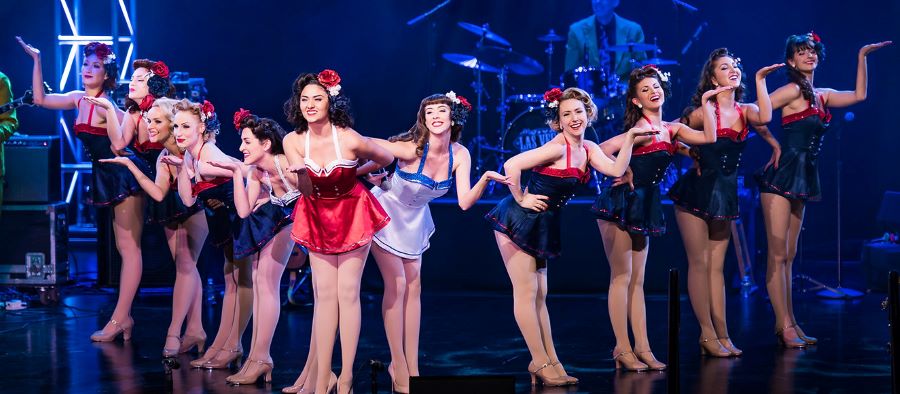 All of us in event entertainment are thrilled to be returning to the stage again, in this case delivering the showstopping signature retro entertainment our fans enjoy, and I have an incredible idea of using them on the Intrepid Air & Space Museum in New York City this summer! Stay tuned! 
For more information about booking, please contact them here.  
Get vaccinated, boosted, and let's get live events back on the calendar. Many more ideas coming in 2022! 
Stay #EventStrong. 
See more of Michael Cerbelli's: The Hot List™