2022 Meetings Today Trends Survey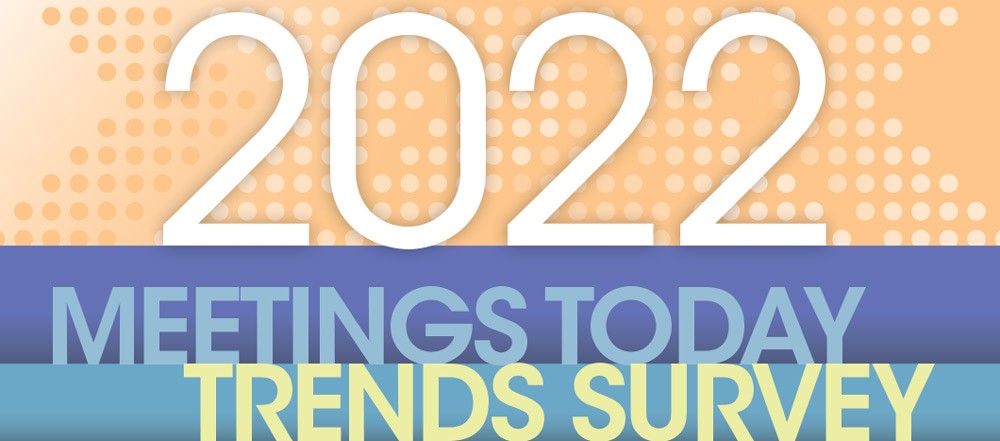 We thought we'd be out of the proverbial woods regarding the pandemic by the time we sent out this year's survey, but it was not to be, as the omicron variant inserted itself in the equation.
That noted, this year's results are particularly illuminating since we retooled many of the survey questions to reflect what we believed were the most critical pandemic-related issues.
Following are some of the key survey results we believe illustrate where we're at as an industry in this moment of time.
Here's to a prosperous 2022!
Results of the 2022 Meetings Today Trends Survey
Drum roll, please! Following are the results of the 2022 Meetings Today Trends Survey.
1. When do you expect to offer in-person meetings again?
We are offering them now: 26.64%
Q1 2022: 37.23%
Q2 2022: 11.68%
Q3 2022: 10.58%
Q4 2022: 9.12%
After 2022: 4.74%

[Related Content: Compare These Results to the 2021 Meetings Today Trends Survey]
2. What safety protocols are you or have you implemented?
Requiring masks: 32.36%
Requiring proof of vaccinations: 43.64%
Requiring proof of negative COVID-19 test: 58.18%
Requiring onsite attendee temperature checks: 33.45%
Eliminating or reducing networking/social events: 19.27%
Moving to drive-to/regional meetings: 24%
Splitting meetings into smaller sizes, aka "multi-location connected meetings": 29.82%
Offering hybrid meeting components: 16%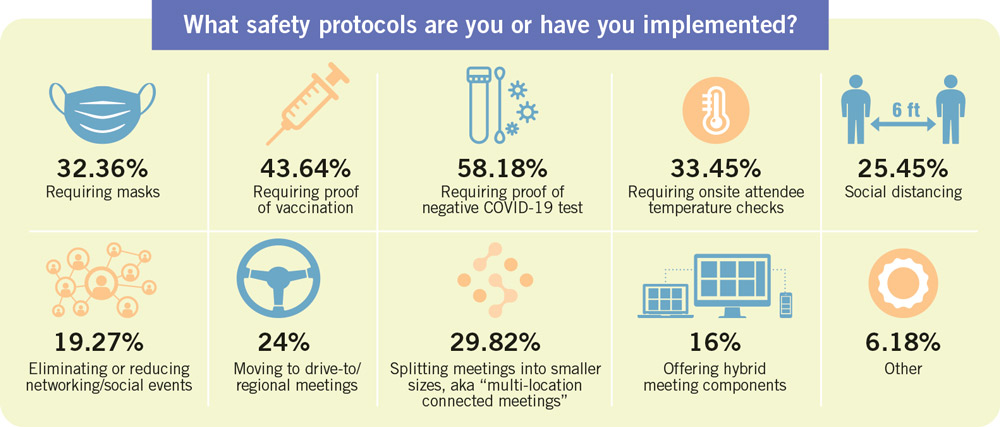 3. How confident are you in hotel/facility/destination COVID-19 protocols/safety efforts?
Very confident: 36.59%
Somewhat confident: 54.35%
Not very confident: 8.33%
Not sure: 0.72%

4. How receptive are your attendees, or prospective attendees, to following COVID-19 safety/sanitation protocols?
Very receptive: 32.61%
Somewhat receptive: 46.38%
Not very receptive: 17.39%
Not receptive at all: 2.54%
I don't know: 1.09%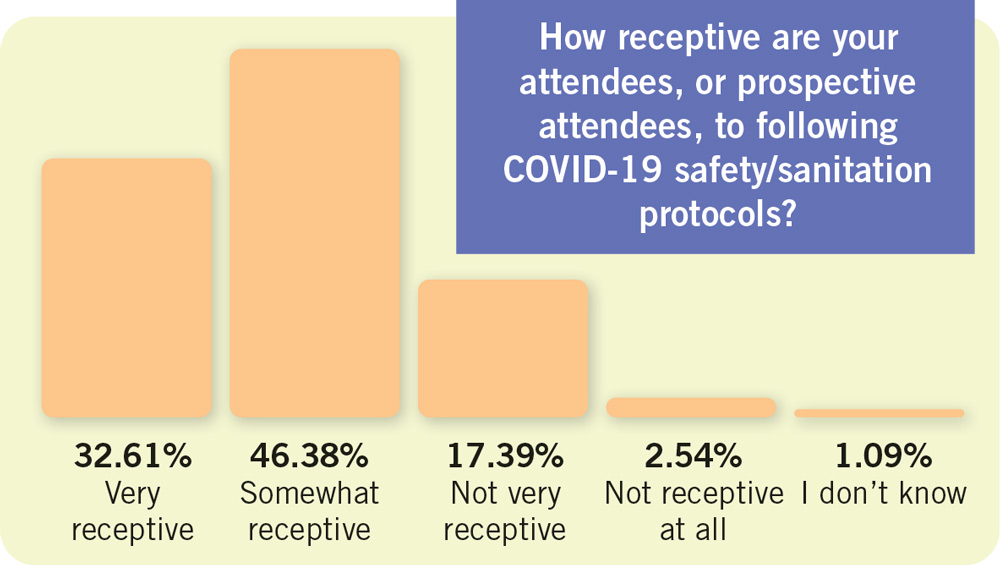 5. What percentage of your attendees, or prospective attendees, have expressed a reluctance to attend a meeting that requires proof of vaccination to attend?

6. How did you modify your in-person meetings in 2021?
Went hybrid (included in-person and virtual): 70.65%
Went entirely virtual: 36.59%
Cancelled meetings: 30.43%
Postponed meetings: 25.72%
Did not modify any meetings: 2.54%
7. How important is it that facilities/destinations have detailed protocols regarding COVID-19?
Very important: 56.04%
Somewhat important: 41.76%
Not important: 2.2%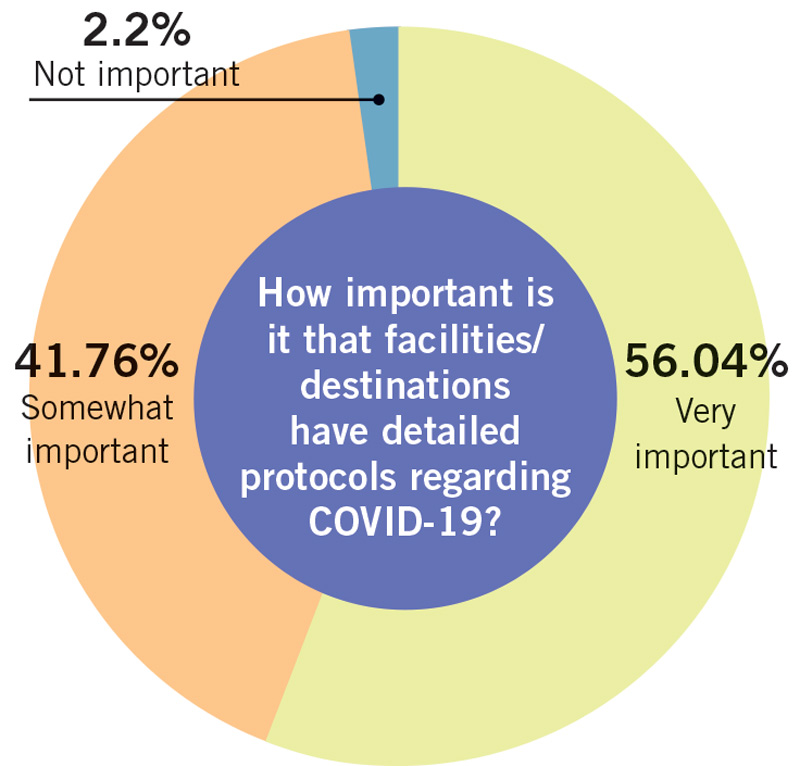 8. In the wake of COVID-19, what are your two biggest challenges when planning meetings in the coming year?
Increasing costs (hotels, suppliers, COVID precautions, etc.): 44.03% 
Security/implementing COVID precautions: 42.54%
Declining attendance: 31.34%
Attrition/room block issues: 25.75%
More transportation difficulties: 12.69%
Lower budget: 11.94%
Learning/utilizing new technology: 6.72%
Other: 3.73%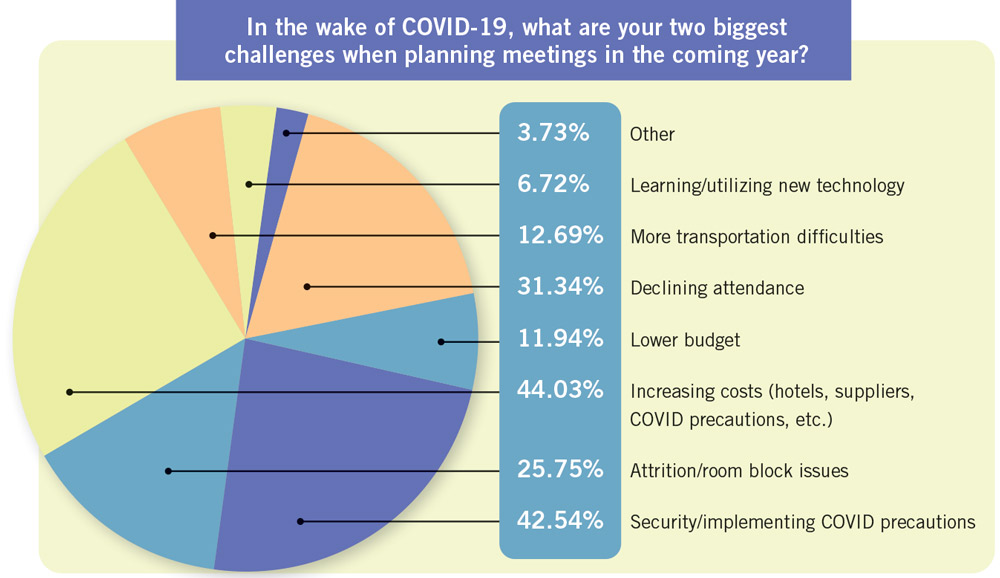 9. Besides the COVID-19 pandemic, what do you believe are the top two biggest threats to the meetings industry?
​​​​​​​Replaced by less experienced staff members: 37.69%
Career advancement: 30.22%
Perceived value of profession: 24.25%
Downsizing: 23.88%
Compensation: 22.39%
Virtual meetings: 22.01%
Outsourcing: 14.93%
Other: 2.99%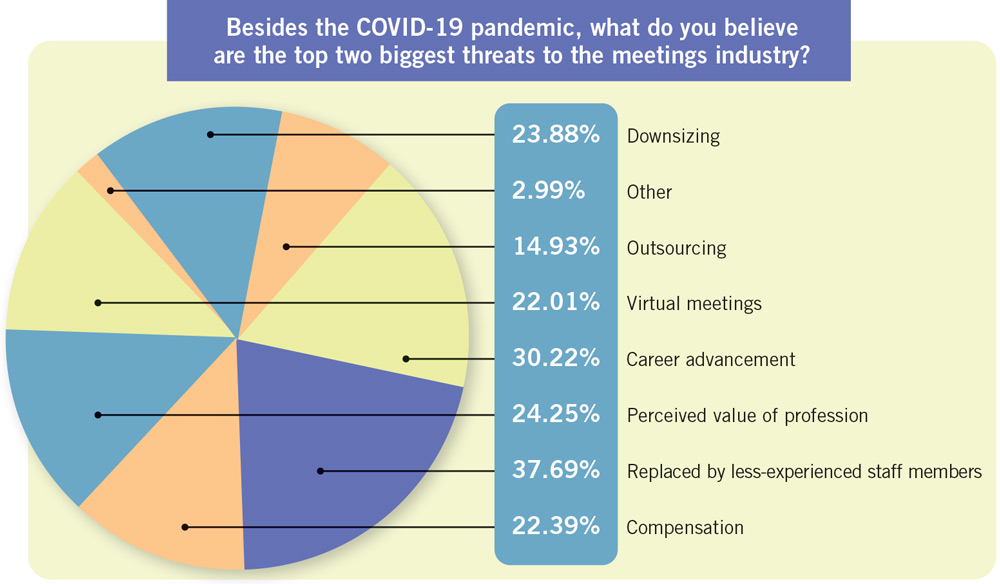 10. Have you been laid-off/furloughed during the pandemic?
​​​​​​​Yes: 63.38%
No: 36.62%

11. To what degree have you considered making a career change as a meeting/event planner in the last year?
Gave serious consideration: 23.24%
Gave some thought to it: 50%
It crossed my mind: 13.03%
Have not considered: 13.73%

12. How satisfied are you in your career choice as a meeting planner?
Extremely satisfied: 34.98%
​​​​​​​Somewhat satisfied: 53.71%
Content: 7.42%
Not very satisfied: 3.53%
Not at all satisfied: 0.35%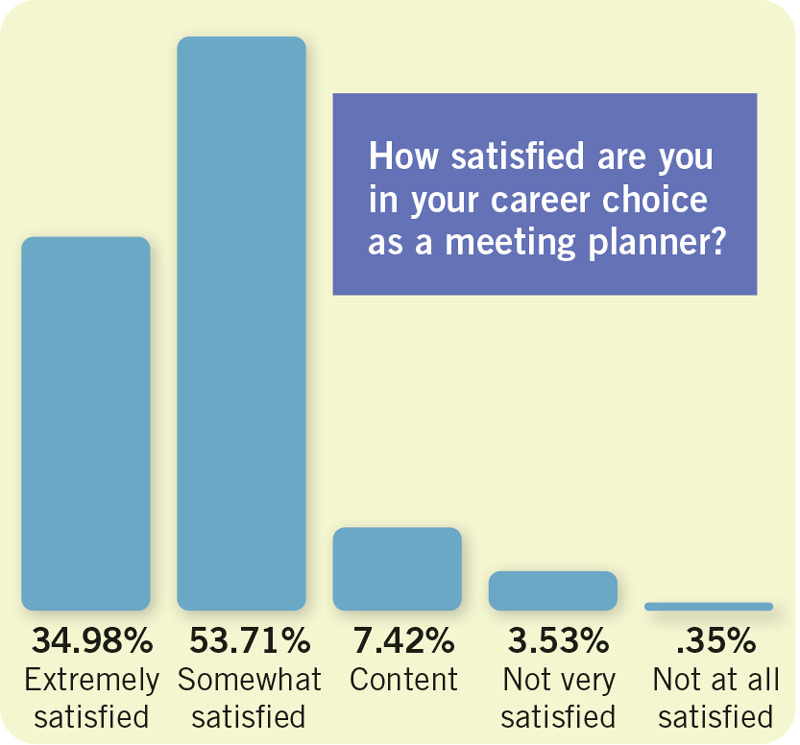 13. Do you plan to offer hybrid meetings in the future?
​​​​​​​​​​​​​​Yes: 77.74%
No: 11.68%
Considering it: 10.58%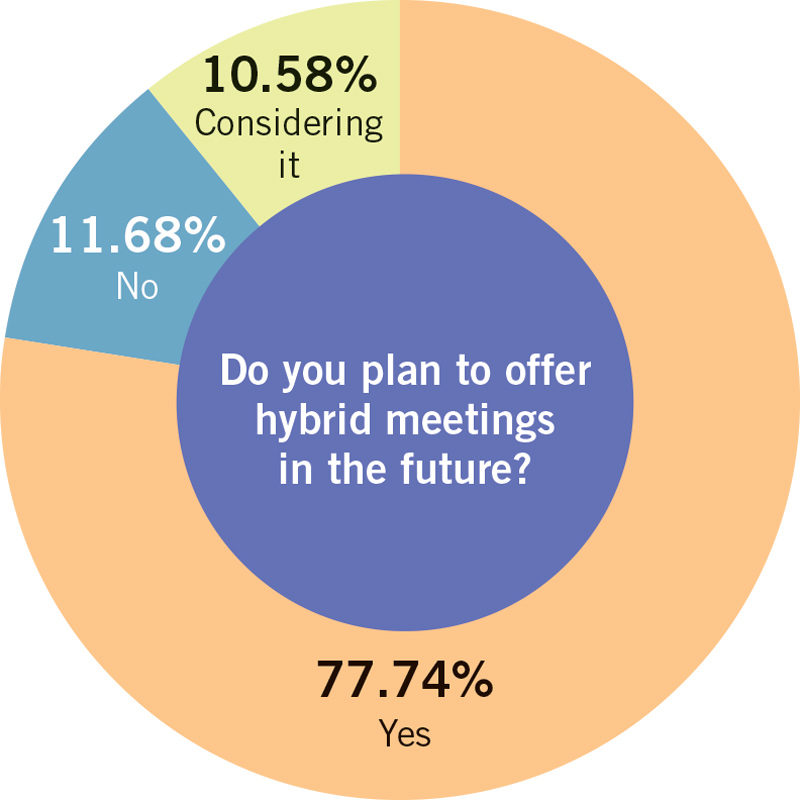 ​​​​​​​
The 2022 Meetings Today Trends Survey was conducted using Survey Monkey between 12/9/2021 and 1/5/2022, and included 212 complete responses and 86 partial responses.
Read Next: Meet Our 2021 Meetings Today Trendsetters