Cirque Mechanics Stages Amazing Machines for Events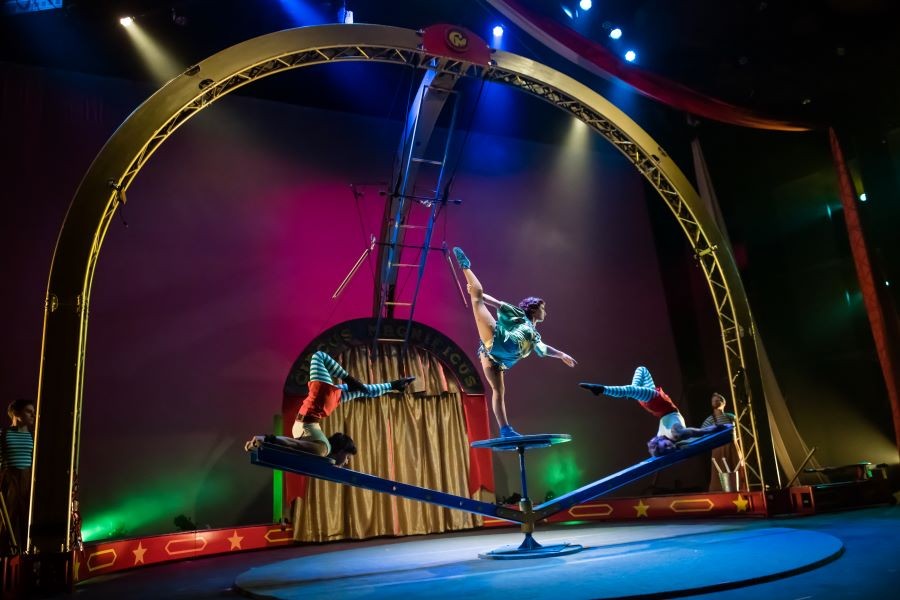 Cirque Mechanics. Credit: Cirque Mechanics.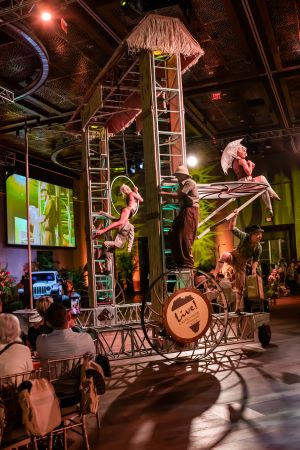 car·ny1: also spelled carnie, is an informal term used in North America for a traveling carnival employee, and the language they use, particularly when the employee operates a game ("joint"), food stand ("grab," "popper" or "floss wagon") or ride ("ride jock") at a carnival. 
I always joke around with my dear friend, Chris Lashua—creative director founder, machine designer, fabricator and most importantly, problem solver—that he's a "damn carny!" Though I say that with love, he is so far from a carnival "barker," trying to fool the public to see the "freak show." 
He is one of the most creative individuals in the events and entertainment industry, and I'm proud to work with him. Chris and his amazing team run the incredibly talented team at Cirque Mechanics. 
I first got to meet the Cirque Mechanics team when I begged them to appear on my Hot List™ in Chicago in January 2012. (Happy 10-year anniversary, guys!) A friend reached out and said "Michael, check this out…" and I was introduced to the Gantry Bike. "BOOM!" MIND BLOWN! 
After swearing up and down that it would be worth the investment to get the Mechanics team to pack up their trucks and drive from Nevada to Illinois, it took a lot of convincing (I think Chris did a little investigating), and then I said, "We're in!" 
See more of  Michael Cerbelli's: The Hot List™     
I personally will never forget that cold Chicago morning, as I stood on a platform attached to the gantry, as we literally surprised the entire audience while we traveled over the center isle of the Hot List™ show as attendees stood on their feet, with smart phones and tablets in hand filming this classic Hot List™ moment. People still come up to me and say how much they remember that moment! 

Rise of the Machines 
The story of Cirque Mechanics began in 2002 when Chris Lashua and Aloysia Gavre conducted experiments using an innovative aerial apparatus. This apparatus combined Chris' "German Wheel" with a set of rollers and a winch, which allowed for Aloysia's hoop to be lifted by the rotation of the large wheel. This trolley device was the inspiration for the development of other machines that would showcase the relationships between the acrobatic and mechanical worlds.  
In 2004, these machines became the centerpiece for a new theatrical work. Chris and Aloysia joined Sandra Feusi, Rex Camphuis, Sam Payne and Steven Ragatz to work together on the creation of the 30th anniversary production of the Pickle Family Circus, which was produced by the Circus Center of San Francisco. This year-end show, which would become Birdhouse Factory, was our first collaborative effort. 
Birdhouse Factory went on to tour for 10 years. In that time, it visited over 10 countries on five continents. The success of Birdhouse Factory led them to research and build other innovative human-powered apparatuses. These devices would become the signature of their touring theatrical shows. Generating content that can fill a large stage and still pack up and travel requires thoughtful planning, and this creative problem solving has led to the creation of devices even more perfectly suited for the event world. 
Cerbelli Creative: Cirque Mechanics: Sizzle from Cerbelli Creative on Vimeo.
This focus on these original contraptions, in addition to storytelling and high-level acrobatics, has remained the heart of what they do, using their combined skills to tackle common issues, formulate innovative solutions and generate positive results for our event planner partners. 
[Related: Alter Ego's High-Energy Shows Bring Music Nostalgia to Events]
Any ideas that I throw at Cirque Mechanics are never a challenge because they understand the engineering of their repertoire of apparatuses. Some of my favorites are the forementioned Gantry Bike, The Swing, Rolling Food Wagons, The Chariot, The Trike Rover, Rolling Trampolines and The Spin Cycle, to just name a few, and ALL can be branded, themed and customized.  
Cirque Mechanic Event Solutions 
There are a number of solutions Cirque Mechanics can employ to assist. They have become recognized as a leader in the delivery of acrobatic content and hospitality that help create intimate events.  
Some devices allow for the portable presentation of acrobatic acts and artists. Others deliver food or serve alcohol in novel ways. More broadly, their large-scale devices allow for aerial performances where previously they weren't possible. These same devices can now help create intimate, engaging performances that can deliver to the far reaches of new, even larger event spaces. 
Know that this may not be the most "cost-conscious" idea for an event, but it will be worth every dollar because your attendees are going to be given not only Instagram-able moments, but also a wow factor they will never forget. 
For more information on Cirque Mechanics, hit us up at: info@cerbellicreative.com. 
Pray for Peace 
On a personal note, I know we are all praying for peace in our world. My heart goes out the people of the Ukraine. Stay strong. I know I speak for the event community when I say, "We stand with you." 
Stay #EventStrong. 
Cerbelli Creative: Cirque Mechanics: The Swing from Cerbelli Creative on Vimeo.
Read Next: SuperReal Brings Projection Mapping Technology to Iconic NYC Venue