Smoke and Fire Define This Mexican Chef's Passion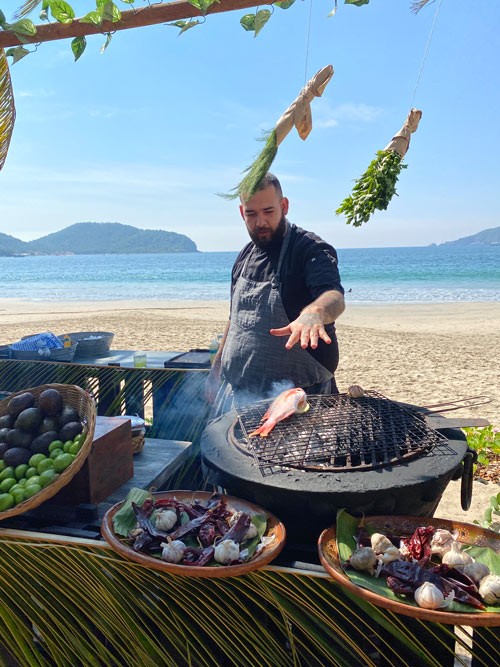 Executive Chef Javier Garcia Cerrillo, Thompson Zihuatanejo. Credit: Thompson Zihuatanejo.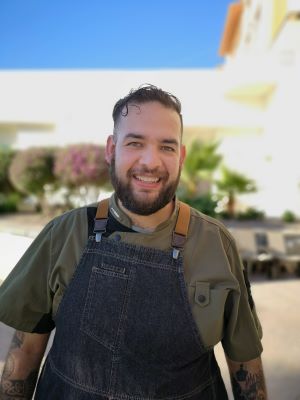 Where there's smoke, there's fire, the old chestnut goes, and Executive Chef Javier Garcia Cerrillo is cooking up plenty of both at Mexico's Thompson Zihuatanejo.
Leading the 56-room property's restaurants, including the open-air Ceniza—which translates to "ash"—Cerrillo's culinary style leverages the comforting and complex qualities of fire and smoke.
"I'm trying to get back to the most basic flavors, the most basic techniques, and at the end of the day the first flavor everyone has on their mind is the smoke, no matter where you're from," Cerrillo said. "We try to be organic, and use the smoke to give different levels and dimensions of flavor. We are trying to make something different, make something unique, and make something honest."
Like many other top chefs, Cerrillo's love for his craft began at home, being encouraged by his mother and grandmother. He entered the Culinary Institute of Xalapa at the tender age of 13 and embarked on a career that has seen him travel the globe to Argentina, Tierra de Fuego, Finland, Greece and five years at a Michelin-starred restaurant in Spain. After graduating from Anahuac Cancun University, Cerrillo plied his trade at restaurants and resorts in the Mexico destinations and regions of Quintana Roo, Puebla, Guadalajara and Sonora.
[Related: Top Chefs Share Their Moms' Love With These 18 Inspiring Recipes]
Ceniza's new "Humo" (smoke) dinner menu focuses on fire-pit cooking right on the beach, with menu items that include roast beef tenderloin, "wrapped" steak, pork ribs, vegetables and cheesecake. 
Group Options
Cooking classes are a popular group activity at the resort, with up to 80 participants joining Cerrillo to prepare a meal in a specially built kitchen set right on the Playa La Ropa beach, with the Pacific Ocean providing a stunning backdrop.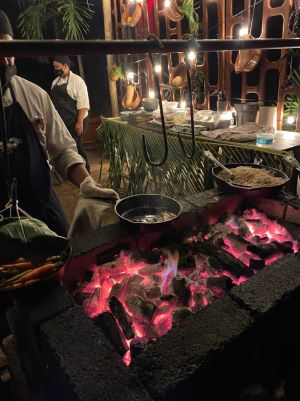 Cerrillo said preparation of the food is actually started the previous day, so the classes often center on lectures about the process, which can last throughout the day and all the way through to dinner.
The Thompson can accommodate up to 250 for events and includes two small meeting spaces for groups from 12 to 50 individuals, with many meetings and events using the resort's al fresco garden, La Parota. Groups can also buy out CENIZA and indulge in activities such as roasting s'mores over beach fire pits. Themed nights include a surf and turf evening, Pozole Thursday—starring Cerrillo's glorious green pozole—and Taco Night.
Cuisine styles often center on Latin American traditions, such as Argentinian beef—Cerrillo lived and worked on an Argentinian cattle ranch for a few years—or regional seafood specialties in which he teaches participants how to select, cut and cook fish, with five different fish dishes being produced.
No matter what ends up on the plate, Cerrillo takes great pains to utilize local providers for his fare.
"We try to be very supportive of the local producers, and working with the local, socially responsible producers," he said. "I totally believe that we need to honor the product, the process and all of the people involved in it when you bring it to the table."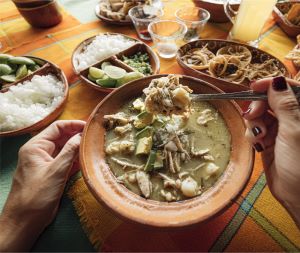 Green Pozole With Chicken
Ingredients
8 quarts of water
1 chicken breast
1 head of garlic
1 onion, quartered
2.5 tsp. of dried oregano
6 cups pre-cooked corn
Instructions
In a pot, make a stock with all the ingredients. Add the chicken breast and the corn, letting it cook for 1.5 hours. Once it is cooked, remove the breast and shred. Add 4.5 cups of green mole, let it boil for 10 minutes to incorporate flavors, and add the shredded chicken. Salt to taste.
Garnish Options
Tortilla chips
Pork chicharron
Fried tacos with cheese or to taste
Chopped serrano chili
Chopped onion
Avocado in wedges
Lemon 
Piquín chili powder
Oregano powder
Green Mole
5 cloves garlic
1 1/2 oz. diced onion
9 oz. diced green tomatoes
7 oz. poblano pepper
2 1/3 tablespoon red radish without skin
4 fried tortillas
1 oz. epazote leaves
1 oz. coriander stick
17 oz. pumpkin seed
1/4 cup almond seed
2 tsp. sesame seed
1 tsp. of cumin
salt and pepper to taste
Instructions
In a pot, sauté the vegetables for 5 minutes until they have a crystalline color, add the seeds and tortilla and add water. 
Let it boil for 30 minutes over medium heat. At the end, add the herbs to preserve its green color and turn off the heat. Let it cool down.
Blend, rectify seasoning.
Discover More Top Chefs: www.meetingstoday.com/top-chefs