Florida Chefs Supply Fresh, Farmed Ingredients for Impressive Group Dining Experiences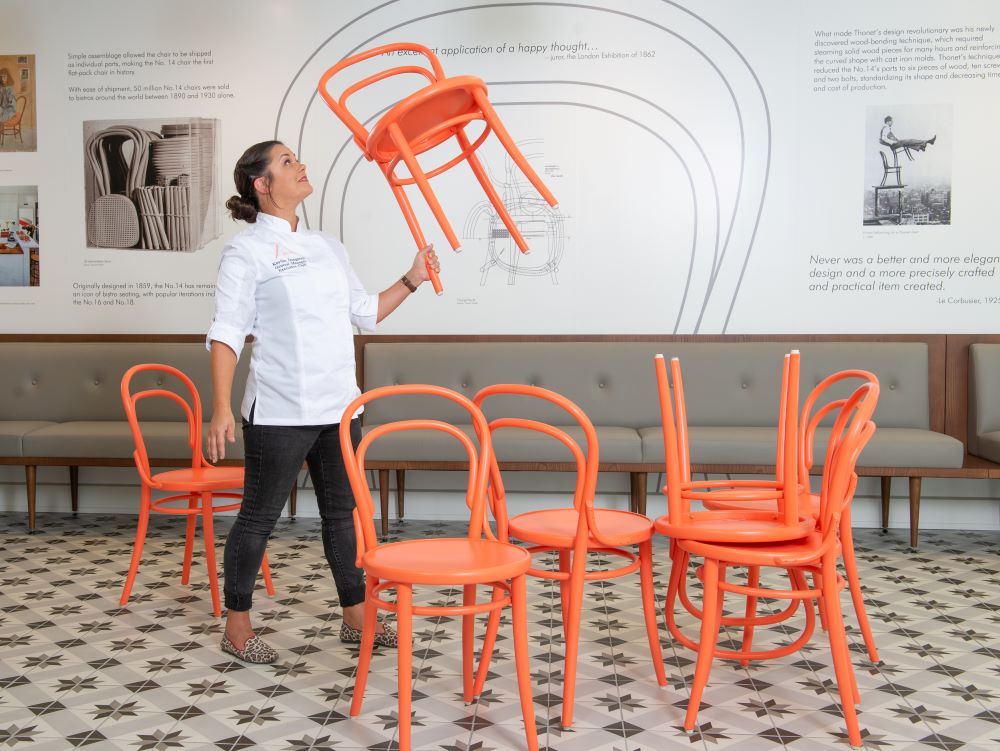 Chef Kaytlin Dangaran of Bistro at Sarasota Art Museum of Ringling College. Credit: Barbara Banks Photography 
If it's fresh, chefs in the Sunshine State will find it. On the menu throughout Florida, a host of chefs are purveyors of local, fresh and farmed ingredients to create incredibly unique and delectable dishes for meetings groups. Following are a few of many examples of how you can up your meeting's F&B in Florida. 
Orlando 
Orlando is known as the place where dreams come true, where magic, inspiration and creativity come to life.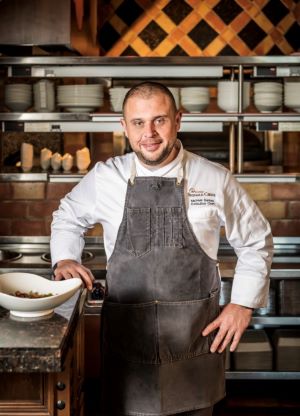 But this doesn't just happen in the city's famed theme parks. These dreams come to life in the hearts and minds of chefs and on the plates of foodies throughout Central Florida.        
People come from everywhere to this region of Florida, bringing with them a taste for fresh, authentic flavors from around the globe, to indulge in Orlando's vibrant fusion of food that blossoms with a melding of unique flavors. 
Michael Dunton knows all too well about the thriving food scene in Orlando, as its many restaurants use farm-to-table ingredients. As the executive chef at Rosen Shingle Creek Resort, Chef Dunton has seen an explosion of original restaurants burst onto the scene doing what he does: creating dishes using fresh, local ingredients from beef to beets. 
Fresh seafood from both coasts? Check. Asian fusion? Check. The authentic taste of Brazilian cuisine? Check. Chicago, New York, or even down-home cooking, southern style? Check, check and check.   
"Coming from an Italian household in Massachusetts, every meal was a production. I grew up fishing off Cape Cod, so I learned quickly how important it was to have fresh ingredients from local farms served with the seafood we caught that morning," Dunton said. "Whether I'm preparing a meal for a group of four, or for a function for 500, it is important to know what the local farms are producing and what is in season. I can customize a menu for any group, any size, but making sure every meal, every catering event at Rosen Shingle Creek is restaurant quality, with great flavor, is something I take pride in every time."  
Using local farms and going back to the basics by using raw ingredients are trends Dunton sees growing as the mainstream markets struggle with supply. "You used to see one farmer's market one day a week. Now, you see every city and every town has its own farmer's market on different days. These days, it's good to know where your meats and vegetables are coming from," Dunton added. 
Along with a mouthwatering filet, Dunton savors some of Florida's Royal Red Shrimp with its lobster-like taste and smooth texture. From the farm, the aroma of a freshly sliced tomato, or the flavor of a locally grown pepper will tempt even the fussiest diner. Dunton uses Florida-grown Datil peppers to add a little kick to his made-from-scratch dishes and sauces.   
One of Dunton's surprise ingredients is a mild, raw goat cheese produced by one of the local farms. "It's very neutral, so I like to use it in desserts, like cheesecake, because it is so mild; even people with dairy allergies or lactose concerns can enjoy it," Dunton said "It is really just a great time to be in Orlando. I wouldn't want to cook, create or dine anywhere else right now." 
Miami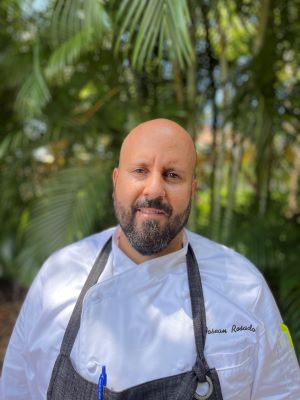 Chef Josean Rosado at Trump National Doral Miami is a Puerto Rico native and credits his Caribbean roots for his culinary influences. An avid traveler, he draws inspiration from the locations he visits, their cultures and especially their traditional dishes, ingredients and culinary style.  
"I also enjoy learning from our guests, reading magazines, going out to farmer's markets and visiting restaurants," he said. "Much of the food at the hotel is locally sourced from Florida farms, including everything from lettuce, tomatoes, squash, watermelon and cantaloupes to herbs like chives, basil and mint, among others," he added.  
Rosado brings more than 20 years of culinary and leadership experience to Trump National Doral Miami. Prior to joining the resort, he worked as a private chef/culinary consultant for the Casablanca Hotel, Old San Juan Puerto Rico, and also executive chef for Isa Bella Beach Resort in Marathon, Florida. A Cum Laude graduate of Johnson & Wales University in Miami, he earned a Bachelor of Science in Culinary Arts.  
Rosado said he can't help but infuse a bit of Latin flavors in his creations. 
"Given our location in Miami, some of our dishes are also naturally influenced by the area. Latin food features diverse flavors and seasonings that excite the palate. Our Triple Smoked Sandwich features onions marinated in mojo, a garlic-citrus marinade; we also have a non-traditional Cubano Sandwich with tuna and tostones, which are large twice-fried plantains that are crisp and delicious.  
"We also offer Latin-inspired menu options for groups: from authentic Cuban coffee stations that kick start morning meetings, to breakfast empanadas and guava, and cheese pastelitos from Little Havana. Our Latin Flavors Buffet includes mini-Cuban sandwiches and other tasty bites." 
Rosado believes today's food trends are not much different than they were in 2021 as guests continue to focus on more plant-based diets and "flexitarian diets," which he describes as "people who want meat and other animal products to be an occasional or only-on-the-weekends indulgence. We're also seeing the use of different kinds of mushrooms as the main focus on the plate." 
At the resort, the dining scene is quickly evolving, Rosado says. "It's exciting to see Doral Yard's Finka spin-off, Barbakoa (Latin-Asian Fusion), and DragonFly Izakaya & Fish Market (inventive contemporary Japanese cuisine) and the new restaurants expected to open at Doral's Shoma Bazaar food hall with artisan food vendors."  
Rosado says the resort is incorporating themes not only in their menus, but in their decor, as well.  
"We've done events where Cuban sandwich sliders and other menu items were presented in cigar boxes. For a golf theme, we had all of the menu items in an actual golf cart, including golf ball-shaped treats." 
Rosado said it's most fun to be playful with presentation. "We recently had a dish called Street Corn Shishito. In this case, we blister the shishito peppers, coat them with crema and cotija cheese, and serve it with Corn Esquites, which is a warm corn salad."  
[Related: 6 Great Group Dining Options in Charleston, S.C.]
Ponte Vedra Beach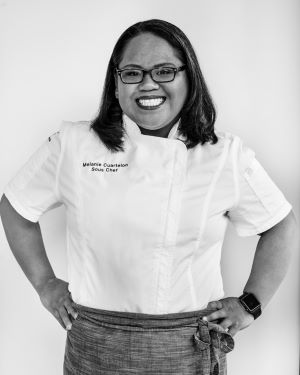 Melanie Cuartelon, the sous chef at Sawgrass Marriott Golf Resort & Spa, is a Filipino-American born chef who graduated from Johnson & Wales University for Pastry Arts and the University of Central Florida's Rosen College for Restaurant Management. For the past 15 years, she has perfected her craft and spentthe last nine of those years at the Sawgrass Marriott Golf Resort & Spa.  
"Our focus is to create menus that hone in on featuring local flavors. We strive to create relationships with local farmers, artisans and more, and incorporate their products into our menus," she said. "As for the local flavors, not only are we featuring the regional flavors of Northeast Florida, but incorporating the cultural representation in our area.  
"These flavors include, but are not limited to Filipino and Latin cuisine," she continued. "One of my biggest inspirations is my culture. I am Filipino-American and have been fortunate enough to share my culture and educate others about it through the food. I am part of a group here in Northeast Florida called Jax Filipino Chefs, made up of Filipino-American chefs in the area that come together and educate others about our culture through our food." 
For meeting groups, the goal is to help educate meeting professionals on current trends and create menus specific to a theme they are trying to achieve, Cuartelon said.  
"This carries through our culinary team, leading them to service these events to be as successful. Recently, I find groups asking for more customized menus that cater to both their budget, but also the flavors they want. We have started to revamp our catering menus to reflect this need, making them more user-friendly and giving planners the freedom to customize their own menu." 
As far as events, Cuartelon said she's partial to their food truck events. "We discovered meeting planners wanted to create the feel of a food truck rally, so we partnered with local vendors to acquire food trucks and custom signage to wrap the trucks. We have trucks serving Italian, tacos, barbecue and even Filipino cuisine! It's such a fun change of scenery for our culinary team to be outside of the kitchen and cooking on the food trucks to serve our guests."  
Miramar Beach 
Dan Tederous, executive chef at Hilton Sandestin Beach Golf Resort & Spa, first discovered his passion for cooking while working at a fine-dining southwestern restaurant outside of Atlanta, Georgia after graduating from the University of Georgia with a degree in business communications. Previous roles include chef de cuisine at Delmonico Steakhouse in Las Vegas and banquet chef at Four Seasons Hualalai in Kona, Hawaii.  
According to Tederous, one of the biggest food trends is a focus on vegetarian and vegan options. "Menus and dishes that go beyond traditional and include a fresh take on veg-central combinations have increased in demand. Lighter dishes have replaced the appeal for heavier meals. People have become more health conscious. Simple, fresh and light food that incorporates more innovative ways to enjoy vegetables is what guests and groups are looking to enjoy," he said. 
"My signature dish is a whole roasted red snapper with citrus. The resort's beachfront Gulf Coast location provides access to the freshest seafood. It is a culinary dream to have the ability to source the main components of dishes directly from the gulf," he said. 
"Rather than a signature resort dish, we have become known for having a signature restaurant: Seagar's Prime Steaks & Seafood. The resort's coastal location has allowed us to incorporate fresh seafood across all our menu options," he continued. "Further tapping into surrounding resources, we have started discussions with local farmers, vendors and meat producers, starting with sourcing honey from a local provider in Santa Rosa Beach, while finalizing partnerships with local farmers for tomatoes and other veggies. We are currently revising menus across all dining outlets at the resort with these new partnerships and sources in mind." 
His most memorable event for a group? "Scenery and setting make for a memorable dining experience, and it doesn't get better than a chef's table where guests can dine on fresh seafood while overlooking the breathtaking waterfront landscape where the ingredients were sourced. Utilizing the naturally beautiful landscape plays a role in elevating the overall dining experience. Our beachfront location along Florida's Emerald Coast here at Hilton Sandestin enables our team to offer a variety of settings for groups to enjoy."  
[Related: Florida's West Coast Chefs Talk Post-Covid F&B, Upcoming Food Trends and More]
Sarasota 
Chef Kaytlin Dangaran of Bistro at Sarasota Art Museum of Ringling College, learned to cook in her mother's kitchen. Dangaran recognized at a young age the importance of food and shared meals with her family and her community. With food as a universal language, she communicates through her culinary creations to bring people from all backgrounds together for a shared experience.  
Trained at the French Culinary Institute in New York City, Dangaran gained invaluable experience in the kitchen of Gabe Thompson's bustling West Village Italian restaurant dell'anima. Shortly after completing culinary school, she joined the opening team of Thompson's L'Artusi as sous chef. Eager to expand her culinary knowledge and skills, Dangaran moved to San Francisco where she worked at the famed Quince and Cotogna.  
It was during this time that Dangaran explored seasonal cooking, gaining expertise in creating dishes dictated by the seasonal availability of the ingredients.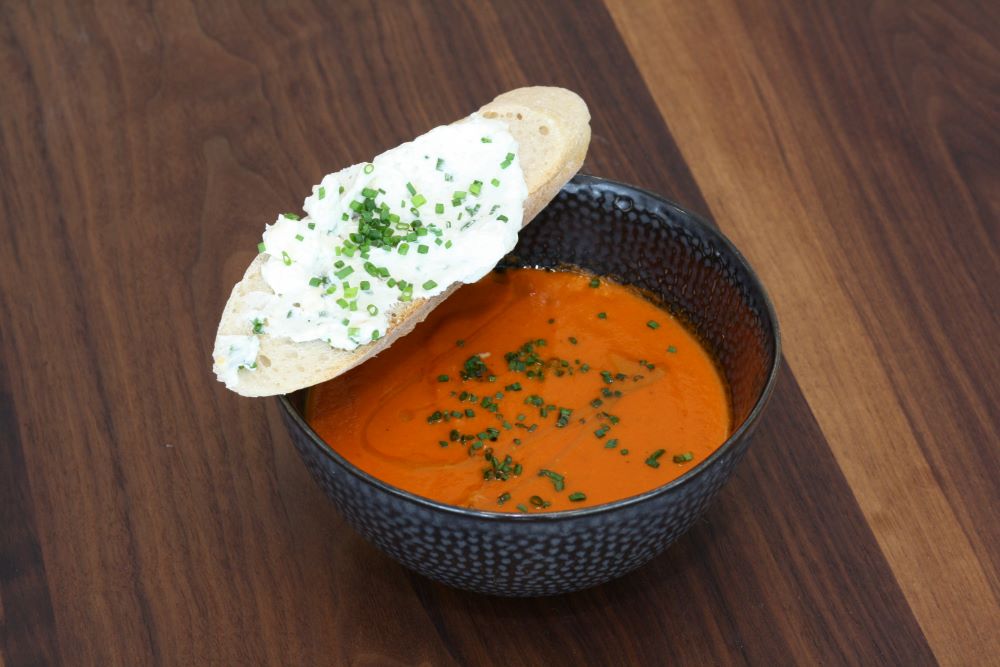 Today, at the Sarasota Art Museum, Dangaran draws inspiration from her diverse background and has elevated the museum experience with seasonal and art-inspired menus. 
The Sarasota Art Museum can host intimate corporate board retreats and all-day meetings, Dangaran said. "We just had a real estate company host a happy hour and meet and greet for its top producers. We did a high tea with traditional tea sandwiches and clotted cream. Different teas went into small tea pots with colorful china.  
"Everything here is locally sourced and made from scratch. As a chef, I like to support our local artisans, such as two local bread companies, milk from Dakin Dairy Farms in Myakka City to make Ricotta and milk for use in all our coffees. I have a whole list of local purveyors," Dangaran said. 
"What's great about our menus is we curate the experience for our clients, specifically for them, which gives us lots of creativity. Gluten free, vegetarian— we do it all. We don't see it as a hindrance; it's a point of opportunity." 
Signature dishes include tomato soup made with Marzano tomatoes and good olive oil. "We also do a mezze table with dolmas, marinated feta cubes, sweet potato hummus, with naan, pita, lavash and flat bread. We're also famous for our apple pie. 
"I see a trend since coming out of COVID. People want to go back to comfort food. Food brings people together." 
Plus: Memorable Meals at Walt Disney World Swan and Dolphin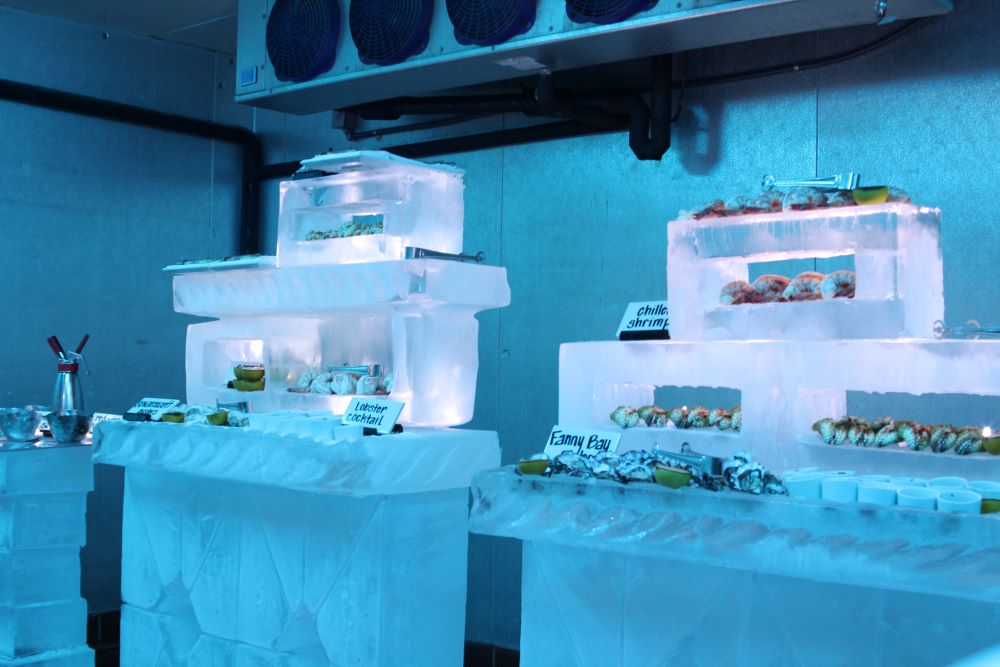 Dining experiences can make or break an event, but one way to ensure meals make an impact is to host them in a venue that impresses as much as the dishes. The F&B team at the Walt Disney World Swan and Dolphin has created a number of immersive offerings to make attendees' jaws drop and mouths water.  
"We know better than anyone that the best relationships are made over a meal," said the hotel's director of food and beverage Luciano Sperduto. "By making that dining experience unforgettable, we're helping to lay the groundwork for interactions and an overall event experience that's just as memorable." 
Some of the creative setups the resort has created for groups include a raw bar hosted in a giant freezer, projection screens paired with audio elements to transport diners to destinations paired with their cuisine and a full-service dinner served inside the banquet kitchen as chefs prepare courses right in front of guests.   
With the opening of the resort's newest hotel, the Walt Disney World Swan Reserve, a space was specifically built to create wow-worthy events—The Vue event space, with a 360-degree view of Walt Disney World Resort, 14 stories high. 
Read the 2022 edition of Meetings Today Florida.