6 Great Group Dining Options in Charleston, S.C.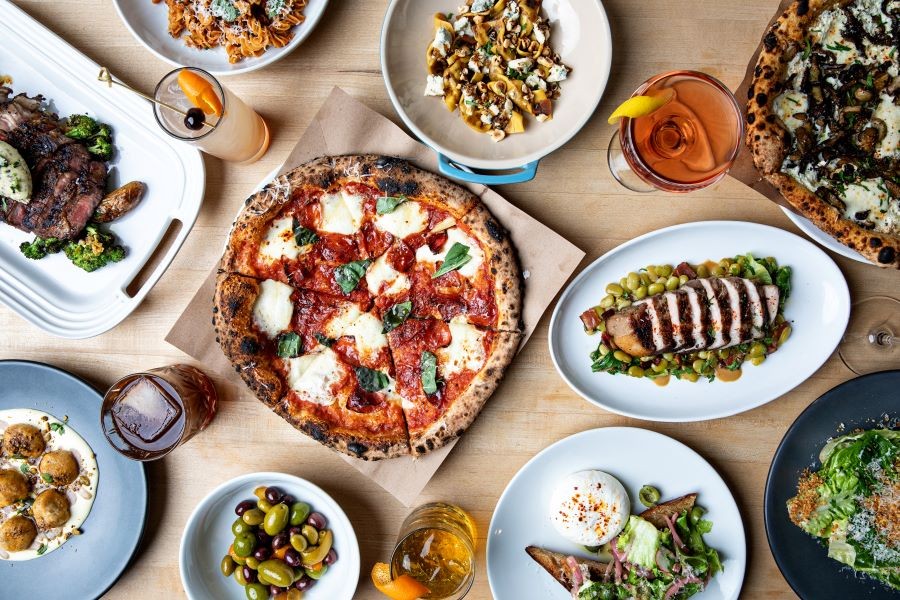 Various dishes served at Indaco restaurant. Credit: Andrew Cebulka.
Charleston, South Carolina, is one of the premiere foodie towns in the U.S., with farm-to-table fare fueling a meld of cuisines that reflect the incredible diversity and history of the South.
"It was farm-to-table Southern-style long before it was a thing, because of access to locally grown products," said Doug Warner, vice president of media and innovation at Explore Charleston, "and most restaurateurs now are using the cuisine to tell a story of what many people see as traditional Southern cuisine, as most of the food we think of as Southern food originated in West Africa and came to this continent from enslaved people."
[Related: South Carolina Offers Signature Lures for Meetings and Events]
Following are six of the top Charleston restaurants that are good options for groups who want to savor the city's cuisine scene.
82 Queen
One of the prime spots to explore Charleston's signature Lowcountry cuisine—think she-crab soup and fried green tomatoes—82 Queen features an intimate historic courtyard and dining rooms that date back to the early 1700s. One of the prime spots to explore Charleston's signature Lowcountry cuisine—think she-crab soup, shrimp and grits and fried green tomatoes—82 Queen features an intimate historic courtyard and dining rooms that date back to the early 1700s. There are 11 room options or a buyout can seat 270.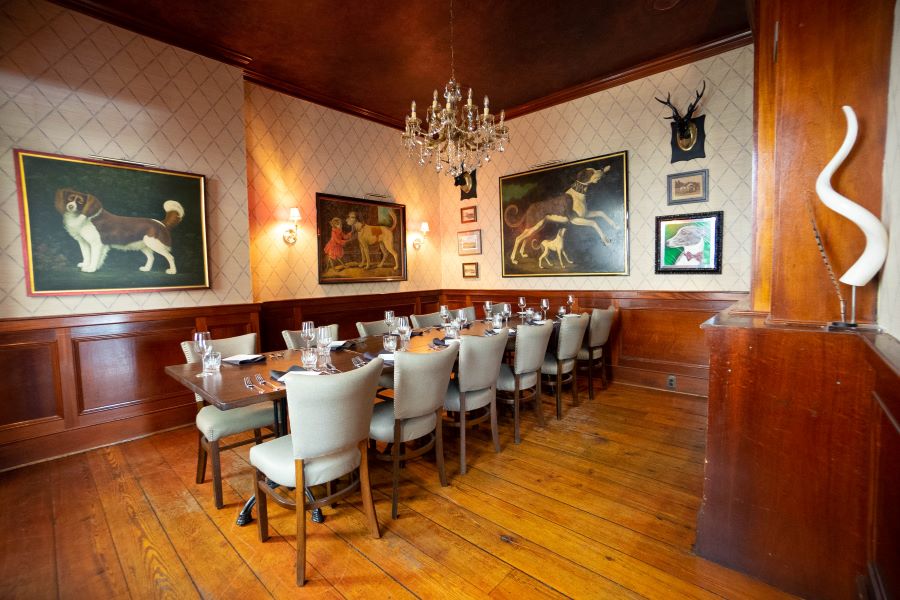 "As you walk through our restaurant you get that feel for historic Charleston. We kept original flooring and original fireplaces. A lot of people will say that 82 Queen reminds them of The Court of Two Sisters in New Orleans—the architecture and food are very similar," said Trista Hoffman, special events coordinator for 82 Queen. "She-crab soup originated in Charleston and we have the best she-crab soup in Charleston. We've been named the best she-crab soup in Charleston for the last 15 years."
Hoffman said most guests try the restaurant's "staples," which include fried green tomatoes topped with pimento cheese and with pimento bacon on the bottom; and barbecue shrimp and grits—using the same recipe for the last 40 years—using Southern Comfort barbecue sauce on a bed of grips and topped with bacon, scallions and cheddar cheese.
A very special treat is the green tomato pies sometimes made from chef Steve Stone's grandmother's recipe. Hoffman said the pie tastes just like apple pie, as the tomatoes are sweet, and are served with vanilla bean icing on the side.
[Related: Why the Cuisine of the Coastal Carolinas Is Such a Treat]
5Church
This stunning New American/Southern venue can accommodate up to 100 in its main dining room and sprawling bar, which offers a private entrance for group events. Many groups reserve the bar and set up tiered stations for hors d'oeuvres and then move on to the Buffalo Room where chefs work action stations. The venue's patio can also be bought out, with popular options that include bourbon tastings and cigar rolling.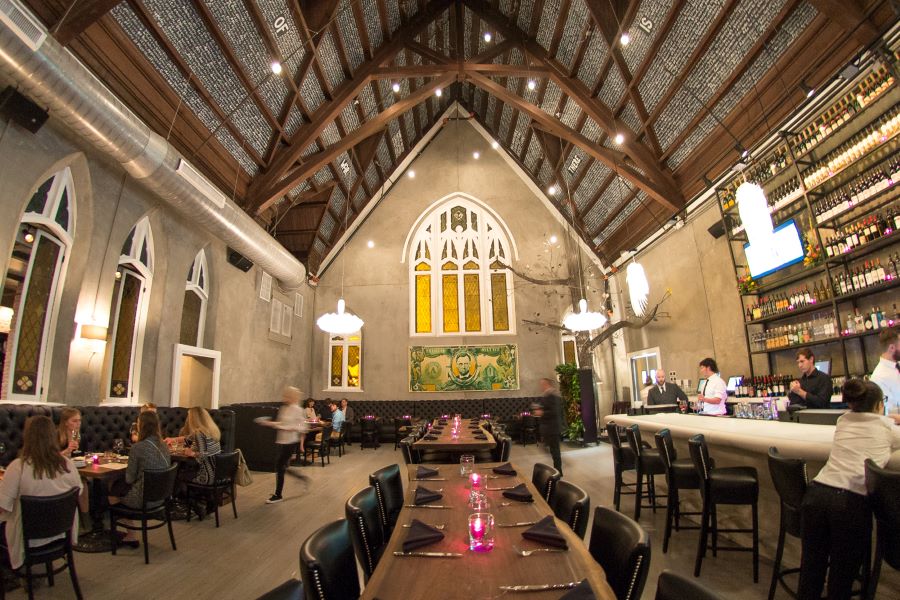 "When you walk in, to the right is the main dining room, with our extremely large bar that can seat up to 100 guests, with essentially a private entrance, and we can open it up as a cocktail area with heavy hors d'oeuvres and tiered stations," said Alexa Anderson, sales director for the restaurant. "If you walk into the next room, the Buffalo room, we do a lot of themed chef-action stations, and we can add the patio for full buyouts , with bourbon tastings, cigar rollers. We also do groups of 40 for cocktails in the private patio and then seated in the buffalo room, because they are connected."
Indaco
This rustic Italian restaurant is known for its wood-fired pizzas, hand-crafted pastas and house-made salami. Groups of up to 50 seated and 60 for receptions often use the restaurant's patio, which offers views of upper King Street.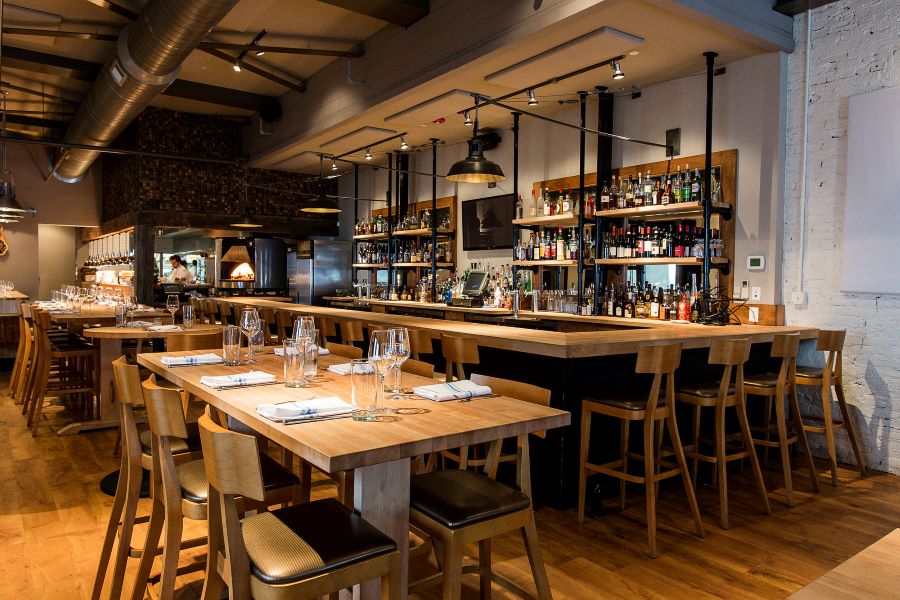 "It's a great spot for large groups, with the ability to host up to 15 guests at one long table or even more if split amongst multiple tables," said Katelyn Hudson, a spokesperson for Indaco. "Any parties larger than 12 guests are required to dine with a three-course, family-style meal—the way the menu is meant to be enjoyed! This can be pre-selected through the restaurant's events team or guests can opt for 'Chef's Choice,' with a menu selected and curated by Executive Chef Mark Bolchoz."
Circa 1886
Serving up the historic allure and signature cuisine styles of Charleston, the award-winning Circa 1886 is one of the top fine-dining establishments in the city. Groups of up to 40 can hold a private event at this award-winning venue, which has won a Wine Spectator Award of Excellence and been recognized by Architectural Digest and top cuisine and hospitality publications.
Hank's Seafood
Heralded as the best seafood restaurant in Charleston for 18 consecutive years and located in a turn-of-the-20th-century warehouse overlooking Charleston City Market, Hank's offers both the private Hanks's Loft above the restaurant and the new Hanks Social Hall for group rental of up to 120 guests seated.
Halls Chophouse
This steakhouse operates Halls Signature Events for group dining and events. Events can be set in its historic venue downtown or be served by the restaurant's catering arm. Up to 125 guests can be seated or 250 standing.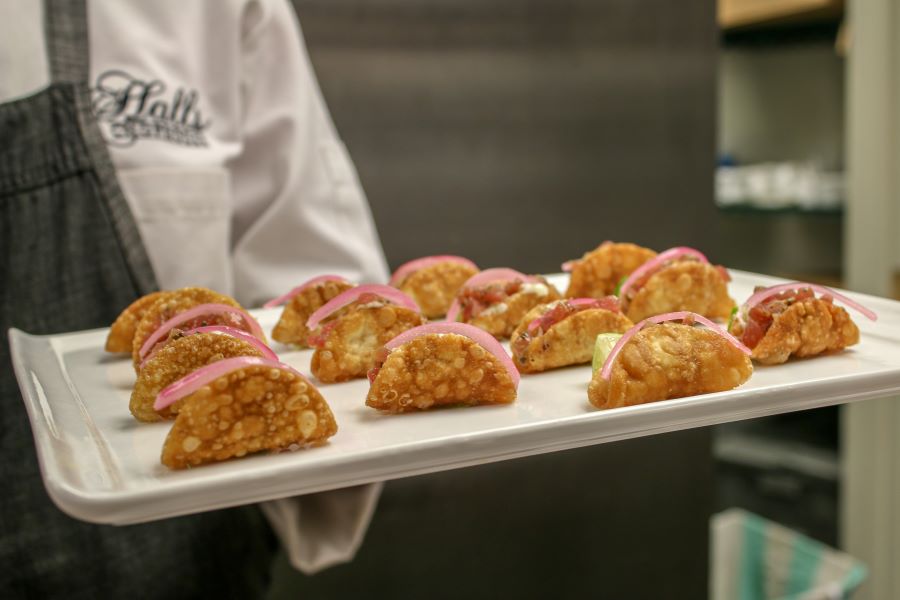 Read Next: The Coastal Carolinas Plates Up a Bounty of Group Dining Options