Hospitality Today Live's Deborah Gardner Shares Pandemic Lessons From Guests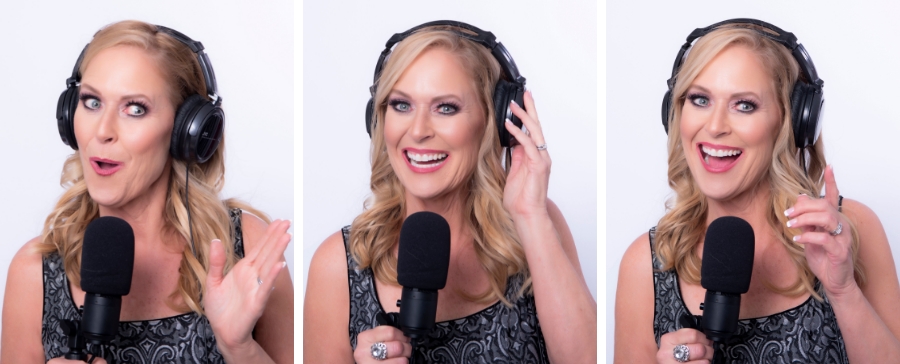 Deborah Gardner, Host, Hospitality Today Live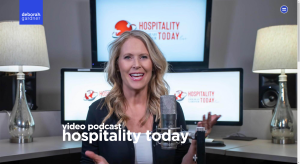 The pandemic affected every person on the planet in some way. And with the hardship, challenge—and now the transformation process—there's a sense of reflection among many hospitality professionals who may be asking themselves, "What would I have done differently?"  
While preparing for our all-day Hospitality Today Live broadcast celebrating GMID22 (Global Meetings Industry Day) Thursday, April 7, I reviewed our previous episodes to determine what topics to address for our industry leaders.
[Register for Hospitality Today Live's Free GMID Broadcast]
Although I learned so much from all our guests during the pandemic, I had to ask myself, "What would I have done differently?" 
Here are seven guests—among many!—that really made an impact with me, and who have inspired me to think differently not only about navigating a crisis like the pandemic, but also how to grab life, and my professional life, by the horns!
[Related: Deborah Gardner: A Meetings Triple Threat]
1. Holistic Experiences Are Helpful for Mental Health 
With the pandemic subsiding, Lovell Casiero, senior vice president of PM Hotels, passionately believes the next big crisis for our industry will be mental health.  
Lovell shared the following: "During this pandemic, hotel employees were dealing with things they never had to deal with before. Reports following 2020 point to a 40% increase of adults claiming they have mental health issues. So, it's the pressurizing need to focus on mental health issues that is threatening associates and guests."  
Already, PM Hotels is addressing this matter for their associates with holistic experiences ranging from on-property teams to their guest's journey. If you want to learn how to completely heal by taking care of yourself holistically—mind, body and spirit—watch this conversation. 
2. Seek New Opportunities  
My conversation with hospitality branding expert Leanne Calderwood was interesting due to the fact she started a new business by re-branding herself during one of the most devastating times for our industry. She bluntly shared the importance of having a personal brand in the industry because it's an extension to your products and services. 
Plus, Leanne credits incorporating social media to help her grow into a full-time business.
3. Safety and Security Is Our Responsibility  
Did you know human slavery exists in the hospitality industry? It's happening worldwide.  
In this very serious episode featuring Sandy Biback, founder of Meeting Professionals Against Human Trafficking, this veteran meeting professional passionately shared several horrific stories and statistics on what's happening right in front of our eyes.  
Above and beyond being safe at a meeting or conference, human traffickers are walking right by us with helpless victims—we don't even see it. Sandy points out our role to be responsible and use all of the resources available to help STOP trafficking!
4. Team Collaboration Is Key to Success   
With an extensive event technology and production background, Troy Peters, vice president of Video West, talked about how clients and meeting planners can work more effectively with their production partner.  
Today, with virtual and in-person options available, it's important that everyone know their business model, budget and goals. It was fascinating to hear about his successful metaverse event experiences by creating features such as a meta hall for his clients.
[Related: Industry Vet Launches International Hospitality Women's Day] 
Troy pointed out that no matter what production avenue you choose for your meeting or event, you need to make sure the main focus is always on the story and message. Wrapping up our great conversation, he expressed how we all struggled during the pandemic, and that he only wants the best for everyone. 
5. We All Need to Ask for Help  
When the world came to a standstill, help could not come fast enough. However, did anyone look for help within our own industry?  
Longtime industry veteran David Giger is on the board of directors for The Meetings Industry Fund (MIF). He explained what MIF grants are and how to identify industry persons in crisis that may need financial assistance. Many prominent industry organizations support and endorse the MIF via generous donations.  
Hear David share the real-life stories our industry peers unfortunately went through and how they were able to receive MIF help. 
6. Don't Get Slapped for Misbehaving 
Okay, so I stole the idea for that line from the Academy Awards incident—maybe you heard of it? But I must admit, that could be a prime example of what one of the most knowledgeable practitioners in the industry, Joan Eisenstodt, of Eisenstodt Associates, would agree to, as well.  
Learning anything from Joan is amazing, especially on the topic of ethics and the impact of COVID-19. Joan passionately states that there is not enough attention given to ethical behavior, which impacts our ability to better understand how to care for, and be empathetic of, others. In the workplace, we need to be more prepared, responsible, respectful, obey rules, provide effective communication and more.  
Watch as Joan transparently explains the ways the industry supports and negates ethical behavior. 
7. Play With a Purpose 
During turbulent times with all the restrictions and mandates, it's been difficult to enjoy ourselves, have fun or just play. Play With a Purpose Chief Idea Sparker Sharon Fisher is devoted to sparking more innovation, participation, connection and fun at events, and told us it's very important to always play.  
For meetings and events, play is an educational component that is often overlooked, and it allows the message to be more memorable. No matter what generation, the play process engages a person's brain, heart and passion.  
A viewer chimed in by saying, "You can learn more about a person in an hour of play than working alongside of them in a year." Here are some play examples for your next meeting or event with Sharon.
Looking Ahead
We know this is not going to be our last crisis. We are meeting professionals, so we deal with things that are not planned every day—it's our job! So, maybe, just maybe, we've all learned something from this pandemic and will do things differently next time.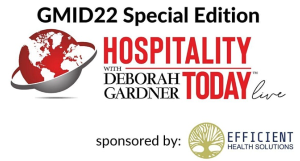 Want to see more videos? Go to the Hospitality Today Live show links below and tell us what you learned from the pandemic, and what you would now do differently.  
Also, save the date and join us for the Special GMID22 Edition all-day broadcast on Thursday, April 7, 2022, sponsored by Effective Health Solutions. Register for free on Eventbrite today at https://bit.ly/3CO8dj2. For more updates, or if you want to be a guest on the show, visit Hospitality Today Live on Facebook, LinkedIn or YouTube, or contact us at hello@hospitalitytodaylive.com. 
Facebook: https://www.facebook.com/HospitalityTodayLive 
LinkedIn: https://www.linkedin.com/company/hospitality-today-live 
YouTube: https://www.youtube.com/channel/UCVpBipUCRJDhX61NYENMmMQ 
Read Next: 7 Lessons on Resiliency From a Meetings Veteran's 70 Podcasts