Coastal Mexico Resorts That Delight With Local Flavor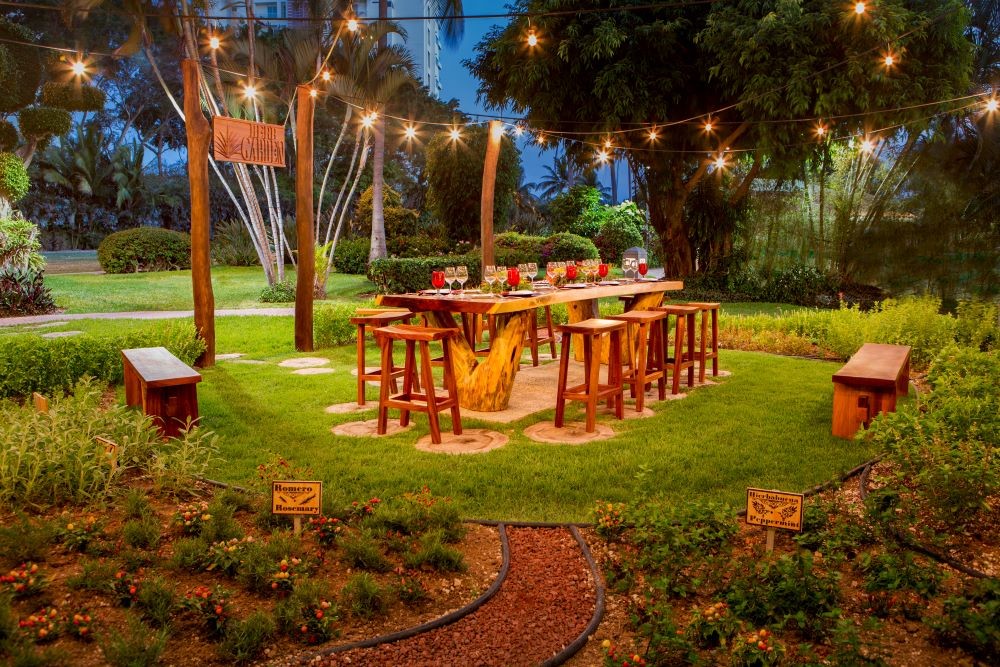 Herb Garden, Marriott Puerto Vallarta Resort
Now that meetings—and even international programs—are back on, attendees who have been cooped up stateside for more than two years may have a yearning for a seaside sojourn in a luxe coastal Mexico destination, where they can truly venture back to that pre-pandemic travel life they once took for granted.
Swaying palm trees. Soft sand. Lolling about in the surf. Mexico has got all of that and more—namely outstanding cuisine prepared fresh and informed by the regions in which they originated.
Here are some standout coastal Mexico resorts that are ready to deliver that postcard-perfect vision, paired with an extra helping of their standout F&B and cultural offerings.
Marriott Puerto Vallarta serves up a Jalisco at Your Table offering for private dining that features a stellar seven-course culinary experience with a variety of dishes from the state of Jalisco. Dishes range from Los Altos-style birria (a spicy traditional soup made with slow-cooked beef ribs) to pescado zarandeado (a fish entree that originated in Nayarit and which frequently features ocean-caught snapper split from head to tail, smothered in chile and other spices, and slow-cooked while being bathed in mesquite smoke).
To finish off the meal, a colada de coco coconut dessert originating from the bohemian village of Yelapa is paired with jericalla, a sweet custard with vanilla extract accompanied by swirls of pineapple or strawberry jelly. And those in the know are acutely aware of the resort's proprietary tequila, blended by resident tequila sommelier Audrey Formisana and available for pairing with the Jalisco at Your Table meal.
Groups can also have their choice of venues for their Jalisco feast, from a special dinner in the resort's Herb Garden—where they can dine among ingredients actually used for their meal—to the property's La Cava wine cellar or even on the Marriott's jetty, which juts out into Banderas Bay for a perfect sunset opportunity.
The Marriott Puerto Vallarta Resort & Spa has just shy of 9,000 square feet of meeting space and 433 guest rooms.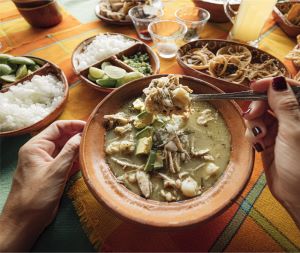 Groups can tap a truly unique coastal Mexico culinary experience quite literally fired up by Executive Chef Javier Garcia Cerrillo, who utilizes smoke and fire from open-air pits right on the beach. 
His new "Humo" (which translates to smoke from Spanish) menu is an affair that requires two days of preparation in his specially built outdoor kitchen set on the sands of Playa La Ropa beach.
Features of the menu include roast beef tenderloin, pork ribs, vegetables and Mexican cheesecake for dessert.
Groups can also partake in cooking classes in the idyllic setting, and the chef prides himself on procuring organic, locally produced fare, with smoke layering the result with different levels and dimensions of flavor.
Groups of up to 250 can buy out the open-air CENIZA restaurant—and can also roast s'mores over a fire right on the beach—or hold events in the resort's al fresco La Parota garden.
For a truly special, mouthwatering treat, request the chef's green pozole with chicken soup, which is a standout regional delicacy that certainly qualifies as "Mexican comfort food."
The 56-room Thompson Zihuatanejo offers two small meeting spaces for groups from 12 to 50.
[Related: Smoke and Fire Define This Mexican Chef's Passion]
From a barbecue set by the pool and featuring indigenous fare to Mexican cocktails fueled by tequila, mezcal or raicilla in the Veranda Garden & Terrace, or a Chef's Table VIP experience, the Fiesta Americana Puerto Vallarta Resort & Spa is a group-friendly venue that can host just about any range and style of event.
Smaller groups can tap its Sonne Club, an adults-only area on the resort's rooftop Chulavista restaurant, which offers panoramic views of the Bay of Banderas. The property also can school attendees in the art of Mexican cuisine preparation via cooking and barbecue classes, or even Huichol arts and crafts activities.
The 291-room resort offers 16,000 square feet of meeting space.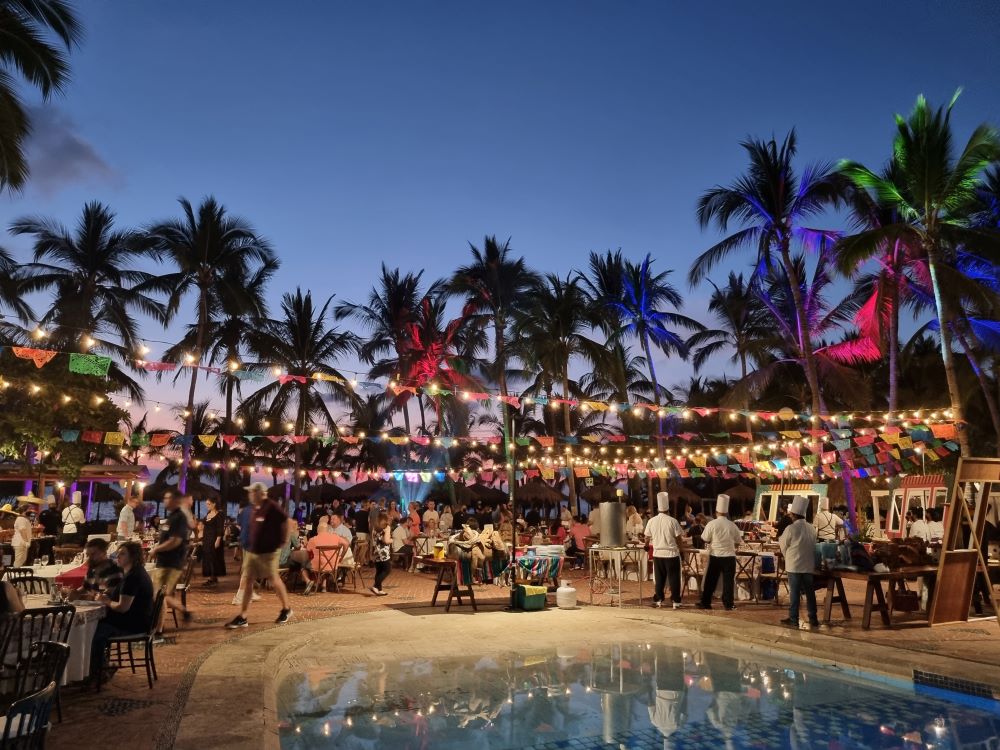 This standout Mexico resort collection, which features brands such as Gran Melia, Paradisus by Melia, ME by Melia and Melia Hotels & Resorts, launched a series of curated group experiences in 2021.
One of the four core group activity options includes the Live Like a Local package, which offers an immersion into local culture and cuisine. Master classes cover cooking, pastries, cocktails, sports, yoga and arts and culture. Social volunteering opportunities are also available exclusively at Melia's Paradisus resorts.
Highlights include: 
Beachside crafts and local culture classes along with appearances by local musicians, including mariachi.
Beachside group lunches, dinners and cocktail parties.
An overnight glamping experience on the beach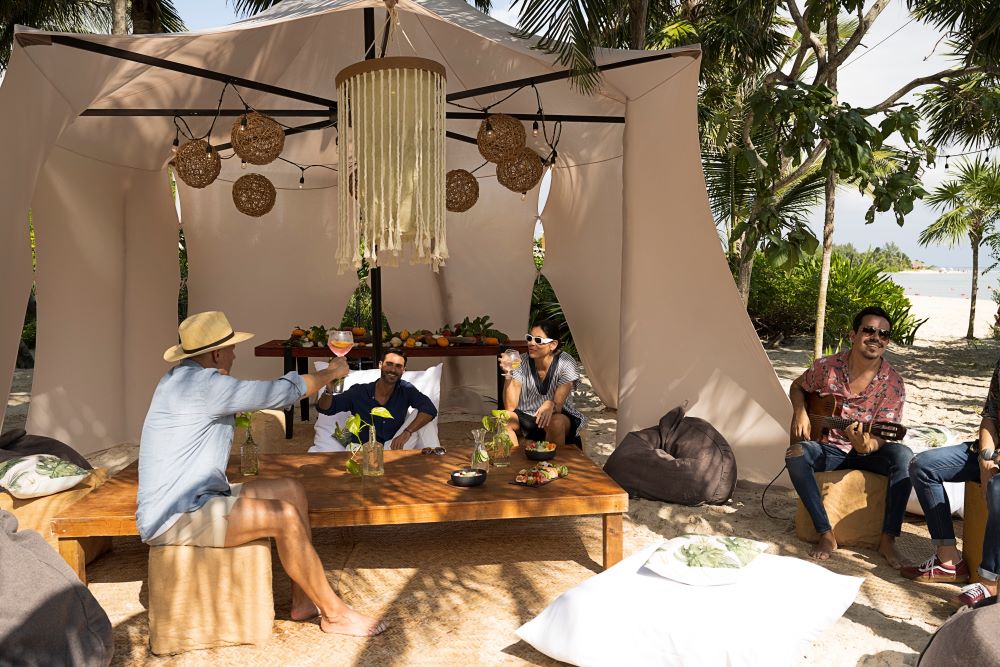 Read Next: Unique Venues in Mexico to Boost Your Next Meeting or Incentive Program