Irving, Texas, Breathes Fresh Air Into Your Meetings and Events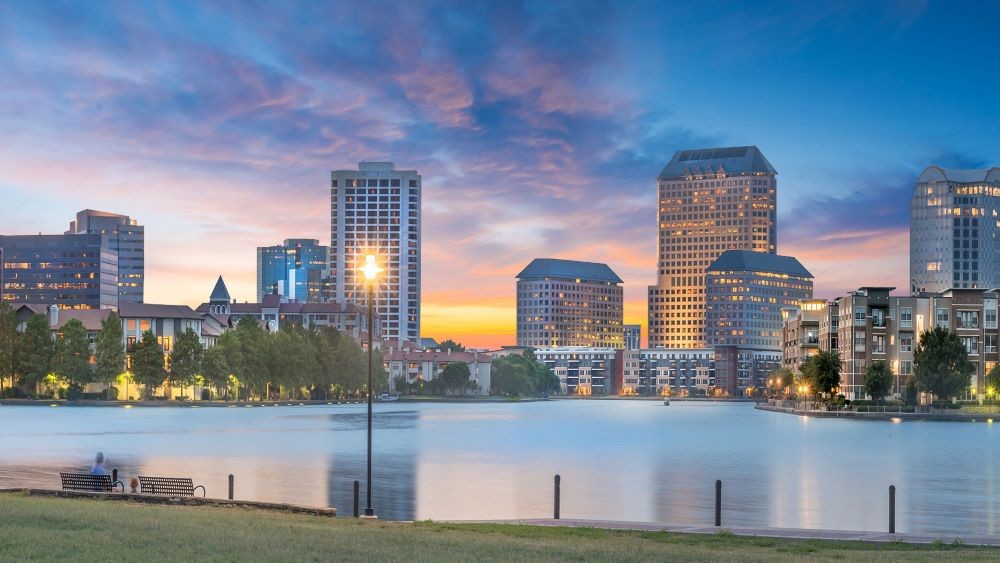 Sunset over Las Colinas. Credit: Visit Irving Texas.
Outdoor meetings have gained popularity in the last few years as a safe way to gather during a global pandemic, but even prior to COVID-19, health, wellness and adventure trends were already influencing meeting planners to take events out of the ballroom and into the great outdoors. 
Many groups depend on a mix of indoor and outdoor events. This is not only a safer option, but it breaks up being inside four walls from morning to evening. 
[Related: Maura Gast, Chief of Visit Irving, Talks Trends and Local Haps]
And we've all experienced the wellness benefits of nature. Fresh air and sunshine boost energy, elevate our mood and have been said to provide inspiration and drive creativity for meeting attendees. Selecting a natural setting for your next big meeting or event is a unique way to give attendees an experience that is safe, fun, invigorating and refreshing.  
Irving, Texas, a popular Texas meeting destination, has weather that allows for open-air events throughout the fall, winter and spring, and outdoor event venues abound. Planners can easily produce outdoor conference agenda items that go beyond the traditional recreational pursuits, breakouts, teambuilding and cocktail receptions.  And the meeting room views have never been better!
Check out an array of spaces that include waterfront terraces, event lawns, festival plazas and urban decks with skyline views. Here are a few of our favorites for you to consider when planning your next outdoor event:
[Related: Irving Packs a Lot of Texas Into One Compact Package]
Convention Center District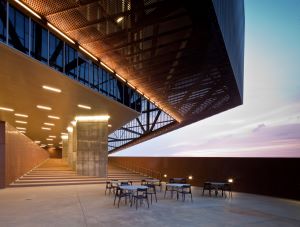 Irving Convention Center at Las Colinas 
The 275,000-square-foot, Silver LEED-certified convention center offers over 100,000 square feet of meeting space accommodating groups of 800-4,000. The Covered Terrace and Lower Cafe Terrace offer panoramic, picturesque views of Las Colinas and are available for a variety of outdoor events for groups of up to 440 in rounds to 1,900 reception-style. Plus, the space offers protection from the elements at no additional cost.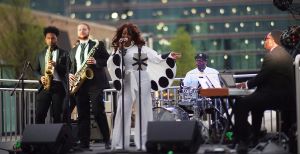 Toyota Music Factory
The Toyota Music Factory entertainment complex features 17 restaurants and bars with patio seating capacities ranging from 8 to 190, but the Texas Lottery Plaza is the star of the show. The open-air plaza in the heart of the music factory is equipped with a stage, two outdoor bars and patio furniture, and accommodates up to 2,500 folks for an outdoor show or event. 
Hotels
Four Seasons Resort at Las Colinas
Planners will find Texas-sized event space and nature-filled surroundings at Texas' original urban resort. This sprawling property offers multiple outdoor options:
Event Lawn
This lush, 25,520-square-foot lawn overlooks the cascading waterfalls of the 18th hole of the manicured TPC golf course. With the resort as a backdrop, this natural setting provides an unexpected resort experience for outdoor receptions accommodating 1,500 guests or large, tented dinners.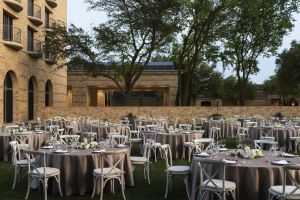 The Terrace
The Four Seasons Terrace is a large open-air space, featuring an upper and lower level. The artificial-turf surface provides a blank canvas for all types of events, and an al fresco lunch or reception will certainly bring energy to a full meeting agenda. The two spaces will accommodate from 300 to 650 attendees for a reception and 210 to 460 guests for a seated event.
The Resort Pool
The pool deck offers a casual setting for opening receptions and fun outdoor functions for up to 450 attendees.
Marriott Las Colinas Lakeside Terrace  
The newly renovated Marriott Las Colinas features the Lakeside Terrace, a 3,000-square-foot space that is perfect for banquets (up to 150) or cocktail receptions (up to 200). Aptly named, the waterfront terrace offers gorgeous views of Lake Carolyn.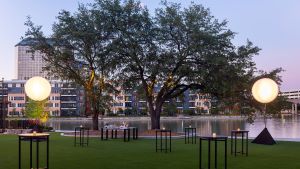 Omni Las Colinas 
The Omni Las Colinas Hotel is also located in Las Colinas' business district along the shores of Lake Carolyn. A major renovation makes this waterfront property an appealing venue to both planners and attendees. New dining and entertainment patios, a leisure garden designed with programming for live entertainment and games, and a more than 16,000-square foot function lawn provide attendees (maximum of 600) with a beautiful outdoor setting. 
Texican Court by Valencia 
The meeting space at Texican Court offers over 3,500 square feet of inspired indoor and outdoor meeting options. For outside events, planners can choose from three distinct courtyards: "The Good," "The Bad" and "The Ugly," offering 600, 1,200 and 2,200 square feet to accommodate small, intimate groups or large parties with several hundred guests.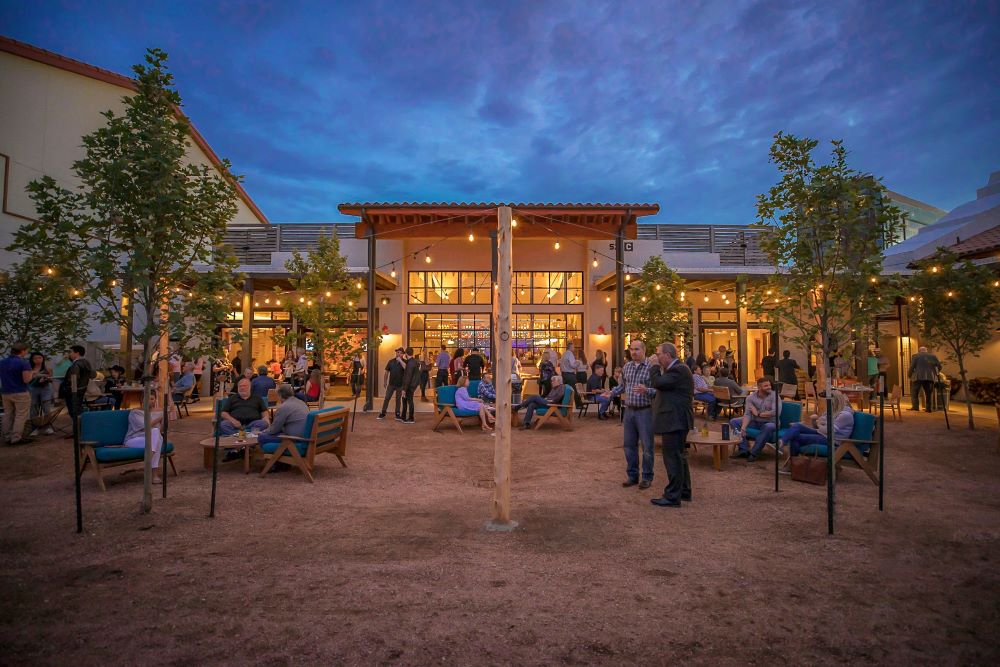 Westin Irving Convention Center at Las Colinas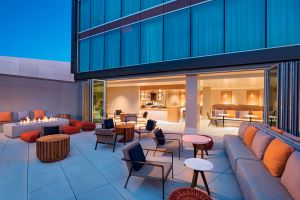 Festival Lawn
With fresh air and vivid greenery, and nearly 10,000 square feet of event space, this unique outdoor venue is appropriate for many occasions, including receptions with 1,450 partygoers or seated dinners with 650 guests.
Event Deck at the Pool
For a smaller function (100 to 130 attendees), the pool deck offers fun poolside space with lovely views of the Las Colinas urban center. 
Mesa Mezcal Restaurant Patio
The modern architecture of the Irving Convention Center is the perfect backdrop for an outdoor event at Mesa Mezcal. This inviting patio will accommodate large groups with approximately 3,000 square feet.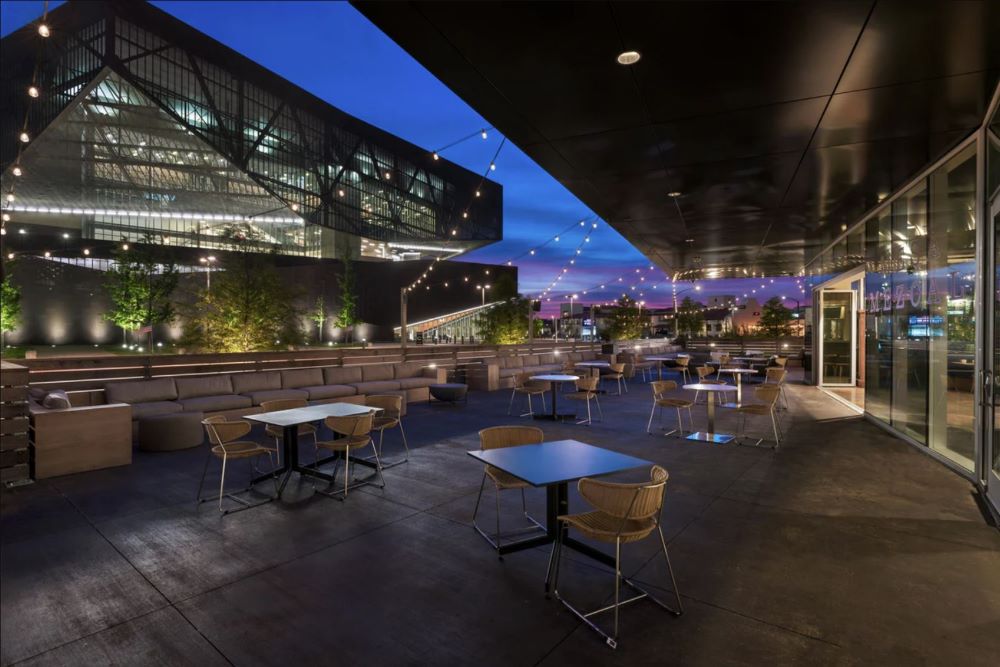 Parks
Heritage Park 
The open space at this 32-year-old park in South Irving combines its nostalgic past with modern entertainment amenities, making it perfect for outdoor events of all kinds.  Outdoor spaces that include some basic set-up components have an advantage over the competition. Heritage Park has been reconfigured for concerts and a variety of performances, featuring a permanent stage with a large video screen and speaker system. The updated park also has parking for food trucks, new public restrooms and a fountain feature with dancing water jets. The bigger the event, the better! 
Levy Plaza 
Knock it out of the park for you attendees when you book an event at Levy Plaza, the new $2.8 million outdoor plaza along Irving's Lake Carolyn. Featuring six acres of open green space, the venue can host a wide range of festivals and community events, plus sporting events. There's ample transit, parking, drinking fountains and shade trees to beat the Texas heat. The site also includes a paved walkway, pedestrian lighting, benches and picnic tables, as well as charging stations and free Wi-Fi. To enhance the event planning experience, the space has been designed for vendor tents and food trucks and features a permanent stage.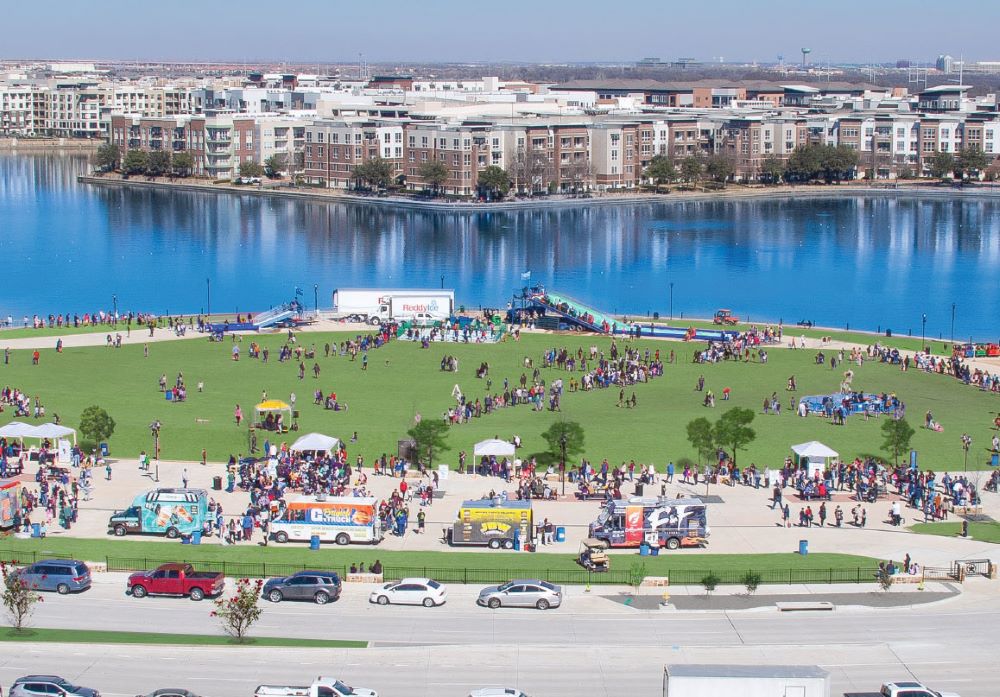 Williams Square Plaza
For almost four decades, the iconic Mustangs of Las Colinas, the world's largest equestrian sculpture, has drawn visitors from around the world to Williams Square Plaza. The city recently completed a multimillion-dollar redevelopment of the plaza that transformed the expansive stone-covered ground into a comfortable public gathering and event space with lawns, trees, colorful landscaping and seating areas. The enhanced design offers a vibrant, pedestrian-friendly open-air venue that can be segmented to provide opportunities for a variety of events, from intimate dinners to large parties all set against the centerpiece of the awe-inspiring mustangs.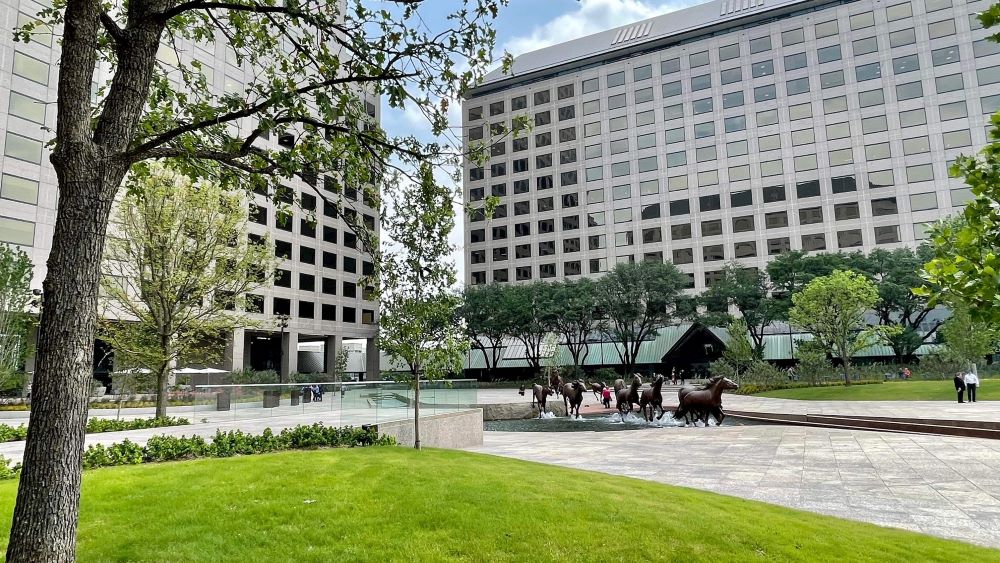 This article was produced in collaboration with Visit Irving Texas.