Industry Leader Maura Gast, Chief of Visit Irving, Talks Trends and Local Haps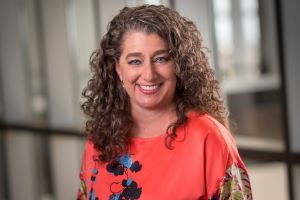 Meetings industry veteran Maura Gast, executive director of Visit Irving Texas, is one of the most engaged leaders in the business—name a board and chances are she's been on it!
Hear what she has to say about the recovery from the pandemic, in terms of both Irving and the industry as a whole, and key destination updates as major Irving attractions such as Toyota Music Factory rev up to welcome meetings and conventions groups en masse.
Listen to the episode:
Transcript:
Tyler Davidson: Hello, and welcome to this Meetings Today Podcast. I thank you for joining us. We are joined today by industry veteran Maura Gast, executive director for Visit Irving, Texas. Thanks for joining us, Maura.
Maura Gast: Thanks, Tyler, good to be with you.
Tyler Davidson: And, you know, we were joking earlier that you're, like, one of these folks that are on like every board of every industry association. Thank you for doing that and your service, and to be so dedicated to the industry. 
But I'm thinking that gives you a unique perspective, especially when you're talking with all your colleagues about where we're at in any sort of recovery from the pandemic. What are you hearing out there?
Maura Gast: Yeah, absolutely. And, you know, selfishly, I get so much out of out of those; they're just great learning opportunities. And when, you know, I've been in Irving for so long, it helps keep my perspective broad. 
So, that's part of the reason I love to plug into those. So, I think depending on where you are, not just in the country but around the world, kind of really defines where things are in terms of the pandemic and recovery. You know, there's places that are just now opening up. There's places that have been wide open. In our area in the middle of the Dallas-Fort Worth area here in Irving. 
[Related: Irving, Texas, Breathes Fresh Air Into Your Meetings and Events]
We're so dependent on corporate, transient and meetings travel. And that's definitely the last piece of the markets to come back. We really feel that until our corporate offices that surround us are re-tenanted, if you will, on whatever the new normal is going to be in terms of in office schedules for corporations--most of which is looking like hybrid, and in this area, the folks we're talking to think it'll be after Labor Day when whatever settles in, settles in again. 
And I think once things get back to that pace where people are in a regular routine in the office, then I think we will see the return of the rest of the business travel. Definitely, sports never left; some of those types of events never left. 
We are gearing up this week for our first--this'll be probably our biggest group since things shut down. We have an anime convention, which is a first-time event for our building here. That's going to be an interesting one to see, because, you know, that's a very loyal group. And definitely, you know, fan intense. So, we're counting on big crowds this weekend. 
And really, the rest of this calendar year is starting to look and feel, at least for the convention center, [like a] normal year in terms of pace and numbers of activity, but it's just a different mix. We don't have the corporate groups in the mix that we typically would have and neither do our hotels.
[Related: Irving Packs a Lot of Texas Into One Compact Package]
Tyler Davidson: Yeah, because I know, the couple of industry events I went to even during the pandemic were both in the Metroplex, so, the Metroplex has really been having larger meetings a lot longer than other destinations.
Maura Gast: Yeah. And I think part of that is Texas, when it reopened, it reopened pretty quickly. We still have considerable air access and considerable drivability. So, a lot of those things have that have always served us well definitely served us well when other markets no longer had the benefit of that great air service that we get in particular from American Airlines and from Southwest, with both of them headquartered in DFW.
Tyler Davidson: Great, so tell everyone what's new in Irving, and, I know from writing about the area, I think you might probably agree with me that really the biggest news is the Toyota Music Factory, which is a huge event entertainment district event space for groups that was actually--what, it was supposed to reopen two years ago? The pandemic sort of put a wrench in that, but now it's up and running and generating group interest.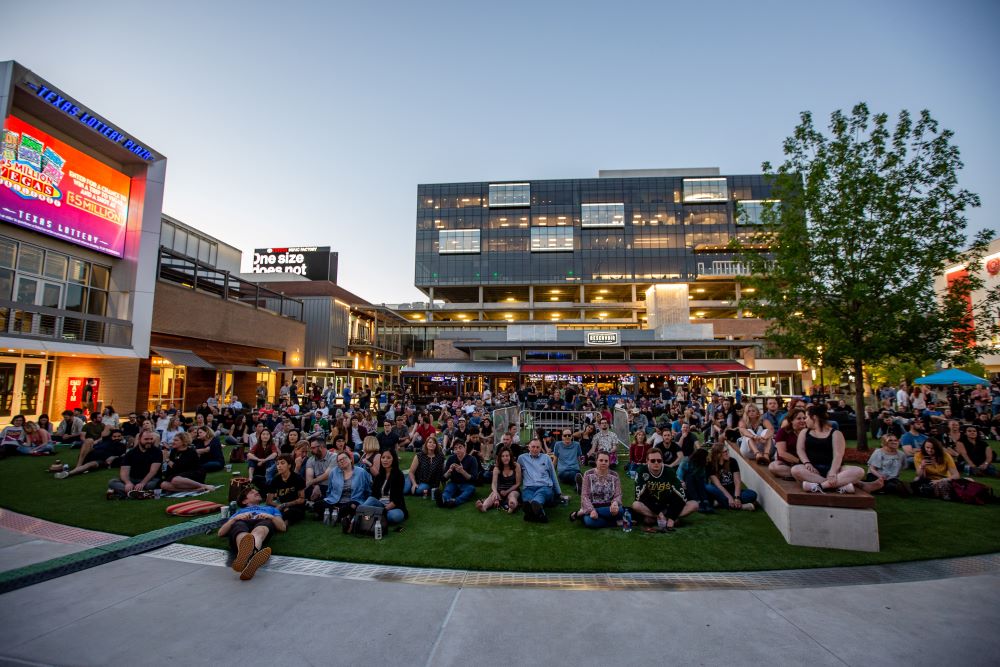 Maura Gast: Yeah, absolutely. So, it is adjacent. We have a 40-acre site that now includes the Irving Convention Center, the Westin Irving Convention Center and the Toyota Music Factory. So, we've now put kind of all the pieces of the puzzle together both from a visitor standpoint, but also from a corporate/resident standpoint—those were all important pieces.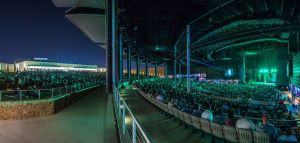 So, the Music Factory is open, the Live Nation venue that's in the Live Nation Pavilion is open, and that has a space that has capacity for 4,000 inside and another 4,000 on the lawn, so it's got these giant airplane hangar roll-up doors that can roll up and open to the lawn seating, and of course, this is the time of year when those shows become bigger and bigger.
So, that's happening. They're back in gear. 
There's a number of restaurants; there's Alamo Drafthouse [Cinema], which I feel very certain just had a huge Memorial Day weekend with the return of Top Gun Maverick. And there's a great mix of restaurants; some familiar names, some really local names. And again, those restaurants, too, because of where they're sitting in the middle of this area—they have still dependent on those business travelers and those business offices being reoccupied. 
But there's also a ton of new residential demand in this area, so that's really helped.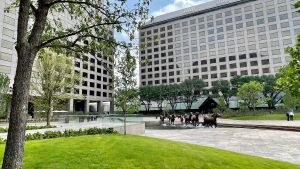 So, the Music Factory is definitely a big new add and things are rocking and rolling there. Water Street, which is right across the street from where the Mustangs at Williams Square are. That has got a number of great restaurants walkable from the convention center, but also walkable from some of the other hotels; a great waterfront view for a number of the restaurants over there. 
Williams Square Plaza, which is where the Mustangs sculpture is, has just been redone. And they've added lots of green-scaping and shade and trees and seating, and some really interesting kind of built-in…there's a built-in stage now, so it's a lot easier to produce events outside at that plaza now.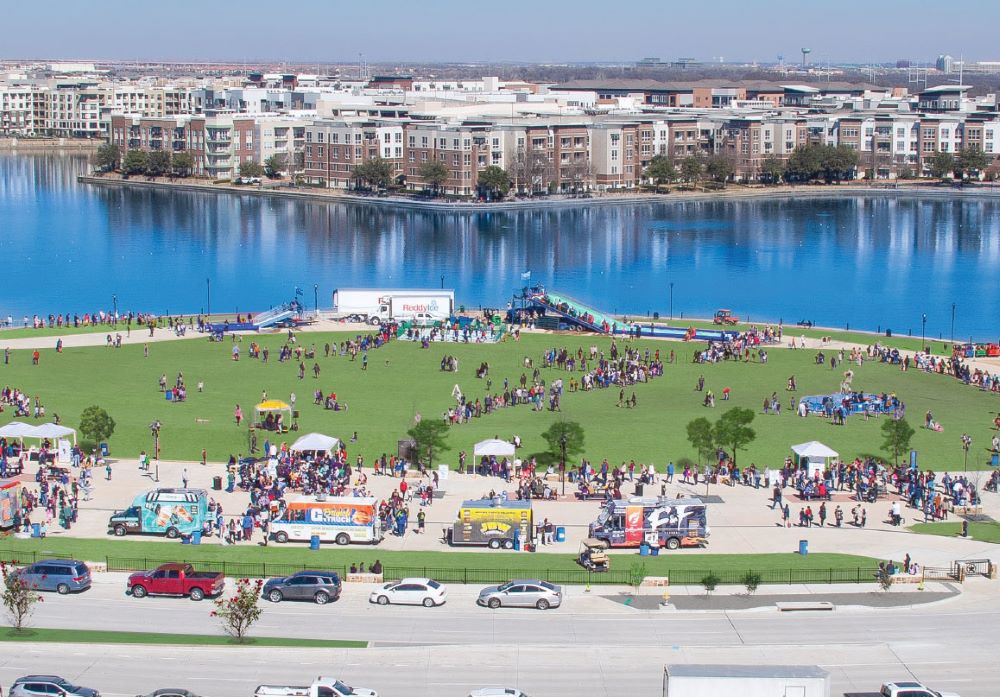 And then the Levy Event Plaza, which is at the opposite end of Lake Carolyn, right in the heart of Las Colinas, is now a beautiful new event space, as well. It just hosted the USA Triathlon multi-sport festival just a couple of weeks ago. It will host the city's Fourth of July events. 
And then a beautiful new outside space in the city's heritage district—they've just redone the Heritage Park. So, really, looking at these spaces as much more group friendly and group oriented, and really taking probably a little more active approach, to making those more use spaces. So, a lot of outside spaces, which is great. 
The Westin headquarter hotel has opened it opened in—everything's such a blur…I think March of '19? I don't know. Every COVID month is like a dog year, Tyler! We have an Element under construction that should be open by the end of the summer. We have an Embassy Suites hotel that'll be open probably closer to the end of the calendar year. 
You know, this market has always been hot and happening for hotels, and that certainly is still the case here. 
So, lots of new…and then the existing properties have all done tons of investment, tons of work to beautify themselves and reinvest in themselves. So, that's been exciting, too. Music Factory actually just got…the private developer who operated it just got purchased by Brookfield [Asset] Management group. So big, big player now—the private sector partner with the city in that project. So, we're very, very excited about what's to come on that front.
Tyler Davidson: So, it really seems like you're really well positioned to even probably welcome groups that maybe were not looking at Irving before?
Maura Gast: Absolutely. The city was well built for residents and businesses...from a functional standpoint, especially for corporate-related travel, it worked really well. But where we always were challenged was on that piece of "what's there to do when we're done for the day," right? And we have those pieces now. Our hotels have those pieces. Now the convention center has those pieces. But our office buildings also have those pieces now.
And that's really important because that's what has always driven Irving's success; those high-profile corporate tenants that call Irving home, and in their efforts to recruit and retain workforce that live/work/play/visit setting has become more and more important.
So, we needed Water Street, we needed the Toyota Music Factory, we needed all these projects to happen not only for residents, but also for visitors and also for our corporate residents as well.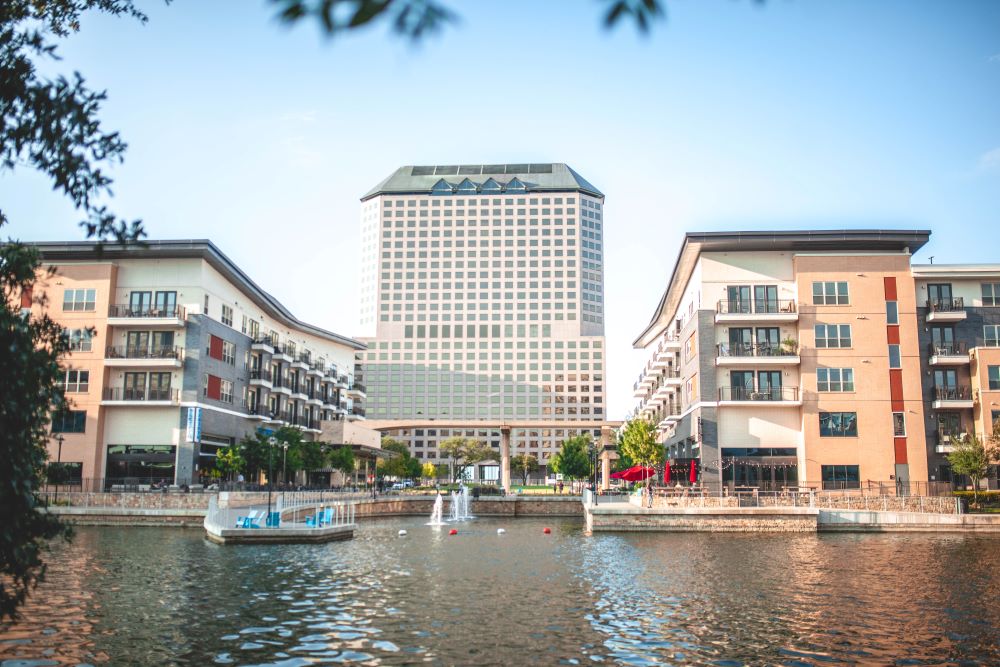 Tyler Davidson: Well, great. Thanks for joining us today. Anything else you want to add about the destination you think planners would want to know about?
Maura Gast: Oh gosh, if you haven't seen us in a long time, you haven't seen us. Doors are open and we're ready to welcome you back.
Tyler Davidson: Awesome. Thank you, Maura, and have fun at that anime…
Maura Gast: A-Kon!
Tyler Davidson:  Are we gonna see a photo of you, like, as a cartoon character?
Maura Gast: You'll never know it's me.
Tyler Davidson: Thank you for joining us. I appreciate it.
Maura Gast: Thanks, Tyler, Take it easy.
Tyler Davidson: You, too, and thank you for listening to this Meetings Today Podcast. If you're interested in more of our podcasts, just head on over to Meetingstoday.com. Check out our podcast section for lots of interesting, we think, podcasts with industry thought leaders. So, wherever you're at listening to us today, go out and have a great rest of the day. Thank you.
This podcast was produced in collaboration with Visit Irving Texas.
Read Next: New Developments Abound in Fast-Growing Dallas-Fort Worth Metroplex