Inspiring Speaker and Former NFL Long Snapper Turns to Magic to Overcome Tragedy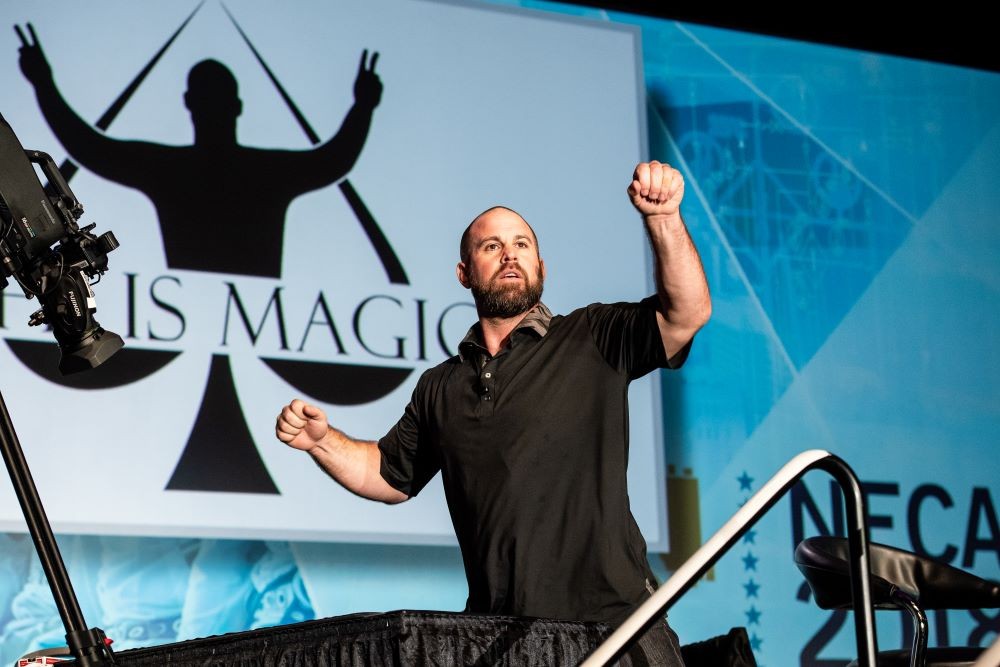 Jon Dorenbos Performs On Stage
When it felt like his life was falling to the ground like a house of cards, Jon Dorenbos picked up his own deck and started shuffling.
In the aftermath of a terrible tragedy, the former long snapper for the Philadelphia Eagles, New Orleans Saints and other teams found magic before he found anything else. Today, Dorenbos, a motivational speaker and magician, turns to his roots to motivate and inspire meetings and events attendees in magical ways. 
Meeting Magic 
At the age of 12, when he returned home from playing at a friend's house across the street, Dorenbos walked in to discover that his father, Alan, had murdered his mother, Kathy. His 18-year-old brother, Randy, then left home. Dorenbos and his 15-year-old sister, Kristina, went into temporary foster homes for nearly nine months. 
Alan was convicted and spent 13 years and eight months in prison. 
"In that period of time, we went through the most intense therapy you could possibly imagine," Dorenbos said. "In that transition, I saw a 16-year-old named Michael Gross. He was a magician, and he did a trick for me. Blew my mind. I loved it." 
Dorenbos and his sister eventually moved to Southern California after being adopted by their aunt and mother's sister, Susan, and magic officially became an everyday hobby for Dorenbos.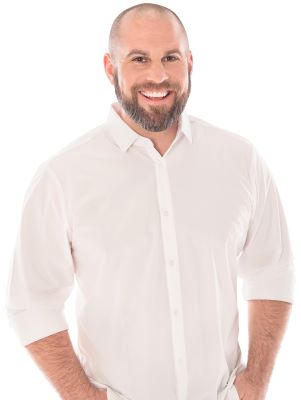 "When I first got into magic, it wasn't about wanting to be a magician. It wasn't necessarily about wanting to just do tricks," Dorenbos said. "It was, when I heard the riffle of a card, and when I shuffled the cards, when I sat at a table, looking back, it was the only time the world quieted. It was the only time I didn't think about losing not just one of my parents, both of my parents, living in temporary foster homes, moving … all these adult issues that you shouldn't have to deal with when you're 12. 
"With the riffle—it all quieted, and I was just a kid," he said. "It was the only time I didn't feel alone." 
From 1994 through 1998, NBC aired a television special called The World's Greatest Magic that featured world-famous magician Bill Malone. Dorenbos watched the special while in California, and Malone performed a trick called the 654 club. 
At his live performance during Marriott's Meet With Momentum Chicago event, Dorenbos opened with the same trick. 
[Related: Star Power: 5 Tips for Hiring Celebrity Speakers for Events]
Finding Football 
When Dorenbos started high school, having never played the sport before, a friend of his tried to convince him to try out for the football team. 
"I was like, 'No, I'm good man. Football's for dorks. I like magic,'" Dorenbos said. 
But his friend followed up with something that intrigued him. 
"But you can hit that guy and not get in trouble." 
"I remember going, 'Wow, that would feel really good,'" Dorenbos said. "I started on varsity my freshman year." 
Dorenbos began as a linebacker, learning the terminology and positions of football while playing the sport himself. What he found through football, though, was balance. 
"During the day, I could hit people and not get in trouble," Dorenbos said. "Then, I would go home at night, and I would sit at a table and shuffle cards, and the world went quiet. I had the calm before the storm." 
Dorenbos went on to play football at the University of Texas El Paso, where he was picked up by the Buffalo Bills as an undrafted free agent in 2003, then the Tennessee Titans from 2005-2006, which kickstarted his NFL career. 
After one year as a Titan, the team decided not to offer Dorenbos a tender, and he was released almost a year to the day after initially signing his contract. Every year he played, he said, he thought it would be his last, but he was okay with that. 
"I just played because I loved it," Dorenbos said. "I never played because I felt like I needed the money. I never played because I felt like that was the only thing in life for me. But, I think what ended up happening is it took so much pressure off of that job, and I think I played better because I was just there because I thought it was cool." 
But what he thought was the end of his NFL career was only the beginning. Shortly after being released from the Titans, Dorenbos was signed to a two-year contract by the Philadelphia Eagles as a long snapper, and, following the releases of Trent Cole and Todd Herremans in the 2015 offseason, Dorenbos became "Mr. Eagle"—the team's longest tenured player—with 11 seasons and more than 160 consecutive games under his belt.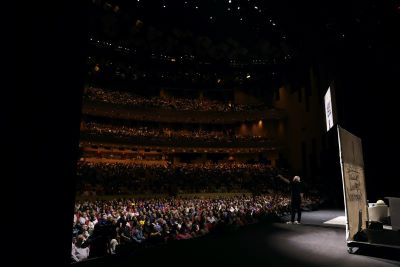 "I've always said that everything I do, everything I get into, I'm going to give it everything I've got," Dorenbos said. "I'll be on time, I'll be prepared and I'll be ready to work. I want to be the last person standing." 
During his last season with the Eagles, Dorenbos auditioned for the 11th season of America's Got Talent in 2016 with a card trick, not necessarily anticipating getting through the first round, but hoping for "Simon [Cowell] to say a few cool things to help promote my speaking career."  
Then, during the Judge Cuts round, Dorenbos received the golden buzzer from guest judge Ne-Yo, immediately advancing him to the live shows. 
For the next few weeks, Dorenbos spent 8 a.m. to 5 p.m. at training camp with the Eagles in Philadelphia, and "it was wheels up by 6:15 p.m." to Los Angeles. Then, at 10:15 p.m., another flight back to Philadelphia to land by 7:15 a.m. the next morning and do it all over again. 
"It was the most exciting time of my life, professionally," Dorenbos said. "It was my two passions that I love doing, and I think it was my life coming full circle. A lot of people saw it as, 'How can you do two things at once and be successful at both?' It allowed me to reflect and start thinking about the decision-making process, discipline, understanding your opponent, how you self-evaluate constructive criticism, time management—all these things that allow you to do as many things as you want to do. There is enough time, but a lot of people don't want to put in the time." 
Dorenbos had finally achieved his goal, and he wasn't ready to give it up just yet, but on August 28, 2017, the Eagles traded him to the New Orleans Saints. Then, the Eagles made it to the Super Bowl. Even though Dorenbos no longer played for the team, Jeffrey Lurie, owner of the Philadelphia Eagles, made sure he still got his Super Bowl ring. 
Not even two weeks into his career with the Saints, Dorenbos was diagnosed with an aortic aneurysm—the enlargement of the aorta—which required immediate open-heart surgery. What was supposed to last four hours lasted 14, and when he woke up, Dorenbos' NFL career went to sleep. 
[Related: Speaker Spotlight: Lex Gillette, Paralympic Athlete for Team USA and Motivational Speaker]
Speaking It Into Existence 
Despite his athletic career, Dorenbos didn't let go of the one thing that helped him feel peace, and he knew the end of his time in the NFL wasn't the end of Jon Dorenbos. 
"I never wanted to be identified as the NFL guy. I never wanted to be identified as the magician. I never wanted that to be who I was in my identity because what I've learned is that life changes. Well, so does your identity," he said. "So, if [how you identify is] all you are to yourself, what happens when that ends all of a sudden? It's depression, lack of purpose, and you think the world's over. 
"But, this whole time, I'm doing magic," Dorenbos said. "I'm a magician that plays football, and I love it." 
Dorenbos was Dorenbos, and people knew him for all he was, not for what he could do. While playing for the Buffalo Bills, Dorenbos met Kevin Elko, a sports psychologist, performance and career-enhancement consultant, author and professional motivational speaker, who proved Dorenbos was more than just a last name on the back of a jersey.  
"You're the magic guy, right?" Elko asked. "Do me a favor. I'm talking to these bankers. I'll give you a couple hundred bucks. Will you just tell your story of how you got into college and football, then do that $100 bill trick?"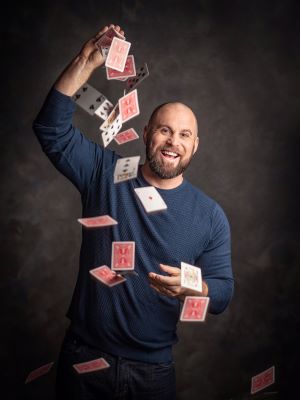 Dorenbos didn't really understand the intent behind Elko's request, but he happily agreed. Within a week, he had received "hundreds of pieces of mail" from the group and a phone call from Elko. 
"Look, the magic's cute, but you need to be a speaker. Do all the magic you want, but I know your life story, and I really think you can actually help people." 
In 2003, Dorenbos and Elko began working closely together as Dorenbos tagged along to Elko's events and delivered speeches of his own. What started as 15 minutes of talking eventually turned into 60 minutes of motivational speaking and magic tricks to complement the lessons and stories he shared. 
He learned from Lance Burton, another American magician, that "the hardest thing about magic is getting people to care." Dorenbos knew he first had to get his audience to care about him as the speaker. Once they did, they would care about the magic, too. 
"The way you do that is to be authentic, tell your life story and just be real," Dorenbos said. 
For Dorenbos, being a magician didn't mean fooling his audience into making them believe he could float or pull infinite ribbons from his sleeves. He does what he can, he said, to make his audience feel level with him, rather than under his spell. 
"When I perform, it's about, 'Hey, check this out. This is really cool, look at what we can do here," Dorenbos said. "Even in the speaking world, I've turned gigs down when they say I have to wear a suit. I'm just not that guy." 
The greatest thing he learned from the speaking world is to be authentically and wholeheartedly himself and not force himself into a category where he felt he didn't belong. Now, Dorenbos is one-of-a-kind—a motivational speaker and magician all in one—and the world started to notice how special that was. 
[Related: Wellness speakers who inspire and motivate change]
'More Than Just Football' 
When he's on stage, Dorenbos said he knows people already know him as the former NFL long snapper who played for 14 years. What's more important to him is his ability to relate to his audience on deeper levels. When he shares his story, he knows he can reach people who may not have ever known he was in the NFL, but now know they are not alone in what they've experienced.  
"It's, 'How can I weave them through those emotions and storytelling if they put me on this pedestal as a professional athlete? How can I then get them to relate to me? Or make them think that they can do whatever they want to do?'" Dorenbos said. "'How can I get them to maybe forgive a person or an instance in their life that maybe they don't realize is holding them back?' To me, that was the fun part of the speaking world." 
Before getting on stage, though, Dorenbos had to figure out exactly what his story was. He didn't have a writer, but he had a goal: Tell the truth, and it'll be the same every time. 
Once he had his story figured out, he highlighted his takeaways: Come to terms with your reality, find forgiveness in your life, and "when you find a little piece of happiness, grab onto it and never let it go." 
"Learn what that is and live in vision, not in circumstance," Dorenbos said. "Realize that no matter how bad life is, no matter how bad you feel like life is kicking you down, every door, every house, every condo, every family; they have that, too."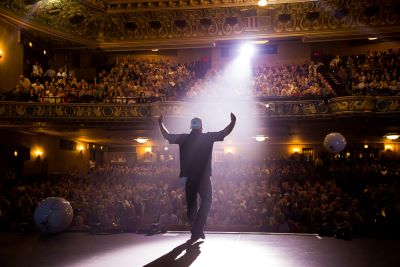 Dorenbos turns back to his time in therapy at 12 years old for inspiration, a time when most expected him to feel defeated and down, but for Dorenbos, "the world was cheering for me to stand back up, and that's what I would do. I would stand back up." 
He teaches his audience not to listen to themselves, but to talk to themselves—out loud, if that's what works best for them—and write their own life like it's a movie. Whenever a new decision arises, Dorenbos thinks of the script he wrote for himself. 
"I may not get where the script had me go, but I'm going to be better off where I'm at," Dorenbos said. "And if something else happens, you get a rewrite. 
"It should be about who you are. Never become what you do. Be who you are, love what you do," Dorenbos added. "And then all of a sudden there's life shifts, and life changes, and life puts you in a different direction, but you'll always find new beginnings." 
[Related: Essential Tips for Better Speaker Selection]
Finding His 'I Forgive You' 
One month before his wife, Annalise Dale, gave birth to their daughter, Amaya Love, Dorenbos realized there were three words he never said out loud. 
"I forgive you." 
When he was in high school and his friends invited him to have lunch with them and their dad, those lunches were the only time he ever intentionally showed up late to anything.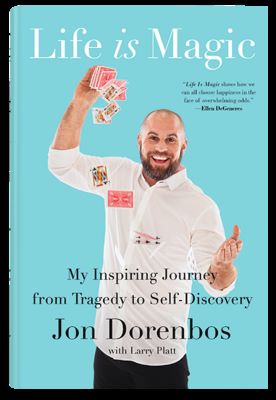 "I wanted to walk in on a father and a son sitting and hanging out, because I never had that," he remembered. 
After more than two decades, Dorenbos was ready to see his dad again. On his way to the five-hour lunch they had together, Dorenbos asked himself exactly what he was looking for out of it, and it wasn't validation, answers or an explanation. 
"I was there for me," Dorenbos said. "I had two options. I could be a deadbeat dad that the world could make excuses for and say, 'Hey, if you knew where this kid came from, you would understand,' or I could make a decision to be everything I didn't have." 
Dorenbos knew he wanted to give his daughter everything he had, but he didn't have everything. He knew he needed to clean up his own head, he said, to give his daughter the world. 
Forgiveness, for Dorenbos, meant that with the next step he took forward, he would leave behind his dad and the "little cloud in the back of my head of anger and bitterness and confusion" he brought with him. 
When his daughter was born a month later, Dorenbos was the first person to hold her, and without even thinking about it, he said 10 words to her that have since become part of the dedication of his book, Life is Magic. 
"You'll always be able to have lunch with your daddy." 
Connect 
Read this next: Experiencing Marriott's Meet With Momentum Series in Chicago