STR Stats: Meetings Coming Back, But Still Lagging Leisure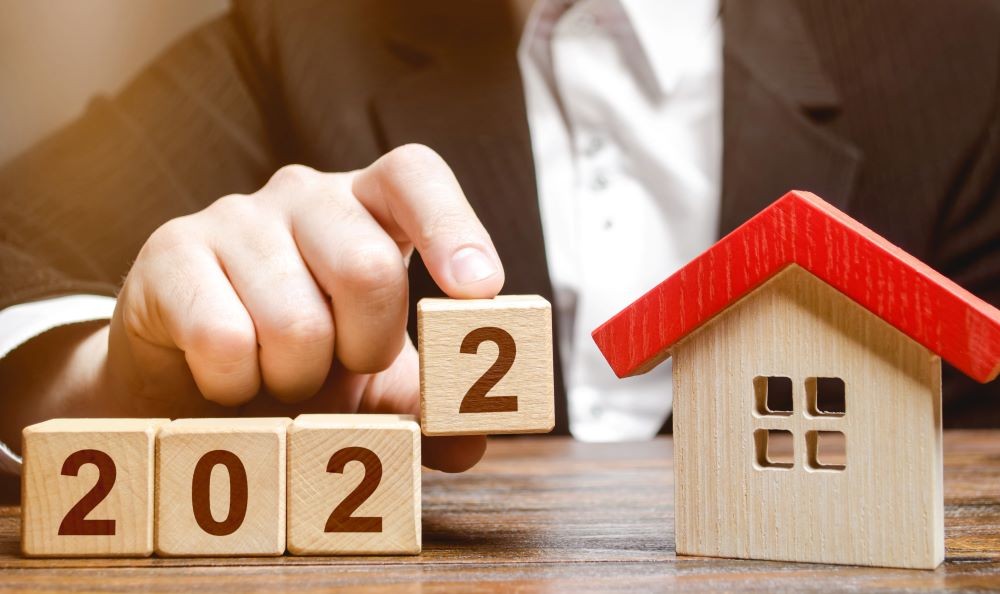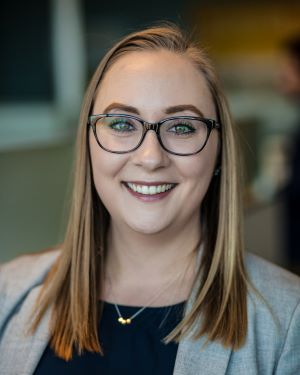 The hospitality industry is set for a rapid recovery from the depths of the pandemic, when monthly RevPAR (revenue per available room) plummeted to a bottom-scraping $20, but the meetings segment is predicted to trail leisure in getting back to 2019 levels, according to a presentation by hospitality data and analytics company STR at MPI WEC 2022 in San Francisco. 
According to presenter Hannah Smith, senior consultant for STR, the RevPAR level in the depths of the pandemic was the lowest since 1987, but shortly before the June 21, 2022, presentation it had climbed back to $82, a promising sign for industry recovery. 
[Related: MPI Shows Its Resilience at 2022 WEC San Francisco]
"The amazing thing is how quickly it bounced back," Smith told the audience during her "Where We've Been, Where We're Going: New and Next Hospitality Trends" session. "Previous recoveries took four and five years. 
"2019 was the highest point ever in the industry," she added about the "V-shaped" recovery, "so when we're talking about getting into 2019 levels, we're talking a record for the industry." 
ADR (average daily rate) is actually pacing ahead of 2019, when adjusted for inflation.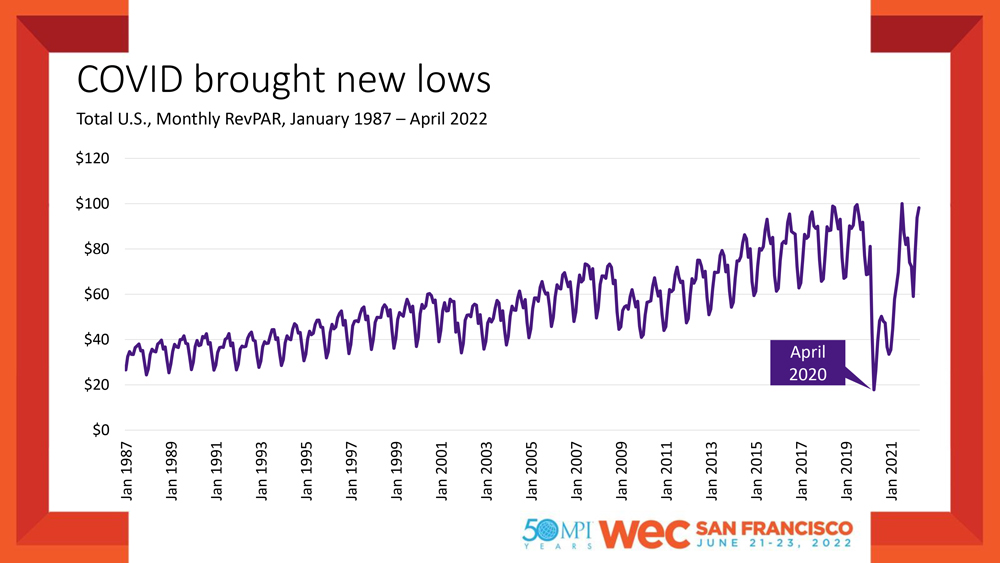 "ADR is far exceeding 2019 levels now—114% of 2019, which is 14% higher than 2019 levels," Smith said. "The threshold is 13% to beat inflationary growth, and March was the first month that beat inflation." 
Smith added that demand has basically recovered to 99.8% of 2019 levels. 
"Two years in and we're back," she said, adding that the January Omicron wave was the only exception to a solid growth curve, but that almost all of the ADR growth has been consumed by inflation, which is a global issue. "The fact that two years after the fact the industry is back, even adjusted for inflation, is a very positive sign."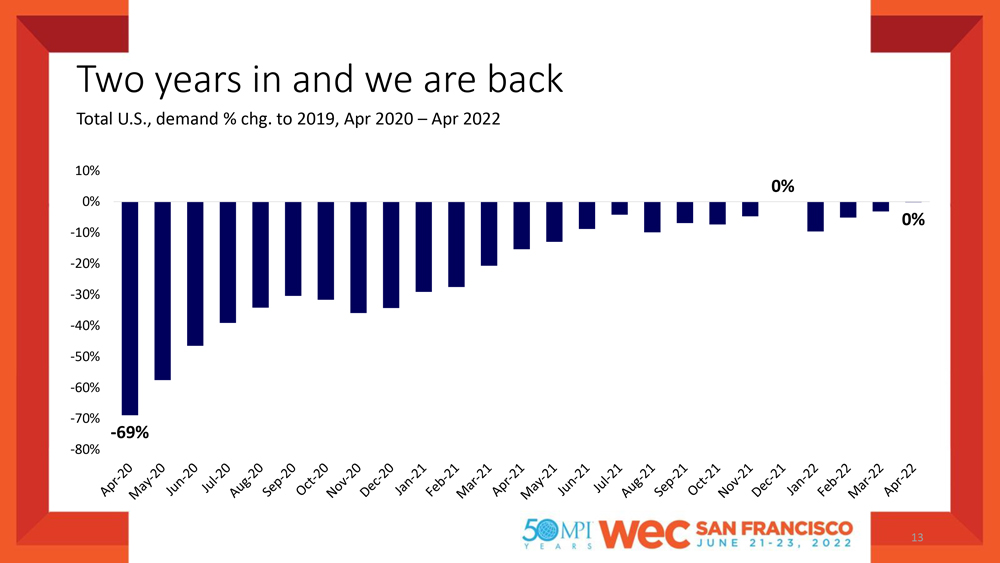 Class Performance 
But while the hotel industry overall is enjoying a rapid recovery, properties in the upper segments—which include most major meetings properties—still face strong headwinds. 
"The big story of this recovery is that it's the most uneven recovery that we've seen," Smith said. "So, despite the fact that we're now almost back to those 2019 levels across the industry, that's not being felt by each hotel type in the same way. Those hotels are feeling the same pressures that a lot of you are feeling—food costs are up, there's a lot of wage pressure. So that's all eating away any of this revenue growth that these hotels are seeing." 
[Related: Report From MPI WEC: Puerto Rico Emerging From Pandemic Trending Up]
Economy and mid-scale properties, especially in the extended-stay segment, fared much better than luxury and upper-upscale hotels, such as full-service, major-brand properties in urban markets. The luxury segment performed better than upper-upscale, which was hit the hardest, and the economy segment has been shrinking for a number of years due to factors not associated at all with the pandemic, she added. 
ADR is quickly recovering in the luxury segment, however. 
"They've really been able to drive incredibly strong rates over the past year," Smith said. 
Top 25 Markets 
The traditional Top 25 hotel markets, especially in urban areas, really took a beating during the pandemic, with Minneapolis, Chicago, San Francisco and Washington, D.C., suffering the largest occupancy level drops between April 2019 and April 2022, and still currently 10 points below their 2019 occupancy levels. Room rates are still in the red in San Francisco, Minneapolis, Chicago, Boston and Washington D.C., during the same time period.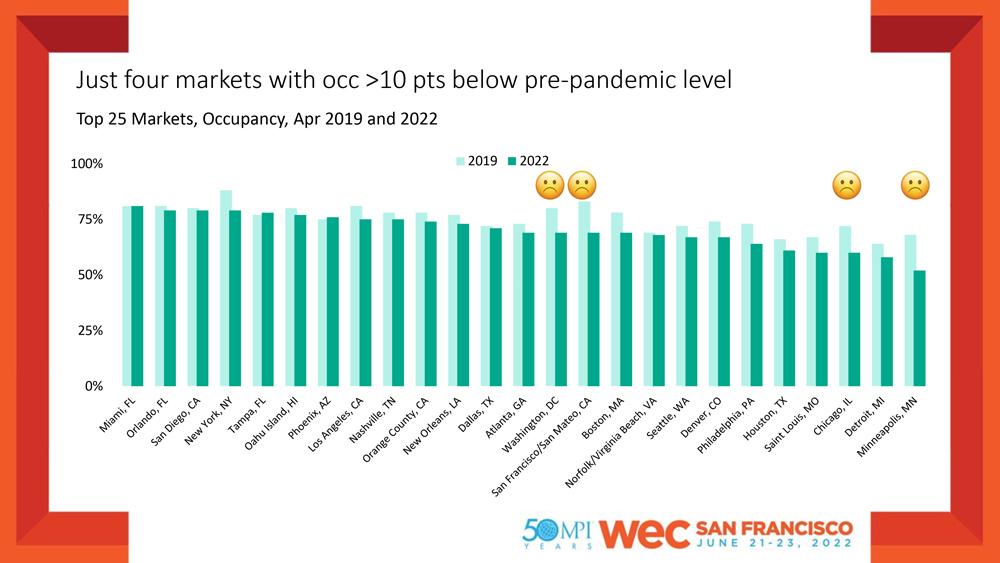 The good news, at least from the hotel industry's perspective, is that RevPAR is growing in the Top 25 markets, from down approximately 40% in May 2021 to actually posting a slight gain in April 2022. 
Beach areas such as Miami and Tampa, Florida, as well as Phoenix—popular for its outdoor venues—saw astronomical ADR growth that hit levels 30% to 40% higher than their 2019 levels. 
Smith said that one destination that can serve as a barometer for group travel, New Orleans, has been posting positive numbers in terms of ADR. 
"To be able to see them, despite the fact that group business hasn't come back, still push their rates, is really positive for the hotels in that market," Smith said. 
Smith said that the current hotel market is approximately 75% leisure and 25% group, which means that business and group travel such as meetings is still lagging, even though it is picking up. 
"So, a lot of that leisure demand has come back, it's just that group demand that we're still waiting on, but the last couple of months have been really positive signs," Smith said. "When we look back to the fall of 2021, I think there was a lot of hope in the industry—that's usually a big convention season. There was a lot of hope that group demand would really start to come back in full force in the fall; that didn't quite play out.  
"But I think we are starting to see it truly come back now, in March and April, where we're at our highest levels since the onset of the pandemic," Smith continued. "And just indexing back to those 2019 levels, we're just 13% off those 2019 total demand levels. So, they do want to travel, they do want to come to conventions again, they are starting to bring back that whole group travel." 
Listen Next: Live From WEC: Transformational Meetings Tech Change From Encore