3 New Illinois Hotels and Indiana's New Convention Center
Peoria Pere Marquette Hotel Exterior
Illinois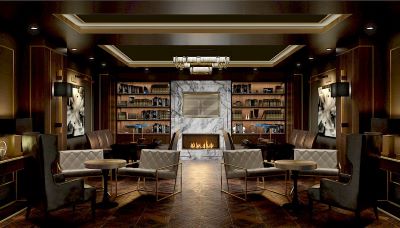 Autograph Collection debuted The LaSalle Chicago, Autograph Collection, a new luxury hotel in the city, earlier this summer. The 21-story, 232-room hotel is centered around sophistication, bringing a tailored experience for both business and leisure to Chicago's Financial District.
Spaces first reserved for the Financial District's two largest banks now serve as meeting space for the hotel. The LaSalle Ballroom, a 2,155-square-foot space, can hold up to 150 guests, while the Wells Room, a nearly 850-square-foot space, allows for smaller, more intimate gatherings.
Other meeting spaces include the Lincoln Room and Adams Room, both measuring 827 square feet with a maximum capacity of 45 people. 
[Related: 3 Mid-America Destinations to Consider for Future Meetings]
With an original debut planned for February 2022, St. Regis Chicago Hotel is expected to open its doors to guests sometime this summer. The 191-room hotel, located on the first 11 floors of Chicago's third-tallest tower, Lakeshore East Building I, has been in the works since 2016.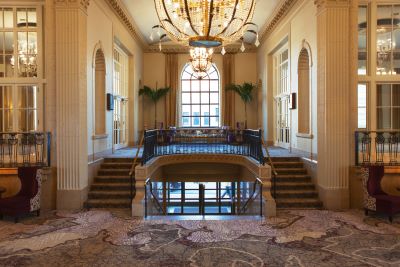 The Chicago River waterfront hotel offers a 5,000-square-foot ballroom, and an additional 3,000 square feet of executive and prefunction space features floor-to-ceiling windows with views of the Chicago River, Lake Michigan and Navy Pier. 
The historic Peoria Marriott Pere Marquette, first opened in 1927, debuted renovations of the hotel's 286 guest rooms, as well as the lobby, Great Room and fitness center. The updated designs pay homage to the hotel's nearly 100-year history of poise, elegance and sophistication. 
Peoria Marriott Pere Marquette features 18,000 square feet of meeting and event space, including four ballrooms, and is connected to the Peoria Civic Center, which hosts concerts, tradeshows, exhibitions and more.
Indiana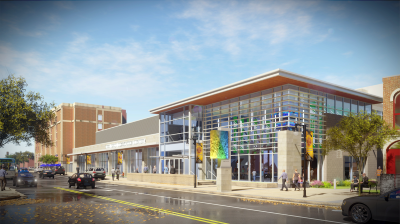 In early April, the new Terre Haute Convention Center opened its doors to the public after more than a year of construction. The property features 15,930 square feet of total meeting space, with capabilities to host up to 1,000 people, including an outdoor option and a flexible 12,500-square-foot ballroom that divides into breakout space. 
The Terre Haute Convention Center is connected to a hotel and attached parking garage and offers in-house catering with customizable and portable walls, as well as a loading dock, dance floor and staging area. Audio visual equipment and video conferencing services are available for use, and complimentary WiFi is accessible throughout.
[Related: 4 New Hotels in 4 Downtown Mid-American Cities]
New in Nebraska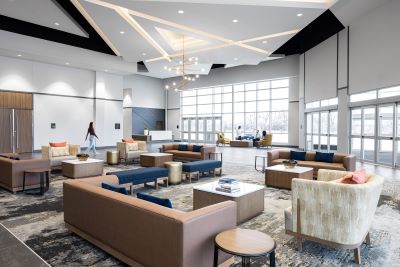 The Crowne Plaza Kearney is one of the first hotels to usher in the return of business travel to the state of Nebraska. The 172-room hotel is conveniently connected to the Younes Conference Center, the largest meeting facility between Omaha and Denver, according to IHG Hotels & Resorts. 
The hotel is the first new build from Crowne Plaza Hotels & Resorts in the U.S. since 2020 and offers 70,000 square feet of dedicated meetings and events space with a capacity of 2,500 people through its connection with the conference center.
The hotel itself features 35 meeting rooms and an onsite business center, open 24 hours a day. Other onsite amenities include a coffee shop, Fyre Grill & Spirits and an indoor waterpark.
Read this next: Best Places for Meeting Attendees to Eat and Drink in Indiana