Meetings Today LIVE! West Wraps Up in Aurora and Denver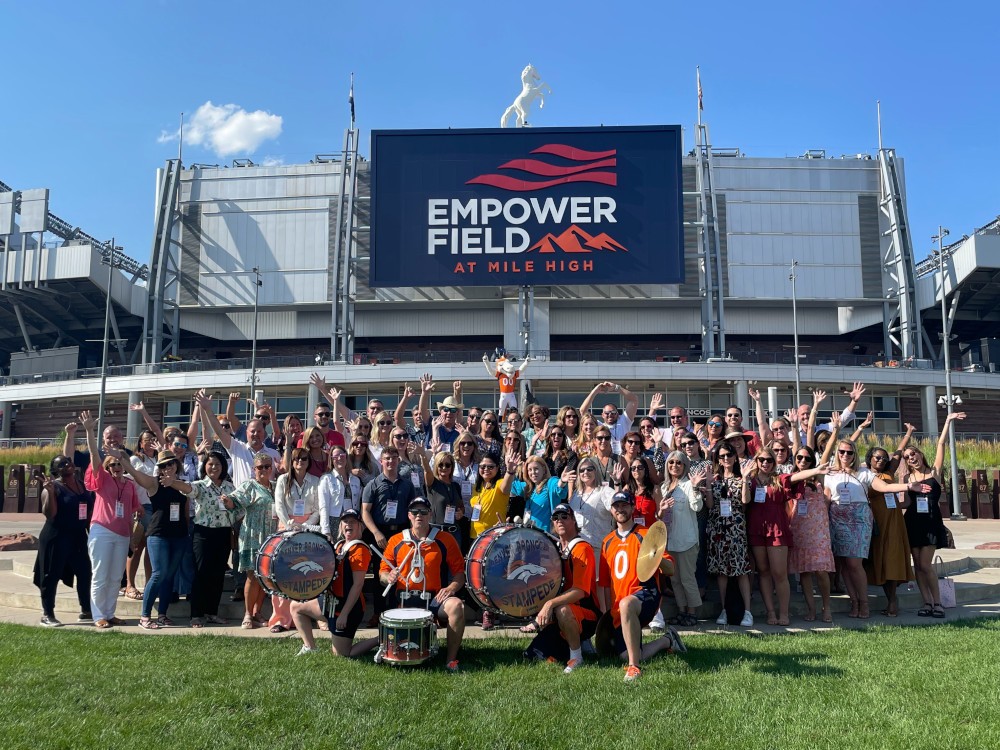 Group shot at Meetings Today LIVE! outside of Empower Field in Denver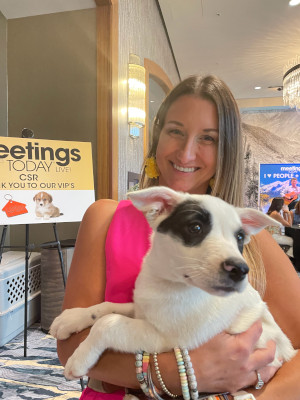 The sun shines bright over the Mile High City area 300 days at year, according to Visit Denver. And as we were greeted by sunbeams through dispersing rain clouds and six adorable, adoptable puppies from Lifeline Puppy Rescue, the first impression Denver and Aurora made for our Meetings Today LIVE! West event was hard to forget when it came time to say goodbye (especially the puppy kisses). 
The July 24-27 event was hosted at Gaylord Rockies Resort & Convention Center. The 1,500-room resort, situated at the edge of the Front Range on the easternmost section of the southern Rocky Mountains, set the perfect natural backdrop for a welcome reception featuring the resort's 13,444-square-foot Juniper Patio, offering a mountain view and yet another opportunity for planners and suppliers to experience both Aurora and Denver, Colorado, thanks to our partners, Visit Aurora and Visit Denver.
"We are truly the gateway to the Rockies," said Bruce Dalton, president and CEO of Visit Aurora. "Since the Gaylord has opened, Aurora really is now a player in the meetings and events industry. By having the largest hotel and convention complex in Colorado, that puts a stamp on us, which changes our destination, and it's only going to continue to change, increasing the size and the scope of our business in Aurora."
Meetings Today LIVE! West 2022
Opening Night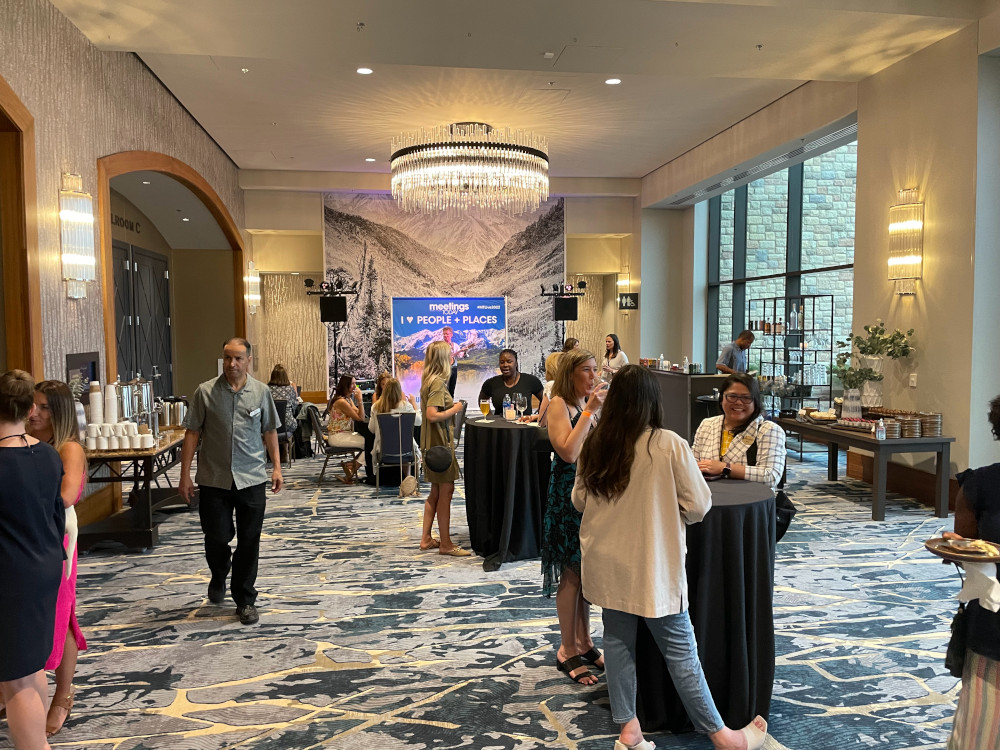 With 517,987 square feet of total event space, Gaylord Rockies Resort & Convention Center was fit to accommodate our group for all occasions, from our opening night welcome reception to breakfast on the patio beneath Colorado's summer sunshine, and one-on-one appointments in the Juniper Ballroom, a 7,535-square-foot space with an intimate atmosphere ideal for mingling.
Despite unpredictable storms, flight delays and cancellations, attendees arrived with smiling faces Sunday night, where they gathered in Gaylord Rockies' Juniper prefunction space and kicked off festivities dancing to live music performed by Eric Lane, playing with Lifeline Puppy Rescue's newest litter of adoptable puppies and dining on a spread including bison, mahi mahi tacos, charcuterie boards and bite-sized sweets.
Day 2: Discovering Denver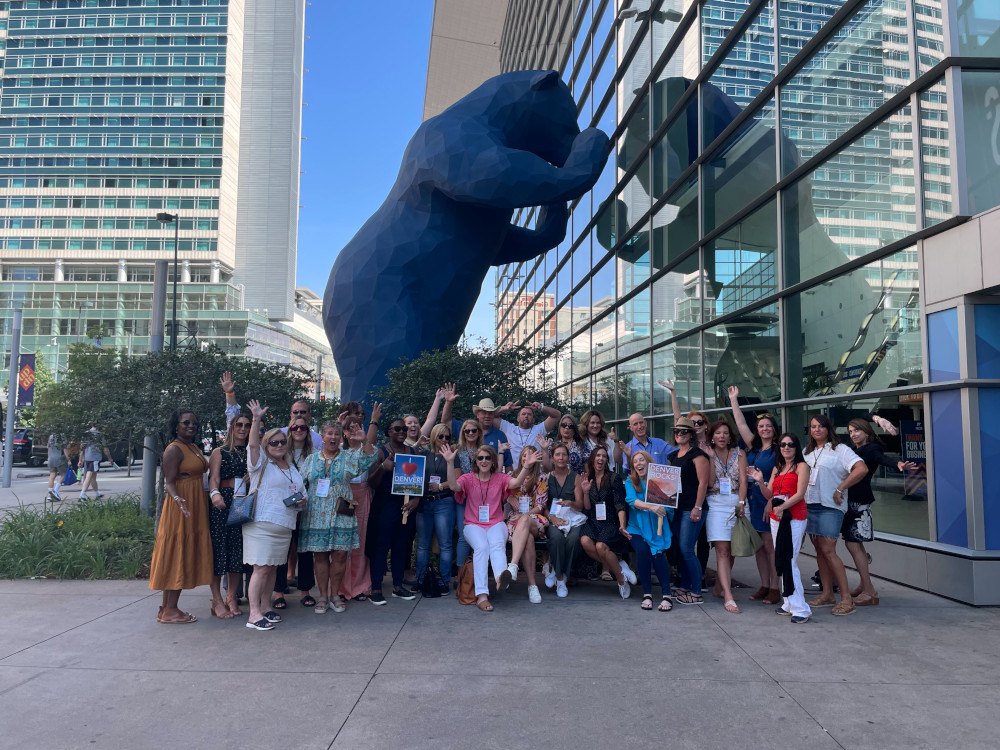 After waking up to mountain views and blue skies, attendees gathered on Gaylord Rockies Resort & Convention Center's Juniper Patio to enjoy breakfast prior to attending the first education session, presented by Nancy Snowden, lead manager, educational experiences for MPI Academy.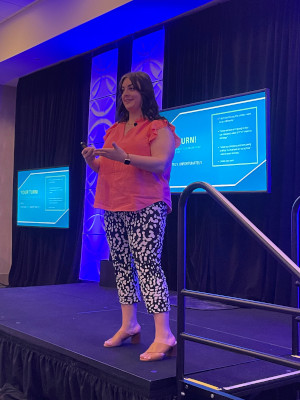 Snowden's program, "Emotional Intelligence: Leveraging the Foundational Skill of the Future-Proofed Workplace," took attendees through the importance of intrapersonal and interpersonal skills in both work and life environments, and emphasized the benefit of collaborative communication in problem solving and compromising.
"You have to be emotionally intelligent to communicate well," Snowden emphasized during her presentation. "You have to be emotionally intelligent to have empathy. You have to be emotionally intelligent in order to have vision…How can we reconcile that barrier? People want to experience learning and problem solving in a collaborative way. That's all emotional intelligence is. It is about structure, and it's about how we engage with one another and the mutual respect that we have for one another and how we display that in the way that we work together."
Following Snowden's speech, attendees experienced nearly a dozen one-on-one sessions in Gaylord Rockies Resort & Convention Center's Juniper Ballroom, a 7,535-square-foot space able to accommodate 36 suppliers at their own individual roundtables and in which nearly 800 connections were made between meeting planners and suppliers.
"It felt like [Meetings Today] hand-picked really great suppliers who really know their product, which isn't always the case," said Saira Kianes, global meeting and events planner with Banu Event Solutions and Training. "It didn't feel like a waste of my time. It was incredibly productive."
Attendees then departed for an immersive experience of downtown Denver, where the newly renovated Sheraton Denver Downtown Hotel welcomed the group for a site tour and lunch to experience the $80 million hotel transformation.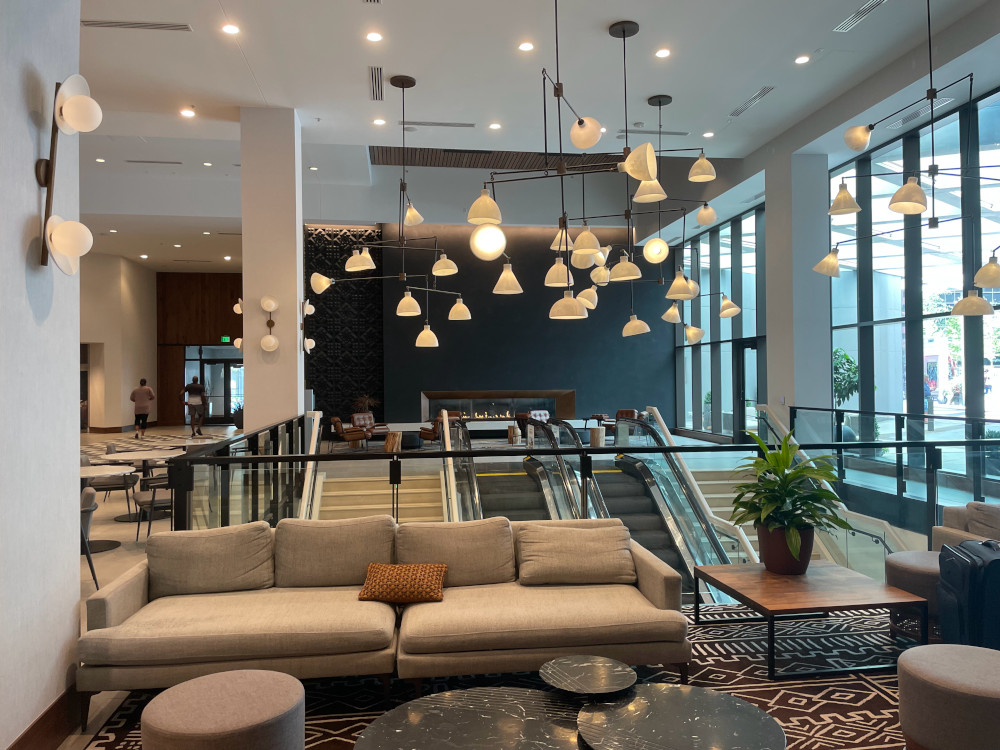 The four-star hotel features more than 133,000 square feet of flexible meeting space and 1,238 redesigned rooms. Sheraton Denver Downtown Hotel claims to "take a place and make it a space," and, in our case, it was a space for meaningful connections and a true Denver experience.
A tour of the hotel gave attendees the chance to see the hotel's newly renovated lobby, featuring studios and meeting spaces available for booking, as well as smaller gathering areas off the lobby featuring co-work tables and Sheraton Denver Downtown Hotel's 28,000-square-foot Plaza Ballroom.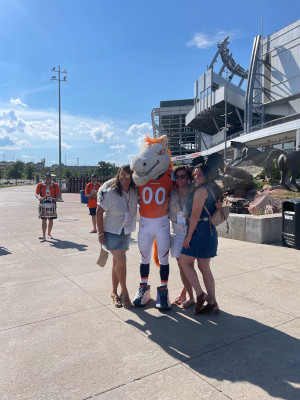 Guests were then treated to a tour of downtown Denver organized by Visit Denver, where we experienced the Denver Performing Arts Complex, alongside a surprise performance from a cappella group Storytellers 303.
From there, attendees visited the Colorado Convention Center, which is currently undergoing a multimillion-dollar expansion to include a new 80,000-square-foot, column-free multipurpose room and outdoor rooftop terrace featuring views of the city and mountains. Renovations to the lobby and seamless integration with the existing building will allow guests access to an additional 150,000 square feet of meeting space, 600,000 square feet of exhibit space and the 5,000-seat Bellco Theatre. 
Empower Field at Mile High welcomed us with a drumline and an enthusiastic Miles, official mascot of the Denver Broncos. After a few photo opportunities and working through the excitement, attendees departed for a graffiti tour through Denver's River North (RiNo) neighborhood, led by Denver Graffiti Tour.
Ending the day on a high note, we gathered at Denver's Dairy Milk Market—an all-local mix of restaurants, bars and businesses—for an alleyway dinner packed with entertainment from breakdancing children to a string quartet playing everything from Michael Jackson to Swan Lake. 
More About Denver: New Developments
The Mile High City is only climbing higher as new developments and renovations to Denver entice more and more visitors to the city. 
Denver International Airport (DEN) is now the third-busiest airport in both the nation and the world, with 1,700 daily flights to 175 destinations, according to Jason Lusk, associate vice president, convention sales with Visit Denver. 
"You wonder how, but really, that's from having such a heavy domestic network for attendees to get in," he said.
Currently, $7 billion of infrastructure enhancements are going into the city as well, including adding another 39 gates to DEN, revisioning the 16th Street Mall and a new $2 billion program at the National Western Center.
New and renovated hotels, including The Slate and Thompson Denver Hyatt, opened as recently as May 2022, and despite pandemic setbacks, more than 260 new restaurants opened their doors downtown in 2021.
After a $150 million renovation, the Denver Art Museum reopened its doors to the public in late October 2021.
New amenities include the Sie Welcome Center, which connects the Hamilton and Martin buildings and is crowned by an elliptical glass event and program space with 50,000 square feet across three levels and the state-of-the-art Sturm Grand Pavilion.
Other new attractions include Meow Wolf—its third location in the U.S.—and a $36 million renovation of the 185,000-square-foot Helen Bonfils Theatre Complex at the Denver Performing Arts Complex.
[Related: CSR Activities in Colorado That Make a Lasting Impact]
Day 3: Around Aurora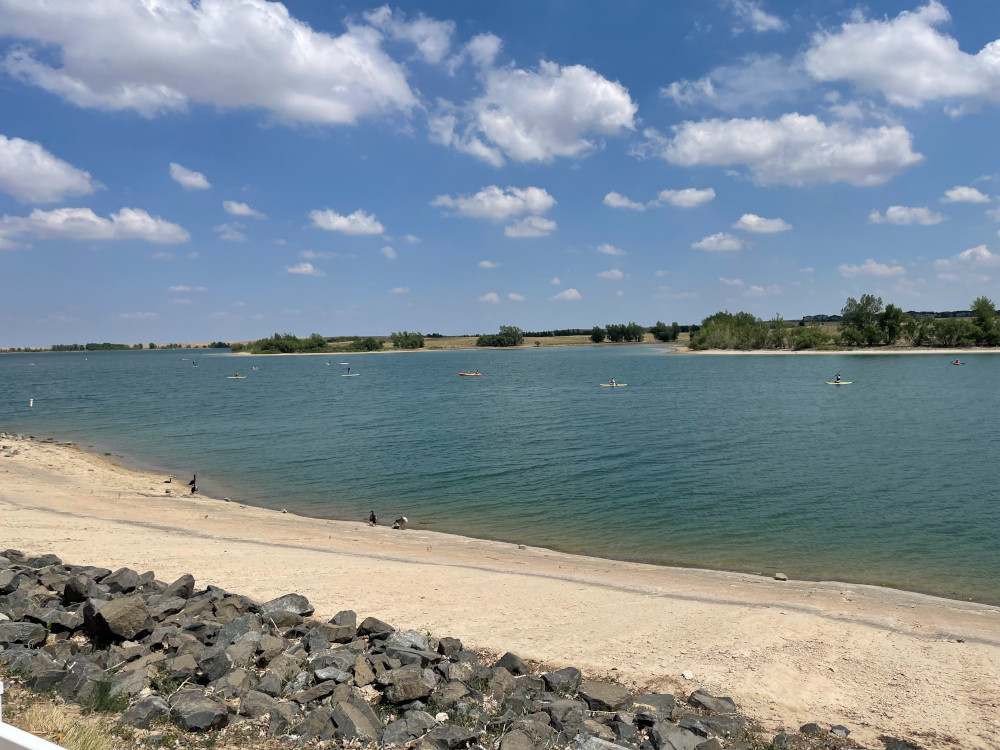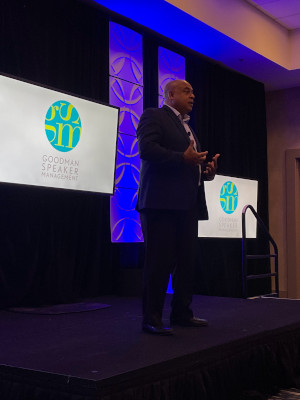 With a bit of a lighter agenda for the final day, attendees gathered once more for breakfast before attending a second educational session with speaker Lee Rubin, who has 20 years of experience building high-performance teams.
Thanks to Goodman Speaker Management, attendees experienced Rubin's teambuilding keynote, "Five Components of Extraordinary Teams," in which he guides his audience through the "5 C's" of building a collaborative and productive team.
Planners and suppliers partook in another round of one-on-one sessions prior to boarding the bus to the Aurora Reservoir, where lunch was served on the beach alongside games such as giant Connect Four, jumbo Jenga and cornhole tournaments between Meetings Today LIVE! attendees and representatives from Visit Aurora, who organized the beach party on the shore.
Guests heard a special speech from Mayor Pro Tempore Francoise Bergan, who highlighted the diversity of Aurora as a neighborhood, the city's recent developments and its rising popularity as a premier destination for meetings and events as the true "Gateway to the Rockies."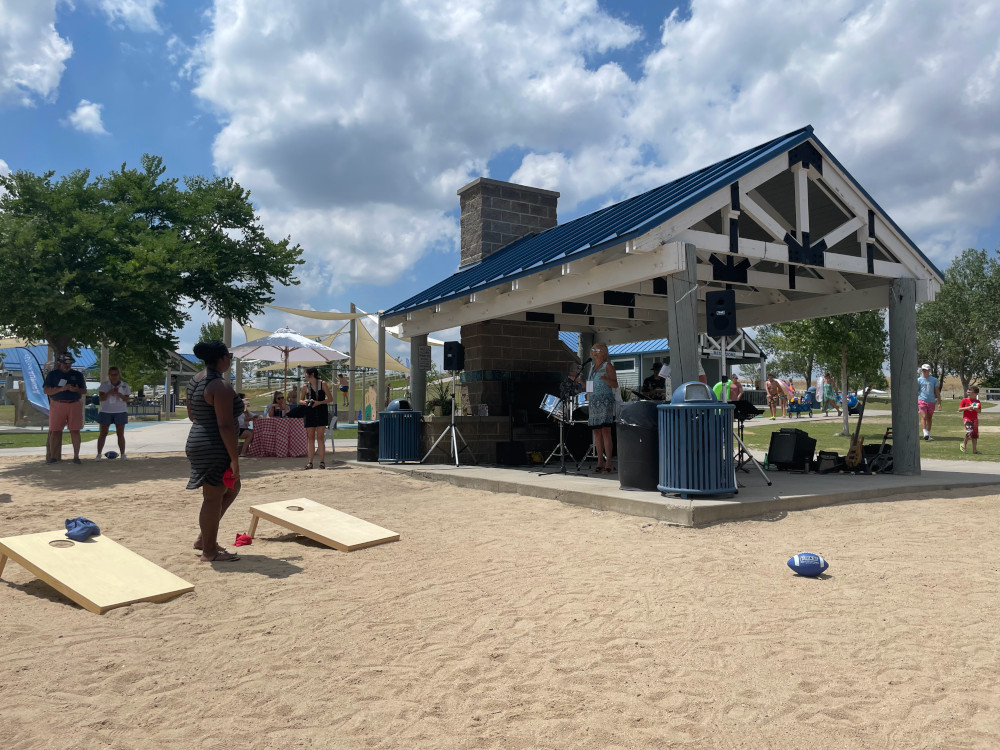 "Somebody has to be the front door to the Rockies," said Rick Crandall, Visit Aurora board chair, "so why not us?"
Bergan added that the destination is starting to gain real traction as a meetings destination.
"I think we were kind of the unknown entity, and Gaylord certainly brought a lot of attention to us," Bergan said. "But we have so much to offer—our diversity, different cultures and amenities that I don't think many people know about."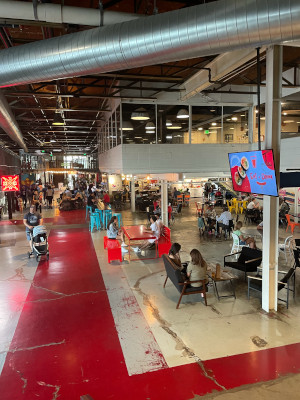 Topics discussed included the city's recent housing development, water conservation initiatives and what it means to be the third-largest city in Colorado. 
"We're lucky because we have so much land," Bergan said. "This is really where you can grow."
Our Meetings Today LIVE! West event wrapped up with a tour of Aurora's Stanley Marketplace, a community of more than 50 independently owned Colorado businesses providing opportunities for visitors to eat, drink, shop, exercise, play, work and more.
What started as a 75,000-square-foot manufacturing facility for Stanley Aviation in 1954 now houses everything Colorado-culture centric, and the facility's old 18,000-square-foot aviation hangar now serves as a flexible event space suitable for almost every occasion, including our final dinner: a farm-to-table three-course meal featuring palisade salad, smoked bison tri-tip and ancho roasted wingtip chicken breast.
As the night ended with glow-in-the-dark dance performances, attendees boarded the bus for one last trip back to Gaylord Rockies Resort & Convention Center, dripping with rain, yet smiles brightening their faces.
More About Aurora: A Growing Meetings Destination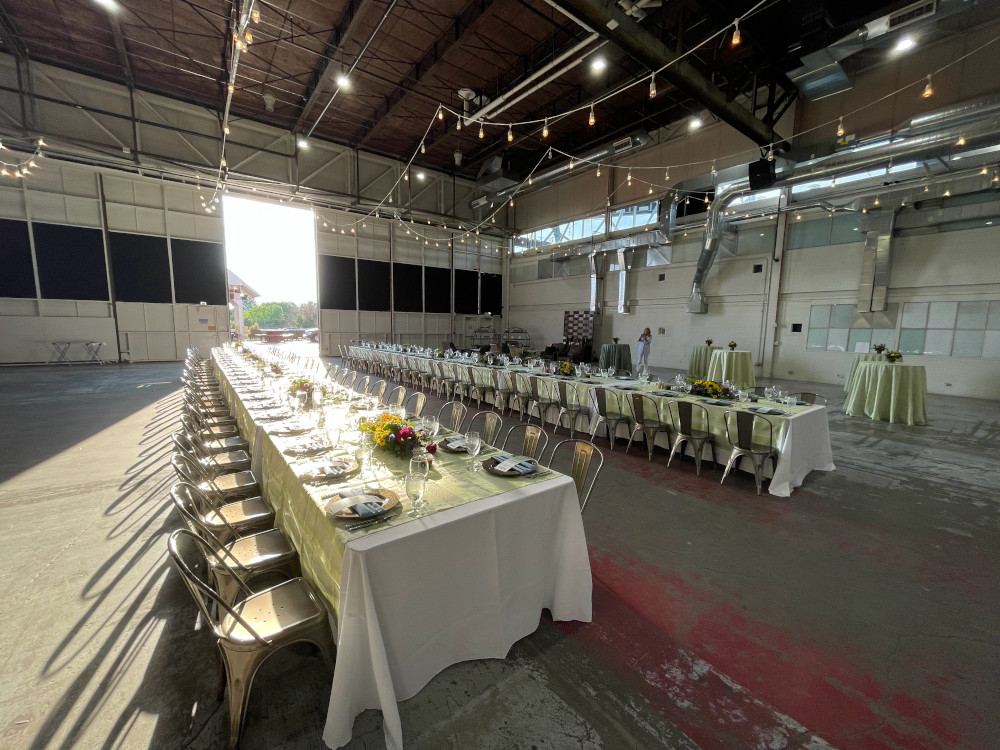 With 160 square miles of land to work with, the city of Aurora has taken the opportunity to claim its place on the map, developing, renovating and implementing new experiences for meetings and events industry professionals to take advantage of during their next trip to Colorado.
The opening of Gaylord Rockies Resort & Convention Center officially put Aurora on the map, as the city is now home to the largest convention center in the state and offers more than 518,000 square feet of flexible meeting and event space, as well as amenities including both indoor and outdoor pools, five restaurants, bars, a spa and a fitness center.
The city's short distance from Denver International Airport makes it an easily accessible location for most, and more than 70 other hotels and properties in Aurora are suitable for gatherings, meetings and events of nearly any size.
Aurora also offers an abundance of outdoor space and activities, including more than 100 parks, 8,000 acres of open outdoor space, biking trails and the Aurora Reservoir, a place Brian-Douglas Stanwood, assistant director of sales at Visit Aurora, considers one of the city's greatest hidden treasures, as not many of Aurora's 75,000 residents even know it exists.
"As an outsider looking in, not everybody can have big football stadiums, and not everybody can have an amusement park," Crandall added. "But everybody can hope for a diverse community where there's a great quality of life—a wonderful, active lifestyle—like there is here: The largest, most diverse community in the state of Colorado, and proud of it. We're all proud to celebrate it."
Thanks to Meetings Today LIVE! Aurora/Denver Partners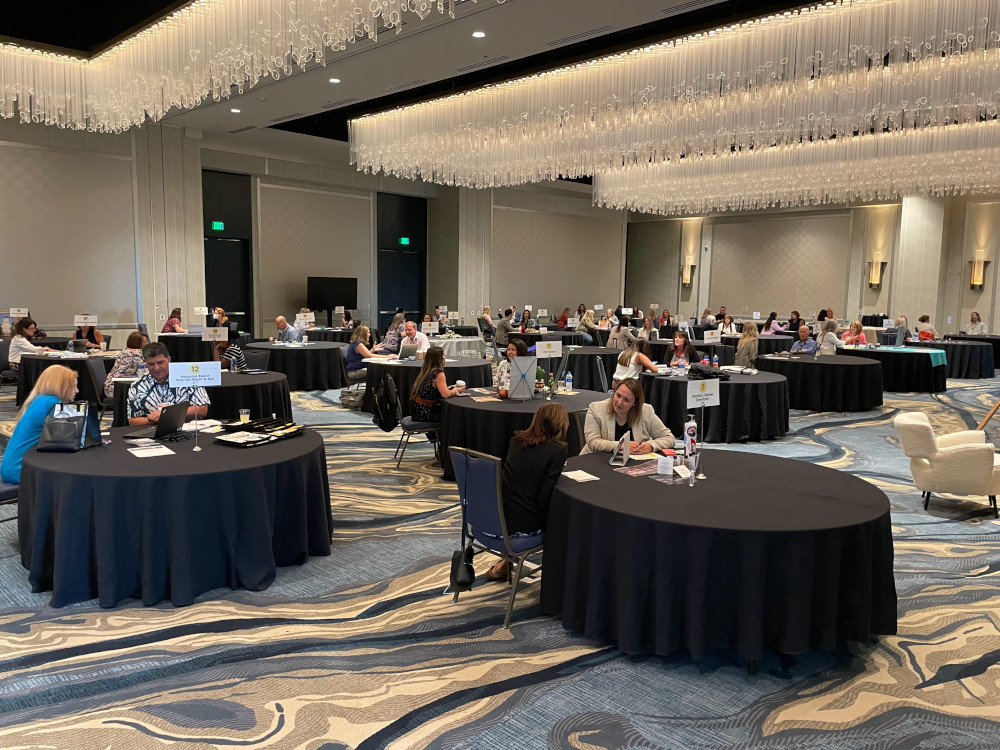 Hosts 
Gaylord Rockies Resort & Convention Center
Visit Aurora 
Visit Denver
Sponsors
Goodman Speaker Management: Speaker Lee Rubin 
MPI: Speaker Nancy Snowden 
Sheraton Denver Downtown Hotel: Monday Lunch 
Presidential Worldwide Transportation: Airport Transfers 
The Brandit Agency: Amenity gifts for attendees
CSR
Connect
Visit Aurora
(720) 484-8902
Visit Denver
(303) 892-1505
Interested in a Meetings Today LIVE! event? Inquire to join us in Cancun, Mexico and Savannah, Georgia this year!