Fast-Growing Regions in South Texas Promise Successful Meetings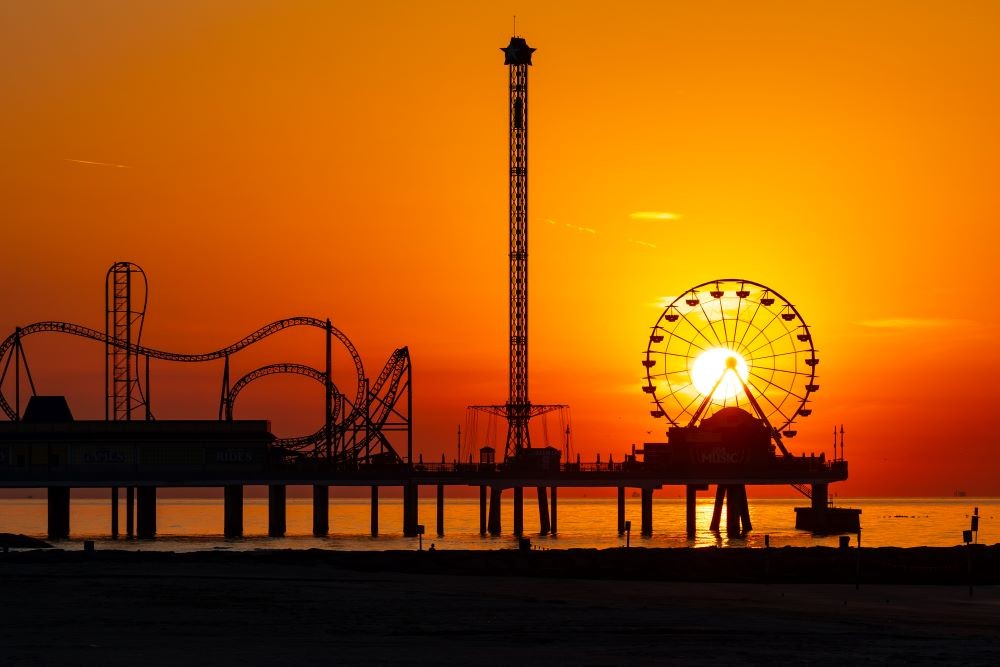 Galveston Pleasure Pier at sunset. Credit: Travel Texas
One comparative infographic shows 13 U.S. states, including all of New England except Maine, arranged within Texas's borders. Another comfortably slots 10 European countries inside Texas, with the entire United Kingdom fitting within Texas nearly three times over. 
From the high desert of (far) West Texas to the sun-kissed shores of the Gulf Coast, the southern half of Texas, with vast open stretches offering a larger-than-life blank canvas for outdoor exploration and events, is home to every topography and eco-region under the sun. Also home to two of America's largest and fastest-growing cities, Houston and San Antonio, South Texas's all-encompassing diversity offers endless potential for creative program design and agenda success.
San Antonio Is a Fiesta for Groups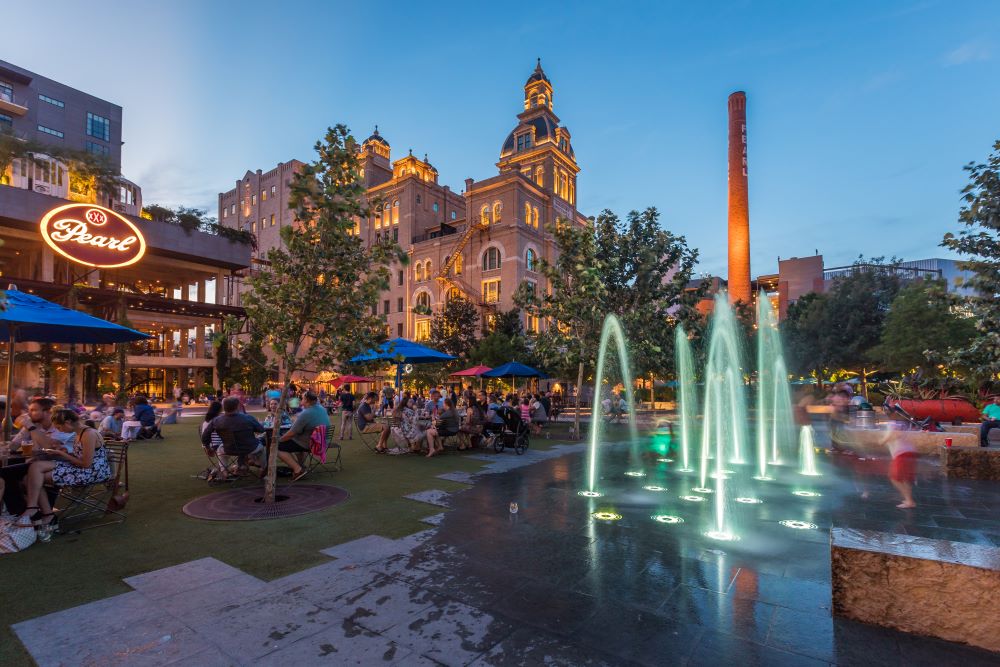 One of the most dynamic and diverse cities in the country, San Antonio blends rich history with contemporary amenities, amazing cuisine and world-class entertainment. Centrally located and basking in year-round mild weather, San Antonio is a big draw for meeting professionals thanks to its accessibility of location, price and variety of options.
According to the U.S. Census Bureau, Alamo City's gain of nearly 14,000 new residents between 2020 and 2021 was the largest in the nation. With Austin, 80 miles north via the increasingly commercialized and developed I-35, growing by 22% between 2010 and 2020, the Austin Business Journal identified the Austin-San Antonio corridor as the next metroplex.
This continuing "economic mega-region" expansion includes San Antonio's dynamic meetings and tourism industries.
"Our vibrant community is making an incredible recovery and is poised for extensive growth in the coming years," said Mario Bass, chief sales officer for Visit San Antonio. "With a vast array of indoor and outdoor event spaces, San Antonio has been welcoming groups back since the fall of 2020. As a top U.S. leisure destination, the city is an attractive landscape for any kind of meeting. It has expansive and versatile infrastructure, a renovated convention center in a highly walkable downtown core, and many new and reimagined venues that keep the destination fresh for repeat groups and visitors."
Strong planner sentiment is bringing business back to San Antonio in a big way.
"Groups understand the value and impact of meeting face-to-face," Bass continued. "Welcoming more than 16,400 attendees from across the state, the Texas High School Coaches Association was among several recent San Antonio conventions that experienced record high attendance. And with current lead volumes for San Antonio far surpassing pre-pandemic levels, meeting planners are bullish on the future."
In July, for example, lead volume was up 32% compared to July 2019. At press time, San Antonio had already booked 371 events, representing an impressive 122% over the goal of 305, generating 457,000 total group room nights. 
"The definite booking pace has been strong since the start of our fiscal year 2022," Bass said. "Equally impressive is the short-term nature of these bookings, with 252 of them taking place this year. In July alone, we booked 28 first-time events, representing 55% of total bookings for the month."
[Related: The DFW Metroplex Offers a Wealth of Venues for Meetings and Events]
Galveston and Conroe Expand the Southeast Texas Group Universe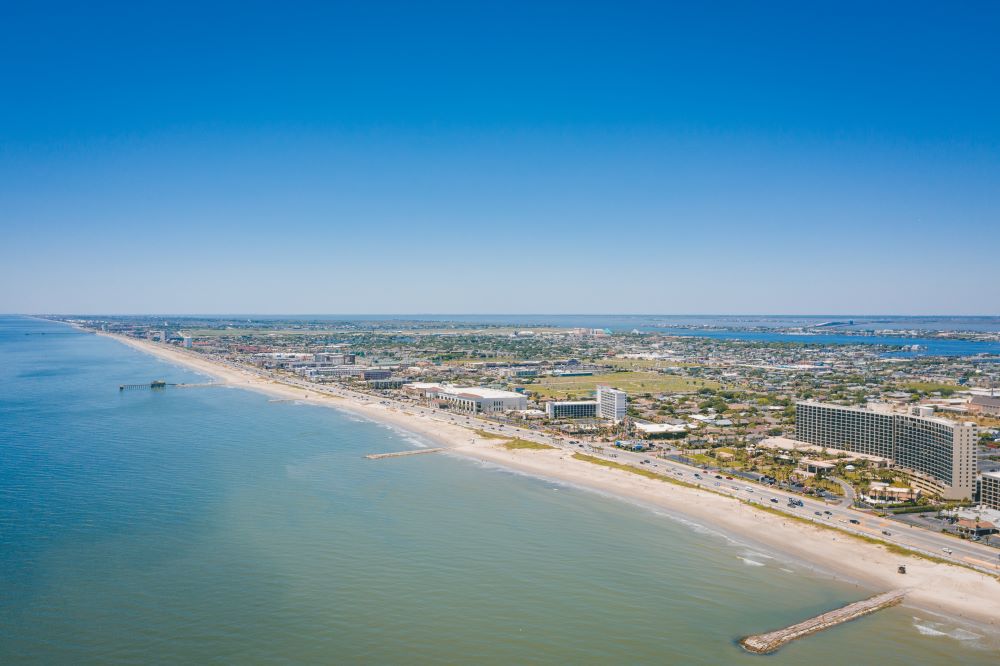 Home of event-capable Space Center Houston, enterprising Houston, currently America's fourth-most populous city, is a group galaxy unto itself. With a population gain of nearly 10% from 2010 and second behind the Metroplex for out-of-state relocations, Bayou City joins Dallas-Fort Worth and New York as the three U.S. metro areas to gain at least 1.2 million residents over the last decade.
North of Houston, Conroe is the region's fastest growing city and No. 1 among U.S. cities with a population above 50,000. The scenic seat of Montgomery County is also another land of plenty for groups.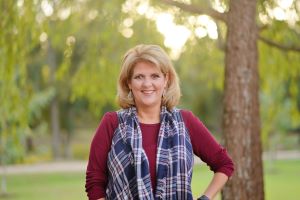 "Even during the height of the pandemic, Conroe thrived as a visitors destination," said Visit Conroe Director Shannon Overby. "Our wealth of outdoor options, including birding in W.G. Jones State Forest, hiking in Sam Houston National Forest, and the many recreational pursuits on beautiful 22,000-acre Lake Conroe, made our area very attractive for safely distanced activities."
Opened in June 2020 three months after the pandemic hit Texas, the luxurious Margaritaville Resort Lake Conroe was an instant hit with travelers. 
"With top-notch safety protocols in place, the resort has welcomed numerous meetings and events since early 2021 and continues to thrive as a premier group destination and vacation getaway," Overby said. "As of mid-2022, booking pace is outpacing pre-pandemic numbers at all our hotels and venues. In mid-2023, planners will have a new option when looking at Conroe as a meetings and event destination when the new state-of-the-art Hyatt Regency Conroe & Convention Center opens their doors." 
Other Conroe draws include a thriving culinary scene and craft beverage outlets encompassing breweries, wineries, whiskey and rum distilleries, and even a meadery. Plus, vibrant arts and culture, with live music seven days a week; a downtown bustling with shops, restaurants and nightlife; and complimentary services from the Visit Conroe team.
Some 50 miles southeast of Houston, Galveston Island's unconquerable group appeal includes 32-plus miles of Gulf of Mexico beachfront, evocative Victorian-era neighborhoods, landmark hotels, entertainment and shopping in the historic Downtown Strand District, year-round fresh seafood and more. 
Meetings are a breeze at the 140,000-square-foot beachfront Galveston Island Convention Center. Located at the 32-acre San Luis Resort, the versatile two-level venue accommodates groups of all sizes with 43,000 square feet of exhibit space, a grand 15,000-square-foot ballroom and 12,000 square feet of flexible meeting space. Plus, 700 adjacent hotel rooms and another 1,400 within two miles; onsite parking; and free Wi-Fi up to 100 MB per second.
As Galveston Island CVB Director of Group Sales Bryan Kunz explained, this business-leisure mix is a perennial draw  for planners, organizers and attendees.
"Sentiment toward Galveston Island has long been very positive," he said. "Planners cite our position as a desirable leisure destination complete with first-class meeting spaces, unique offsite venues and a plethora of natural areas as reasons they want to bring meetings to Galveston Island."
Leveraging the ties that bind has paved the way for a robust return of group business.
"During the pandemic, our sales team focused on developing and maintaining strong personal relationships with existing planners," Kunz said. "This strategy positioned us well as the go-to resource for planners once restrictions eased as we now see a strong post-pandemic booking pace. Year-to-date bookings for 2022 are 93% of 2019 levels. In addition, year-to-date lead generation exceeds that of 2019, leaving Galveston Island well-placed to meet or exceed pre-pandemic bookings by 2023. And strong opportunity remains, particularly in the state association, sports, corporate and tour and travel markets."
[Related: The Culinary Scene Is Heating Up in South Texas]
El Paso Is the Cure for Destination Burnout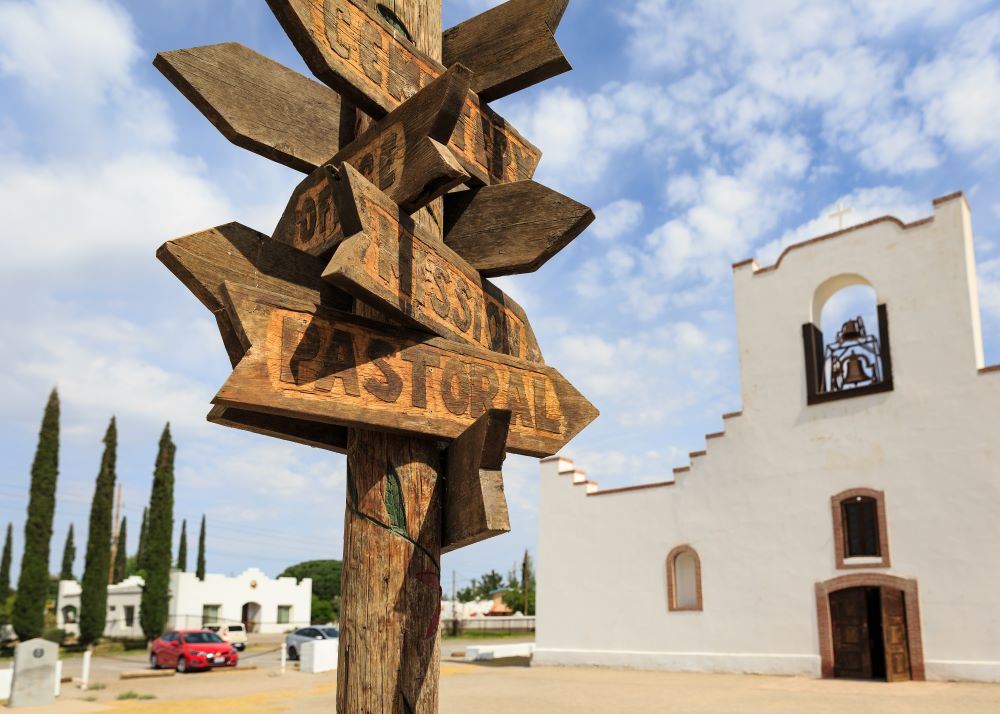 Situated across from Ciudad Juarez in Mexico, El Paso, founded in 1659 and joining the U.S. in 1848, blends deep history with a modern attitude and binational flair. Nestled in the Franklin Mountains of westernmost Texas, the city remains a unique beacon for Texas groups.
"El Paso experienced something of a renaissance during the pandemic," said Brooke Underwood, executive director of Visit El Paso, a division of Destination El Paso. "While other destinations were shuttered, we opened two beautiful downtown hotels with rich local history, The Plaza Hotel Pioneer Park and Hotel Paso del Norte, and renovated the El Paso Convention Center. With RFPs now on the rise, It's exciting to see how planners have shifted from their research phase to choosing to book El Paso."
Underwood and her team rely on El Paso's size as the sixth largest city in Texas to aggressively market and sell the destination. 
"To get people to try us out, we lead by looking at qualifying groups and incentivize by offering discounts and sponsored rentals of the convention center and more," Underwood said. "We find that once planners experience the charm and beauty of our city, and how much it stands apart from the rest of Texas, it becomes easier for them to choose El Paso the next time around." 
With unique attractions such as the ancient pictographs of the Hueco Tanks State Historic Site and the 400-plus-year old El Paso Historic Mission Trail, plus the climate and ambiance of the high Chihuahuan Desert and delicious authentic cuisine, Underwood calls the many unexpected differentiating points of El Paso "the cure for destination burnout."
Plus: Q&A with Trisha Tatro, Director, Austin Convention Center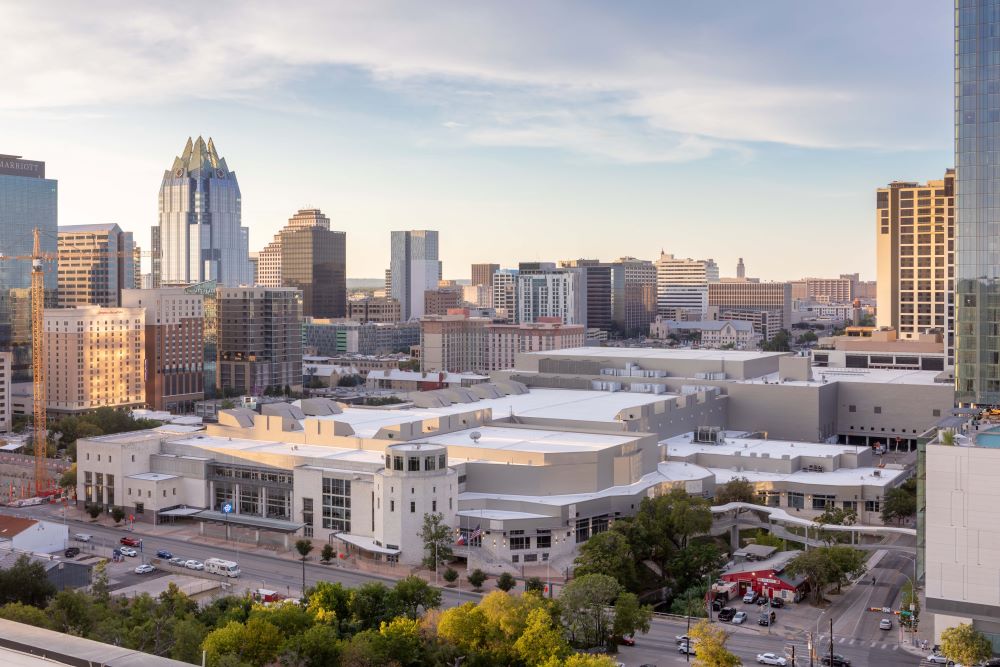 Spanning six blocks in the heart of downtown Austin, the four-level, LEED Gold-certified, GBAC STAR-accredited, gigabit-rated Austin Convention Center ranks among the nation's most recognized and advanced convention facilities. 
Surrounded by more than 12,000 hotel rooms within a two-mile radius, the center features five contiguous exhibit halls with 247,052 square feet of column-free space; 54 meeting rooms; and seven ballrooms, including one of the largest in Texas at 40,510 square feet. Helping to power the Austin economy since 1992, the venue is entering its fourth decade on strong post-pandemic footing, as Director Trisha Tatro explains.
What sets the Austin Convention Center apart in Texas and nationally?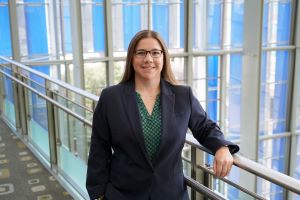 The Austin Convention Center is a key part of the area's recovery efforts. We offer the complete package and continue to partner with Visit Austin and the hotel community to ensure that Austin remains a very desirable destination for groups.
Our team practices a service-first culture and takes ownership of the guest experience. The staff takes great pride in making sure guests receive the full Austin experience while in the city, in the building and with convention team members. This attention to service is reflected in remarkable customer surveys, in which 100% of clients say they would schedule another event at the facility.
How is the Austin Convention Center positioned for the return of conventions, meetings and events? 
Our size has allowed us to respond nimbly to the needs and wants of the client. 
The Austin Convention Center is fortunate to manage 90% of its services such as housekeeping, security, IT and exhibitor services, all provided by trained in-house staff. Our catering team works with area vendors to procure local ingredients for group menu items, more than 90% of which are produced in-house. 
We have also prepared for the return of business by constructing a new marshalling yard. Scheduled for completion in November 2022, it will be one the most modern and technologically advanced facilities of its kind. Providing 112 tractor-trailer parking spaces, along with staging trucks and equipment to alleviate downtown traffic, the facility will also have driver amenities along with maintenance and logistics space. 
How is current planner sentiment and intent in bringing conventions and other business to the Austin Convention Center?
Since May 2021, we have worked hard at getting back to hosting events. Feedback from clients returning to the center has been very encouraging, and we are not far from matching our 2019 occupancy levels in 2022 as we meet the customer at their comfort level and continue to work with every client to customize their needs.
What is the current booking pace and new opportunities for groups?
We are experiencing a real comeback in 2022, with revenue numbers and booking pace ahead of the three-year recovery projection. Event types are changing with more client interest in short-term corporate bookings, which has opened up more dates and opportunities as they are planning events within an 18-month window.
This has also helped everyone with more weekend and mid-week bookings. 
While the second quarter is historically a slower time for us, we met and exceeded our revenue expectations. Austin overall is doing well as a destination, and the Austin Convention Center is a key part of the recovery efforts of the city and region. We look forward to the stabilization of the industry by reaching our target projections in 2023, ahead of the national recovery predictions of 2024.