9 Inviting Outdoor Venues in Phoenix and Scottsdale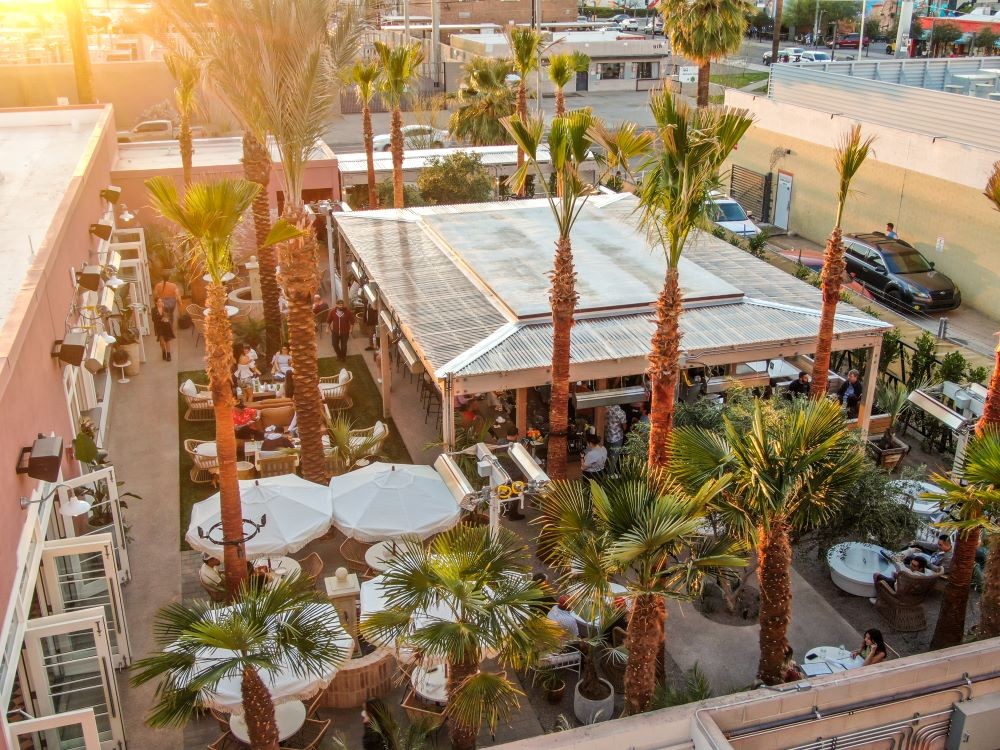 Palma, Phoenix. Credit Palma Phoenix-Flagship Restaurant Group
With more than 69,000 guest rooms at over 500 hotels and resorts in the Greater Phoenix area—and new developments pushing those numbers up—it's not surprising that this destination is increasing in popularity for meetings. Pair the room to meet with the reliably sunny weather and unique, mountainous desert landscapes and you won't have a hard time convincing attendees to come to the next event held here.
Meeting outdoors is easy to do in Phoenix and Scottsdale. Resort staples in the area offer unique spaces—ever heard of a Western town on a AAA Five-Diamond property?—and new restaurants, breweries and multi-use complexes with scenic patios and dining spaces make meeting outside fun. Following are of some of the best places to meet alfresco.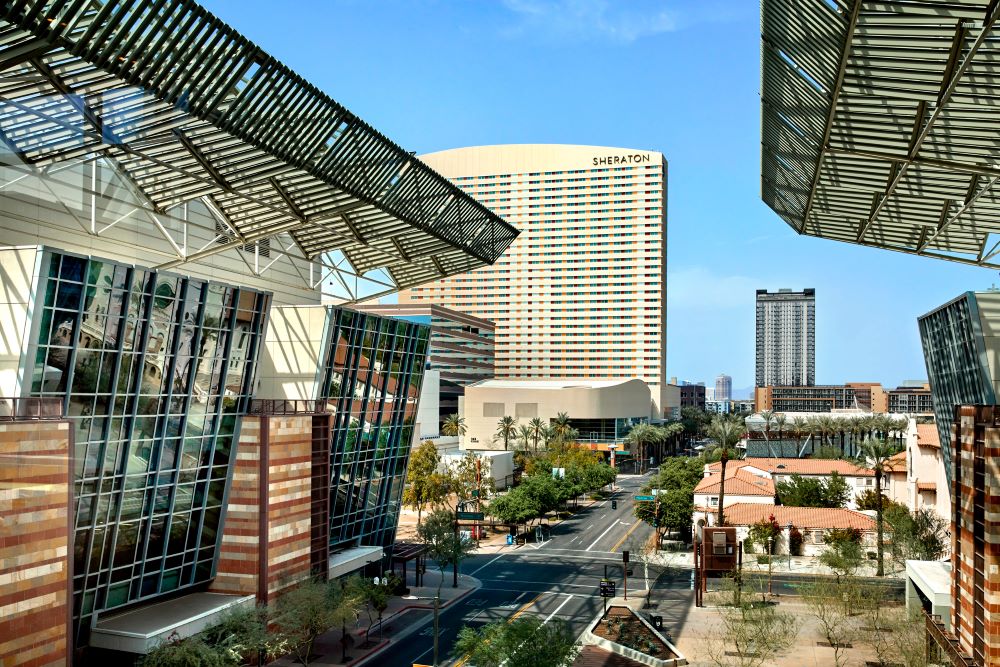 Located in the heart of Downtown Phoenix across the street from the Phoenix Convention Center, Sheraton Phoenix Downtown is a popular option for groups. The recently renovated resort is the largest hotel in Phoenix and has an outdoor pool, onsite restaurants and bars—including the new Arizona-themed Carcara—and 110,000 square feet of meeting space.
In addition to intimate private dining rooms, onsite restaurant Carcara can host larger groups on its Citrus Grove Patio, complete with twinkle lights, trellises and entrees like striped bass, harvest bowls and the Carcara prime angus burger. The hotel offers additional outdoor spaces for receptions and events for guests up to 450.
Outdoor spaces are no longer in short supply at Phoenix Convention Center. Adding to the 80,000-square-foot highly customizable Canyon on Third space, the facility recently added Huss Brewing Co. TO-GO Downtown Phoenix. This new craft beer taproom, full-service restaurant and to-go counter opened in April 2022 and is the only craft brewery to occupy real estate within a major convention facility.
The brewery can serve as a small gathering location for quick meetings before or after conferences at the convention center. It can host up to 100 for private corporate events with both indoor and outdoor seating. Originating in Tempe, Arizona, Huss Brewing Co. is a local and independent craft brewery in Tempe, Arizona, founded and operated by the husband-and-wife team of Jeff and Leah Huss. Their beers are available exclusively in Arizona.  
[Related: Tap These Arizona Arts and Culinary Treasures for Group Activities]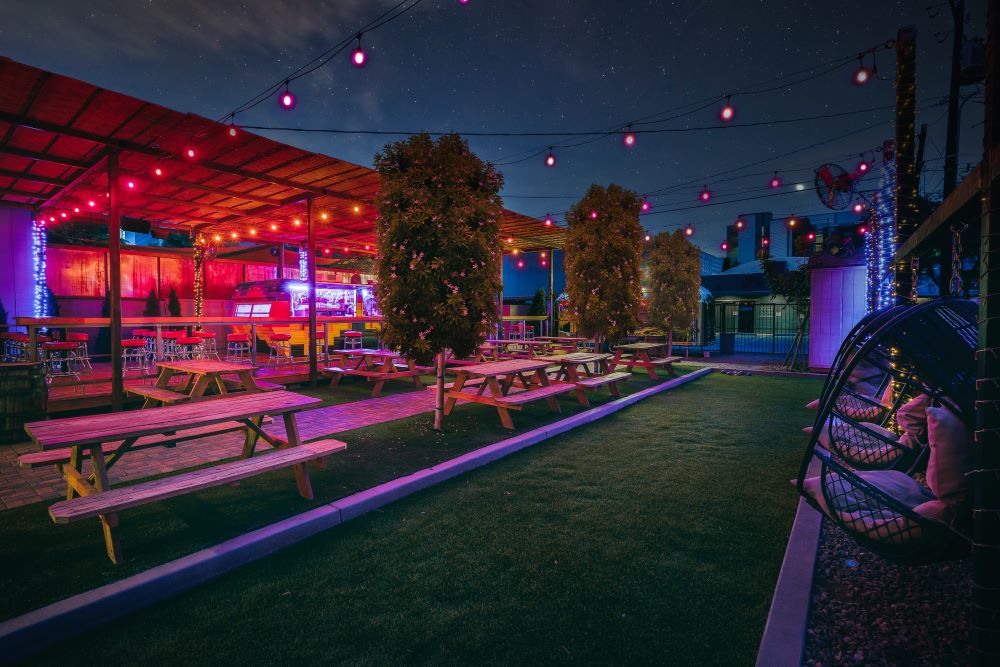 For groups meeting downtown, Luckys Indoor Outdoor bar—which opened in December 2020 and is in the Roosevelt Row Arts District—offers a fun indoor and outdoor space for networking events or group dining following a session at the convention center or one of downtown's hotels. With a vintage vibe and big outdoor patio, guests can enjoy a 1970s trailer bar, rotating food trucks, picnic tables and bocce ball. 
Customization for special events is possible on the 4,000-square-foot patio, and buyouts of the patio can host up to 150 people with access to the trailer bar, bocce ball and all seated areas. Partial buyouts are also possible. The indoor space at Luckys, which includes skee ball and billiards, can be rented for up to 100 people. Other offerings for groups include private mixology classes, live music and themed parties.
Palma/Châm Pang Lanes/Ghost Donkey, Phoenix   
March 2022 brought a new contemporary complex to downtown Phoenix, featuring three locations that each have their own unique meeting areas. Châm Pang Lanes is a disco, bowling alley bar with sushi, salads and handcrafted cocktails. The restaurant has ample seating as well as open areas for socializing amongst large groups who can choose to bowl or play pinball or pool. Outside the bowling alley bar is Palma, an outdoor green space with—you guessed it— a nursery of palm trees where groups can enjoy cocktails, sushi and fried chicken. About 20-300 people can be accommodated for an event at Palma. The outdoor space is usable year-round, with misters and shading for the summer months, and heaters and fire pits for the winter months.
For after-dinner drinks, the final outpost in the trio of entrants is Ghost Donkey, a mezcal and tequila bar littered with neon pinatas and string lights, offers and an abundant selection of drinks and snacks like nachos, tacos and guacamole. While no outdoor space is offered at Ghost Donkey, it can accommodate private events for groups indoors of 20-100.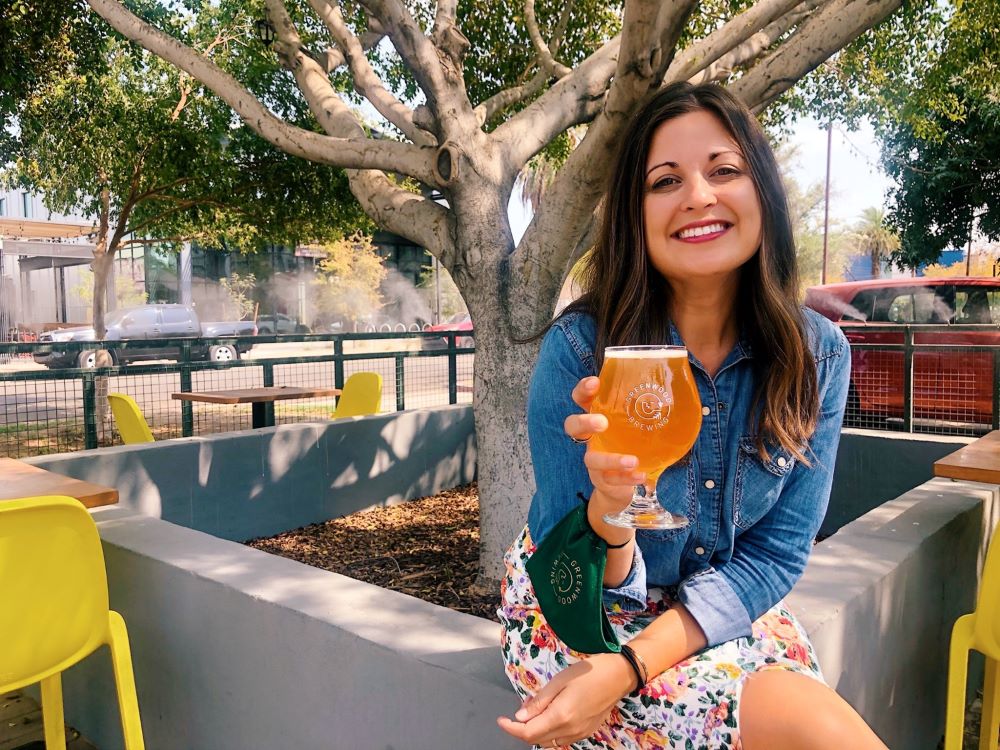 This woman-owned brewery launched in Downtown Phoenix in July 2020 and was founded by master brewer Megan Greenwood. The Roosevelt Row beer garden skyrocketed in popularity, according to Visit Phoenix, and features rotating beer taps and two separate locations for events and meetings. The Greenwood Courtyard and the Greenwood Beer Garden can both hold anywhere from 40-70 guests. Greenwood can provide private bartenders, music, projector screens, personalized beer labels and private brewery tours for any type of gathering or event.   
The new luxury boutique hotel in Scottsdale's Old Town district opened in December 2021 and features Southwestern-inspired décor with three meeting rooms onsite that can be opened to combine into one larger gathering space. Outdoor meeting options are possible at Sonora Swim Club pool and Cala Scottsdale, which is spearheaded by celebrity chef Beau MacMillan and is a modern take on Mediterranean cuisine blending flavors of Greece, Spain, Italy and Morocco. The restaurant features a modern dining area, full bar and a 12,000-square-foot patio that also is available for events or meetings.
[Related: 6 Group-Friendly Restaurants in Scottsdale That Source Locally]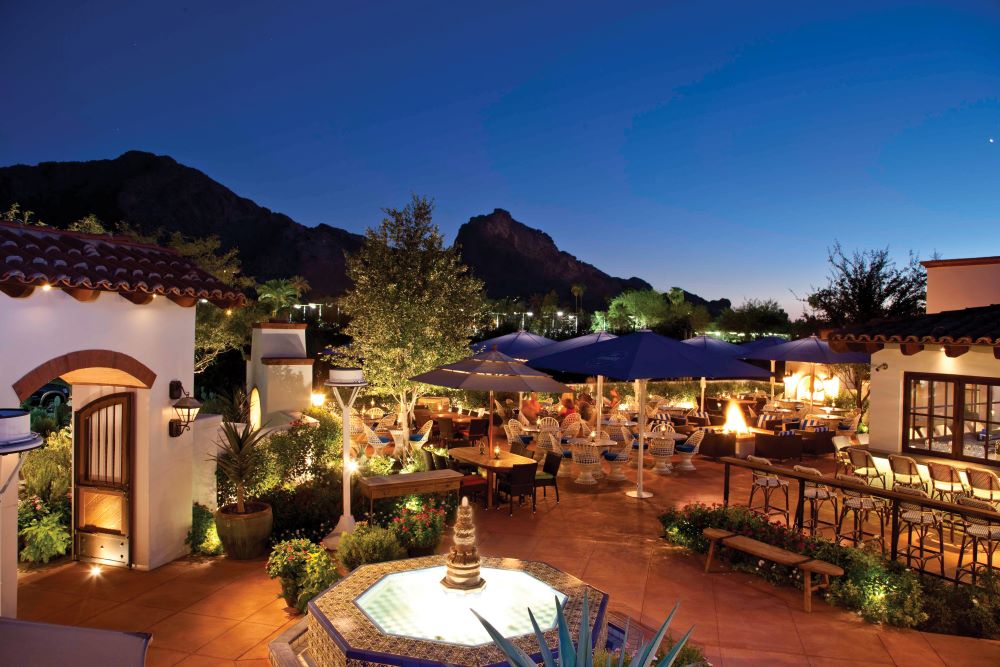 Local favorite El Chorro is located at the base of Camelback Mountain, and its historic building, iconic desert setting and Southwestern cuisine make it a no-brainer for Scottsdale events. The restaurant's event lawn is the perfect space for large groups up to 500, framed by Camelback Mountain, and its Casa Paloma Pavilion opens to a series of exterior patios, fireplaces and gardens.
El Chorro originally opened as a girls' school in 1934. Attendees can explore this history and take to the Classroom Bar, which has been carefully restored and includes a lounge, patio and bocce lawn, where groups of up to 150 can enjoy a private dining experience followed by a game of bocce ball.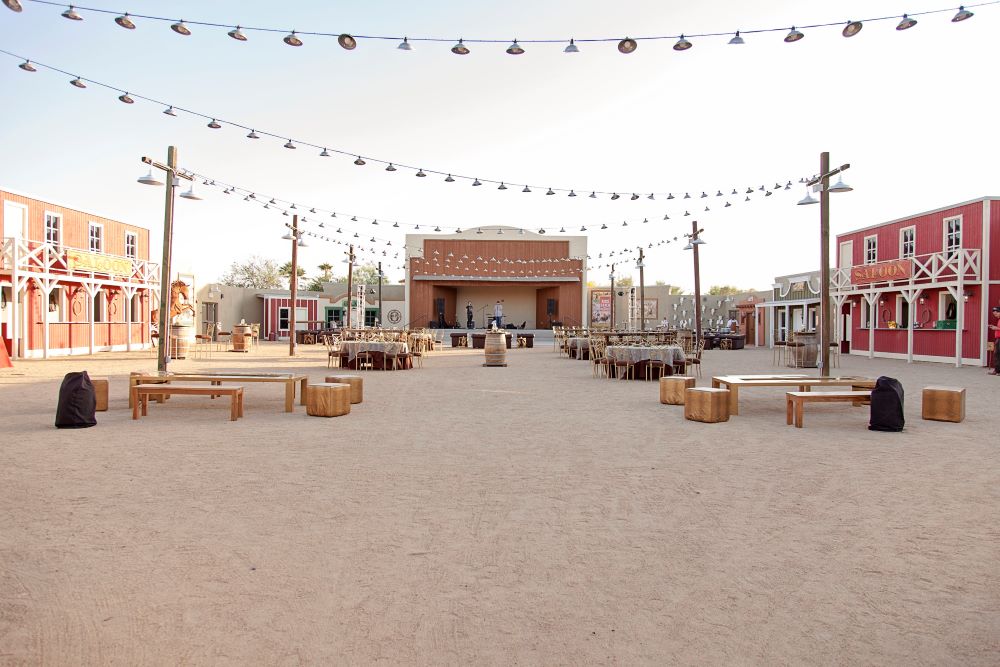 For groups staying at the longest-running AAA Five-Diamond resort in Arizona, an incredibly unique outdoor event experience is available for those that really want to dig into the state's Western roots. Up to 550 attendees can kick up their heels at the authentic Western town onsite, which is complete with picnic tables, campfire pits and grill stations. Planners can work with the resort to provide an Arizona ranch and mining town experience with cowboy games and western musicians on the large, built-in stage and dance floor.
For more traditional outdoor events, the Fairmont Scottsdale Princess has gardens, plazas, decks and expansive event lawns on its lush grounds.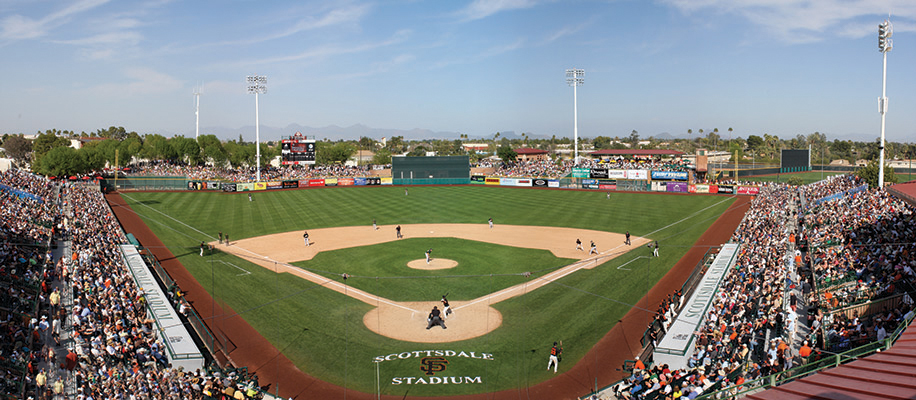 Baseball fans will jump at the chance to attend an event at Scottsdale Stadium, the spring training headquarters for the San Francisco Giants. The facility is available for events in summer and fall and has the capacity to seat 12,000. Outside of a full stadium buyout, there are six different indoor and outdoor multi-use event spaces available for rent. Corporate events, tradeshows, teambuilding activities and more are possible.
Connect
Experience Scottsdale
(480) 421-1004
Visit Phoenix
(602) 254-6500 
Read this next: All the Ways to Meet Under the Sun in Phoenix and Tucson