A Day in the Life of the Ontario Convention Center Executive Chef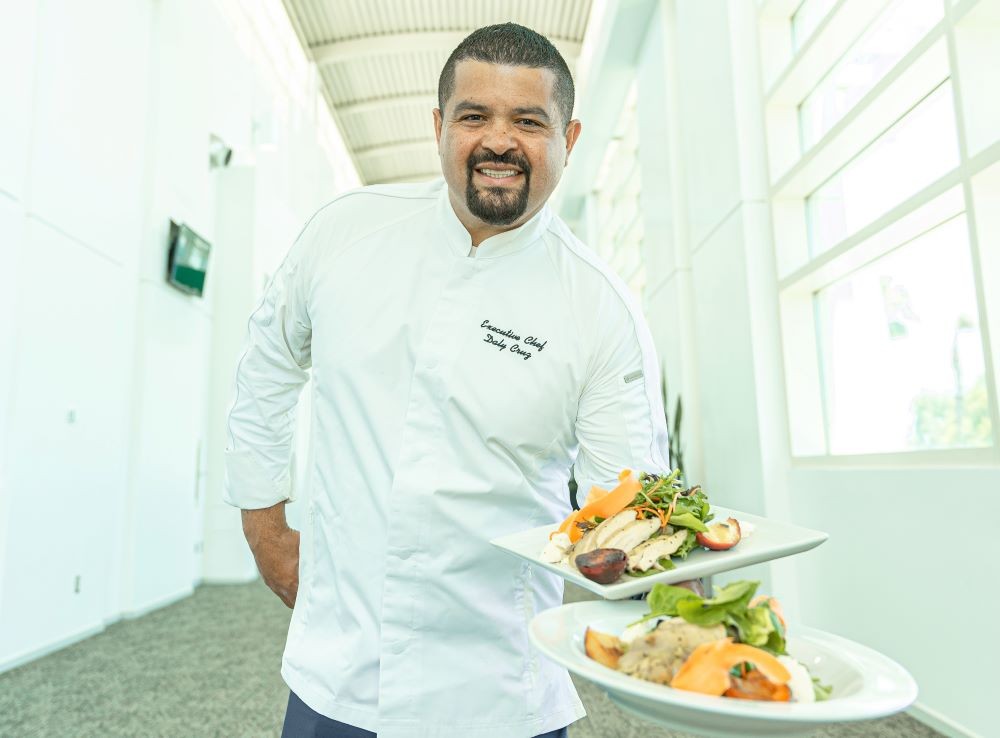 Executive Chef Daly Cruz, Ontario Convention Center and Toyota Arena
Daly Cruz, executive chef of Ontario Convention Center (OCC) and Toyota Arena in Ontario, California, started working in the culinary field at the age of 14 as a dishwasher. At the end of every shift, Cruz found himself staying extra hours to observe the restaurant's chef, learning about food and the different ways it could be prepared. 
"All throughout high school, I worked in restaurants," Cruz said. "Then, I worked 10 years at Hyatt Regency Orange County in the food and beverage department." 
But his experience extends even beyond his career, as he grew up with a mother and brothers who love to cook, and his grandmother, who taught him nearly all he knows about baking. Today, Cruz turns to food as a way of showing love and entertaining his family and friends, as well as to live out his passion for cooking as executive chef of OCC and Toyota Arena in Southern California.  
A Day in His Life 
Cruz's day at OCC begins with greeting the staff and ensuring they have everything they need to do their job, before taking a lap around OCC to check that the set-up is correct for the day's events and his culinary staff of 20 is "ready for success." Some days, when Cruz is preparing a larger meal than normal, he brings on part-time or temporary team members as needed, and on other days, when he isn't cooking, he spends his time pre-planning future events, developing a menu and placing food orders.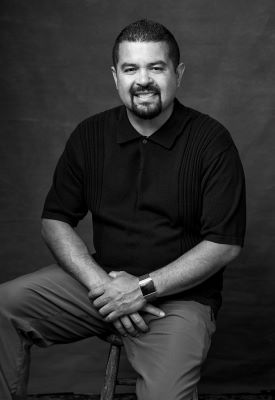 "I am very organized," Cruz said. "It's important to anticipate challenges and be prepared to make changes on the fly." 
Other times, though, Cruz spends his days cooking, leading his culinary team through breakfast, lunch and dinner for groups that often surpass 2,500 people. Large events take a lot of planning and preparation, Cruz said, and he makes sure to work with "a well-trained, experienced staff to properly execute the vision by the client." 
On an annual basis, the OCC hosts a large conference that provides a teambuilding experience for all employees coined "All Hands on Deck." From the President & CEO to the marketing department or human resources, everyone helps to prepare the tables and food for more than 2,600 people.
For Cruz, there are several steps he follows to prepare for large gatherings and events such as this, starting with planning weeks in advance and researching what is fresh, local, seasonal and available to use in his meals. Cruz also planted a small garden at OCC to use his own fresh herbs and produce. 
"I have worked in Southern California for 30 years, so I am spoiled with a bounty of fresh food," Cruz said. "Greater Ontario and this region started as an agriculture area with several farms that thrived in the Mediterranean climate. I also spent 18 months in Atlanta, Georgia to learn southern cooking menus and techniques." 
[Related: 5 Reasons to Meet in Greater Ontario, California]
Once Cruz has his ingredients picked out, he develops his menu and places food orders, and 24 hours prior to cooking, Cruz starts to prep. Sometimes, this can mean waking up at 3 a.m. to give himself enough time to cook, like he once did to roast an entire pig for a luau/Hawaiian-themed event
"I start cutting, roasting, preparing sauces and marinating," Cruz said. "The day of the event, cooking starts two hours prior to the start of the event, plating desserts and salads can start three hours in advance, and at the very last minute, the hot meal is plated, and presentation and final garnishes are added."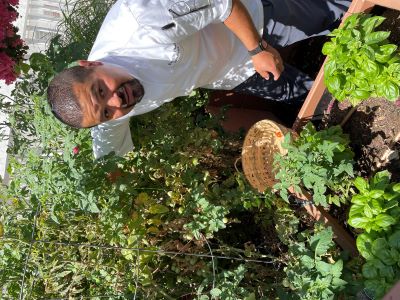 Cruz starts every plated meal with 14 to 16 ounces of food per plate, broken into protein, starch, vegetables and sauce. To keep plates ready to serve, Cruz and his team utilize hot warmer equipment that maintains the proper serving temperature, and before serving the guests, Cruz inspects each and every plate to ensure it is up to his quality and expectations. 
"I take pride in what I do," he said. "Cooking is like art. It is an expression, and I like to please my clients…There is a big difference between a client that requests a concession or 'grab 'n go' menu items versus a formal gala event." 
[Podcast: Why Greater Ontario Should Be Your Southern California Meetings Home Base]
While cooking for large groups can be challenging, Cruz said he is always ready to tackle challenges head-on. For example, an upcoming large tradeshow is having an awards dinner at OCC. In most cases, Cruz said, gatherings of this size request a buffet-style setup. The key to quick service and keeping the food warm, he said, is setting up multiple stations, being sure presentation is designed to incorporate the menu theme and setting the tone for guests to enjoy their dining experience. 
"My favorite part of being a chef at Ontario Convention Center is the opportunity to plan a new menu, working with a client's vision and budget," Cruz said. "My clients inspire me to research and plan a custom menu which keeps me learning and excited to cook new meals and try new trends. I am inspired by constant change and thrive on the energy of successfully executing meals for our guests." 
This article was created in partnership with Greater Ontario Convention & Visitors Bureau.
Connect 
Greater Ontario CVB 
(800) 455-5755 
www.gocvb.org  
 
Ontario Convention Center 
https://gocvb.org/ontario-convention-center/ 
Ontario Convention Center Catering
https://gocvb.org/ontario-convention-center/catering/ 
Read this next: 4 Outdoor Teambuilding Activities in Greater Ontario, California