IMEX America 2022 Hosts a Meetings and Events Industry on the Rebound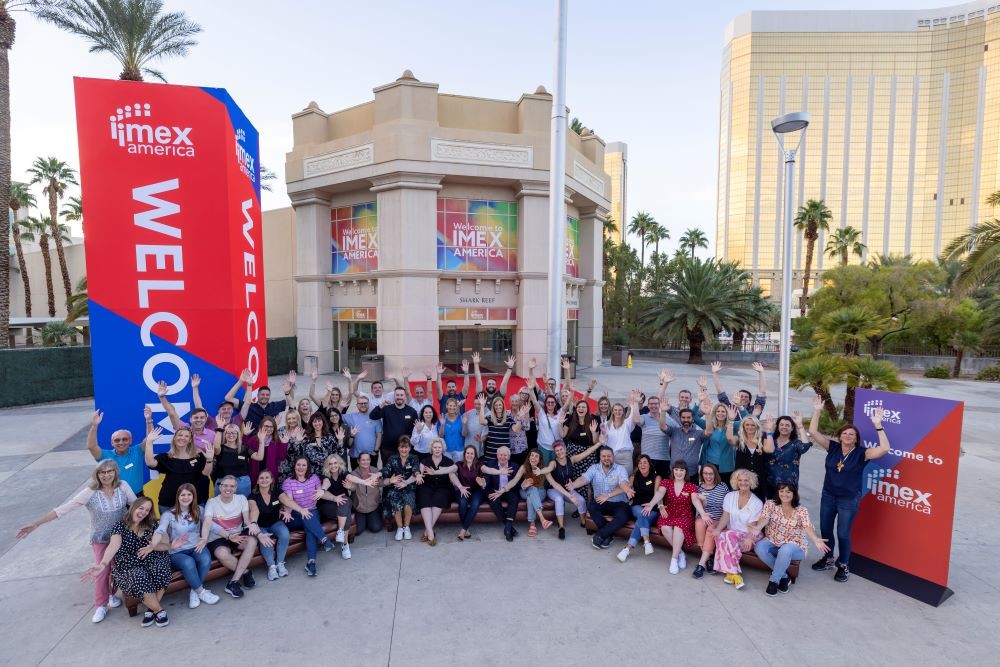 IMEX America 2022 at Mandalay Bay Convention Center, Las Vegas. Courtesy of IMEX
IMEX 2022 wrapped October 13 in Las Vegas, having hosted approximately 12,000 attendees—a 45% increase over 2021 numbers—over the three-day exhibition and Smart Monday first day of educational programming.
According to IMEX Group Chairman Ray Bloom, the increase when compared both to the 2021 edition—which attracted more than 8,600 attendees—as well as with its IMEX Frankfurt event, which drew 9,303, can be attributed to the easing of travel restrictions as well as the Frankfurt event having to be postponed due to COVID-19 variant spikes.
"The size of this year's show is obviously a function of many in the industry being able to travel and plan meetings again and do so with certainty," Bloom said during the event's closing press conference. "It's been a long time coming, and, although we produced a great show last year, this week felt like the big comeback we've all been waiting for."
[Related: Optimism and Growth: American Express Reveals 2023 Global Meetings & Events Forecast]
IMEX America 2022 Statistics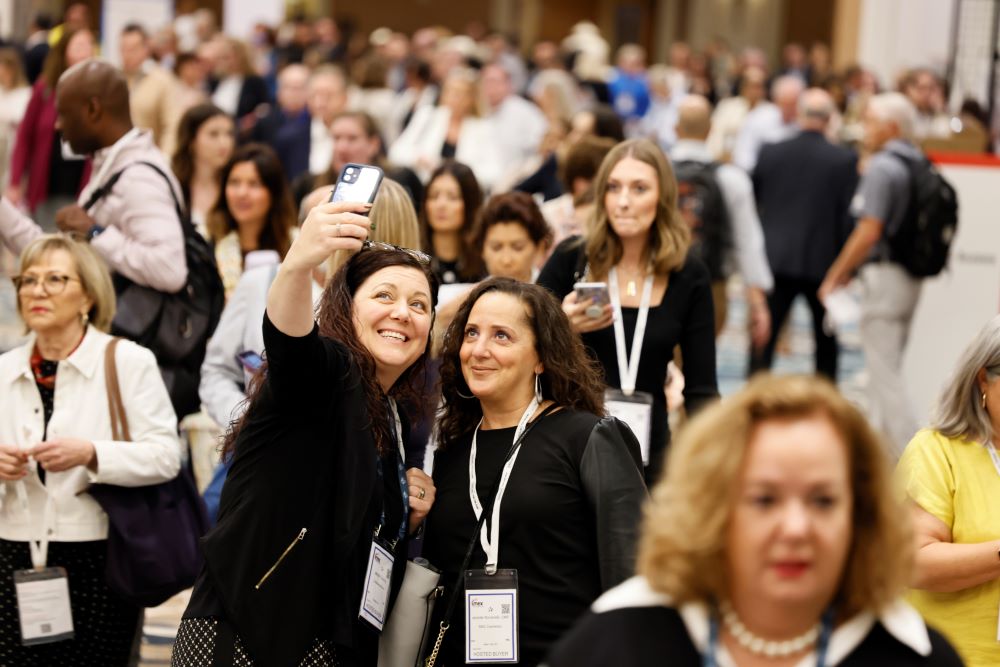 Of the 12,000 attendees, there were approximately 4,000 buyers (3,300 of which were hosted), with a roughly even split between North American and non-North American suppliers. According to IMEX Group, the event featured more than 50,000 buyer-supplier appointments. That number could be closer to 60,000 when the final tally is in, Bloom said.
The exhibition show floor at Mandalay Bay Convention Center was buzzing, with many exhibitors relaying the feeling that while IMEX America 2021 tugged at the heart strings because it was the first in-person event since the beginning of the pandemic, the 2022 edition felt as if more business was being done.
A couple notable pieces of business booked during the event, according to Bloom, was Tourism Ireland confirming nearly $10 million in business and Destination DC landing a large convention for the American Distilling Association in 2026. Bloom added that many exhibitors reported long business pipelines, with business being placed as far out as 2028.
[Related: Encore "Breaks Free" at IMEX America, and an Engaging New Role for Planners]
Hot Topics at IMEX America 2022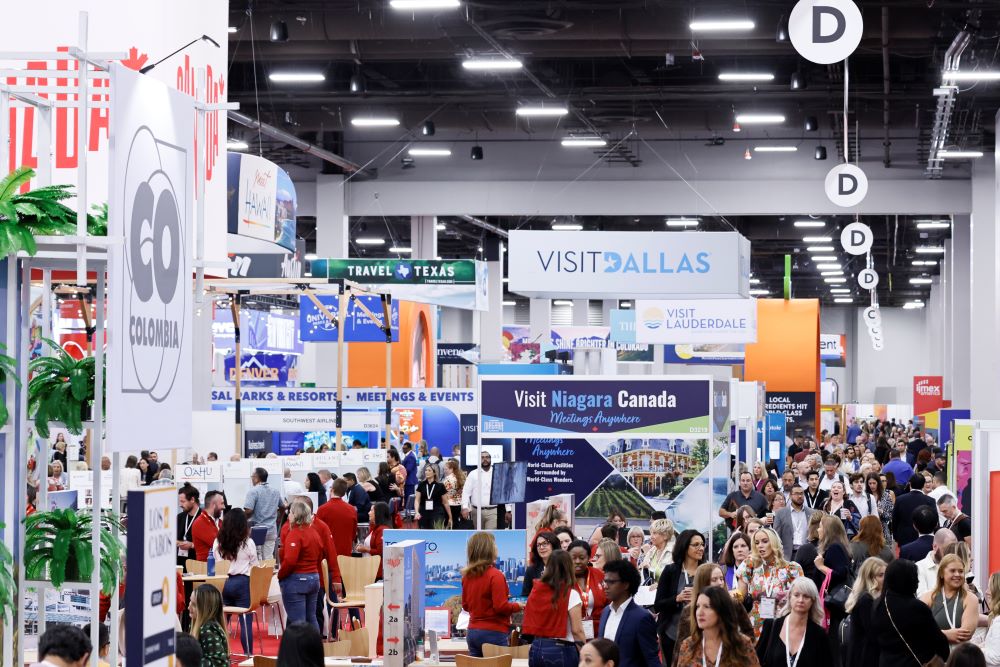 According to IMEX Group, some of the meetings and events industry issues that were discussed by attendees included service levels, contracts, wellbeing and mental health, as well as the rise of remote workforces, diversity equity and inclusion (DEI) and sustainability.
During the release of the 2022 Incentive Travel Index, the survey indicated that while sustainability and CSR are both top of mind for European incentive travel program buyers, the two issues were not even in the top 10 for U.S. buyers. Many in attendance acknowledged a gulf in the perceived importance between U.S. and European buyers, with Europe currently having much stricter regulations and public and industry buy-in.
Conversely, at least one European supplier said that DEI seems to be much more top-of-mind in the U.S. when compared to their Europe-based colleagues.
"The juddering, global halt of the pandemic may be behind us, but its lessons live on," said Carina Bauer, IMEX Group CEO. "And, having talked about disruption as a tool for business transformation for so long, we're now seeing what that really means. Many of these lessons are positive, innovative and long overdue. From our A Voice for All program on Smart Monday to Google Experience Institute's NEU Project, we're all invited to understand that events, and event designs, have excluded people for too long."
Bauer said event design priorities should put people first and not burden them by over-scheduling, and include:
Healthy food
Clean water
Time for rest
Space for unscheduled connection
Plenty of daylight
[Related: Live from IMEX: How Marriott is Staying on Top of Industry Trends]
MPI's Smart Monday
IMEX America features a first day of education programming named Smart Monday and produced by MPI.
According to Drew Holmgreen, chief brand officer for MPI, the 2022 edition attracted nearly 200 more attendees than the 2021 version, with well over 800 planners and students participating.
Holmgreen also said the opening keynote attracted more than 800 audience members and was a standing-room-only affair, and MPI Foundation's final night Rendezvous benefit sold out to the tune of 3,000 tickets sold, for the first time. Rendezvous generated approximately $315,000 to support the MPI Foundation, which in turn supports MPI members via scholarships, financial assistance during the pandemic, and educational programming, among other initiatives.
MPI said it also held 13 booth sessions over the course of the three-day exhibition portion of the event.
"So, the great news there is that you see how this industry is coming back, but you also see how this industry is still starved for knowledge and starved for connections," Holmgreen said.
IMEX America 2023 will be held October 17-19, also at Mandalay Bay Convention Center in Las Vegas, with Smart Monday held October 16.