4 New and Renovated Hotels With Sustainability at the Forefront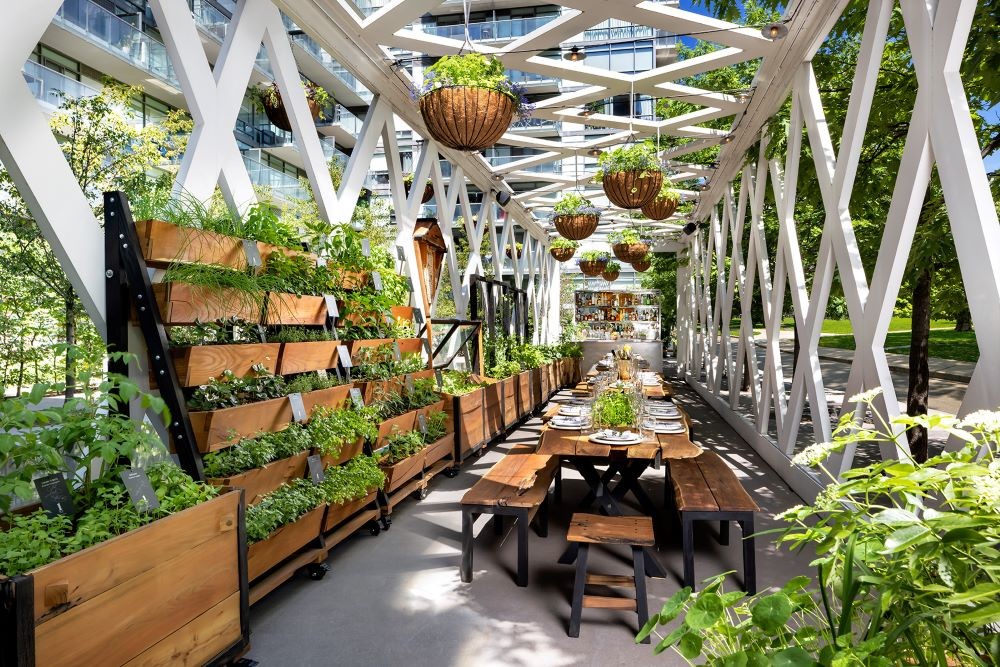 1 Hotel Toronto Outdoor Dining
A pause on both business and leisure travel during the COVID-19 pandemic left many hotels with empty guest rooms and limited reservations, but on the bright side, less guests left room for many hotels to renovate and remodel before welcoming guests back to their properties and gave more time for new developments to finish construction.
With these new and renovated properties came efforts to not only modernize and refresh interiors, but to do so in sustainable ways. While some hotels implemented sustainability initiatives like limiting the amount of  single-use plastics used and installing energy-efficient technology, others constructed from the ground up using entirely recycled and repurposed materials. 
If you are on the hunt for sustainable meeting venues, or simply hoping to lower your carbon footprint next time you travel, consider these new and renovated eco-friendly hotels. 
Hotel Marcel New Haven, Tapestry Collection by Hilton
Perhaps one of the most anticipated and exciting developments this year was the addition of a fully sustainable hotel from Hilton, Hotel Marcel New Haven, Tapestry Collection by Hilton. Within two miles of downtown New Haven, Connecticut, and Yale University, Hotel Marcel New Haven stands as the first all-electric, net zero hotel in the U.S., according to Hilton.
Hotel Marcel New Haven boasts both Passive House and LEED Platinum certifications and is an adaptive reuse project, converting Marcel Breuer's former Armstrong Tire/Pirelli building into a 165-room hotel with views of Long Island Sound, Historic New Haven and Yale University. Each room features touchpad controls for guests to adjust room temperature, lighting and automatic shades.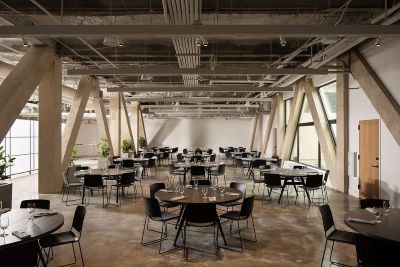 The hotel's carports and roof are covered with more than 1,000 photovoltaic panels that generate solar electricity to power the entire building, including Hotel Marcel New Haven's ground-floor restaurant, BLDG, serving modern American fare. Food and ingredients are locally cultivated, organic and sustainably sourced, and the menu can be paired with a dynamic curation of sustainable, organic and biodynamic wines. 
Hotel Marcel New Haven offers 12,646 square feet of meeting and event space, the largest room measuring 4,930 square feet with a capacity of 275 guests for a standing reception. On the first floor, the hotel's Forum and Function rooms can be combined for a total of 2,472 square feet to host nearly 300 people, and groups can enjoy individually crafted cocktails and sustainably sourced and curated menus. The hotel also offers buyouts of its full ninth-floor Penthouse Loggia, featuring a courtyard and outdoor space.
Resorts World Las Vegas
Following its opening in June 2021, Resorts World Las Vegas announced and celebrated that all three of its hotel brands—Las Vegas Hilton, Conrad Las Vegas and Crockfords Las Vegas and LXR Hotels & Resorts—earned Gold Certification under the Leadership in Energy and Environmental Design (LEED) program, making the resort one of the top energy-efficient facilities in the world, as its certification encompasses nearly 4    -million square feet of floor area within the Resorts World Las Vegas complex.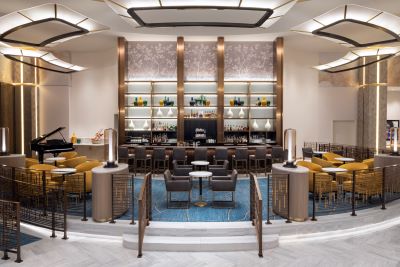 Since its early stages, Resorts World Las Vegas and its design team have been "rooted in the concept of a green building," and the property's design team focused extensively on reducing environmental impact through eco-friendly design, according to Hilton. Existing elements of Echelon Project, which was sold to Resorts World developers, were incorporated into the resort's design and construction, and more than 300 trees were salvaged from the original site and incorporated into the current Resorts World Las Vegas design.
Energy savings are up 38% in comparison to the industry baseline, according to Hilton, and potable water use is reduced by 40%. Resorts World Las Vegas also implemented sustainability initiatives that include electric vehicle parking spaces, limited single-use plastics and an event impact statement, in which a meeting calculator provides tailored environmental reports for events on property.
Resorts World Las Vegas brought 3,506 more guest rooms to the Las Vegas Strip, as well as more than 40 F&B options, a 5,000-capacity theater, nightlife venues and retail options. In total, Resorts World Las Vegas offers nearly 350,000 square feet of flexible meeting and event space, including 50 meeting rooms, six configurable ballrooms, the 100,000-square-foot pillarless and carpeted Resorts World Events Center, and a 23,000-square-foot, Strip-facing Lily Ballroom and terrace with floor-to-ceiling windows.
[Related: New and Renovated Properties: West and South U.S.]
1 Hotel Toronto
Currently a LEED candidate project and working toward certification, 1 Hotel Toronto, "a sustainable urban escape," was inspired by the city's diverse natural environment with nearby Lake Ontario and the area's changing seasons. In alignment with Canada's race to end plastic waste and decision to ban single-use plastics completely by the end of 2025, 1 Hotel Toronto is single-use-plastic free.
The hotel also operates a zero-waste kitchen, 1 Kitchen Toronto, with a team committed to preserving the bounty of nature, purchasing carbon offsets to reduce the kitchen's operational footprint and in alliance with GreenPlanet to convert 100% of kitchen oil and grease into biofuel. 1 Hotel Toronto also partners locally with Just Be Woodsy to collect and reclaim fallen trees from around Toronto and create design elements such as hundreds of chairs, tables, credenzas and artwork throughout the hotel.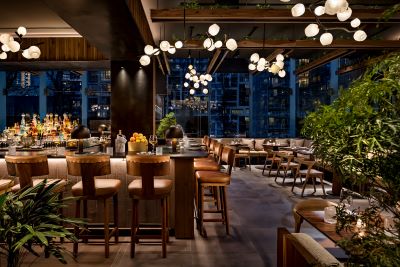 1 Hotel Toronto's onsite organic composter can reduce 12,000 pounds of waste to under 1,000 pounds of compost per month, which is used to feed more than 2,500 plants across the hotel's property and neighboring parks, according to 1 Hotel, and partners with Green For Life to measure the hotel's recycling and diversion rate in an effort to reduce overall waste and promote recyclability of food packaging, to-go containers and more. Guests are also encouraged to partake in 1 Hotel Toronto's 1 Less Thing initiative  , in which guests can leave behind gently used clothing to be donated to Suits Me Fine, a boutique through Canada's Centre for Addiction and Mental Health.
1 Hotel Toronto offers 112 guest rooms and suites equipped with in-room water filtration systems and tumblers made from reclaimed wine bottles, chalkboards as an alternative to pads of paper, glassware made from used and repurposed glass, recycling receptacles and educational moments of sustainability, including quotes on hangers and laundry bags. Meeting and event spaces range from 260 to 3,348 square feet and include the 2,976-square-foot Maple Ballroom, which can accommodate up to 160 guests for a plated event with a dance floor, and the smaller Silver Maple Ballroom, measuring 1,430 square feet and suitable for cocktail receptions. 
[Related: Net-Zero Hotel to Debut in New Haven, Connecticut This Spring]
To immerse guests in the natural environment surrounding 1 Hotel Toronto, planners can take advantage of the 2,293-square-foot Flora Lounge, featuring floor-to-ceiling windows, or the 4,368-square-foot Third Floor Terrace overlooking a nearby park. 
Alila Marea Beach Resort Encinitas
The adult-centered Alila Marea Beach Resort Encinitas, perched atop a seaside bluff along the Southern California coastline a 30-minute drive north of San Diego, opened last year as one of the state's newest luxury properties with sustainability at its core. Natural elements and decor made of stone and wood blend the resort into the cliffside, and guests can enjoy coastal views inspired by nature right outside the window of one of the resort's 130 rooms and suites.
As a whole, Alila Hotels and Resorts is EarthCheck certified and recognized by the world's leading research, certification and advisory group for travel and tourism , according to Hyatt. Every Alila hotel, including Alila Marea Beach Resort Encinitas, offers destination-specific programs committed to the environmental needs of each property, including building materials, organic gardens and electric vehicle charging stations.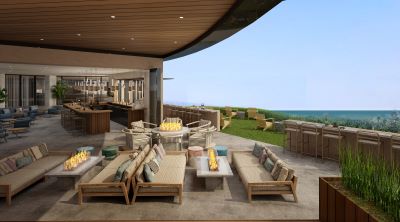 Alila Marea Beach Resort Encinitas partnered with the local Electra Bicycle Co. to provide guests with a fleet of Electra Go! Bikes, or electric assist cruisers, for hotel guests to use while staying on property, and the resort serves Lofty Coffee Co. coffee in the Alila Marea cafe, the Coffee Box, as well as in guest rooms to eliminate the use of plastic coffee pods. The coffee company sources from farms, co-ops and importers from around the world that grow and transport in sustainable manners. The hotel also has water stations installed throughout the property for guests to refill reusable water bottles during their stay.
Alila Marea Beach Resort Encinitas offers 22,000 square feet of meeting and event space and can host groups of up to 400 guests within its 3,800-square-foot Oceana Ballroom, featuring floor-to-ceiling folding glass doors opening to the adjoining sea view terrace. To get groups outdoors, the resort's Ocean Bluff ledge can host up to 300 guests and offers 180-degree views of the coast.
Read this next: Destination Canada Announces City Additions to Global Destination Sustainability Index