Pigeon Forge Offers Meetings Groups Mountains and Much More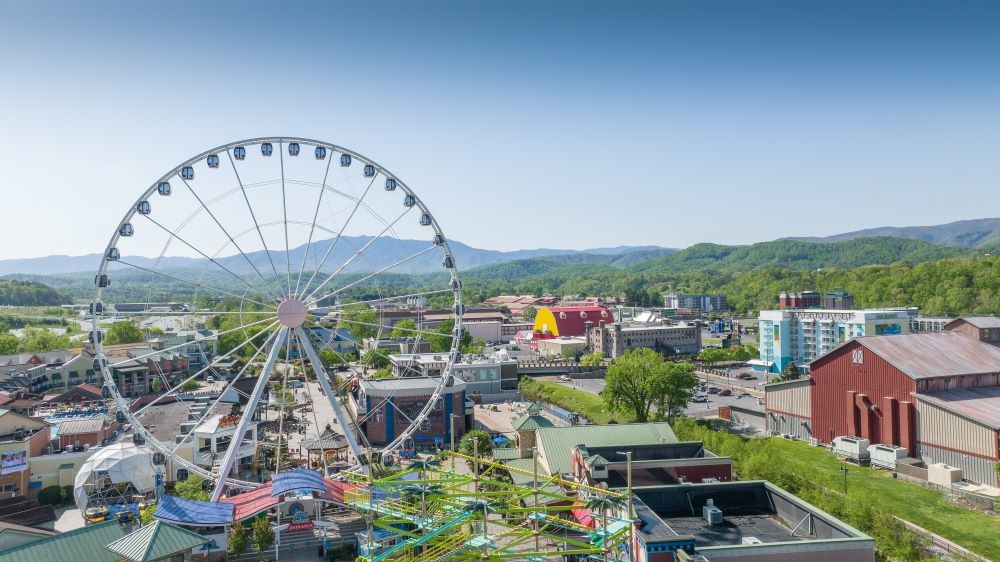 The Island in Pigeon Forge. Credit: Pigeon Forge Department of Tourism.
For such a relatively small destination, the superlatives associated with Pigeon Forge, Tennessee, are large.
The popular East Tennessee mountain town is set in the foothills of Great Smoky Mountains National Park, the most-visited national park in the U.S., and its Dollywood Theme Park reigns as the No. 1 ticketed attraction in the Volunteer State. 
This mix makes for an ideal destination for meetings and events, which also take advantage of its walkable downtown and trams and trolleys that shuttle tourists and attendees to all of the major attractions.
[Related: 3 East Tennessee Properties for Small Corporate Retreats]
"Event planners that are coming to Pigeon Forge will get that unique experience by being able to host a meeting in some of the most beautiful scenery in the United States," said Jennifer W. Smith, sales manager for the Pigeon Forge Department of Tourism and The LeConte Center at Pigeon Forge.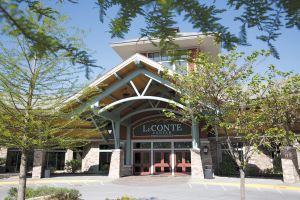 The LeConte Center can host events of up to 12,000 attendees, allowing Pigeon Forge to host citywide conventions. The destination's room count can allow for up to 15,000 room nights in accommodations ranging from hotels to cabins, condos, RV spaces and even campgrounds. Smith added that many delegates come to Pigeon Forge with family in tow to carve out some pre- or post-time to enjoy its many attractions.
Dollywood Theme Park, of course, is the main attraction in Pigeon Forge, and is ramping up to open a new hotel and meeting facility, HeartSong Lodge & Resort, in fall 2023 for transient business, and is accepting group bookings for business starting in early 2024. HeartSong is anticipated to have about 300 guest rooms and can be paired with Dollywood's DreamMore Resort and Spa. HeartSong will offer 26,000 square feet of flexible indoor/outdoor meeting and event space, a 7,000-square-foot ballroom, a 3,000-square-foot junior ballroom and breakout space.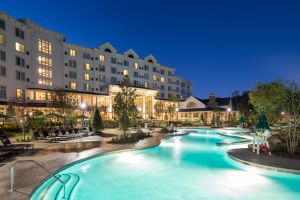 "We'll sell the complex as 'Better Together' between DreamMore and HeartSong," said Cordelia Marzak, director of sales and marketing at Dollywood's DreamMore Resort and Spa. "Heartsong is more of a lodge with exposed beams and stone, and DreamMore is a Southern farmhouse style, with 299 rooms and a little over 6,000 square feet of flexible meeting and event space.
"If you look at it from a holistic experience, you can stay at HeartSong or DreamMore and have events in the park and connect with Dolly Parton's Stampede, Pirates Voyage, the Pink Jeep Adventure Tour and scavenger hunts," she added. "We can curate whatever the meeting planner needs for their event, including partial buyouts. If you're offsite, we do a lot of work with the convention center and have tickets available [to shows] for groups."
[Related: Pigeon Forge, TN, Turns Up the Volume]
Connect
Pigeon Forge Department of Tourism
(865) 429-7432
4 Fantastic Offsites
Pigeon Forge and Dollywood are synonymous in some respects, with the country music legend's phenomenally popular attraction offering the colorful Dolly Parton's Stampede and Pirate's Voyage dinner shows, a waterpark and packages for meetings groups whether staying on-property or coming in for an offsite event.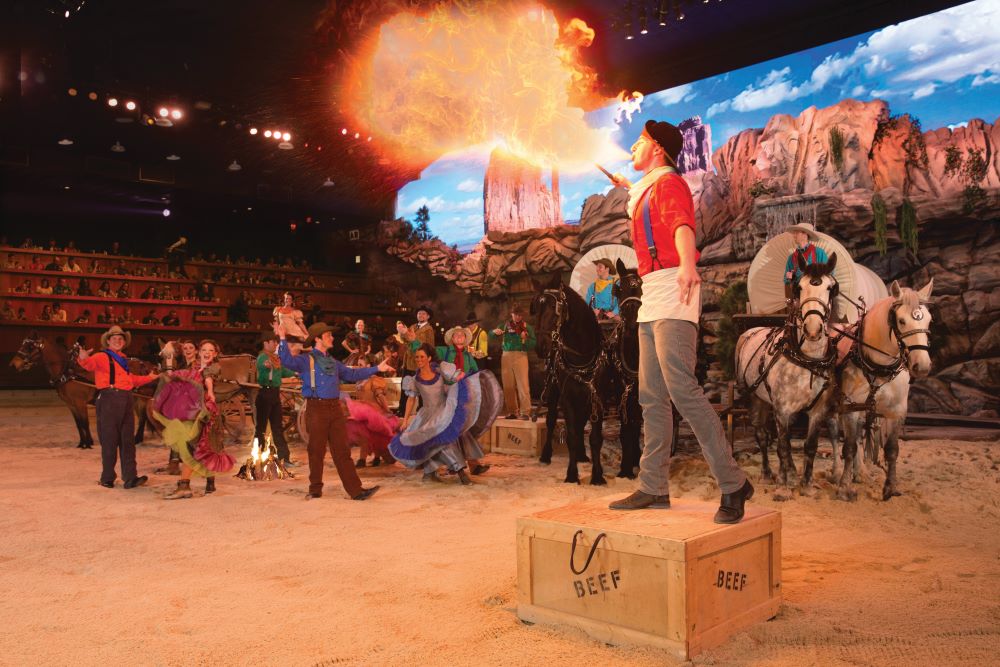 Connected to The LeConte Center with more than 70 shops, restaurants, rides (including a Ferris wheel) and other experiences, the new Island entertainment district also contains the Margaritaville Island Hotel and Margaritaville Island Inn. The Island also offers the 3,200-square-foot Compass Rose Room for meetings, receptions and banquets.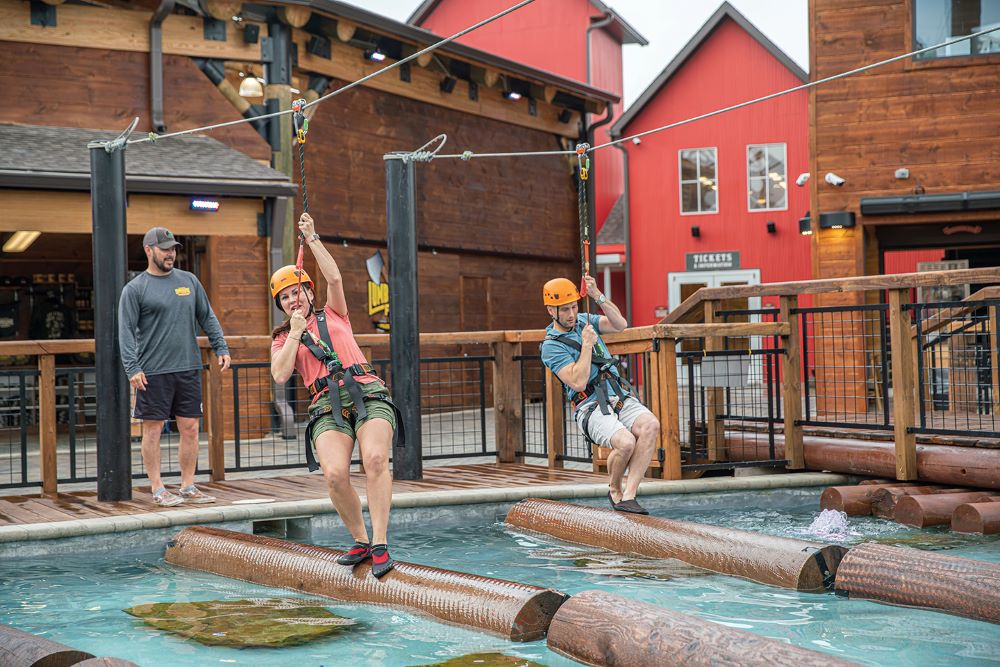 The Mountain Mile & Tower Shops
Located less than a mile from The LeConte Center, Mountain Mile offers everything from thrill rides to shopping, dining and drinking establishments. The newest tenant is Guy Fieri's Downtown Flavortown, boasting more than 43,000 square feet of food and festivities, including a bowling alley and tiki bar. 
Walkable from The LeConte Center, The Old Mill is home to one of the country's oldest working mills, which after nearly two centuries still processes flour and corn meal. The charming complex now features two restaurants—including the contemporary Southern-style Old Mill Pottery House Cafe, one of the most popular restaurants in town—the Old Forge Distillery and myriad shopping opportunities.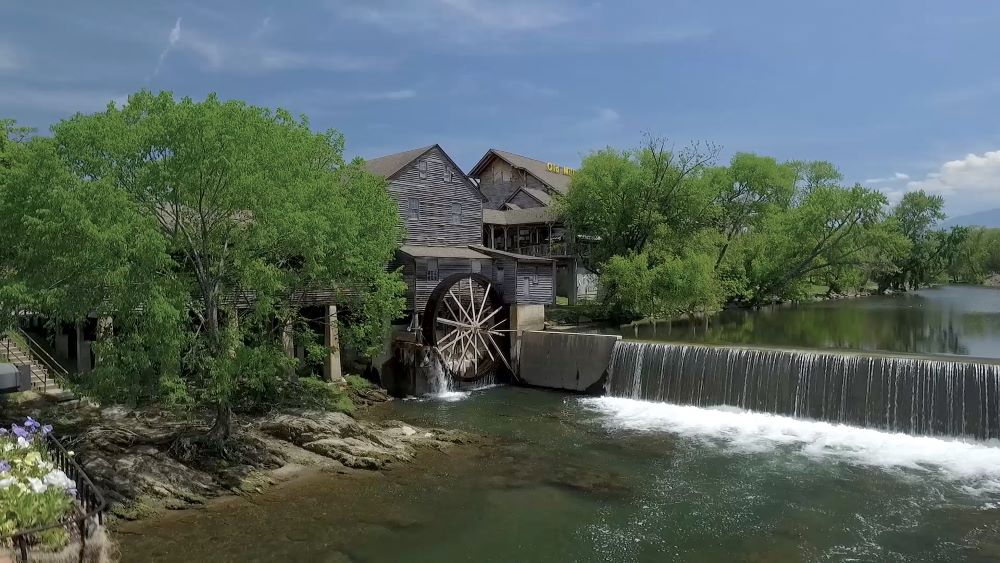 Getting There
The nearest major airport is Knoxville, Tennessee's McGhee Tyson Airport (TYS), about a 45-minute drive to Pigeon Forge, and is served by Allegiant, American, Delta, Frontier and United, with nonstops from major hubs such as Boston, Chicago, Dallas, Denver, Houston, New York (La Guardia), Philadelphia and Washington, D.C., among others. Pigeon Forge is also located off I-40, one of the major transcontinental interstates. 
Read Next: Where to Meet Outside in East Tennessee