6 Signature Event Venues in Greater Palm Springs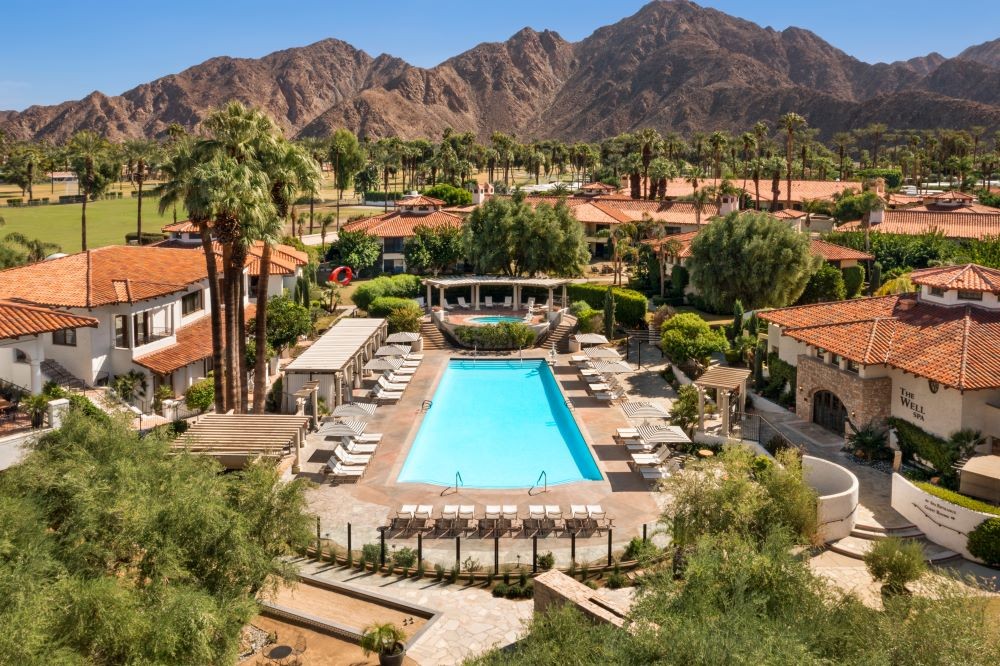 Miramonte Indian Wells Resort & Spa
Greater Palm Springs, surrounded by four picturesque mountain ranges and stretching approximately 45 miles from Palm Springs proper to the city of Coachella and the Salton Sea beyond, is famous for its natural beauty, endless sunshine and sprawling resorts that offer luxe event options for gatherings year-round.
This Southern California oasis is also heralded for its world-renowned events, such as the Coachella Valley Music and Arts Festival, held at the Empire Polo Club, as well as additional offsite venues that celebrate the destination's treasure trove of mid-century modern architecture.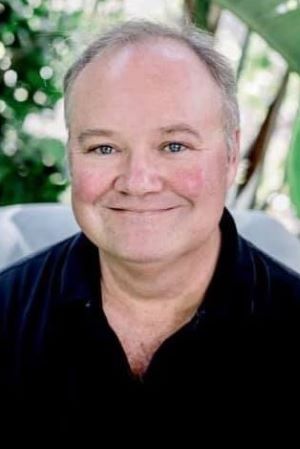 Meetings Today checked in with veteran planner Charles Chan Massey, founder and CEO of SYNAXIS Meetings & Events, for his take on why Greater Palm Springs is such a desirable destination for meetings and events, as well as his perspective on three resort venues he's used for special events. Chan Massey likes Greater Palm Springs so much, in fact, that he set up a residence there.
"Greater Palm Springs has so much to offer, not the least of which is its location," Chan Massey said. "It's convenient to Southern California and Arizona by car, and with all the new air service, it's really no more than a one-stop flight to many international destinations, with nonstop service to many cities in Canada. For the golfers, there's definitely no shortage of courses, and for outdoor enthusiasts, the local hiking paths and trails are many and diverse, from beginner level to moderate and above. And for the foodies, there's no shortage of options, from national chains to local favorites, with plenty of options for dine-arounds."
The following Greater Palm Springs event venues are surefire winners for gatherings that will immerse attendees in the region's signature style, beautiful scenery and one-of-a-kind attractions.
[Related Podcast: Exciting New Meetings Developments in Greater Palm Springs, With Carolina Viazcan]
Resort Event Venues
Fresh off a major renovation, Miramonte Indian Wells Resort & Spa sits at the foot of the Santa Rosa Mountains and boasts more than 10 garden, terrace and ballroom settings for special events. Outdoor spaces, including the new Olive Grove Patio, find attendees mingling in a lush desert environment adorned with olive and citrus groves, verdant gardens and colorful, overflowing bougainvillea.
"The Miramonte just went through a multimillion-dollar renovation and the place looks great!" Chan Massey said. "Although it's been several years since we've done an event there, the staff was great to work with and the space worked well with our group."
The property offers 18,000 square feet of indoor function space and 15,000 square feet of outdoor event space, with a capacity to accommodate up to 500 guests.
Popular gathering spots include Citrus & Palm, the resort's signature restaurant serving contemporary Mediterranean cuisine—and offering fire pits—and the Tavern Bar, plating sharable dishes and an extensive selection of hand-crafted cocktails and premium wines and craft beers. Groups can also rent the resort's Well Spa for private wellness retreats or breakout activities such as a sound bath session guided by a local shaman .
News flash!: Miramonte is re-imagining as the Tommy Bahama Miramonte Resort & Spa, which is set to debut in late 2023.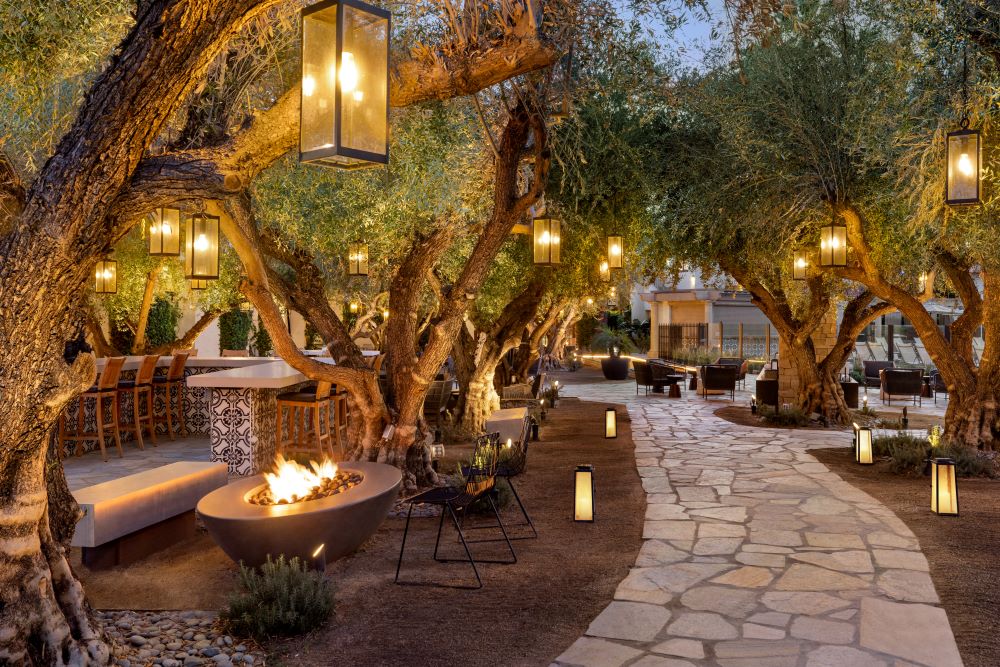 [Related: Discover the Massive Meetings Property Renovations in Greater Palm Springs]
Located in Rancho Mirage and framed by an idyllic backdrop of mountains and palm trees, the outdoor event spaces at this standout property particularly shine.
"I love this property, especially the diversity of their outdoor space," Chan Massey observed. "The River, a shopping, dining and entertainment complex located directly across the street, is a quick walk away, so as the planner, when I need a break I'll often walk there between sessions, grab a quick coffee, and come back before my attendees even miss me!"
The 444-room resort offers 82,000 square feet of meeting spaces, including the indoor Las Palmas Ballroom and the Starlight Terrace, a beautiful outdoor option. The property is also known for its golf outings and spa retreats at Spa Las Palmas, which boasts 50 treatment rooms and offers aromatherapy that blends healing flowers, plants and herbs from the native California desert.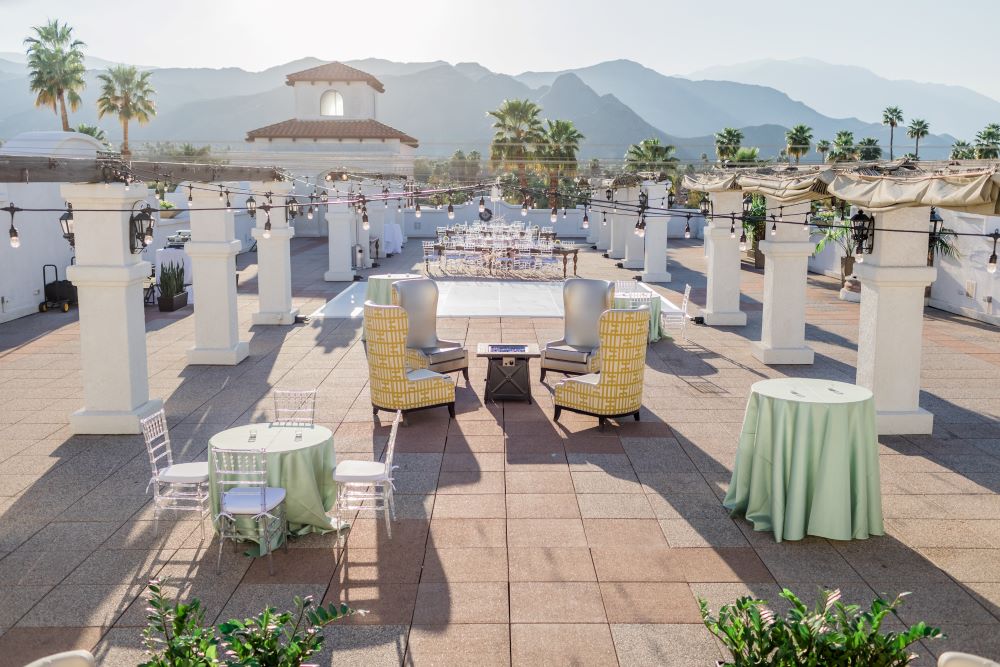 Reopening after a massive makeover in 2019 and taking back its beloved original name from when it opened more than 30 years ago, the venerable Renaissance Esmeralda Resort & Spa was once the stomping grounds of Hollywood icons such as Bob Hope and that quintessential mid-century entertainment powerhouse, the Rat Pack. 
"The Esmeralda holds a special place in my heart as it's the first place I ever planned a meeting, back in the 1990s," Chan Massey remembered. "While the 'bones' of the meeting space are essentially the same, they've done a great job of enhancing the space with little 'nooks' where delegates can work and hold side meetings, and I'm especially pleased with how they've repurposed outlet space they no longer use as event venues."
Outdoor event venues at the 560-room resort include the Rose Lawn, Olive Grove, Esmeralda Lawn and Waterfall Landing. Esmeralda offers more than 213,000 square feet of meeting and event space, including 33 breakout rooms and the 18,400-square-foot Esmeralda Ballroom that has capacity for 1,770.
Standalone Event Venues
With three hangars totaling more than 60,000 square feet of climate-controlled event space—and an additional 40,000 square feet of space on the tarmac behind the museum—the Palm Springs Air Museum can take flight for nearly any size of meeting, event or gala.
Located in Palm Springs, the museum is home to one of the world's largest collections of flyable aircraft from WWII and the Korean and Vietnam wars and can be rented in various space combinations. Its new Miles Hangar offers a 10-by-18-foot LED screen and a separate entrance from the parking lot. The hangars can accommodate up to 800 seated and aircraft can be moved according to the needs of the event.
With a heavy emphasis on event rental, the staff at the museum prides itself on creating innovative soirees, including a recent event that featured a runway for dogs!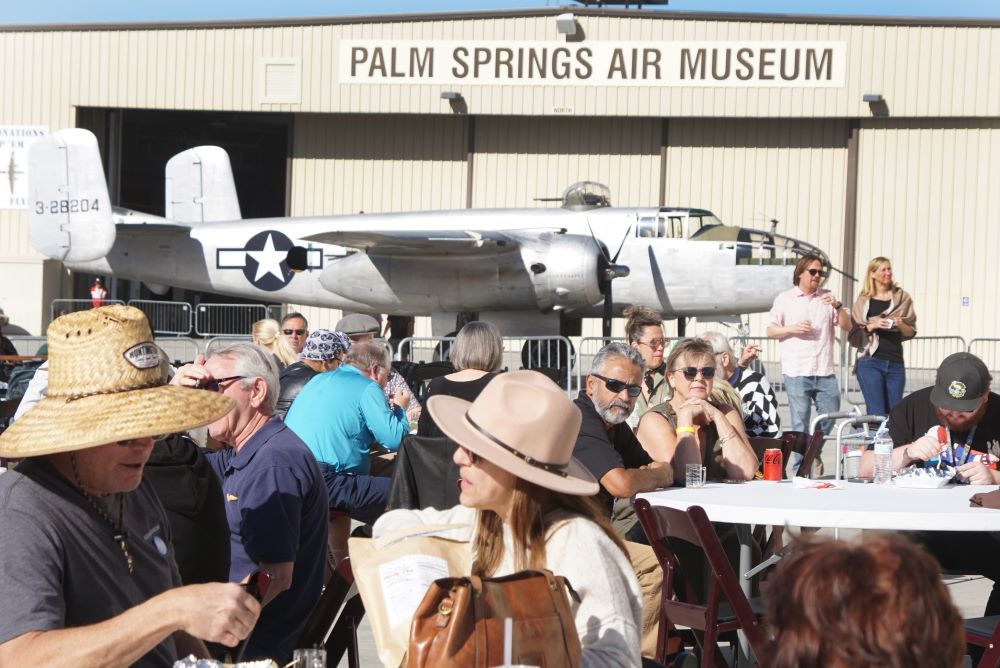 Located near the El Paseo upscale shopping district and downtown Palm Desert restaurants, shops and hotels, The Living Desert Zoo and Gardens showcases fauna ranging from the African savanna to the Australian outback and deserts of North America.
Popular event options, arranged by the venue's onsite Events Team, include cocktail parties, receptions, teambuilding gatherings and meetings.
Key event venues include:
Chase Administration Building: This option features three spaces offering mountain views and fully equipped with ambient lighting and AV, including a digital projector. Capacities range from 75-150, indoors and outdoors.
DC House: Set in the African Village of WaTuTu, this venue, which is not open to the public, is themed with thatched roof and mud walls and offers groups of 40-50 views of the endangered Amur leopard through a panoramic glass window.
Living Legacy Garden: Located at the main entrance of the zoo and adjacent to the new Rhino Savanna, this venue can host groups of 250-300 in an outdoor environment filled with a colorful combination of cacti, aloes and other desert flora.
Australian Overlook: Offering a private deck for groups, this Down Under option overlooks the Australian Adventures section and can accommodate up to 100 seated or standing outdoors.
Giraffe Savanna: Perhaps the showcase of the park, the outdoor Giraffe Savanna boasts wandering giraffes and other animals that make frequent visits to a platform where 75-200 attendees, standing or seated, can feed the herd under the supervision of a care keeper who can answer any questions about the towering, iconic African animals.
Rhino Savanna: This immersive experience featuring the endangered black rhino allows for meandering walks and two event venues: the Rhino Savanna, with the capacity for up to 200, standing, and the Baltzell Acacia Terrace, for up to 100 seated or standing, both outdoors.
Connie and Bob Lurie Event and Conference Center (Coming fall 2025): Located in the Lion Ridge habitat, this new facility will boast 180-degree views of The Living Desert's new lion habitat and be able to accommodate up to 500 guests indoors for dinners or meetings and an additional 250 on the adjacent patio. The two rooms can be booked individually or together for a total capacity of 500.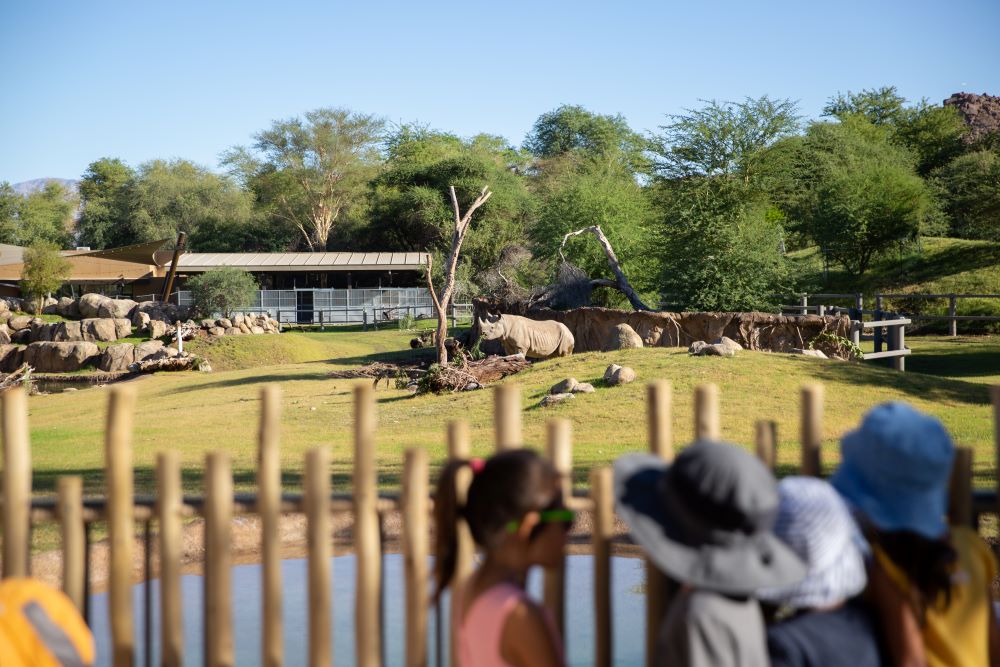 The "it" destination for some of the world's most popular scene-making events—including Coachella Valley Music and Arts Festival and Stagecoach Country Music Festival—the Empire Polo Club is a sprawling, 78-acre marquee venue sure to impress attendees—up to 90,000 of them, in fact, if need be!
Located in the southern end of the valley 22 miles from Palm Springs (in the city of Indio) and framed by the valley's iconic palm trees and mountain views, Empire Polo Club features five venues for events:
Hacienda del Toro: This 16,000-square-foot, three-acre garden expanse offers a 100-by-160-foot permanent tent with a hardscape floor and three Art Deco-style chandeliers, as well as three terraces. The venue offers its own entrance and parking as well as a circular driveway for motorcoaches.
Medjhool Lake: Boasting towering palms primed for uplighting on 10 acres, the lakeside, motorcoach-ready Medjhool offers three tent-tops encompassing 24,000 square feet of covered event space and overlooking the polo fields.
The Rose Garden: This traditional rose garden features 8,000 specimens among statuary, fountains and three Victorian-style gazebos. Its 5,000-square-foot Pavilion is adorned with elegant crystal chandeliers, and the garden offers ambient lighting.
The Forum: A clear-span superstructure with finished concrete flooring, The Forum offers more than 48,000 square feet of event space and is perfect for themed parties, exhibits, private concerts and product launches, among other uses. The venue also offers an 850-by-500-foot grass field, eight stadium light towers and three terraces with a total of 17,500 square feet of space combined.
The Date Shed: This more intimate live music venue was repurposed from the club's former refrigeration room for fruit harvested on-property for a half century. The shed is now an industrial-styled, minimalist lounge and club set up for live music, DJs and other entertainment, complete with a full-service bar.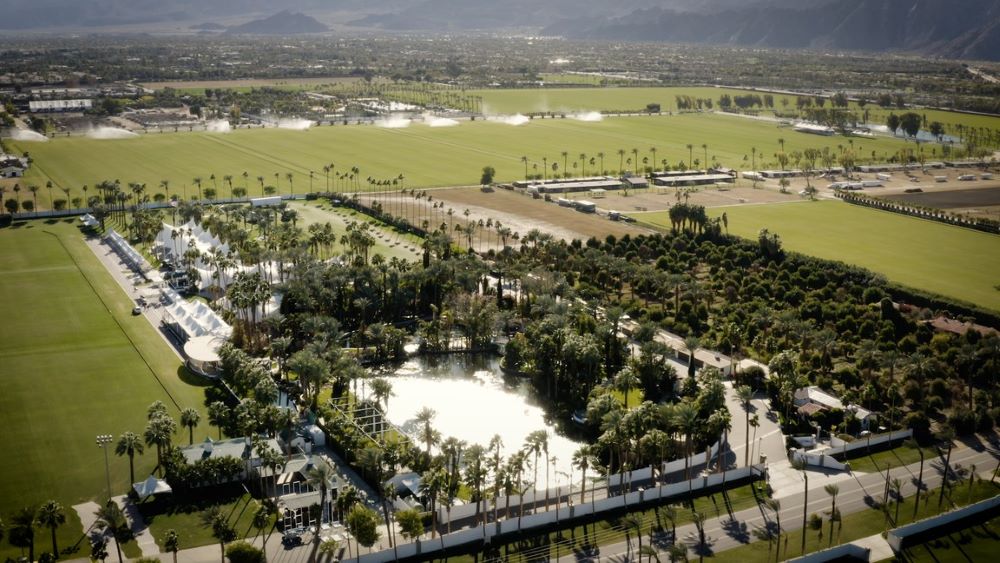 This article was produced in collaboration with Visit Greater Palm Springs.