3 Bucket List-Worthy Executive Retreat Experiences Surrounded By Nature and Wildlife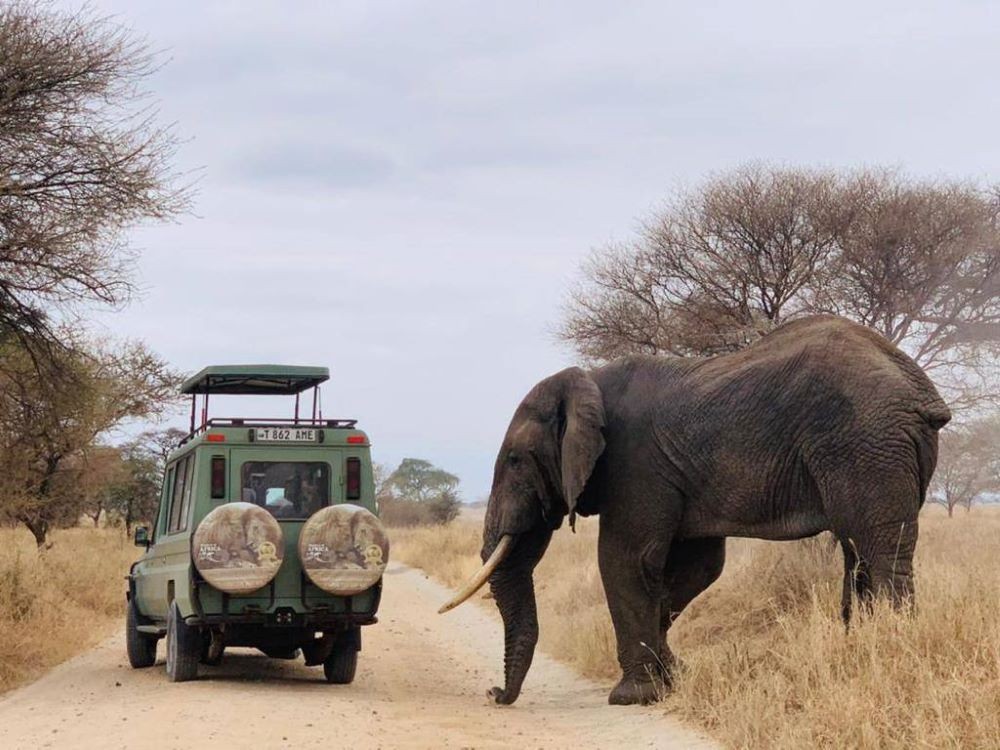 Shadows of Africa Safari. Credit: Shadows of Africa
C-level execs frequently put in long hours to make an organization thrive, so immersing them in a once-in-a-lifetime executive retreat experience will demonstrate the appreciation of the value their commitment brings. 
These three bucket-list outdoor opportunities give your attendees the chance to get up close and personal with some of the world's most magnificent wildlife in breathtaking environments.
Polar Bear Viewing with Great White Bear Tours and Frontiers North Adventures
For more than 30 years, Great White Bear Tours has taken groups on unforgettable polar bear viewing experiences in the tundra near Churchill, Manitoba, which hosts the southernmost population of polar bears in the world on the Hudson Bay coastline.
Guided by knowledgeable and experienced drivers in Polar Rovers, tours of the Churchill Wildlife Management Area (CWMA) take place every year from approximately the first week of October to the third week of November—the best time to see polar bears in their natural habitat, as well as arctic foxes, caribou, snowy owls and wolves—making the experience all the more transformational and rare.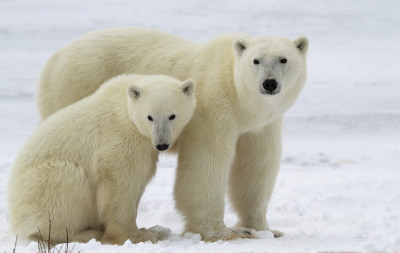 The Polar Rovers are heated, wheelchair-accessible and have reclining seats, easily opened windows and comfortable washrooms with flush toilets. The vehicles are also fashioned with outdoor grated see-through decks at a height designed to ensure passenger safety and comfort. 
The unique requirements it takes to see a polar bear in the wild are hard enough to come by, considering the short amount of time the tours run each year, but being able to enable people to safely view wild polar bears takes the experience to another level of difficulty. Every Polar Rover is designed and constructed in Winnipeg by Don Walkoski, co-owner of Great White Bear Tours, for both rough terrain travel and passenger comfort, guaranteeing a seamless and memorable experience for all. 
In line with Canada's sustainability initiatives, each Polar Rover uses large tires that put down a low 4 pounds per square inch in ground pressure, minimizing potential damage to the arctic landscape. Each Polar Rover burns an average of 12-15 gallons of fuel per day as a result of their low gear ratios and small 210 horsepower diesel engines, so groups can feel at ease knowing they are doing minimal harm to the natural environment. 
Tours begin between 7-7:15 a.m. when guests are picked up from their hotel and transported 23 miles out of town—keep your eyes peeled for other wildlife along the route! After boarding a Polar Rover at the launch site, the tour of the CWMA officially begins, and groups typically return to the launch site around 3 p.m. to head back to the hotel. Lunch is provided. 
[Related: 5 Cozy Winter Retreats in the Pacific Northwest]
With a similar history spanning more than 30 years, Frontiers North Adventures offers groups more unforgettable polar bear experiences. The company's Classic Churchill Polar Bear Adventure, which includes the exciting polar bear viewing experience from a Tundra Buggy and the opportunity to explore Churchill, consists of two full-day Tundra Buggy safaris in the CWMA as polar bears wait for the freezing of the Hudson Bay. 
"When I went up, I didn't really know what to expect, aside from it being the polar bear capital of the world," said Chantal Sturk-Nadeau, executive director, business events, Destination Canada, of her own polar bear viewing experience. "The terrain there is very stark. You are basically seeing white snow with almost a white background as the sky, so it's very hard to see where the horizon starts and ends. It's very different-looking than being anywhere else."
When Sturk-Nadeau landed in Churchill more than 15 years ago for her Frontiers North adventure, she boarded the "big, big, big, massive limo-Jeep almost" Tundra Buggy—the "original tundra vehicle" established in 1979—with a group of about 20 others, eyes peeled and looking for polar bears.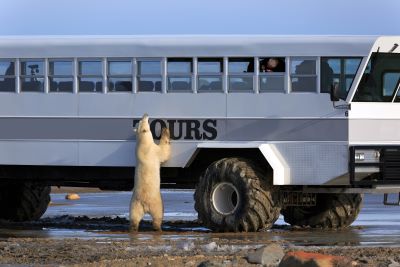 "We saw a mother polar bear and her three cubs that were following her, so of course they stopped the Tundra Buggy, and everyone is absolutely wowed," Sturk-Nadeau said. 
Shortly after she and the group watched a photographer from National Geographic capture the mother and her cubs on camera, it was time for lunch, which is served on the Tundra Buggy during the safari. When Sturk-Nadeau and the others were enjoying their stew, the mother polar bear let them know she wanted some, too.
"She came right up on her back legs and put her two front paws on the window, and we were literally nose-to-nose with a polar bear with just glass between us," Sturk-Nadeau said. "You see the sheer size and beauty of it, and the little babies come, trying to get up as high as they can as well, and they fall over and they're rolling and they're cuddling. It's just unbelievable to watch."
She can still remember the way she watched them breathing and what it felt like to look them directly in the eye. "It's magical," she said. "It's not something that I can really even explain aside from it being that my experience was 15 years ago, and it was one of my 'wow' moments. I went, I did it and I came back completely moved."
Sturk-Nadeau also shared how protective those working in the CWMA are over mother polar bears, as cubs can't live long without their mothers before being preyed upon. To ensure the protection of the endangered species, Churchill works with an international rescue center in Winnipeg to care for cubs until they're old enough to return to the wild.
"It's actually quite a story of sustainability within the animal world with polar bears," she said. "When you get to see them and understand that they may one day be extinct, and that you're seeing an animal that is endangered yet very protected at the same time…It was transformational for me.
"I didn't necessarily know [polar bear viewing] was on my bucket list," she added, "but it is one of those top 10 bucket-list things to be able to say I did."
Bathing Elephants at Elephant Nature Park and Elephant Jungle Sanctuary
Set in the Chiang Mai province of Northern Thailand, Elephant Nature Park was established in the '90s to be a unique project, sanctuary and rescue center for elephants just fewer than 40 miles outside the city of Chiang Mai.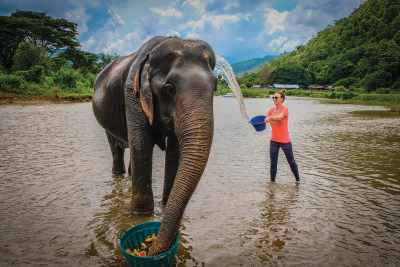 The park's mission statement includes providing a sanctuary for endangered species, rain forest restoration, cultural preservation, visitors education and independent action, and Elephant Nature Park has been recognized and awarded by institutions and organizations including the Smithsonian, TIME Magazine and National Geographic. 
Elephant Nature Park offers Elephant Nature Projects across Asia, with most starting in or taking place in Chiang Mai, and all projects include transportation to the site from each city office, bus station or hotel visitors are staying at or working with. 
Various projects feature different opportunities and offerings, from being suitable for all ages to jungle walks and feeding elephants. Elephant Nature Park offers single-day and overnight visits, as well as volunteer opportunities in the Elephant Highlands. 
Elephant Nature Park's overnight project—a "sleepover" with a thriving elephant herd—offers visitors the chance to experience the nature of Northern Thailand in the unique company of rescued elephants at the park, where they are free to interact and play in natural surroundings such as the nearby river, custom-built pools and mud pits.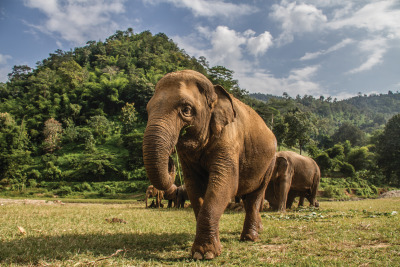 The nearby Chiang Mai Elephant Jungle Sanctuary offers morning, afternoon, full-day and overnight visits to the park, where guests are greeted by guides and given a basic overview of the tour (which recommends a hat, sunscreen, a bathing suit, towels and change of clothes!). Tours offer a photography service at no extra charge, and photos are shared with the group after the tour.
Full-day and overnight visits allow visitors even more time with the elephants, including the opportunity to get in a mud spa with them, as well as touch, play, feed and photograph the docile giants. Groups will walk alongside elephants to a nearby river and join them for a bath in the water, where they can bathe and brush the elephants themselves before covering elephants in a protective layer of mud and finishing the day with one last photo-op.
[Related: 3 East Tennessee Properties for Small Corporate Retreats]
Safaris, Hot-Air Balloons and Hiking with Shadows of Africa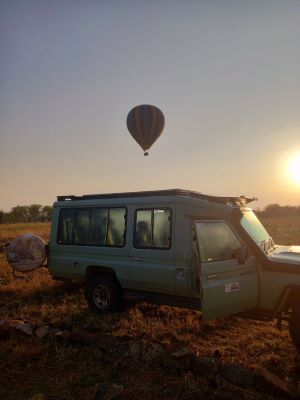 Established in 2010, Shadows of Africa is a Tanzanian World Travel award-winning travel agency offering safaris and tours, gorilla and chimpanzee trekking, cultural experiences, day trips, Mount Kilimanjaro climbs and more. The company specializes in tailoring tours to ensure every guest or group receives the perfect safari itinerary suited to their tastes and budget.
Throughout the year, Shadows of Africa offers more than 100 tours running in countries including Tanzania, Kenya, Rwanda, Uganda, South Africa and more. Tour durations span one to 11 days and offer a variety of unique and once-in-a-lifetime choices for adventures.
Options include climbing the newest, yet longest, route on Mount Kilimanjaro over a nine-day hike or a five-day safari during the April-May green season's Wildebeest Migration, when approximately 1.7 million wildebeests, 470,000 species of antelope and 250,000 zebras begin moving north through the Seronera region of the Serengeti. 
Groups can also take advantage of other Shadows of Africa offerings like hot-air balloon rides over the Serengeti, mountain biking through Tanzania or experiencing a great migration river crossing.
Read this next: Corporate Retreats at Maine's Sky Lodge Heed the Call of the Wild