Explore Minnesota Tourism Conference 2023 Reports Positive Tourism Gains, Plans Ahead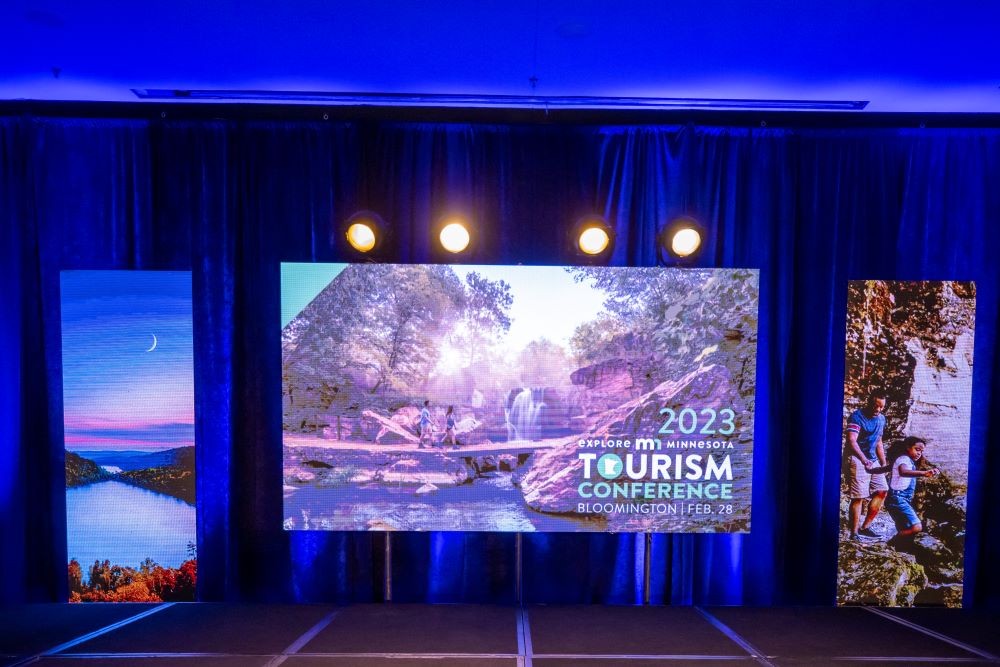 2023 Explore Minnesota Tourism Conference stage. Credit: Explore Minnesota
Explore Minnesota held its annual tourism conference February 28, gathering tourism professionals across the state under one roof at the DoubleTree by Hilton Bloomington–Minneapolis South to report on the state of the industry in 2022 and discuss the road ahead.
In 2022, the state welcomed 77.2 million visitors, and 254,000 people were employed in the leisure and hospitality industry as of December—up 10% over the past year, which is good news for meeting professionals with staffing concerns when sourcing destinations. Additionally, Lauren Bennett McGinty, executive director for Explore Minnesota Tourism, noted that compared to other state industry sub-sectors, leisure and hospitality posted the highest year-over-year growth and is the fourth-largest sector for employment in Minnesota.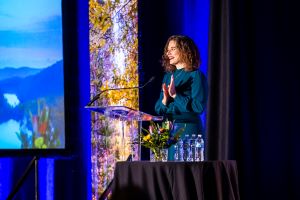 While the state may not be on everyone's radar yet, this hidden gem of the North is starting to receive national attention; recently, Minnesota made it on to more than 40 top lists in national news outlets and magazines, 33 of which were top 10 placements. For the second year in a row, Minneapolis-St. Paul International Airport was named the best airport in North America in March by the Airport Service Quality program, which surveyed 465,000 travelers in more than 90 countries. 
"I'm continuing to be in awe of how everyone who discovers Minnesota for the first time discovers that we do in fact have more than just snow and lakes," McGinty said.
While Minnesota's tourism numbers are looking up and interest is rising in the state, Explore Minnesota acknowledged that there is still much work to be done to boost meetings and events business in the state and also up its hotel occupancy rate—currently sitting at 43.6%—which is below the total U.S. occupancy average (53.5%).
"Business and event travel is coming back. We want to bolster growth through these areas and are seeking expanded funding to support large-scale sporting events and other major events in major population areas," McGinty noted. 
Minnesota has previously seen success with hosting large sporting events including the 2022 NCAA Women's Final Four in Minneapolis, 2019 Men's Final Four in Minneapolis and 2018 Super Bowl LII in Minneapolis.
U.S. senators Tina Smith and Amy Klobuchar delivered remarks virtually, while Gov. Tim Walz attended in person on the heels of his budget proposal that included an increase for Explore Minnesota after the DMO's base budget remained stagnant for more than a decade.
[Related: The Essential Guide for Meetings in Minnesota]
Event News: Minnesota's Bid for the World's Fair
During her remarks at the conference, McGinty also said that Explore Minnesota is supporting the state and country's bid to bring Expo 2027—a Bureau of International Expositions (BIE) Specialized Expo—to Bloomington, Minnesota.
These Expos are international events (historically called World's Fairs in the U.S.) where nations, civic groups, companies and others host pavilions and exhibits highlighting advances in social, technological and scientific areas of global significance.
If the U.S. bid is successful, it would be the first time a World's Fair would be held in the country since New Orleans hosted the event in 1984. Minnesota's proposed Specialized Expo theme, "Healthy People, Healthy Planet," would focus on health and wellness. If brought to Minnesota, the event is projected to draw 13.3 million attendees over 93 days in the summer of 2027, generating an estimated $733 million in new spending and 33,000 jobs, according to Expo 2027's website.
Read this next: 6 Minneapolis-St. Paul Sports Venues With Winning Event Spaces