Consider These Women-Led Businesses in Seattle for Your Next Event

Robin Hogan, Angela Shen and Laura Clise
Seattle has many strengths for meetings. The new Summit Building at Seattle Convention Center has bolstered the city's ability to host large groups, and the city's commitment to sustainability is evident throughout its LEED-certified venues and walkable downtown—more than 5,900 rooms within 11 blocks of the convention center makes it an easily accessible destination for attendees. 
Standing out, too, is Seattle's commitment to inclusion. During Women's History Month this March, it's worth noting that Seattle is home to the highest share of women-owned businesses in the U.S. at 40%. It's no surprise that, with this knowledge, the city has been ranked No. 1 in Best Cities for Women Business Owners by Forbes and No. 1 Best City for Women Entrepreneurs by Inc. 
"If you go back to the roots of Seattle, like way, way back, our first woman mayor was the first female mayor of any major U.S. city in 1926," said Ali Daniels, senior vice president and chief marketing officer for Visit Seattle.  
While trailblazing women aren't a recent development in the Emerald City, Visit Seattle—whose leadership consists of three women, including Daniels, President and CEO Tammy Canavan and Senior Vice President and Chief Sales Office Kelly Saling—has been working to highlight women leaders in the community through its SEAforSHE campaign since 2019. The campaign started as an activation at tradeshows that has grown into a continuous program that Daniels says isn't going away anytime soon. Visit Seattle also uses the campaign to help meeting planners identify vendors and speakers for their events. 
"We also we do a regular email out to our meeting planner database where we highlight something we're celebrating that month. Like if we were celebrating Washington wine, we'd make sure that it's a Washington winemaker, right? A woman who paved the way for the field or an up-and-coming one, a new star," she said. "We have this dense population of incredible women speakers. Why not look through our webpage to help identify one and let us connect you with them? 
"Especially when there are groups that have initiatives that are related to women's rights and making sure to elevate historically disadvantaged voices, [we are] giving them a platform," Daniels added. 
If you're in the process of sourcing vendors in Seattle, consider these few of the many pioneering women in its tourism industry, whose services you can leverage for your next meeting or event. 
[Related: Key Venue Openings and Renovations in the Pacific Northwest (2023)]
Angela Shen, Founder, Savor Seattle and Savor the Wild Tours 
Business leader Angela Shen founded Savor Seattle in 2007 and launched Savor the Wild Tours this month, reflecting her passion for curating immersive gourmet food experiences that showcase the unique culinary treasures of the Pacific Northwest. Her latest endeavor, Savor the Wild Tours, includes tours built around mushroom foraging, seafood gathering and seasonal dining events that help educate and shine a light on ingredients native to Washington.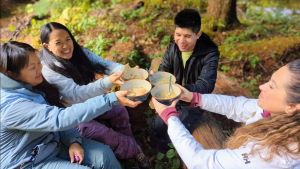 "Our offerings are quintessential Washington experiences. They are perfect for groups that want to have an immersive experience that connects food with nature, and is truly unique to the Pacific Northwest," Shen said, adding that her team can accommodate groups of up to 36 at a time and can customize experiences to suit clients' needs. 
Shen's expertise in business strategy and operations hails from her time in the consumer packaged goods sector, where she previously worked in brand management at PepsiCo. She managed large iconic food brands including Quaker Oatmeal and Life Cereal, launched new brands such as Quaker Breakfast Squares, and managed traditional regional brands like Quaker Grits. 
"I love being a spark and inspiring others to take the bold leap to follow their entrepreneurial endeavors," Shen said when asked what being a woman business leader in Seattle means to her. "Seattle is a great incubator for creativity and is a city equipped with infrastructure to help small businesses thrive." 
In addition to her work with food tours, Shen is also a frequent public speaker on entrepreneurship and business strategy, including Yelp and the Seattle Chamber of Commerce, and serves on the board for Visit Seattle.  
All-Female Events & Services Team, Chihuly Garden and Glass and Space Needle 
Led by Senior Sales Manager Robin Hogan and Director of Sales and Tourism Development Parry Miller, the seven-person, all-female events and services team that executes events at the enchanting Chihuly Garden and Glass exhibit and adjacent Space Needle is a powerhouse.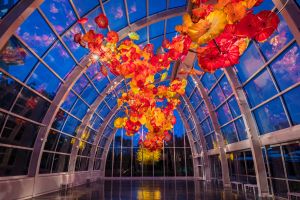 "Our team at Chihuly Garden and Glass and Space Needle is incredible," Hogan said. "As a woman, I am honored to work with such a strong group of likeminded team members that truly embrace our values of 'Take Care.'  The events world is challenging and always fast-paced; however, we thrive here because we know we have each other's unconditional support and truly enjoy working together. " 
Chihuly Garden and Glass is a must-consider for special offsite events. The events team hosts an average of 200 events at Chihuly Garden and Glass annually, and since opening in 2012 has hosted over 100 weddings in the Glasshouse and many corporate events across all market segments, including technology, aerospace and finance, according to Hogan. The venue also has an in-house culinary and banquets team. 
"Our team possesses a wealth of knowledge in the event arena with an extensive background in hotels, restaurants and attractions. They are all at the top of their game—selling and executing seven uniquely amazing events spaces within these two iconic venues, both inside and outside," Hogan said. 
Laura Clise, Founder and CEO, Intentionalist   
Intentionalist is a social purpose corporation founded and led by Laura Clise that makes it easy to support Main Street small businesses and diverse communities through more intentional spending. As meetings and events become more thoughtful about vendor selection, with DEI top-of-mind, Intentionalist aims to help make this search process easier not just in Seattle, but across the country. 
Using the online directory, planners can search for local restaurants, bars, gyms, shops and more businesses owned by women, people of color, veterans, LGBTQ+, families and people with disabilities in many states in the U.S. 
"We have worked with a variety of event hosts to provide custom online guides and incentives to support local businesses, making it easy for attendees to explore and experience the host city, from Seattle, to Atlanta, to Washington, D.C., and beyond," Clise explained. "In Seattle, our deep knowledge of and relationships with hundreds of local businesses make us a great resource when it comes to recommended options for catering, event photography, venues, neighborhood tours and more." 
Clise cited a long line of women leaders who have shaped Seattle. 
"Seattle has a long history of women leaders stepping up to do what needs to be done. From the founding of Children's Orthopedic Hospital in the early 20th century by my great, great grandmother, to the diversity of women leading companies and nonprofit organizations, to those serving our communities through public service," Clise added. "As a social entrepreneur, I aim to lead with empathy and a deep commitment to explore innovative, collaborative business models that prioritize community benefit. I intentionally founded Intentionalist in my hometown, Seattle, and we are slowly proving that a community-driven economy effectively engages all of us in closing the gap between our good intentions and our ability to take action that makes a difference." 
See more women leaders in Seattle highlighted in Visit Seattle's SEAforSHE campaign.
Connect 
Visit Seattle 
(206) 461-5800 
Listen to Dare to Interrupt,  a podcast built by women in events—for women in events.