Anaheim Convention Center Chef Sets Tables for Thousands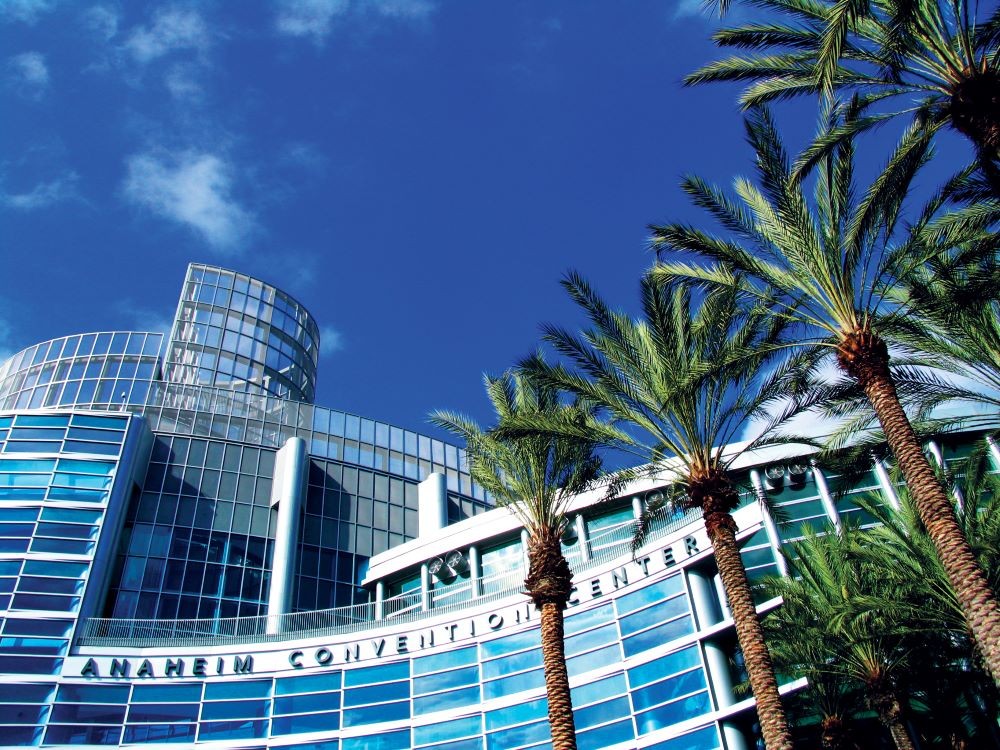 Anaheim Convention Center. Credit: Anaheim Convention Center.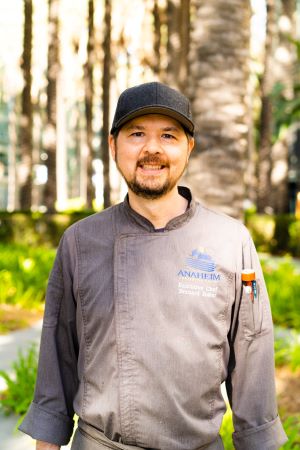 Running the F&B operation for the largest convention center on the West Coast is the definition of a "big job," but Bernard Foster, executive chef for the Anaheim Convention Center (ACC), doesn't seem phased that he and his team serve an average of 1 million attendees annually.
"At first it seems overwhelming, but it's just allotting more time for more people and ordering more product," Foster said. "In the past I've done functions of 5,000 before. It's all about scaling the numbers. There's a lot of simple math involved, and it also depends a lot on the demographics of the group."
Foster is employed by the exclusive caterer for the ACC, Aramark, which certainly is no stranger to serving all manner of F&B to groups numbering in the thousands and often tens of thousands.
Chef Foster, who leads an ACC team that currently numbers approximately 80, has also held executive chef positions at several Hyatt hotels over an 18-year career for the global hotel giant, serving on grand opening and renovation teams for a variety of properties worldwide. He's also led industrial cooking operations at a large hospital, which carried with it the necessity to create F&B for a wide range of medical dietary requirements.
Related: Anaheim's Strong Recovery Fueled by New Developments
Even for groups that can reach 100,000, Foster believes sustainability—in keeping with an Aramark priority—is a foundation in all of the many kitchens and outlets serving the nearly 2 million-square-foot facility.
"We're in Southern California, so it's a playground here in terms of food," he said. "There's a ton of local farmers, so we try to keep things seasonal as much as possible, and not only does it reduce our carbon footprint but it also supports local farmers."
Foster said having team members from so many different cultures also creates the opportunity to support world-fusion fare, but with an emphasis on healthy cuisine—less butter, less fat—that veers from heavy, traditional French techniques.
"It's healthy options such as a demi-glace sauce that helps with the flavor of the dish," he said. "Not everything has to be covered with a brown gravy."
[Related: Discover More Top Chefs Coverage] 
Group Offerings
Foster said his team typically works with meeting planners after the ACC sales team sends out a standard menu, which opens up the conversation to customization based on the demographics of the group as well as the seasonality and availability of ingredients.
"They recommend things, I recommend things, and then we'll do a tasting," Foster said. "Doing a steak that's medium rare for thousands is going to sit in a box for a long time, so if you have it braised in a sauce, that's better, such as going with short ribs."
Staying on trend, even for groups numbering in the thousands, is also a foundation in the social media/food television world we live in.
[Related: Ritz Half Moon Bay Chef Applies International Techniques to the Local Bounty]
TikTok is the latest social media platform informing trends, with Foster saying the recent TikTok butter board craze has led attendees and planners to clamor for the photogenic appetizer option at events.
One of the biggest challenges at any convention center that counts a lot of consumer expos as clients is attendee numbers that can vary wildly.
"The [Reptile Super Show] lizard convention went from 8,000 people on estimate to more than 20,000 showing up," he said, "and Star Wars [Celebration] had more than 100,000 people, so on a day you could get 60,000 to 70,000 attendees."
Foster said the ACC's thorough pre-COVID attendance and sales history allows him to make very informed ordering decisions that typically only vary by a small percentage, and the ability to bring in food trucks can ease the burden while also opening up cuisine options exponentially, even for relatively mundane options such as the humble hot dog.
"You have your standard hot dog, but you can do Japanese hot dogs, Sonoran hot dogs, Korean hot dogs," Foster said. 
Recipe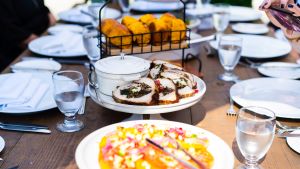 Holiday Butter Board
Ingredients
8 oz. salted butter 
¼ tsp. pumpkin spice
1 tbsp. organic date syrup
2 tbsp. pomegranate arils
2 tbsp. roasted walnuts
1 tsp. thyme leaves
Preparation
Allow butter to come to room temperature.
Smear butter on a platter.
Dust butter with pumpkin spice.
Drizzle organic date syrup on butter.
Scatter pomegranate arils and walnuts.
Sprinkle thyme leaves over butter.
Serve alongside your favorite brioche or dinner rolls.
Read Next: From Cop to Chef, Kieran Fleming Found His Calling in the Kitchen