From Cop to Chef, Kieran Fleming Found His Calling in the Kitchen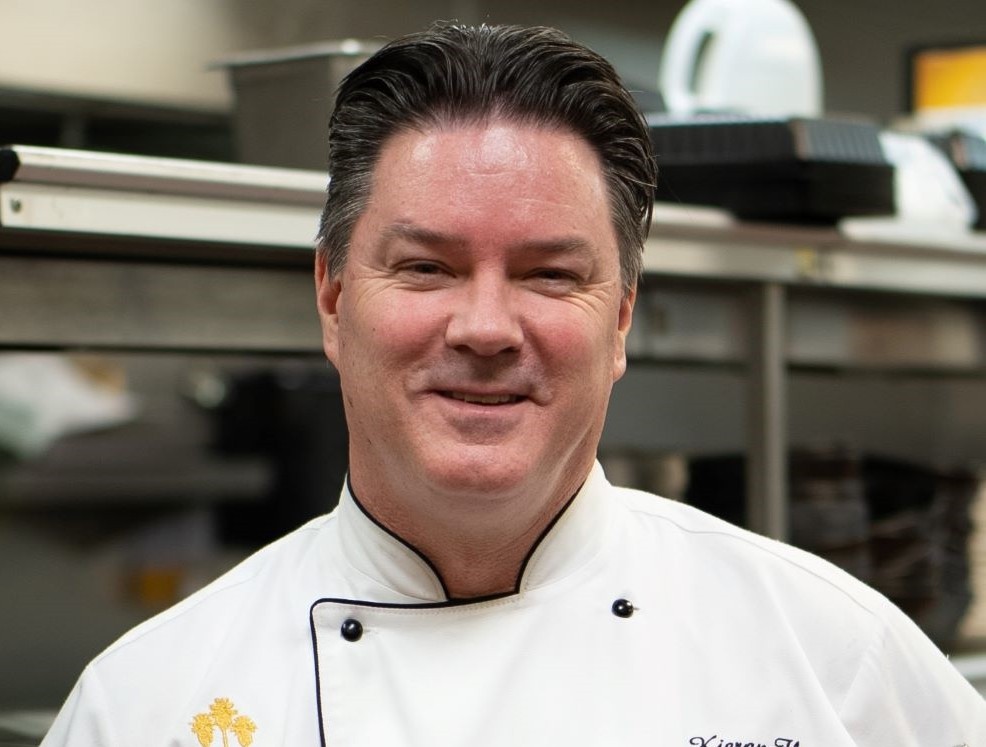 Kieran Fleming, executive chef, Agua Caliente Palm Springs. 
It's true that some chefs rule their kitchens with the unbending resolve of a "by-the-book" law enforcement officer, but chef Kieran Fleming, his work history notwithstanding, seems like the type of authority who would let you off with a warning. 
After an 11-year career as a federal law officer, Fleming traded his badge for an apron and a life in the kitchen as a chef in major group houses. 
"I earned a criminal justice degree from San Diego State and I thought that's what I wanted to do, but after 11 years I didn't like going to work anymore," Fleming said. "I wanted to do something different, and I always enjoyed cooking, but I always felt if I did it as a career, I would ruin it. But I've been doing it for 22 years and I still love it, and when I go home after work I'll continue cooking." 
[Related: 4 Tribal Casinos That Are Sustainability Standouts]
As the executive chef for Agua Caliente Palm Springs, part of tribally owned and operated Agua Caliente Casinos' collection of three gaming resorts in the Southern California destinations of Palm Springs, Rancho Mirage and Cathedral City, Fleming moved from its larger resort in Rancho Mirage to the Palm Springs property to focus more on boutique groups and events. 
The core of his responsibilities is at The Steakhouse—the only Forbes Four Star-awarded restaurant in Palm Springs—and 360 Sports, a new "elevated" sports bar and restaurant. He also oversees the Cascade Lounge, the resort's meetings and events venue that has a capacity for up to 170. 
Group Dining Options 
"I was at the Rancho Mirage property for five years—handling 400 to 500 people—but the current one is more boutique," he said. "We can do about 200 for events, and that gives us the opportunity to be more creative." 
Having worked at massive group hotels such as the Manchester Grand Hyatt San Diego, Fleming appreciates the chance to work for smaller groups. 
"It gives us the opportunity to do more coursed menus—when you have a smaller banquet you have the opportunity to do five or six courses—and get people to try new things," he said. "I like to try to open people's eyes and expand their palates—I even put venison on the menu. I like to go out and talk about the food and explain it to them, such as [wild-caught being] different than farm-raised, which is a much mellower flavor." 
When it comes to a favorite dish to prepare, chef Fleming enjoys the challenge of cooking fresh scallops, especially for groups, and also the little flourishes he and his team can add to dishes when the number of diners is not inordinately large. 
[Related: Cedar Rapids Chef Turning Heads in the Heartland With Veggie-Forward Tastes]
"I love doing scallops for events, because they're very tricky and they can overcook very quickly," he said. "I also love doing things with grilled peaches, and being able to be meticulous about a dish. I'm proud that my team has the ability to be creative and put these small touches on our dishes that make them really stand out, such as the edible flowers." 
It seems all of those years in law enforcement did have one benefit, in that it helped him better manage stressful environments such as a kitchen operating at full throttle. 
"From my previous career, it was stressful, yes, and the kitchen is obviously a different kind of stress, but it did give me that background of helping me manage it," Fleming said. "You kind of feed off that when you're working in a kitchen and everything's cohesive and working as it's supposed to. It's a rush of excitement and it's hard to explain unless you've been in it." 
Seared Scallops 
Serves 4-6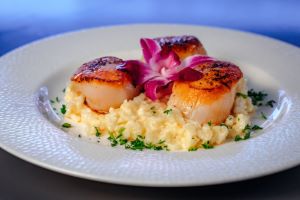 Ingredients 
1 to 1 ¼ pounds dry sea scallops (about 14) 
2 tsp. unsalted butter 
2 tsp. olive oil 
1 lemon 
Kosher salt 
Fresh ground pepper 
Directions 
Remove small side muscle from scallops and rinse in cold water, then pat dry. 
Add butter and oil to sauté pan on high heat. Season scallops with salt and pepper. 
Once the pan begins to smoke, gently place scallops in, avoid touching each other.  
Sear scallops for 1½ minutes on each side, forming a golden crust about ¼ inch. The center should be translucent. Be careful not to overcook.  
Squeeze lemon over scallops just before removing from the pan. Serve immediately. 
[Discover more top chefs: https:www.meetingstoday.com/top-chefs]