8 Refreshed Meeting Venues in New York State That Inspire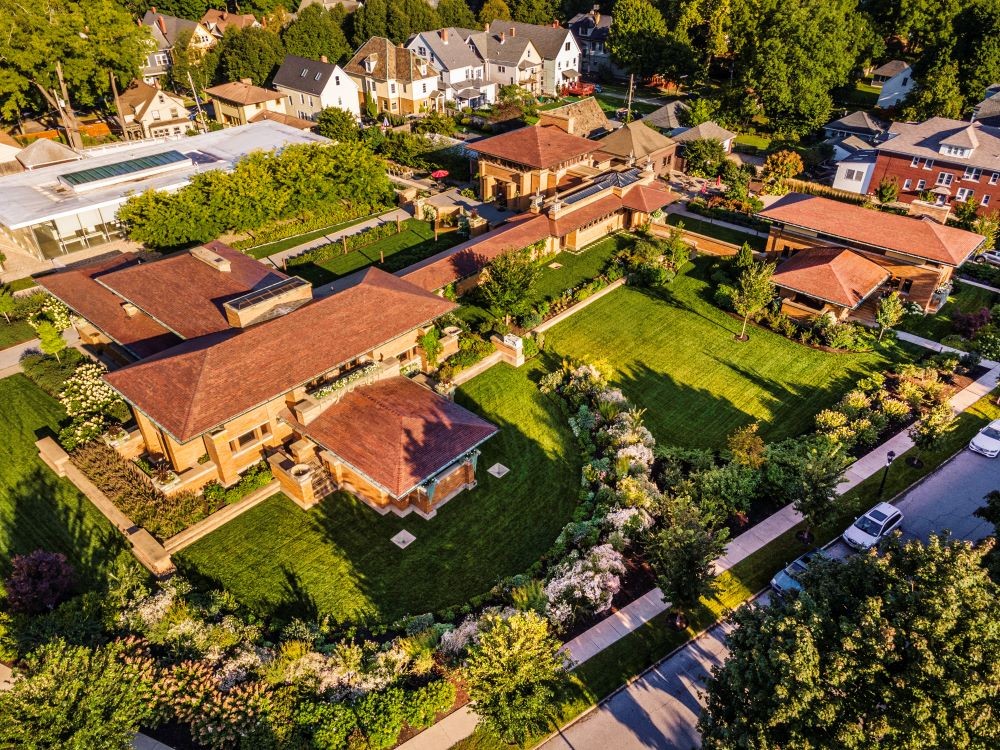 Frank Lloyd Write's Martin House, Buffalo. Credit: Frank Lloyd Wright's Martin House
Since 1980, New York State's Office of Parks, Recreation and Historic Preservation (OPRHP) has recognized organizations and individuals that protect and revitalize New York's history and heritage. The 10 Historic Preservation Award winners for 2022 include New York City's Pier 57 and the rehabilitation of two historic stairways at the Niagara River Gorge.  
While looking to the future, the Empire State closely safeguards its past. Reflecting a mix of landmarked, preserved and adapted structures with sustainable, future-forward new developments, here are some New York venues that renew, rejuvenate and inspire.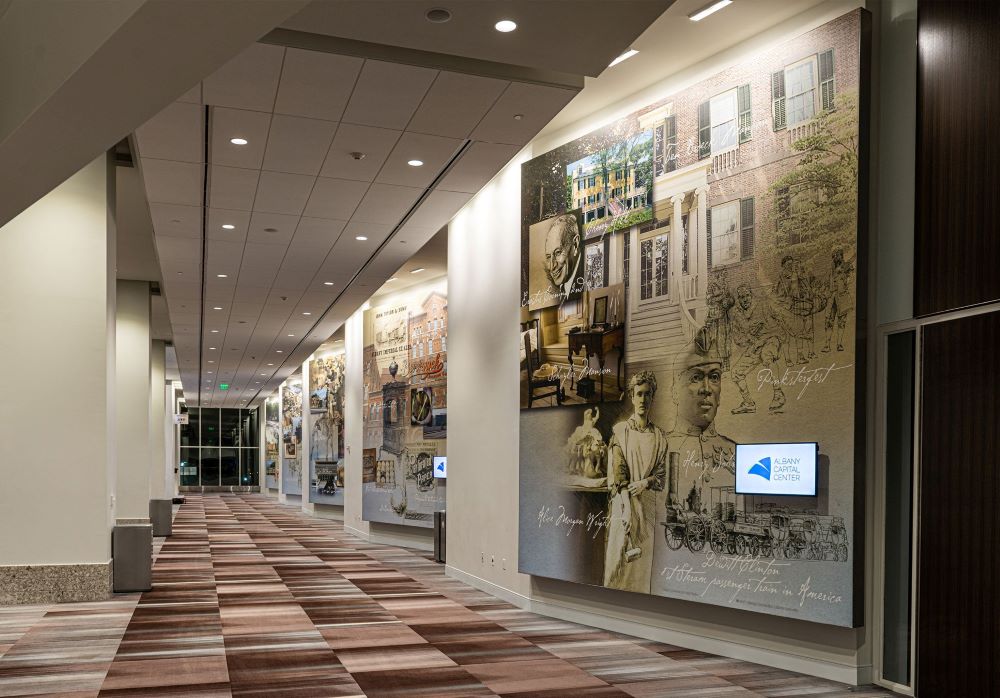 It all started with a bang in 2014 when downtown Albany's Wellington Hotel annex was imploded to make way for a new convention center. Opened in March 2017, the Albany Capital Center (ACC), joining the Empire State Plaza Convention Center, Egg Performing Arts Center and MVP Arena, created the 159,000-square-foot, walkway-connected Capital Complex, Upstate New York's largest combined meeting venue. 
Housing 22,500 square feet of multi-purpose space, 9,200 square feet of meeting space, 13,500 square feet of prefunction area and six meeting rooms, the ACC has generated $62.1 million in total new-visitor spending, hosted 832 events and conferences and attracted 424,985 visitors to downtown Albany, producing 94,330 hotel room nights through 2022. 
Green features abound, from exterior sun shading to a digital energy management system for heating, cooling, ventilation and lighting. The building also comes alive with a customizable color-changing LED ceiling on the second level and murals depicting Albany's 400-plus-year history.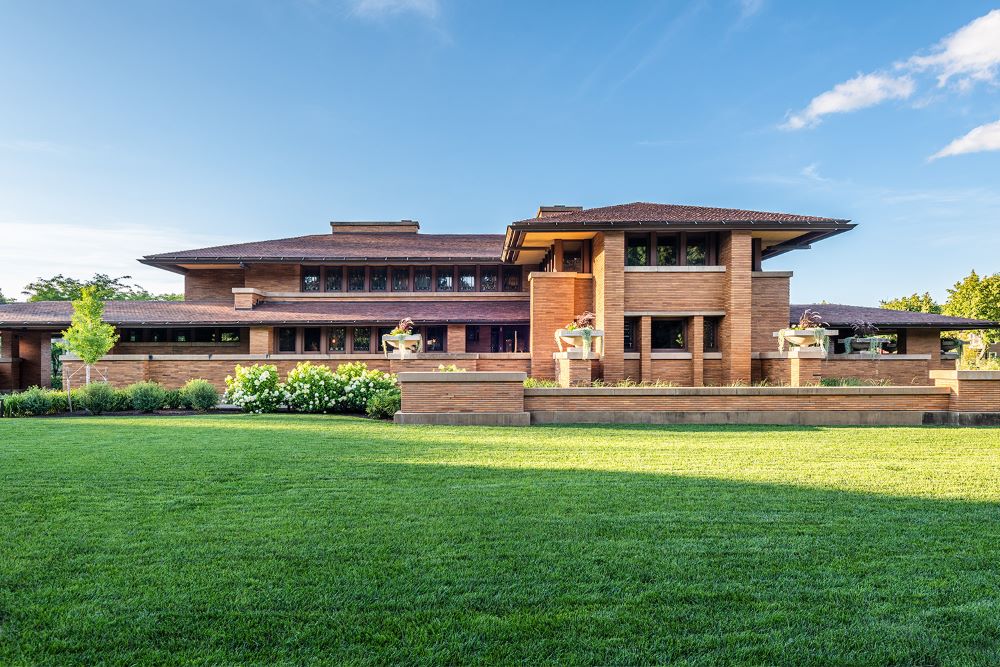 Buffalo was pivotal in legendary architect Frank Lloyd Wright's career, including works that originated from his long-time bond with Buffalo businessman Darwin Martin. Known as Wright's "Buffalo Venture", a pair of commissions from Martin set the stage for Wright's later renown.  
While Wright's headquarters for Martin's employer, The Larkin Soap Company, was demolished in 1950, the Prairie-style residential estate he designed for the Martins in Buffalo's Parkside neighborhood remains a crowning glory to this day. Built between 1903-1906, the National Historic Landmark features six distinct but interconnected structures, including the main Martin House, incorporating 8.5 miles of wood trim and 110 unique molding shapes. 
Wright's self-described "well-nigh perfect composition" reopened in 2019 following a 25-year, $52 million restoration. Rentals include The Barton House, Gardener's Cottage and Conservatory.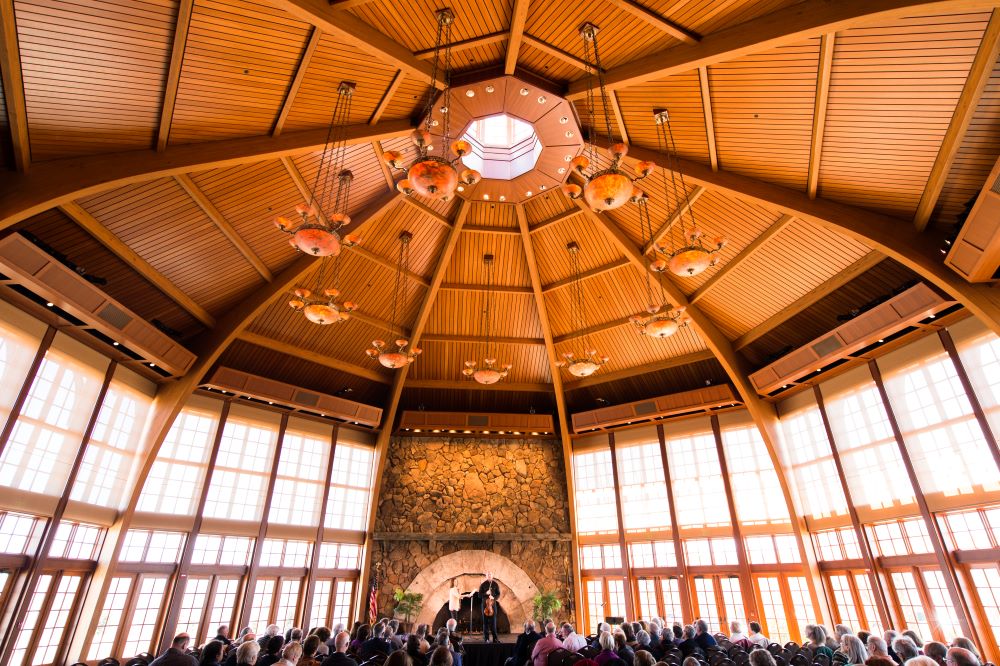 Preserving the site of the 1969 Woodstock festival in the Catskills' Sullivan County, this 800-plus-acre National Register Historic Site features seasonal headliner concerts and festivals at the covered 5,000-seat amphitheater-style Pavilion Stage, with additional lawn seating for 11,000. The onsite LEED-certified Museum at Bethel Woods features the award-winning "Woodstock and The Sixties" exhibit.   
The festival field, leased to the organizers by late dairy farmer Max Yasgur, features a commemorative plaque nearby the Woodstock stage site and is rich with vibes. "Many memorial sites commemorate battlefields and war," Museum Director Wade Lawrence told me on a site visit years ago. "Here, we celebrate peace." 
Versatile rentals include the 422-seat Event Gallery, with onsite catering available. 
[Related: Outdoor, Rooftop and High-Rise Venues in New York City]
Established in 1973 by David Hirsch and Ned Asta, who were among the co-founders of a pioneering local gay commune, Moosewood celebrates its 50th anniversary this year as the restaurant that brought natural vegetarian cuisine and farm-to-table sourcing to the mainstream. Self-published in 1974 by the staff and revised in 1977 by co-founder Mollie Katzen, The Moosewood Cookbook changed the way America thought about plant-based food. Another 14 cookbooks followed, selling five million-plus copies worldwide. 
Becoming the cooperative-based "Moosewood Collective" in 1978 when the owners sold the restaurant to the staff, Moosewood earned James Beard Foundation America's Classics recognition in 2000. In 2022, Danica Wilcox, a second-generation "Mooser" whose chef-father was an original Collective member, took over the restaurant. Serving seasonal fare drawn from local and area producers, Moosewood offers private dining and partial buyouts subject to availability. 
In planning for years, The Strong's 90,000-square-foot expansion is on course for a June 2023 opening.  Adding to the existing 285,000-square-foot footprint, the new wing creates one of the largest history museums in the nation. As the centerpiece of the new mixed-use Neighborhood of Play, expansion highlights include a new welcome atrium and 24,000-square-foot exhibit space dedicated to the history of electronic games.  
Funded by the Powered by Play campaign, with some $65 million going to the museum's portion of the project, another investment includes Hasbro Game Park, a new 17,000-square-foot outdoor exhibit inspired by classic board games.  
With current rentals including the Dancing Wings Butterfly Garden and 75-capacity Toy Halls of Fame, full buyouts will expand to the new 375,000-square-foot size. Annual attendance is projected to grow to nearly one million by 2026 from the pre-pandemic high of 600,000 visitors. 
In the mid-1870s, former Rensselaer and Saratoga Railroad conductor William McCaffery inherited the Old Adelphi Hotel from his wife, Anna Perry. In 1877, following remodels, he introduced the larger Victorian-style Adelphi Hotel. The Adelphi Bar was a major social hub and epicenter for business discussions and dealmaking, attracting luminaries from Mark Twain and Teddy Roosevelt to the Rockefellers and Vanderbilts. Famous performers included Frank Sinatra and Duke Ellington. 
Following ownership changes and renovations through the decades, the crown jewel of Saratoga's Broadway Historic District continues to shine as a place to meet. Earning a new Forbes Travel Guide Recommended Award in Forbes' 2023 Star Awards, the 32-room gem is currently adding another 33 rooms and suites along with 84 luxury condominiums. Groups have eight newly transformed spaces for business and social events.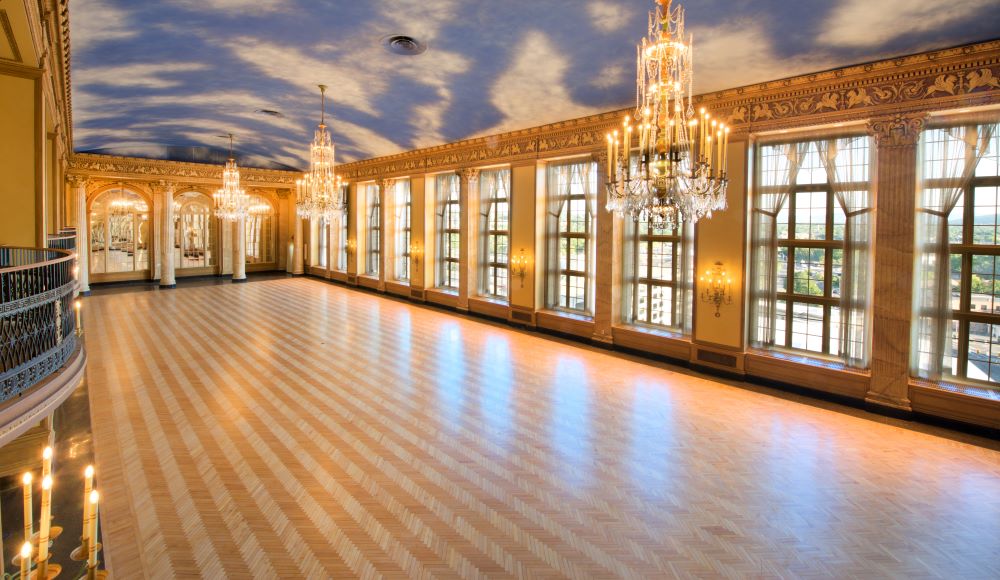 Opened in 1924 with 600 rooms, Hotel Syracuse was the belle of the city, hosting countless events in the Persian Terrace, Grand Ballroom and Imperial Ballroom and welcoming famous guests including Elvis Presley and John Lennon. 
Another calling card was the artful decor, including the 40-foot-by-6-foot mural behind the reception desk depicting 20 milestones from Syracuse's history. Syracuse University art professor Carl Roters, who completed the mural in 1948, contributed other works including the skyscape mural on the Grand Ballroom's ceiling and hand-painted details in the lobby and Persian Terrace. All the works were eventually covered over. 
The hotel closed in 2004 and sat vacant for years until local developer Ed Riley led a $76 million revival of the property, which included restoring all the artistic features. Opened in 2016, the 216-room AAA Four Diamond heirloom offers 41,000-plus square feet of flexible conferencing and event space including the three ballrooms and six private dining/meeting rooms. 
Serving as the visitor center for the Niagara Power Plant, Niagara Power Vista doubles as a science center with numerous interactive exhibits. Electrifying encounters include taking a high-tech virtual ride across New York State on high-tension lines; operating a power grid during a storm; and watching Thomas Edison and Nikola Tesla debate the merits of AC versus DC power. 
Recently completing a multimillion-dollar renovation, the facility also features an observation deck perched 350 feet above the Niagara River Gorge and its weave of hiking and biking trails. Access points include Devil's Hole and Whirlpool State Parks, where the restoration of historic stone stairways earned Excellence in OPRHP Project Achievement recognition in 2022. 
[Related: New York State Hospitality Leaders on the Return of Business Events in 2022]
Plus: New York City Venues Excel in Second Acts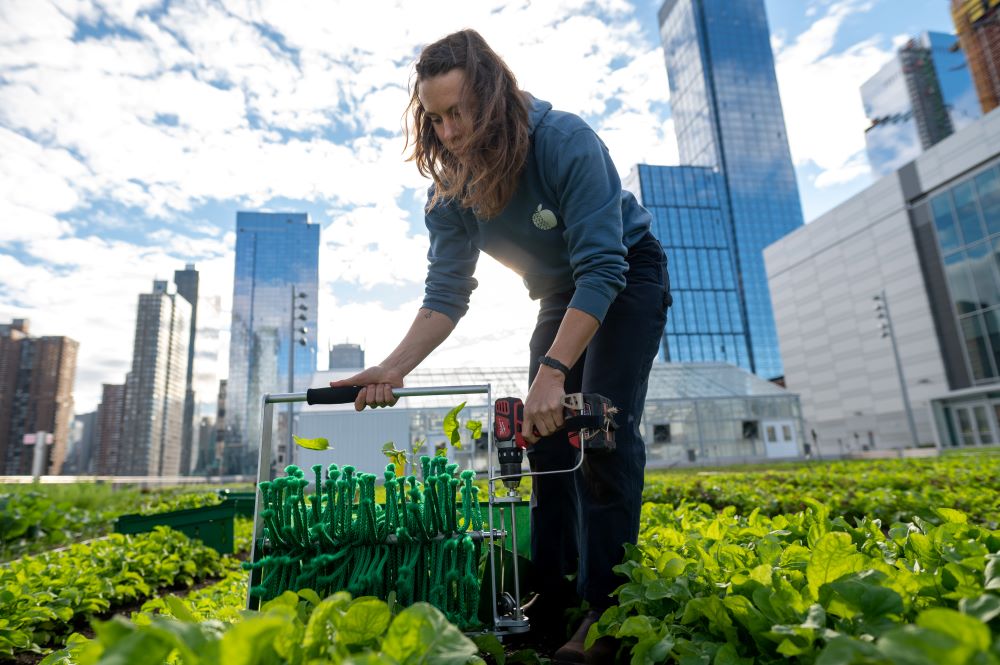 In 1965, determined efforts by citizens and preservationists outraged by the 1963 demolition of magnificent Penn Station produced the New York City Landmarks Law and Landmarks Preservation Commission. 
Sixty years later, the Commission has designated 37,800-plus landmarks in all five boroughs, most located in 155 historic districts and including many National Historic Landmarks. Today, "second act" redevelopments continue to hold as much sway as "obliteration." 
Established in 1833 as a haven for retired sailors, Snug Harbor Cultural Center & Botanical Garden on Staten Island features a nationally preeminent collection of Greek Revival buildings. Facing demolition in the 1960s as the 83-acre complex declined, the Commission designated them, along with Snug Harbor's chapel, as the City's first landmarks. Today, the Smithsonian-affiliated campus is among the largest ongoing adaptive reuse projects in the nation and offers multiple year-round indoor and outdoor event spaces. 
In 2014, preservationists saved the iconic Trans World Airlines (TWA) Flight Center at JFK International Airport from certain demolition. Relaunched in 2019 as the 512-room TWA Hotel, JFK's only airside property incorporates a new-build, 50,000-square-foot underground conference center.   
Sustainability drove the now-completed expansion and upgrade of the Javits Center.  
Carpeted in vegetation that mitigates up to seven million gallons of rainwater each year, the Javits' 6.75-acre green roof reduces energy costs by naturally cooling and insulating the building. Serving as a habitat for local and migratory bird species, bats and insects, the rooftop is home to some 300,000 honeybees that produce 100 pounds of Jacob's Honey annually for use in event catering and giveaway jars. 
Adjacent to the scenic outdoor event space, Javits' one-acre rooftop farm generates up to 40,000 pounds of New York State Grown & Certified produce for conventions each year. Guided group tours showcase these and other sustainability assets.  
"From managing a one-acre rooftop farm to repurposing tons of event materials, we have incorporated sustainability into all aspects of our operation," said Javits Center CEO Alan Steel. "As a result, our customers recognize our commitment to being a better neighbor. Event planners want to join forces with organizations that seek to improve an area's quality of life, and thanks to our sustainability program, more organizers are considering the Javits Center for their next event." 
In 1998, New York State enacted the Hudson River Park Act to create new public parks and estuarine sanctuaries along Manhattan's shoreline. The governing Hudson River Park Trust has since developed miles of pathways and landscapes and revitalized a dozen-plus historic piers, including Pier 57. 
Opened in 1954, this national landmark is renowned for the unique underwater concrete caissons that "float" the structure in the Hudson River. Closed in 2003, the Pier was reborn in 2022 with features including the City's largest rooftop park and the City Winery restaurant and music venue. Private events are subject to review and limited to community and not-for-profit organizations, as well as educational and cultural groups.  
Scheduled to open this spring, Market 57 is a food hall curated with input from the James Beard Foundation. Vendors are selected in accordance "with the Foundation's mission of championing a standard of good food anchored in talent, equity and sustainability."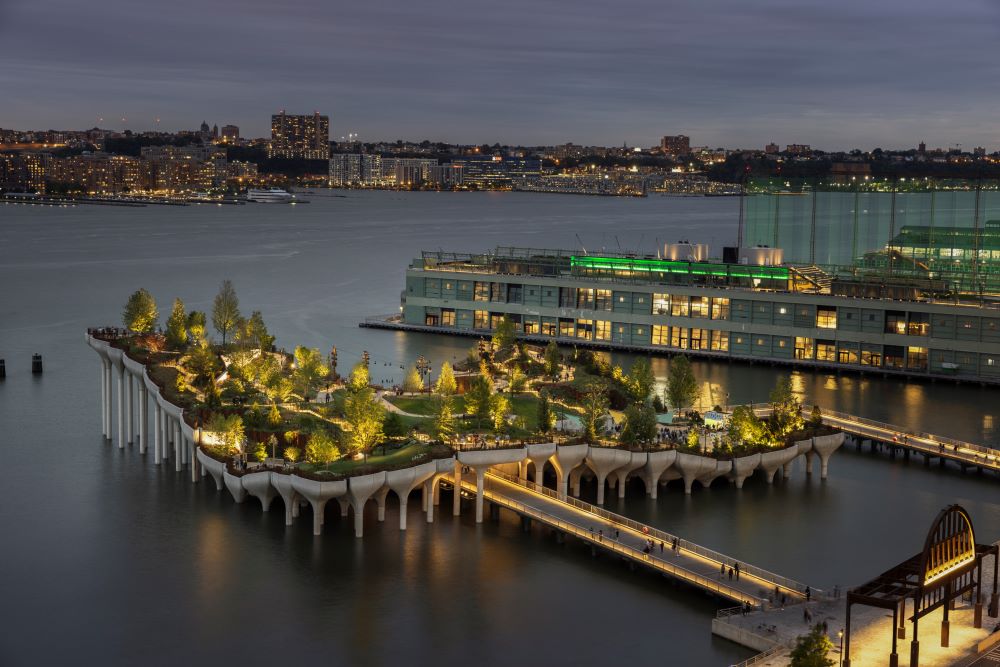 Opened in 2021, adjacent Little Island is a fascinating garden-park above the Hudson River supported by 132 tulip-shaped concrete pilings. Amid more than 66,000 bulbs and 114 trees representing 350-plus arboreal and floral species, event spaces include the Amph, a 687-seat amphitheater, and The Glade, an intimate stage footing a lawn. 
Read this next: Philadelphia Serves Up a Feast of Eats & Arts for Groups