Naomi Hollas Shares Her Steps to Success in the Events Industry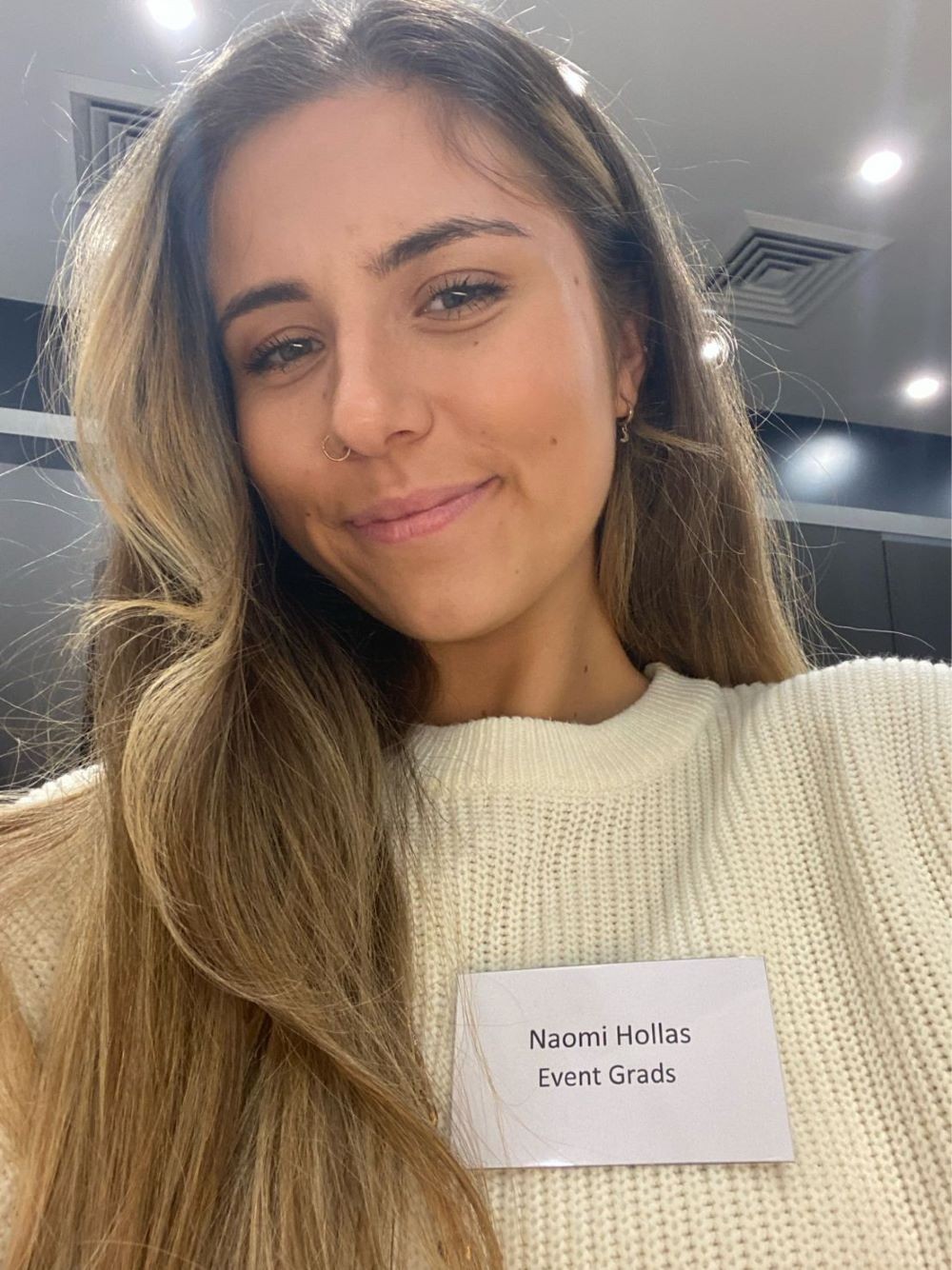 Naomi Hollas, Founder of Event Grads
Like she's heard many others working in meetings and events say before, Naomi Hollas—who grew up in the highlands of Scotland—"fell into the industry." It happened when the Commonwealth Games called Glasgow, Scotland, home for a week at the end of July 2014. 
"As a young gymnast at the time, I had the opportunity to volunteer at the Commonwealth Games, and that was my introduction to events—my introduction to Glasgow," Hollas said. "That very next summer, I went to college in Glasgow, and I do wonder sometimes if it wasn't for the Commonwealth Games and that experience, where I would be now."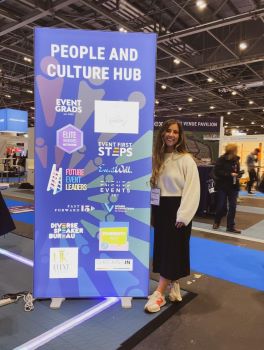 Not even a decade after her first experience with events, Hollas is festival coordinator for the Belladrum Tartan Heart Festival, a music and arts festival in Scotland; freelancing for DF Concerts & Events—a music and event promoter in Scotland; and running her online Facebook-group-turned-online-community, Event Grads, a network of nearly 2,000 future event leaders, all recent or upcoming graduates in the industry.
Her dedication to helping the next generation of industry professionals and success with Event Grads led to yet another opportunity. This time, with IMEX Frankfurt 2023 as moderator of the IMEX-MPI-MCI Future Leaders Forum, a global program for students considering a career in the meetings industry. 
"It's an absolute honor and privilege to have the opportunity to moderate the Future Leaders Forum," Hollas said. "Events such as this have a huge impact on future event professionals' careers, whether it's the people they meet, what they learn or the experience of attending the event itself. I'm really inspired by IMEX as they are leading the charge in so many ways in regards to supporting and nurturing the next generation by including them in their events, not only as attendees or having the odd talk, but by creating a forum dedicated to them." 
Hollas doesn't keep her success story a secret. Instead, she shares exactly how she achieved what she has in the events industry with future event leaders however she can. This article, for instance, is just another way she hopes to help those like her. 
[Related: She Means Business to Ask Where Gender Equality Meets Sustainability at IMEX Frankfurt]
Falling into Festivals
Hollas is "a very practical person." It's something she's known about herself since she was young. Her practicality and love for people are and always have been her strong points, she said, "but school was not. School was not for me."
While she was strategic about the courses she chose to take, Hollas had no idea what she wanted to do with her life, and she couldn't see a career path she felt inclined to follow. When she completed a test in school that suggested which careers to pursue based on her skills, her end results suggested joining the Scots Army. "That was great," Hollas said. "I knew I wouldn't be good at that, either."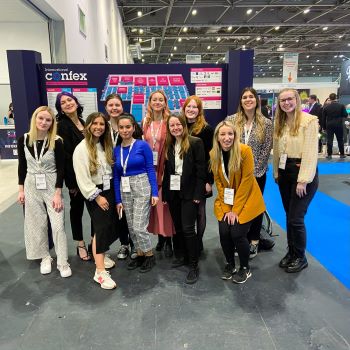 It wasn't until her volunteering experience at the 2014 Commonwealth Games that Hollas began researching what to study in school that would open doors for more opportunities like the games. Then, she found event management. 
"Much to my parents' surprise," Hollas said, "I found something I enjoyed and could do, and I was quite good."
Suddenly, Hollas was passionate about learning and school, and she enjoyed her time in the classroom more than she ever had before, but she enjoyed her time spent volunteering at festivals even more. Throughout her studies, she applied to and volunteered for as many event-related opportunities as she could. 
"There's only so much you can learn in a classroom," she said.
Volunteering introduced Hollas to different sectors, roles and jobs in the industry, helping her narrow her focus on her own career path. Her experiences took her to the Hebridean Celtic Festival (HebCelt), where she got the role of merchandise assistant.
"However, I wanted to make the absolute most of the experience as a first-year student, so I emailed the director of the festival asking if I could shadow her or gain some pre-event experience while I was there," Hollas said. "This resulted in me joining the artist liaison team. I had no experience, I had no idea what that involved, but they trusted me with their artists, and it was the most amazing experience ever."
Ever since she was offered the role, Hollas has held onto it, returning to HebCelt every year to volunteer with the festival as an artist liaison and working behind the scenes to make HebCelt possible. Through her experience, she met others in the industry who opened doors to more event-related volunteer opportunities, and when she started university, she was given the opportunity to take a six-month voluntary placement with DF Concerts & Events. 
"I was offered this opportunity because of my previous experience in festivals, and this role propelled my festival career," Hollas said. The next year, she was invited back and into a nine-month paid role working directly with the event management team, managing the event office onsite at Scotland's largest music festivals , including TRNSMT and summer sessions. 
"They knew they could trust me because I'd done it a year before," she said. "I understood the processes, which, most of the time, that's what people are looking for—employees who understand the terminology, who does what in different roles, how a company operates. It was a bit of a journey, but I've now worked at probably 80% of Scotland's festivals, and last year I was invited back to DF from a freelance perspective."
[Related: The Z: Planning for the Gen Z Attendee]
Establishing Event Grads
When Hollas graduated from university in 2019, she entered a workforce in full-blown lockdown mode, moved back home and spent her time "reaching for opportunities" and searching for resources and courses she could take advantage of while stuck inside.
"I knew that I needed to keep learning," Hollas said. "I had seen a tweet that said, 'Interviewers are going to ask you what you did during this time,' and I didn't want to say I watched Netflix. I remember seeing it and thinking, 'You are the worst,' but it also stuck in my head. I was like, 'How can I stand out?'"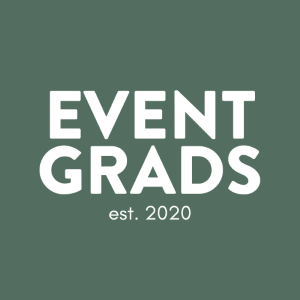 Graduates enter the workforce with tens of hundreds of people all in the same position. In the United Kingdom alone, Hollas said, there exists more than 60 courses related to events. 
"You compete, and it's a horrible way to think about it, but you have to think like that," Hollas said. 
At the peak of the pandemic, she took a free hospitality course with Florida Atlantic University that would now cost her thousands of pounds. She completed a risk management course and another on mental health and first aid, but she couldn't find anything on event management.
"I was doing as much as I could before I got to the point where I was like, 'I'm stuck. I've done all I can, and I don't know what else to do,'" Hollas said. "But I wanted to keep learning. I'm not very good at sitting still."
That's when Hollas decided to create a Facebook group for herself and her friends and classmates in the event industry. She called it Event Grads and told friends at other universities to extend the online invitation to their friends, and members of the group started sharing their experiences in the industry with one another.
"They said, 'Right, this is what I've done, what are you doing? What is already out there? What am I missing?'' Hollas said. "They recommended resources and job postings, and it just kicked off. [Event Grads] showed the demand was there; I wasn't the only one feeling this way. We were all a community."
Now, Event Grads is an online community of nearly 2,000 future event leaders—all recent or upcoming graduates in the industry—sharing resources and information, posting job and internship opportunities, telling stories about their own personal experiences in the industry and discussing "Hot Topics" in designated chats for DEI, accessibility, sustainability and more. And it only continues to grow.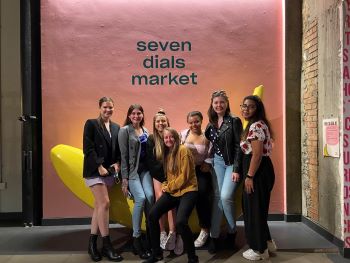 The community is made of young event industry professionals from all over the world—Sweden, Australia, Canada, Spain, India. Event Grads has inspired lecturers and educators to get involved and share information with the group. Members started an online coffee talk called Event Grads Cafe, and everyone "brought a cup of tea and their pets." Some members joined the group, became best friends and moved in together, Hollas said.
"There are people who live together. There are people who work together," Hollas said. "It is so much more than just a career thing. It's just absolutely amazing."
Event Grads has partnered with other organizations, hosted virtual events, attended in-person events and expanded to impact not just recent graduates, Hollas said, but the entire industry down to academic institutions. 
"It's become so much. It's created lifelong friendships. It's helped members of the group find roles and jobs," Hollas said. "I cried once when someone told me they wouldn't be in the industry anymore if it wasn't for Event Grads."
[Related: The Z: Using Social Media to Attract a Gen Z Audience]
Steps to Success
Hollas knew it would take hard work to achieve what she has today, but with hard work came important lessons. Here's what she's learned through her own experiences that helped set her up for success in the events industry:
Smaller events often have more opportunities for roles with bigger responsibilities. "You'll have a greater chance of working next to the event management team at smaller events than at larger events, where you're just another one of the staff. You're almost unknown. When you're in an important role at smaller events, you have such a big impact."
Shoot your shot and put yourself out there. "If I hadn't sent an email for HebCelt, I may still be a merchandise person. The worst they can say is no, but you're now on their radar. They may remember you for future opportunities. Sometimes, you can't even imagine the opportunities they can offer once you're in touch with someone."
Step outside of your comfort zone. "I never would've expected to be an artist liaison in my first voluntary role, and if I had known that was a real opportunity, would I have applied for it? Probably no. I would have thought I wasn't qualified, but people will put their trust in you, and sometimes you're just winging it. Half the industry is winging it. How do you train for some of these roles unless you've done it? You wing it, and you learn from there."
Be prepared for the long-term investment. Hollas's journey took her from selling merchandise and volunteering at HebCelt to working as festival coordinator for Belladrum, but it took years of commitment, trial-and-error experiences and hard work to get there. "You might not see the worth when you first go into a voluntary position, or think it's small and not worth it, but in a couple of years, you have no idea what the impact you make can lead to. Don't burn bridges."
Connect 
Event Grads
Facebook Group
eventgrads@gmail.com
Find Naomi Hollas on LinkedIn. 
Read this next: On the Scene: Experiencing IMEX America as a First-Time Attendee