On the Scene: Experiencing IMEX America as a First-Time Attendee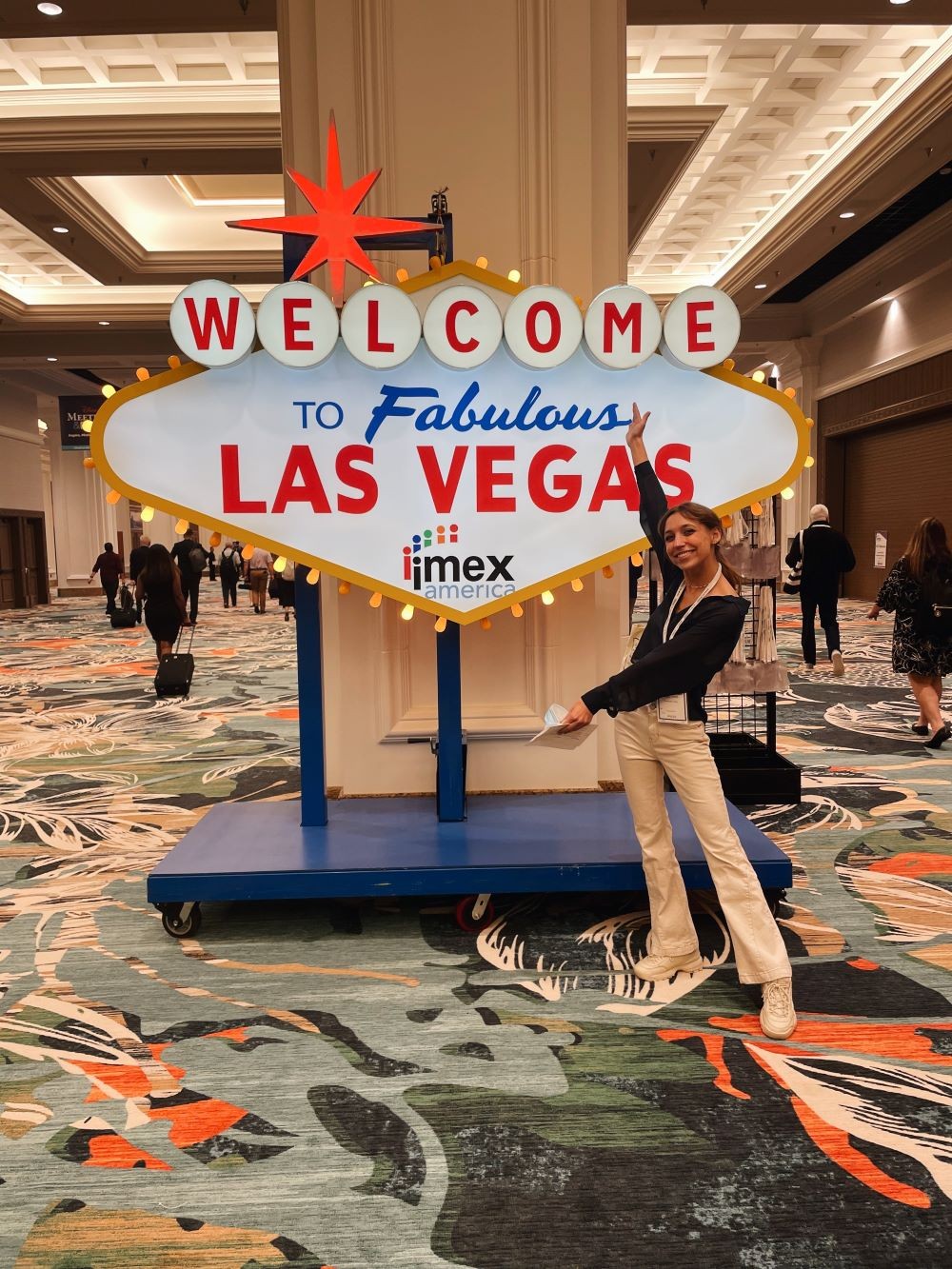 Taylor at IMEX America 2022
The first time I felt I truly experienced the world, I was roaming the streets of London alone at the ripe age of 17, independent and unafraid of being alone in a way I had never been before. I have chased those highs ever since, promising myself I would see as much of the world as my life would make possible and write about every adventure I took. 
Little did I know at 17 that, just five short years later, I would have the opportunity to experience nearly the entire world in one place on the tradeshow floor at IMEX America 2022. Every step I took in a new direction felt like crossing the border from one destination to another, and even though I remained in Las Vegas the entire time, I left the show feeling like I had truly circled the globe the way I have always dreamed of doing. 
No matter how many people tell you what to expect as a first-time attendee at IMEX America, there is quite literally no way to prepare yourself for what the tradeshow floor is really like. From hearing accents and languages from more than 190 countries to learning about different cities and their cultures to trying regional bites, I felt like teleportation was suddenly possible, and I was visiting a new place every 30 minutes. 
The best part of it all, though, was meeting so many passionate people from every different sector of the meetings and events industry, all with smiles on their faces. 
[Related: IMEX America 2022 Hosts a Meetings and Events Industry on the Rebound]
Smart Monday 
Anyone in the meetings and events industry, no matter your role or how long you've been a part of it, can learn something new during IMEX America's Smart Monday. The tradeshow offers more education sessions and guest speakers than you could imagine, touching on trending areas including sustainability, wellness, industry trends, DEI and more.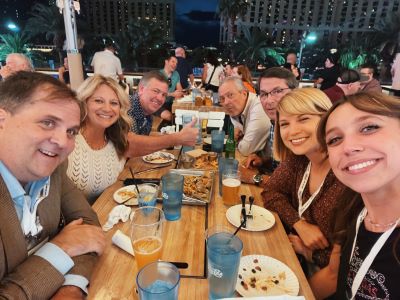 And with multiple sessions scheduled every hour, it was difficult for me to narrow my list down to the few I was able to attend. I started my day with a Dear World workshop on storytelling for transformation, where we discussed different tools we can use to make stories more engaging, impactful and memorable, as well as how to be better listeners when others share stories of their own. I appreciated how, even though press is just one small part of the meetings and events industry, IMEX America 2022 made sure to include sessions for storytelling in the agenda, truly catering to anyone and everyone in attendance. 
A session led by Virginie De Visscher, senior director of business development, economic sectors, business events with Destination Canada, introduced me to the medical and healthcare side of the meetings and events industry and opened my eyes to the challenges industry professionals face in planning medical events every day, while Twyler Jenkins, president and CEO of Strategic Events Solutions and founder and CEO of I Am That Woman Movement, made me think of what it means to be productive in an entirely new light. 
[Related: 4 Questions Medical Meeting Planners Should Be Asking When Choosing Destinations]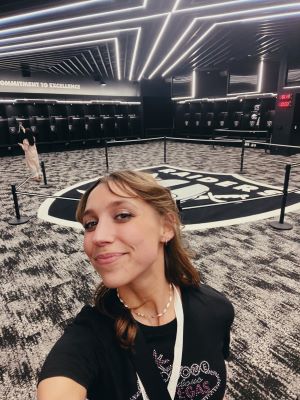 My Smart Monday wrapped up with a session on experiential design led by Heather Munnell, VDA director of client experience. Experiential design is a rising area of interest, especially within the Gen Z population of the industry, who grew up with technology at their fingertips. 
The highlight of the day, though, was finally being with the Meetings Today team in person, meeting coworkers I have been working with since early May for the first time and spending time with the people who have become my second family during SITE NITE at Allegiant Stadium.  
I never thought I'd see my face on the big screen inside an NFL stadium, or that I'd get a private tour of the Las Vegas Raiders' locker room while munching on a donut I picked off a donut wall taller than me, but when it comes to IMEX America, anything seems possible. 
Tackling the Tradeshow Floor 
I knew it would be massive. I didn't think it would be that massive, and if my mom had walked into the show with me, she probably would've told me to close my mouth. I was awestruck. There were booths bigger than my bedroom, colorful and vibrant and lit up with twinkling neon lights. I didn't know where to start, but a one-on-one meeting with Disney Meetings & Events seemed like a great choice for a girl with a pair of Minnie Mouse ears for every day of the week. 
I traveled from Disney to Canada, where I had the pleasure of meeting with De Visscher one-on-one to discuss the ways Destination Canada is leading others down the path toward a more sustainable business events industry. From initiatives as big as nationwide education and training sessions to others as simple as switching from paper to reusable business cards, Destination Canada has developed a sustainability action plan that makes me hopeful for the future of the meetings and events industry and the impact we can make on our planet. 
[Related: Destination Canada Announces City Additions to Global Destination Sustainability Index]
And if a breakfast at Paris Las Vegas' Mon Ami Gabi, consisting of eggs benedict pain au chocolat and one of the best fruit and granola parfaits I've ever had wasn't enough, lunch at The Veranda at Four Seasons with representatives from Caesars Entertainment had me eating like royalty.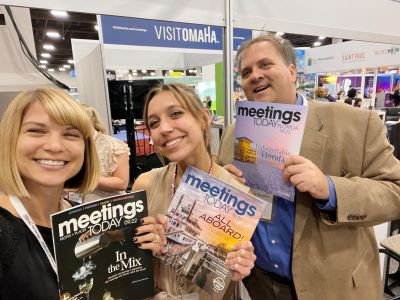 Caesars Entertainment Director of Marketing for National Meetings & Events Reina Herschdorfer organized an outdoor lunch with Steve van der Molen, vice president of meeting operations for the Atlantic City region, and Brianna Payne, marketing specialist for Caesars Entertainment. Our conversations about the industry could've gone on for hours, and connecting with Payne, a fellow young woman involved in hospitality, was exciting. 
There is no greater learning experience than sitting down with experienced trailblazers in the industry, and the opportunity to pick their brains about trends and developments is one I am grateful to have had. 
Meeting My Mentors 
Working remotely as a people person can be tough when those you work with are so far away, and IMEX America 2022 not only put the world at my feet, but all the people I've longed to meet for nearly six months in the same room, and it was overwhelming in all the right ways.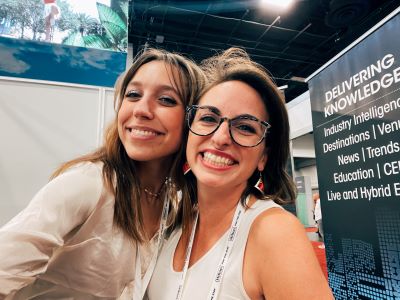 After a breakfast shopping experience with Meet Atlantic City and Caesars Entertainment, hosted by Tommy Bahama, I had the exciting opportunity to sit down with Carina Bauer, IMEX Group CEO, to discuss all things IMEX, what it's like to work in the meetings and events industry and how thrilled I was to be in Las Vegas with her team. For someone as busy as Bauer, I know it was likely tough to fit yet another meeting on her schedule, and I am incredibly grateful for the opportunity to have met her face to face. 
And after working so closely with Ashley Lawson, vice president and partner of Achieve Incentives & Meetings and the face behind Meetings Today's Dear Ashley Column, finally getting to hug her in person was one of the highlights of my entire trip. It taught me that, no matter how far apart we may be—from Chicago to Montenegro—a true role model and mentor will be there for you always. 
Just like Courtney Stanley, host and creator of the women-powered Dare to Interrupt podcast, who also made time in her busy schedule to meet with me one-on-one and empower me to be a force for young females in the industry. To put just how much these two meetings meant to me into perspective, I walked away from our goodbyes with tears in my eyes, thankful to have two powerful women on my side.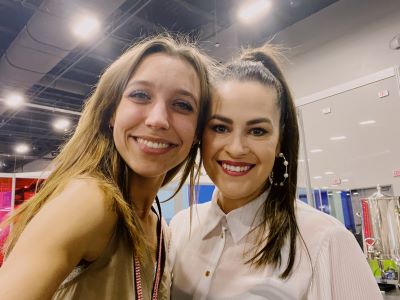 My busy day on the show floor concluded with A Villainous Soiree, hosted by Disney Meetings & Events, where I connected with representatives from Disney properties across the country, met the evil Cruella de Vil and left with a smile on my face and Minnie Mouse ears on my head. 
There was no better way to close my IMEX America 2022 experience than attending MPI Foundation's Rendezvous at Drai's Beach Club and Nightclub with a view of the strip like I had never seen before and my Meetings Today team at my side.  
If the meetings and events industry is for people who love people, IMEX America 2022 was enough to prove just how much kindness and collaboration those involved are willing to give, and as a first-time attendee, I already can't wait for next year to do it all over again.