Group-Friendly Outdoor Activities in Palm Beach County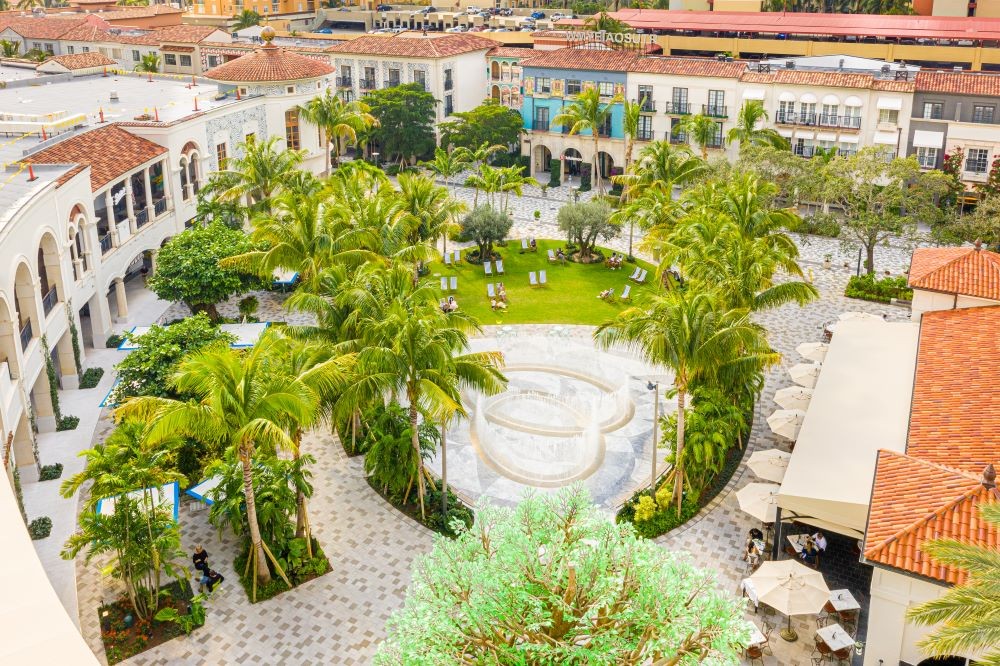 The Square, West Palm Beach. Credit: The Square
When Henry Morrison Flagler first came to Florida in search of a temperate climate for his ailing wife, he surely never imagined the reason he chose the area—the enticement and health benefits of sun and fresh sea air—would be one of the top reason meeting professionals choose the area today. 
But Kelly Cavers is not surprised. As chief sales officer for The Palm Beaches, she believes a few trends have helped fuel the area's popularity and solidify its reputation as a world-class meetings destination.  
"The trends we're seeing incorporate health and wellness into meetings to create transformational attendee experiences. Groups don't want to be shuttled from meeting room to motorcoach; they want to breathe in real, fresh air. And, as far as transformational experiences, just watching the waves crash against the sandy shores is an experience organically created within our landscape that helps create an emotional response." 
And while the inherent natural beauty of Palm Beach is ever present, hotels are enhancing their outdoor venues, as well.  
"Some of the area hotels are redesigning space to bring the indoors out and the outdoors in, or, like THE BEN's phenomenal rooftop bar, choosing to build with outdoor space in mind," Cavers said. "The ability to choose a destination with a welcoming environment, whether it's strolling down Atlantic Avenue in Delray Beach, participating in all our water activities, or just the ability to walk somewhere and get out into the community, creates this welcoming environment."  
Increasingly, meeting professionals are looking to create programs to incorporate the great outdoors. Consider the following activities and venues popular with meeting professionals that take advantage of the sun in Palm Beach County. 
Activities For the Sports Fans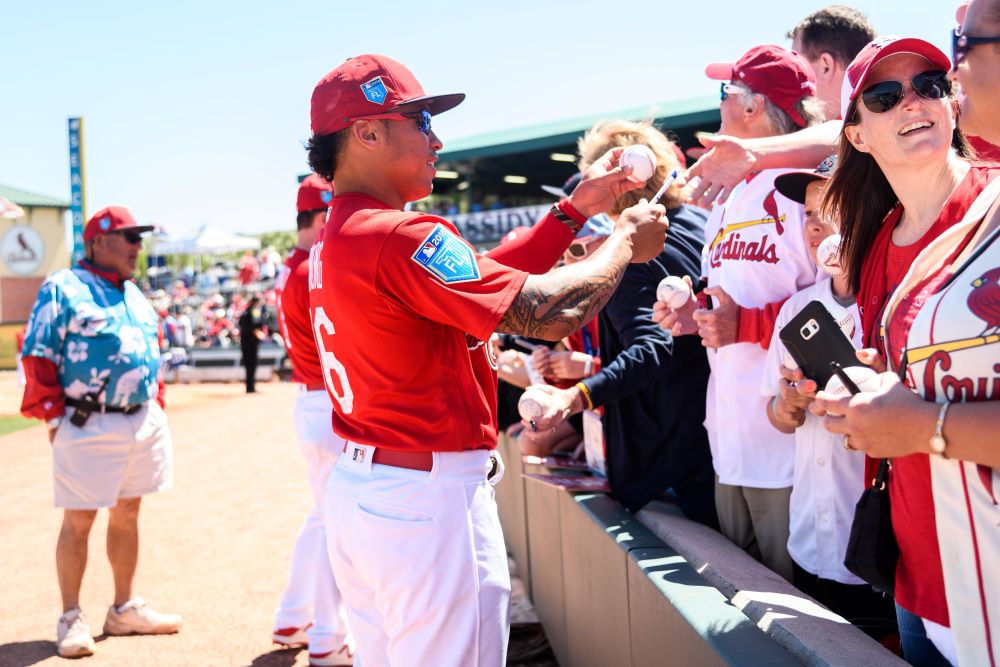 Spring training in February and March at The Ballpark of the Palm Beaches will bring your attendees to their feet to root for the Washington Nationals or Houston Astros. Watch the games in style in suites, located on the 1st and 3rd Base Decks, that accommodate up to 100 guests and deliver delicious ballpark-inspired grub, refreshments on tap, awesome views of the stadium field and a plethora of flat-screen TVs.  
Jupiter's Roger Dean Chevrolet Stadium offers spring training games for the St. Louis Cardinals and Miami Marlins. In this relaxed setting, baseball players often talk to the fans and sign autographs! 
Host to prestigious polo tournaments in Palm Beach since the 1970s, The National Polo Center's polo season in Wellington runs from January through April. Also known as the home to polo, this venue's first-rate facility features five fields, a grandstand, restaurants, clubhouse and social club, offering groups the opportunity to host exclusive, catered events. The Polo VIP Lounge includes field-side seating, lavish buffet and welcome glasses of champagne. 
[Related: 10 Best Places for Group Golf Outings in Florida]
Discover Palm Beach's Natural Beauty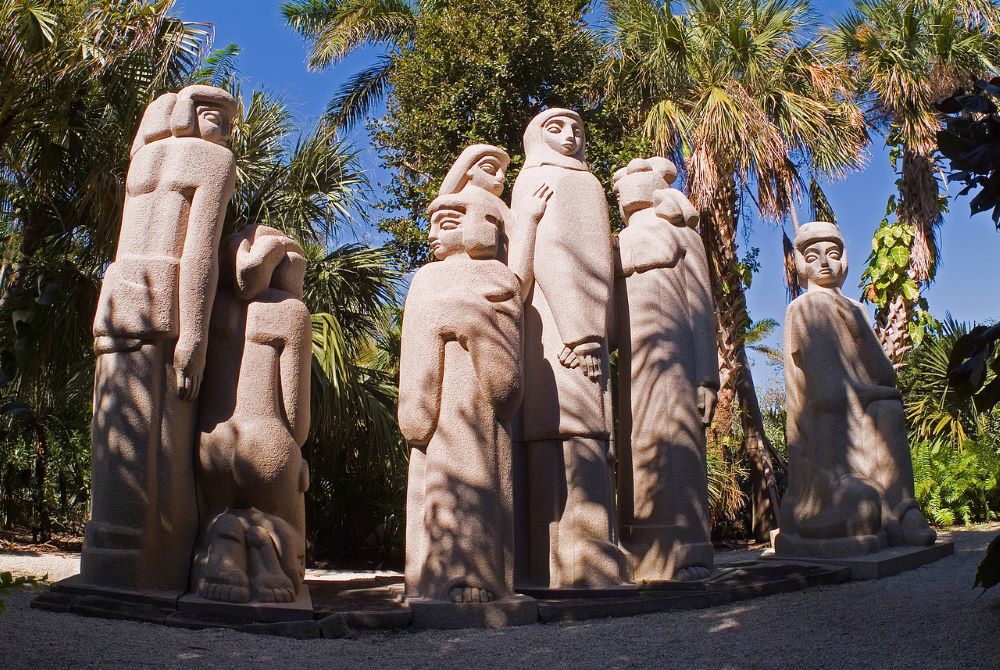 For rustic, yet elegant, dinners, Swank Farms in Loxahatchee rustles up an incomparable menu from a venue situated on 20 bucolic acres, overflowing with fresh vegetables, wildflowers, recently harvested strawberries, all set against a landscape of cows, pigs and chickens. Several areas provide a rustic, pastoral setting for a cocktail reception, and come dusk, candles and chandeliers emit a glow within the venue. With Swank's stage for a band or DJ, attendees should dress for comfort, as much for the setting and for when they take a spin on the dance floor after dinner and cocktails. The farm's pole barn is 8,500 square feet and can accommodate groups of up to 300 for a pig roast or hoedown to an elegant five-course sit-down wine dinner.    
An outing to the Ann Norton Sculpture Gardens is memorable not just for the works of a great artist; the remarkable home to the late sculptress and her husband, Ralph, is listed in the National Register of Historic Places and open to the public. The two-acre property features 250 rare species of tropical palms, cycads and native plants and is in the El Cid historic neighborhood of downtown West Palm Beach on the Intracoastal Waterway. Displayed throughout the house, studio and gardens are more than 100 visionary works by the artist, in bronze, stone, wood and granite. The gardens display monumental sculptures including the 15-foot Seven Beings completed in 1965 and made of pink Norwegian granite.  
Mounts Botanical Gardens is a 20-acre tropical oasis and Palm Beach County's oldest and largest botanical garden, home to an extraordinary collection of 25 unique garden areas containing more than 7,000 species of tropical and sub-tropical plants, including Florida natives, exotic and tropical fruit trees, herbs, palms, roses, cactus and bromeliads. The gardens were named in honor of Marvin Mounts, who served Palm Beach County farmers for 40 years. Under his meticulous care, the garden's collection of fruit trees helped produce new food resources to help families in need. Today, there are three unique areas—Gazebo Garden, Great Lawn on Lake Orth and Rainbow Garden—all with a capacity for 100 guests for private events. 
[Related: The Latest Property Openings and Renovations in Florida (2023)]
Fun in the Sun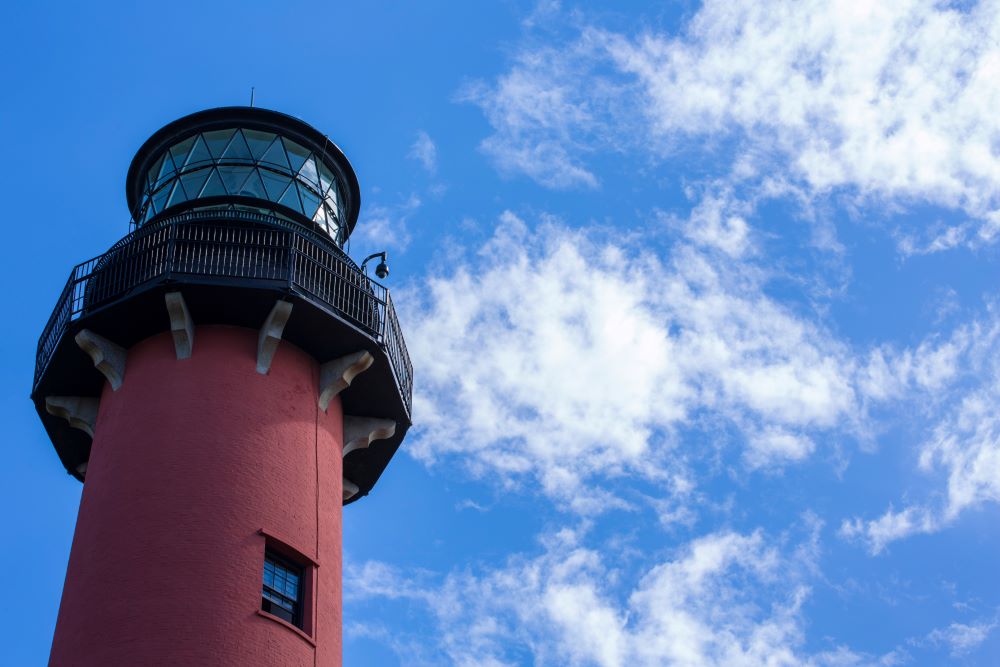 Shopping on Worth Avenue, referred to as the original Rodeo Drive, is undeniably posh. Of course, there's a Lily Pulitzer store here—this is where she got her start—but there's also Giorgio's of Palm Beach, Gucci, Bottega Veneta, Valentino and Chanel to round out your designer collection. Thankfully, after the exhaustion of trying on clothes and shoes, plenty of spots welcome you for a nosh, like Ta-boo, opened in 1941 for the well-heeled set, including John F. Kennedy and Frank Sinatra. It's said the bloody Mary was concocted here for socialite Barbara Hutton after a night on the town. Look for alfresco seating along a slice of Worth Avenue's sidewalk, a surefire spot for people watching.  
A Sunset Cruise on the 50-foot Hakuna Matata catamaran (for up to 49 passengers) is exciting for groups in downtown West Palm Beach. Guests board at Clematis Street and Flagler Drive and gaze at the downtown skyline while sipping on iced tropical beverages. The Hakuna Matata cruises pass the dazzling mega yachts at Safe Harbor Rybovich marina to head toward Peanut Island, where the Historic Coast Guard station still stands next to John F. Kennedy's famous bunker built in 1960. Guests will thrill at the views of the palatial mansions of Palm Beach, The Breakers hotel and Henry Morrison Flagler Museum. 
After the cruise, groups can take a walking tour to gape at the many outdoor murals within walking distance of Clematis Street, including Spirit of Communication, paying tribute to Alexander Graham Bell; Einstein's Theory of Love, painted by Brazilian street artist Eduardo Kobra; and I Lost My Shoe When I Saw You, by Croatian artist Lonac. Other breathtaking murals await in Boca Raton, Lake Worth Beach and Delray Beach. 
At the Jupiter Inlet Lighthouse & Museum visitors can climb the 105 steps for some extraordinary views at the top or take a tour of the native plants nestled around the area. The lighthouse, first illuminated in 1860 and restored in 2000, sits on land with a history dating back thousands of years. Originally used as a meeting spot for ancient Indian tribes and later used as a military post in WWII, guests can drop by the 1892 Tindall Pioneer Homestead, Seminole Chickee (an elevated log house) and Keeper's Workshop Interactive Exhibit, Keeping the Light at Jupiter Inlet.  
Hotels With Impressive Outdoor Spaces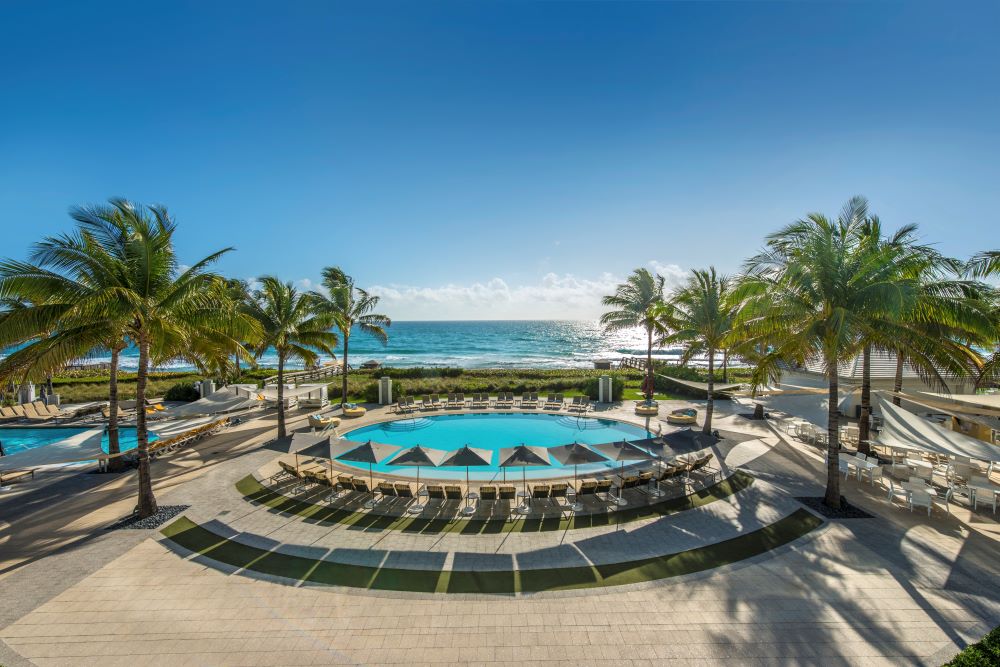 At PGA National Resort, Honeybelle restaurant, helmed by James Beard Best Chef in the South nominee chef Lindsay Autry has a comfortable coziness with its outdoor seating, noted The Palm Beaches' Kelly Cavers. This airy and refreshing space serves up ambience and deluxe dishes while offering indoor and outdoor seating with pool views and airy palm-leaf green and white cushioned chairs covered by pastel umbrellas. As part of the hotel's $100 million transformation, the recently added Lakeside Lawn can accommodate up to 280 guests. The Masters Terrace caters to receptions of up to 300, and The Honda Pavilion, on the shores of the resort's 26-acre lake, is ideal for larger events of up to 400 attendees. The resort also offers six golf courses and 19 tennis courts (11 lighted for night play), four new pickleball courts and is the home of the United States Croquet Association, with five manicured lawns for group play. 
The Boca Raton invites guests to choose between luxurious indoor dining or an outdoor terrazzo at the Beach Club overlooking the splendid shores of the Atlantic Ocean. For group events, check out Marisol and Beach Club lounge, both new venues by designer Colin Cowie. The reimagined Palm Court lobby and lounge offers indoor and outdoor seating with breezy coastal views, and the Yacht Club features a balcony overlooking the soothing vista of Lake Boca Raton.  
The Ben, Autograph Collection, renowned for its rooftop bar and pool at Spruzzo, welcomes groups with up to 200 guests, or private cabanas for poolside refreshments after sunset, with cozy fire pits and live music. High tops, lounge chairs and the 360-degree rooftop bar bring energy and glamour to this scenic open-air dining space. 
Eau Palm Beach offers a wide variety of indoor and outdoor venues, including poolside cabanas and a 3,000-square-foot oceanfront terrace with fire pits. At the hotel's Polpo Palm Beach, guests can dine on authentic Italian specialties with spectacular ocean views.  
Hilton West Palm Beach's Galley bar and grill is set on its lush outdoor patio and grills up such culinary delights as Australian wagyu tomahawk prime cowboy ribeye on its open, woodfire grill. The hotel's Manor serves breakfast and lunch in a spacious outdoor patio or dining room featuring a classic Floridian vibe and incomparable underwater photography by Christopher Leidy.  
The lawn at The Square, a 72-acre neighborhood in West Palm Beach, is a remarkable outdoor space sure to inspire creativity and productivity for groups amidst large-scale art installations, retail, dining and entertainment options. In partnership with Hilton West Palm Beach, groups can host open-air events on the sprawling lawn that overlooks more than 2,000 feet of murals, the 32-foot-tall LED banyan tree and Water Pavilion, where viewers walk in and out of "rooms" created by these wondrous, vertical columns of water.  
Read this next: 9 Historic Venues in Florida for Special Events