These Are the Best Group Dining Experiences in Nebraska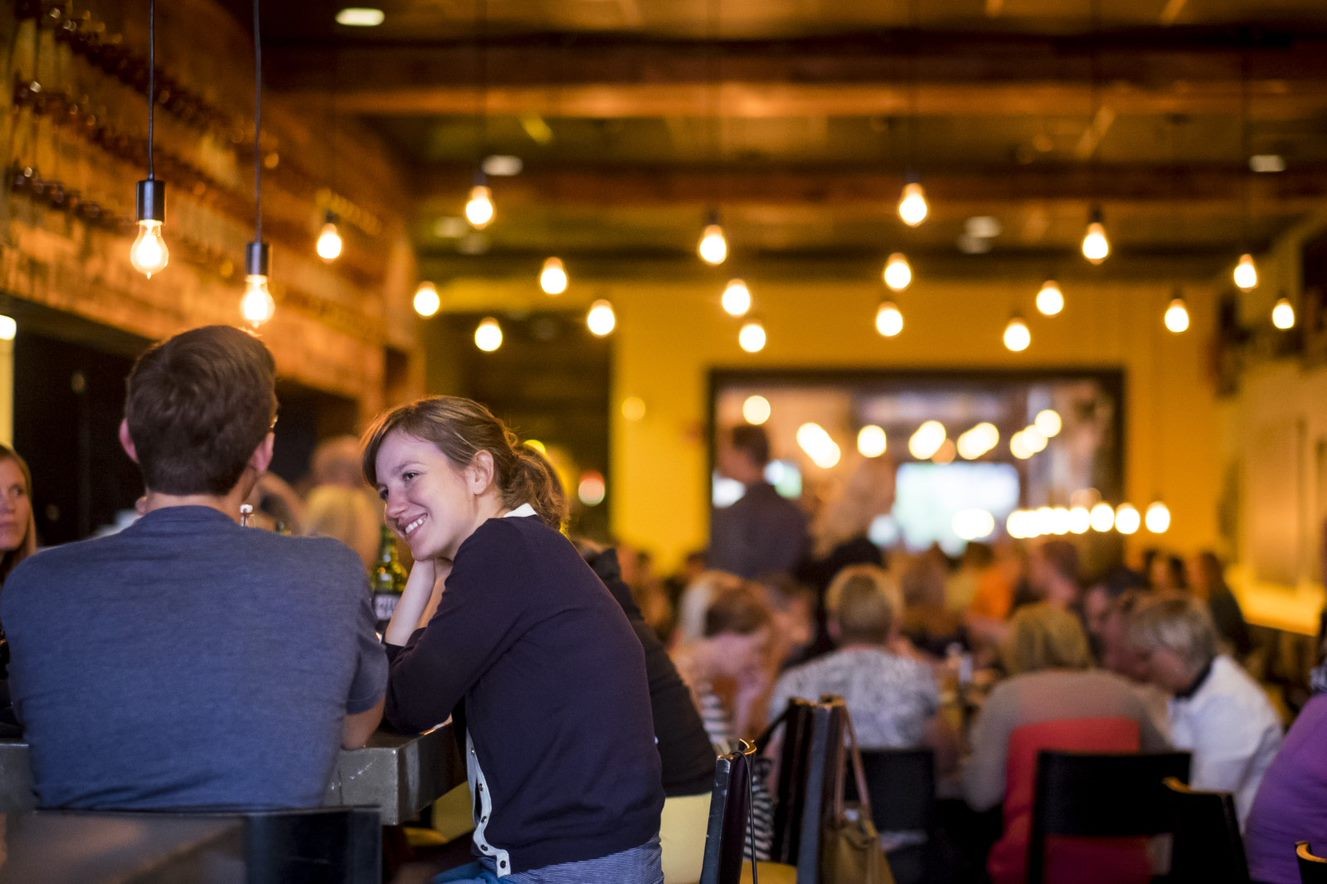 Nebraska is upping its food game. From some of the best prime rib in the Midwest and the home of the Reuben sandwich, to custom menus designed around sustainability, these are the group dining experiences you can't miss during your next meeting or event in Nebraska's key cities.
Omaha
Omaha continues to grow, with many investments being made in developments and a $600 million transformation of its airport, which is located just four miles from the convention district and currently offers nonstop service to more than 30 airports.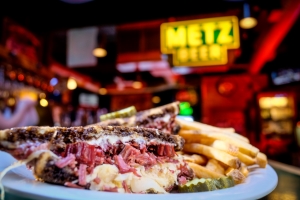 Growing, too, is the restaurant scene, which features some iconic American dishes. One of Omaha's claims to food fame is inventing the Reuben sandwich in the early 1900s.
"During a late-night poker game at the Blackstone Hotel, a local grocer was asked to 'ante up' and create a new dish," explained Jasmyn Goodwin, vice president of marketing and communications for Visit Omaha. "The ingredients he had on hand resulted in an American menu staple: two pieces of grilled marble rye, stuffed with slow-cooked corned beef topped with sauerkraut, bubbly Swiss cheese and creamy Russian or Thousand Island dressing."
Many local restaurants continue to perfect this classic or add their unique spin to the sandwich, but for those who want to sample where it all began, you can try the original recipe across the street from the former hotel at Crescent Moon, which also offers a private room for groups.
"You cannot talk about dining in Omaha without mentioning steak. Preparation is key, and this city takes it seriously," Goodwin said. "Flame-broiled, wood-fire-grilled or whiskey-doused—all delicious and all techniques Omaha has used to perfect the steak."
A few classic steakhouses she recommends that can offer groups an authentic experience include: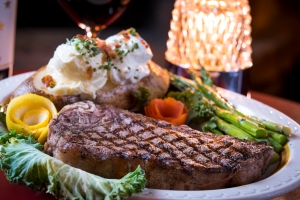 The Drover — has been in operation for about 40 years, and in that time has become best-known for its whiskey-marinated steaks that are soaked for 15 minutes with a sauce made from a secret recipe when your order is placed to ensure a rich, yet not overpowering flavor.

Cascio's — is another long-time favorite in Nebraska, started by two Italian immigrants in the 1940s in Omaha's Little Italy neighborhood. In addition to its steaks, you'll find a host of Italian classics on the menu, like chicken cacciatore, mostaccioli and chicken parmigiano. The restaurant also has party menus and room to accommodate groups of 15-400 people.

Pitch Pizza, Omaha

Monarch Restaurant — is located inside Omaha's Hotel Deco and uses local ingredients to serve contemporary cuisine. Menu items include "Omaha's Finest" steak and frites, pan-roasted duck, balsamic-braised short ribs and Faroe Island salmon.

Pitch Pizzeria — is another popular restaurant in Omaha, known for its extensive wood-fire pizza menu, contemporary favorites and casual atmosphere. Party rooms are available for private groups.
[Related: Delectable Group Dining Options in Louisiana]
Lincoln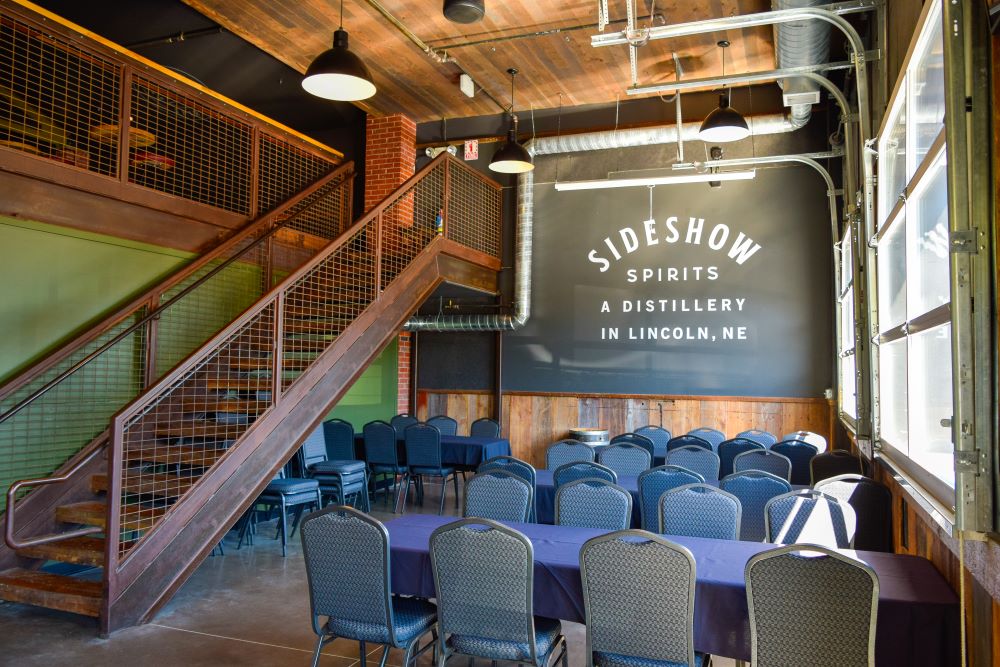 Nebraska's capital city, Lincoln, is a popular choice for meetings and events. It's less than a day's drive from markets like Denver, Omaha, Minneapolis, Des Moines, Kansas City, St. Louis and Chicago, and also is serviced by an airport. The city is becoming more well-known for its culinary offerings, and Visit Lincoln offered up some of its favorites that can accommodate group reservations or have private dining areas.
Bierhause Maisschaler — is an Old World inspired pub with modern American touches. Bierhaus Maisschäler offers German-style lagers, butchers-built sausages, Bavarian pretzels and more. With private event space both indoors and outdoors, they host live music and festivals throughout the year. 

Screamers Dining and Cabaret — in the Haymarket District is for the groups that want dinner with a show. Screamers' name and the concept is a tribute to The Scarlet and Cream Singers (University of Nebraska's show choir, of which the restaurant's founder was a member) and its founding musical director Ray Miller. Reubens, burgers, steaks and more American fare is accompanied by lively music by local, up-and-coming talent during the dining experience. Parties can have special space reserved or rent out the restaurant depending on the size of the group.

 

The Oven Cellar, Lincoln

Misty's Steakhouse and Lounge — now known to serve some of the best prime rib in the Midwest—started as a bottle club in 1963, then added a small propane grill with room for six hamburgers or four steaks in 1965. Today, the restaurant is a much bigger operation and has been recognized by the Nebraska Beef Council and Restaurant & Hospitality Magazine for its prime rib and steak dishes. Groups can experience this Lincoln favorite by reserving private dining space and working directly with the executive chef to design menu offerings.
The Oven Cellar — is known for its authentic style of Northern Indian Cuisine where the food is rich in color and spices and is cooked in a clay oven (the Tandoor). Chicken, shrimp and lamb marinate for several hours in a yogurt and spice mixture and are placed on skewers while breads are handmade by chefs fresh each day. The skewers and breads cook over an open flame in the oven. Groups can experience this unique technique in The Cellar, situated below the Oven Haymarket, that can be reserved for groups. The Cellar features a private full-service bar with premium liqueur and wine that is sourced from all over the world.
[Related: 5 Unforgettable Group Food and Beverage Experiences in Milwaukee]
For some post-meeting networking, don't miss a stop at SideShow Spirits, Lincoln's first legal distillery. SideShow works with groups to offer menu items tailored specifically to clients' preferences and hosts a variety of tours and experiences. Private event space, both indoor and outdoor, is available and can accommodate groups of varying sizes.
Read this next: 5 Hot Savannah Restaurants For Group Dining
Connect
Visit Lincoln
Visit Omaha