Meet the Sand Sculptor Behind The Reach Key West and Casa Marina's Beachy Masterpieces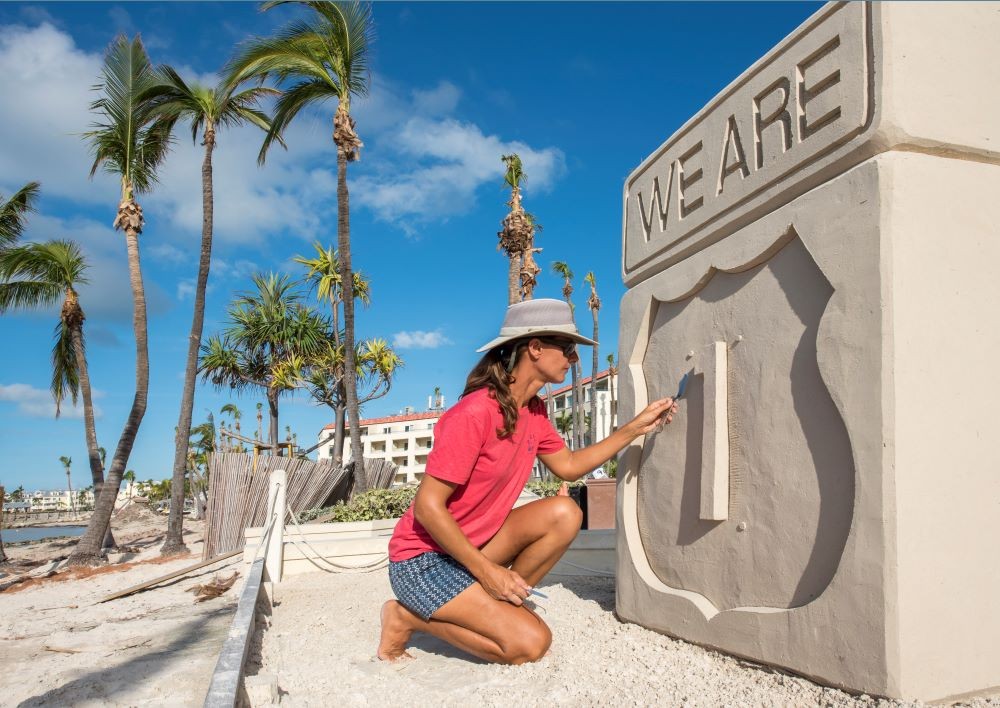 Marianne van den Broek, Professional Sand Sculptor
In 1999, Marianne van den Broek picked up a tool and started making figures in a block of sand. Little did she know that the course of her professional life was about to dramatically shift. 
"I was working on part of a project near Amsterdam in my native Holland where I was initially hired to do grunt work, shoveling and compacting sand into blocks," van den Broek said. "When they let me stay and play along with the professional sculptors, I became hooked pretty quickly."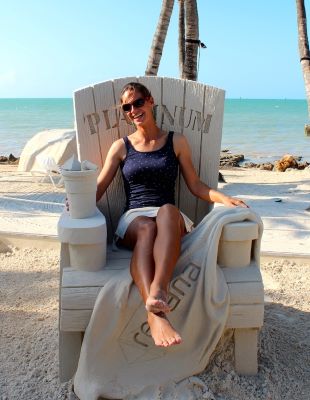 The project's professional sculptors were working on telling the story of Homer's The Odyssey through images in the sand when van den Broek was invited to create a sculpture of her own.  
"The first sculpture I made was part of the ruins of an old Greek temple with broken pillars laying down and cracked steps," van den Broek said. "Apparently, it looked real enough that one of the visitors warned security that one of the pillars had fallen over." 
The experience was then-18-year-old van den Broek's introduction to the world of sand sculpting, "and it changed my life. That was the beginning of my passion for sand as an art form." 
Now, 24 years later, van den Broek has taken her passion for sand sculpting and turned it into a full-time job as a professional sand sculptor and artist-in-residence for both The Reach Key West, Curio Collection by Hilton and Casa Marina, Curio Collection by Hilton in Key West, Florida, where she bikes to work each day to create masterpieces using the island's sand and sea as her canvas and tools. 
Sculpting Her Skills 
When van den Broek first discovered her interest in sand sculpting, she was about to start college, but her passion for sand as an art form continued to grow. 
For three years, she spent her summers traveling to Europe to work on large sand projects with a group of 60-70 national and international sculptors, most of whom were also students themselves. Many studied architecture, graphic design and art in school, with a few nurses or accountants in the mix. 
"Anyone with a passion to create art was welcome," van den Broek said. "There is no official academy for sand sculpting, but by working with many different sculptors from all over the world, you pick up tips and tricks from each of them and learn the skills as you go. Even 24 years later, I feel I'm still developing my skills and there is always room to evolve and get better." 
After spending three summers developing her skills in Europe, van den Broek started competing in the U.S. in 2002 and "fell in love" with the country, especially after experiencing Key West as a destination in 2005.  
"I continued to travel for sand projects but started to wonder if it would be viable to start my own business in Key West building sand sculptures," she said. "In 2009, the City of Key West gave me permission for my sandbox project on the corner of a busy street."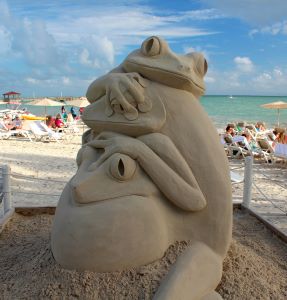 There, van den Broek taught classes to students, school groups and afterschool programs, created sculptures for local businesses and offered workshops to anyone who wanted to learn how to make professional sand sculptures and castles.  
"In a stroke of serendipity, when the project started to come to a close, I received a phone call from the Casa Marina Resort asking if I was interested in moving my business to their resort," van den Broek said. "Since 2011, I have been their artist-in-residence, and it has been a wonderful partnership ever since." 
"My job is never the same," van den Broek said, and that's part of why she loves what she does so much. 
Sometimes, van den Broek will have a week when she has to create two wedding sculptures, a corporate logo and hold a teambuilding event for 80 people, and it typically takes her between a day and a half to two days to complete an event sculpture. Other times are less stressful, and she has creative freedom to work on sculptures, design new teambuilding experiences and focus on her next big projects. 
[Related: Megan Henshall on Designing Inclusive Events and Attracting the Next Generation]
Building Sandcastles and Teams 
Her work schedule changes all the time, too. During the winter months, she finds herself busy with holiday-themed sculptures and group events, while springtime is often booked with wedding sculptures. Summers are for workshops with families vacationing in the Keys, and teambuilding activities are most popular during the cooler months and can be held for small to large groups for more than a hundred people.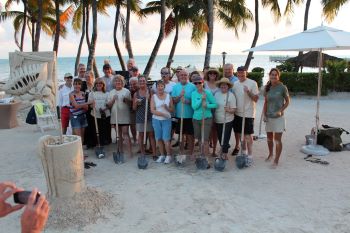 "I love how, during the teambuilding activities, the initial hesitation of being child-like disappears and people's creativity comes out, allowing them to be enthusiastic about what they are building," van den Broek said. "It is interesting to see the dynamics in the group develop and change throughout." 
Typically, for teambuilding sessions, van den Broek said it helps to have a theme for the sculptures to set the tone during the activity, which can be as simple as a sandcastle competition or playing several rounds of "sculptionary," where each team has limited time to sculpt a certain figure before others have to guess what they are making.  
"I love the variety and challenges of keeping everything running smoothly, finishing my jobs on time and making people happy with what I do," van den Broek said. "I love the enthusiasm people have for my work and how blown away they are about what you can do with just sand and water. I love that what I do makes people smile and wonder, 'How did she do that?' It shows hard work and patience pays off and leads to results, even if the finished result is only up for a few hours or days." 
[Related: Naomi Hollas Shares Her Steps to Success in the Events Industry]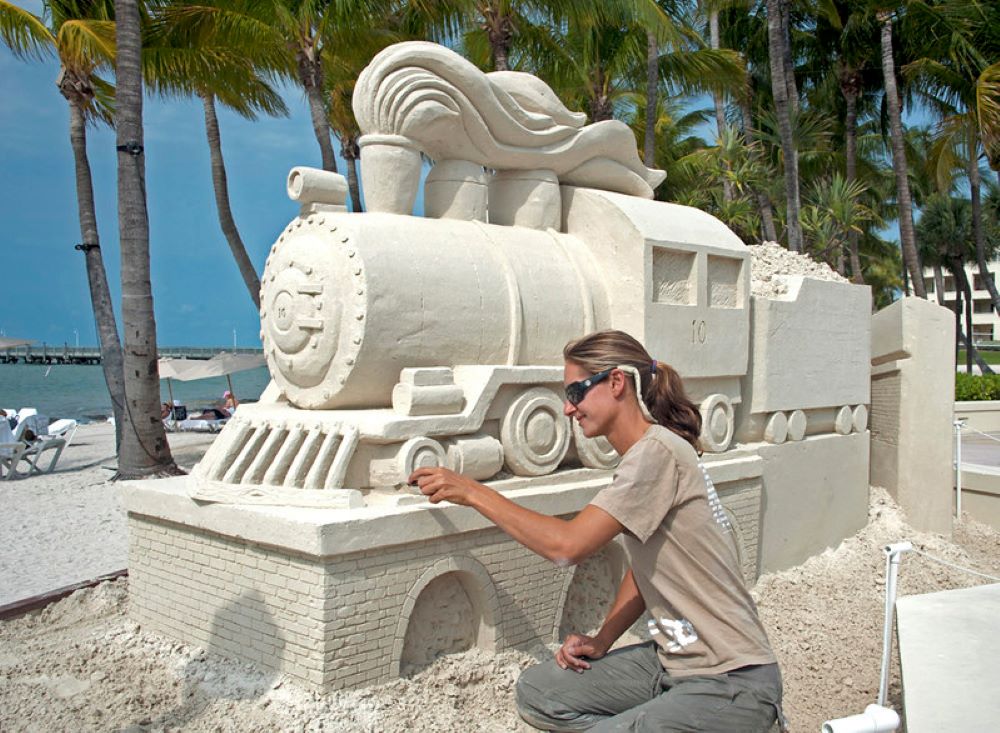 Written in the Sand 
"Since I have been involved in the sand sculpting world for almost a quarter century at this point," van den Broek said, "it has become clear to me that I am still eager to learn more, keep evolving and strive to be the best sculptor and business owner I can be." 
One of the biggest lessons she's learned is that there is no instant gratification in the process of building a sand sculpture. It is a process that slowly comes together, she said, "and people are always curious to find out what it is going to be.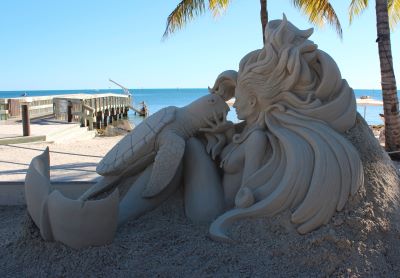 "And it is hard to finish a sculpture because it never is truly finished," she continued. "But with experience, I learned how to keep making progress without getting too focused on one detail or particular area only I will notice. The goal is to make sure the end result has that 'wow' effect on people when they see it for the first time, and I am always immensely grateful when a sculpture is finished in the way I envisioned it, the guests are happy and the event is a success. To me, it feels like a silent musical concert where all the instruments play well together and create a beautiful performance." 
And while the end result often ends up being a masterpiece, van den Broek said, "it is such an emotional roller coaster to create a sand sculpture, but it never gets old." 
The process starts with the construction of the sand block, in which van den Broek mixes sand and water to ensure she is working with a solid foundation to build the sculpture. 
"Shoveling and packing the sand makes for a great workout and saves me from needing a membership at the gym," she quipped.  
Then, van den Broek is tasked with shaping the block, making sure the proportions are right and the design she has in mind is capable of being turned into a sand sculpture. 
"Trying to push the sand to the edge of what it can hold and being fearful it could collapse at a certain point is something that plays in the back of my head," van den Broek said. "It is still sand, after all, and gravity is always at play." 
She also makes sure she's keeping an eye on the weather, which she said, "is an ongoing emotional state but one that I have become very familiar with," especially living in South Florida. Fortunately, she said, the sand sculptures are more weather resistant than most people may think, and van den Broek is able to protect them with a cover overnight, "so I don't have to lose sleep worrying about them." 
Over the years, she's created more sculptures than she can count, many for different groups and occasions, but her favorite sand sculptures to create are wedding proposals. 
"It is such a treat to be a part of a life-altering moment where the moment of surprise and excitement come together in a burst of emotion when the question, 'Will you marry me?' is being asked," van den Broek said. "Some of the greatest feedback I have received is from people who visit Casa Marina and The Reach year after year just to see what sculptures I will have up and how much they look forward to seeing them or creating them with me during a workshop. There are several families where I have seen the kids grow up to young adults with whom I have been creating art for over a decade. Or couples who tell me the sand sculpture is one of their favorite memories of their wedding." 
And the entire process can be therapeutic, making it not only beneficial for teambuilding purposes, but personal growth and development, too. 
"The aspect of working with your hands and physically creating something is a very real and satisfying experience I think a lot of meeting attendees crave," van den Broek said. "If you ever need a pick me up to make you feel better, start building a sandcastle on the beach and I guarantee you will feel better within an hour." 
Read this next: The 2023 Meetings Trendsetters Blazing Trails in the Events Industry