Atlanta Shows Off Its New Conventions Developments During ASAE Annual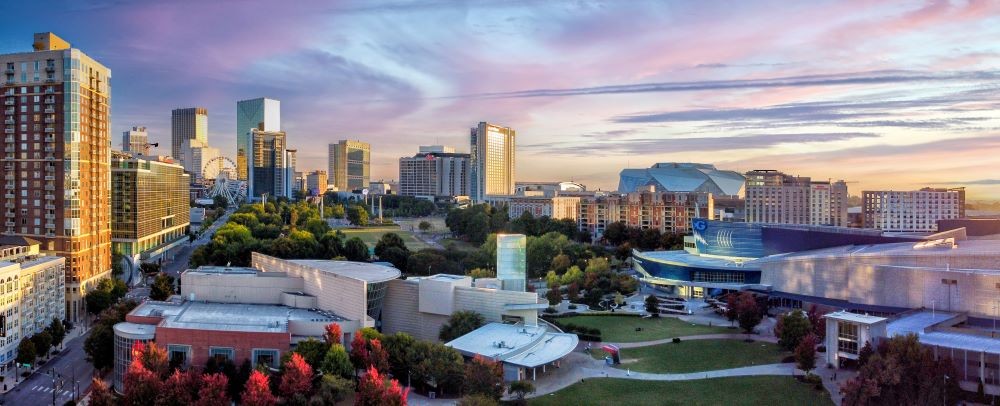 Centennial Olympic Park. Credit: © 2021, Gene Phillips, Courtesy of ACVB & AtlantaPhotos.com.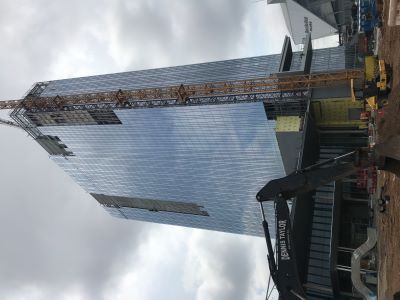 Atlanta always embraces the future, and its meetings and conventions product has benefited from major new improvements highlighted by a luxe new headquarters hotel rising between Mercedes-Benz Stadium and the Georgia World Congress Center.
Meetings Today traveled to the Georgia capital—also dubbed "The Capital of the New South"—leading up to ASAE's Annual Meeting & Exposition (Atlanta last held ASAE's big annual in 2013) to explore a conventions package where the sky is the limit.
"[Since] the last time we hosted ASAE…we built Mercedes-Benz stadium, we built the National Center for Civil and Human Rights, we built the College Football Hall of Fame, which is attached to the convention center, and the Signia [by Hilton Atlanta] hotel, which is our second convention hotel," said William Pate, president and CEO of the Atlanta CVB. "The Georgia World Congress Center has completely reimagined this entire campus."
[Related: Workforce Development Key as ASAE Annual Wraps in Atlanta]
This new mix of facilities on or near the Georgia World Congress Center Campus joins old standouts such as Centennial Olympic Park, World of Coca-Cola and the Georgia Aquarium, site of ASAE's The Classic event benefiting the ASAE Foundation and catered by Wolfgang Puck Catering, with its namesake culinary icon even joining the festivities.
Following is a snapshot of what we experienced.
Georgia Aquarium
Opened in 2005 following a quarter-of-a-billion-dollar gift from Home Depot co-founder Bernie Marcus, the Georgia Aquarium could be the "splashiest" special event venue in town, offering 23,000 square feet of flexible space. A full buyout for up to 4,000 attendees includes all exhibits and the Oceans Ballroom, which mesmerizes guests with its two massive aquatic observation windows, one housing playful beluga whales and the other an assortment of fish, including the world's largest, the whale shark.
Groups can also rent individual exhibit areas such as Sharks! Predators of the Deep or the venue's flagship gallery, Ocean Voyager Built by The Home Depot. Aside from the spectacular specimens in the nation's largest aquarium—11 million gallons worth—groups will be equally impressed by the mouth-watering cuisine provided by the venue's official caterer, Wolfgang Puck Catering.
The aquarium also can arrange for scavenger hunts, behind-the-scenes tours for up to 15 attendees and animal encounters such as programs with the lumbering beluga whales for smaller groups.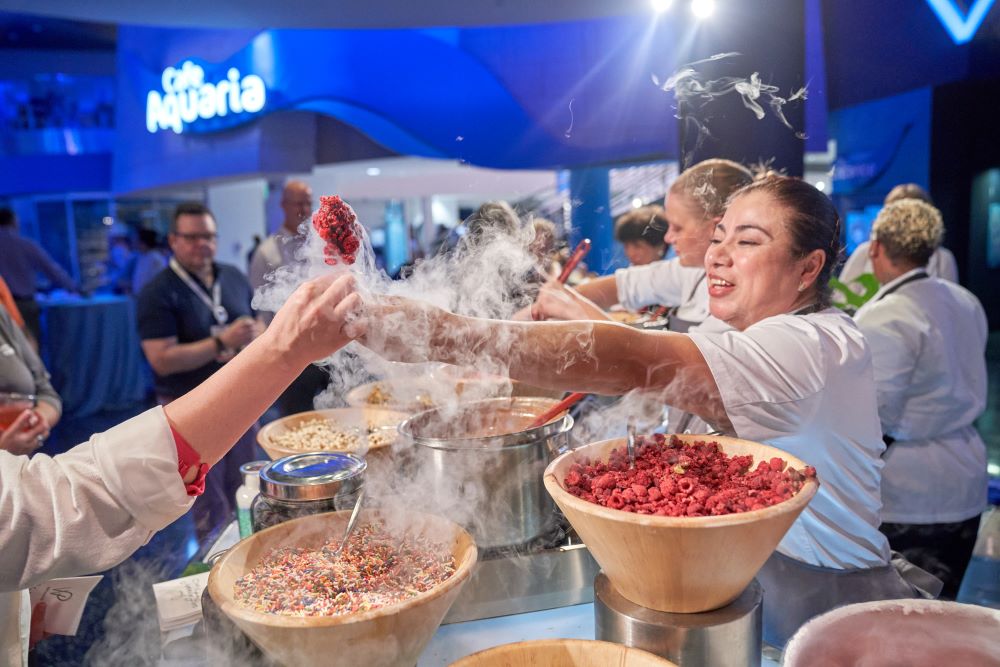 National Center for Civil and Human Rights
Atlanta is perhaps the epicenter of the Civil Rights Movement, being the location of Dr. Martin Luther King, Jr.'s Ebenezer Baptist Church and ground zero for some of the most epic struggles for the equality for African Americans. The National Center for Civil and Human Rights, located in the Georgia World Congress Authority campus along with the Georgia Aquarium and World of Coca-Cola, not only details the civil rights journey of African Americans, it also has a floor dedicated to the global struggle.
The venue can comfortably host a sit-down dinner for 120 and can max out at 400 guests for events with chef action stations. Wolfgang Puck Catering also caters this venue.
The Center is in the process of adding 20,000 square feet of space, including a cafe. One popular event rental option is to use the ground-level floor for a reception and the overlooking third level to post entertainment such as a choir to serenade guests.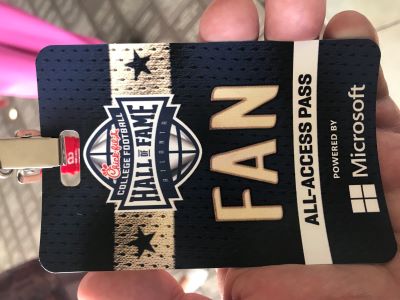 Chick-fil-A College Football Hall of Fame
Guests get a customized experience the moment they enter the Chick-fil-A College Football Hall of Fame by being led to a station where they enter information such as their favorite college football team. This info is then matched to an "All-Access Pass" RFID-enabled lanyard that is read by sensors throughout the museum to provide details relevant to the team.
Offering a total of 50,000 square feet of meeting space, groups ranging from small, intimate affairs to tailgate-style gatherings can be accommodated, with catering provided by the connected Omni Atlanta Hotel at CNN Center. A group buyout can accommodate up to 1,200 guests, with activities such as scavenger hunts, passing challenges and field goal kicking in the venue's indoor field. The Rotunda can accommodate up to 100 seated and the facility also offers the 150-seat Game Day Theater, which is often used for presentations.
South Downtown
An Atlanta project with a ton of potential is Newport Development's South Downtown revitalization, sparked by the German company's purchase of 53 buildings over the past two years, including properties with "great bones" on Historic Hotel Row—some of Atlanta's oldest commercial buildings—within walking distance of Mercedes-Benz Stadium.
Although Newport Development recently sold its interest to Braden Fellman Group, an Atlanta developer known for revitalizing industrial areas, a tour of some of the project's historic spaces revealed unique office, commercial and entertainment potential along with one of the city's favorite Thai restaurants, Tyde Tate Kitchen, all within steps of the convention campus.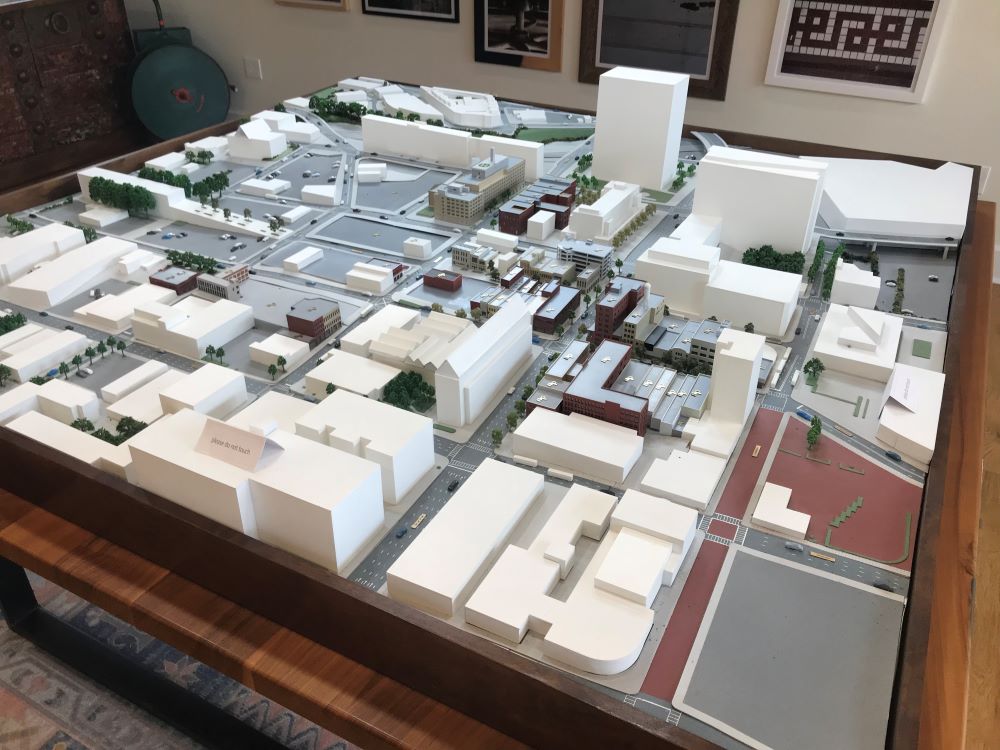 Signia by Hilton
The biggest news on the Atlanta meetings and conventions front is the construction of a Signia by Hilton hotel owned by the Georgia World Congress Authority and thus designed with meetings firmly in mind, including the 40,000-square-foot Triumph Ballroom—the largest in Georgia. 
Scheduled for a January 2024 opening, this 976-room high-rise will bring a second headquarters hotel to the campus, joining Omni Atlanta Hotel at CNN Center.
The first Signia-branded "approachable luxury" property built from the ground up, Meetings Today took a hard-hat tour of the rapidly developing construction site that revealed the luxury brand's dedication to meetings and conventions.
[Related: Signia by Hilton Atlanta Signifies Elevated ATL Convention Campus Offerings]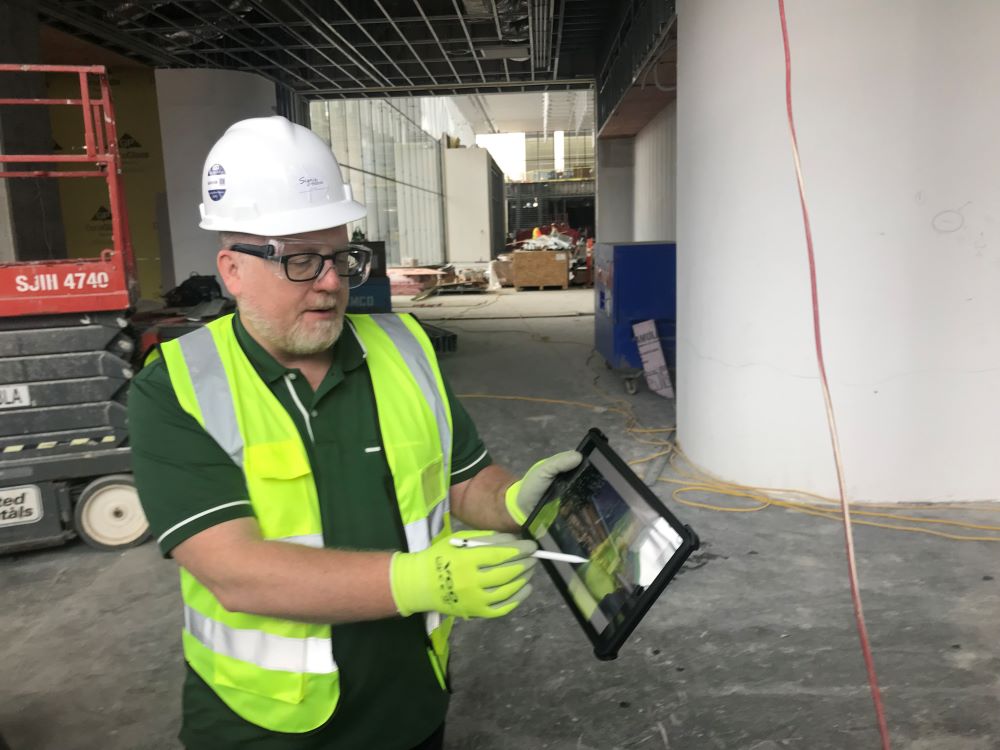 Georgia World Congress Center
Boasting roughly 4 million square feet of space, the Georgia World Congress Center is the fourth-largest facility in the U.S., with 1.5 million square feet of flexible meeting space that includes 12 exhibit halls, 98 meeting rooms, two ballrooms, three fixed-seat auditoriums and several outdoor plazas available for activations.
As the centerpiece of Georgia World Congress Authority's convention campus, more than $2 billion has been invested since 2010 in what the state-run Authority calls its "Championship Campus." Highlights include the addition of the 100,000-square-foot Exhibit Hall BC. A nice touch sustainability-minded attendees will appreciate is the Congress Center's three onsite beehives that can produce sweet gifts for attendees.
[Related Podcast: Sustainability Shines at Georgia World Congress Authority]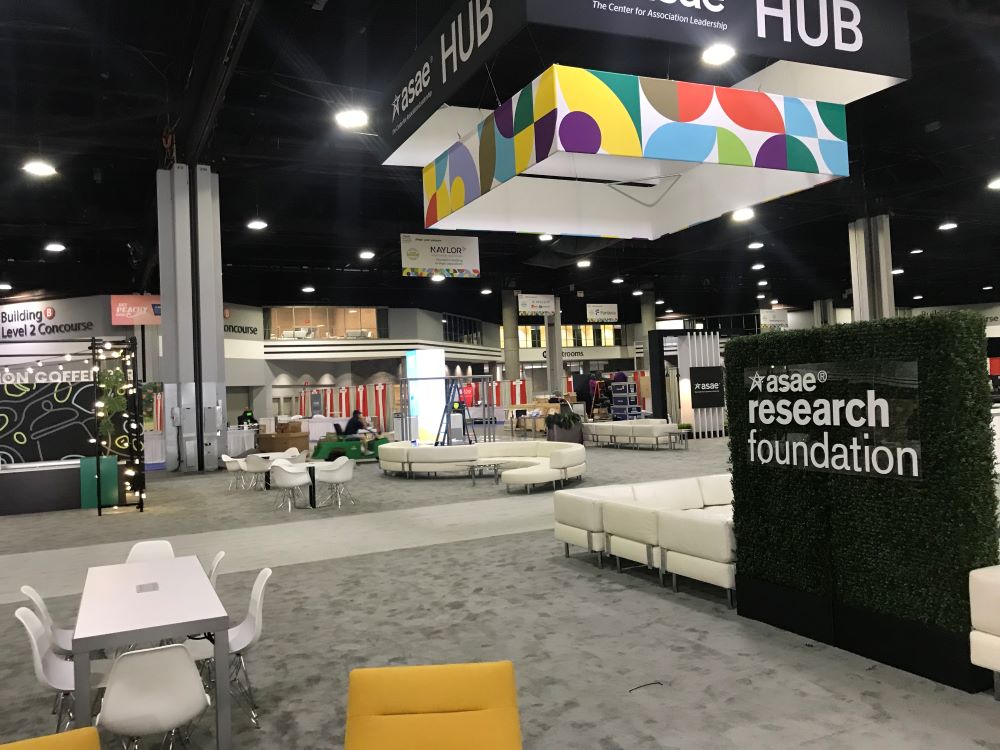 Mercedes-Benz Stadium
Home of the NFL Atlanta Falcons and MLS Atlanta United soccer team, Mercedes-Benz Stadium was the venue for ASAE's opening night celebration featuring Atlanta's own chart-toppers TLC.
Groups can buy out the facility for private events for up to 18,000, with the field used for concerts, games and F&B service provided by Levy Restaurants.
The stadium's locker rooms can accommodate groups of up to 200 for a reception, with individual lockers customized with name plates and jerseys for attendees. The two Field Level Club spaces—the Delta Sky360 and Mercedes-Benz clubs—each abut the field and can accommodate up to 350 attendees in banquet rounds or 1,000 for a standing reception. 
Next door to the stadium is the 11-acre Home Depot Backyard greenspace, which is frequently used for corporate events, festivals, concerts and tailgating.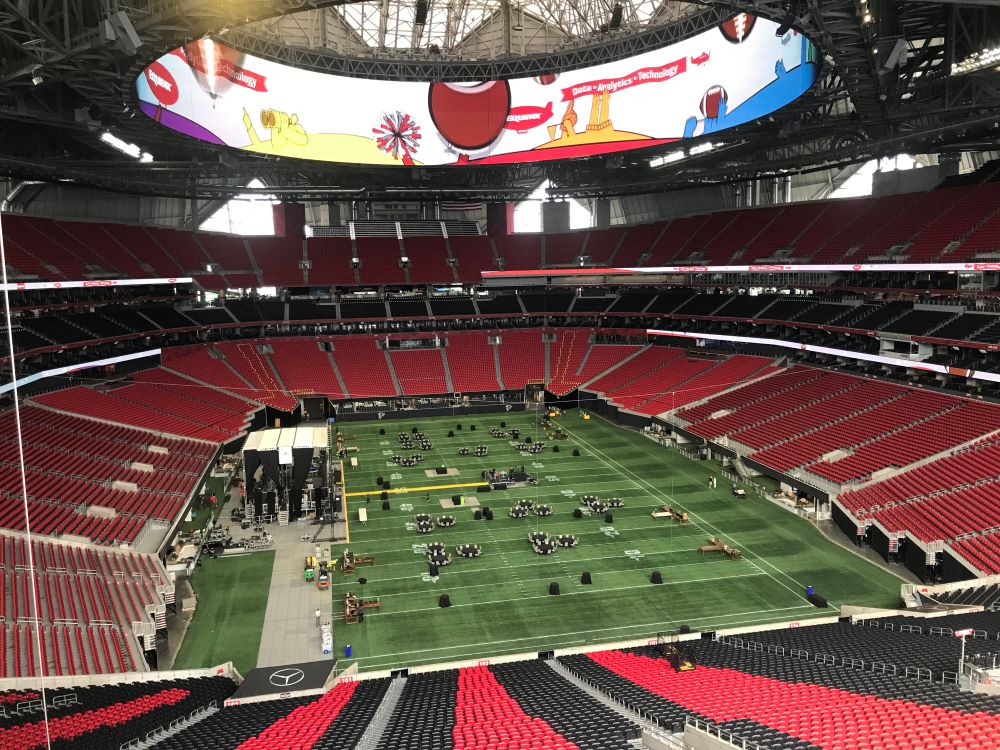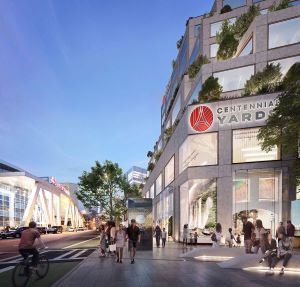 Centennial Yards
Another major development, the multi-use Centennial Yards is rising up from 50 underutilized acres in the heart of downtown across from Mercedes-Benz Stadium. The massive development is scheduled for a 2026 opening for World Cup soccer matches.
Ponce City Market/Beltline
Topping off the tour, we visited Ponce City Market, housed in the 1925 Sears, Roebuck & Co. distribution facility and featuring two floors of local food and retail options along with upscale retail. The building offers a rooftop space that features Skyline Park, offering an 18-hole mini golf course, three-story slide, a bar and carnival-style food, as well as the RFD Social, 9 Mile Station and Rooftop Terrace spaces. The 2 million-square-foot National Register of Historic Places venue can accommodate up to 2,000 guests.
Just outside the Ponce City Market is an entrance to one of the most endearing features of the city, the Atlanta BeltLine, where Atlantans mingle and meander down four miles of former railroad tracks that will eventually result in a 22-mile trail that reconnects historically divided neighborhoods. 
Offering greenspace, retail, entertainment and food and beverage stops, the BeltLine perhaps best embodies the progressive, forward-looking spirit of Atlanta, a city that was ironically nicknamed "Terminus" when it was founded in the mid-1800s.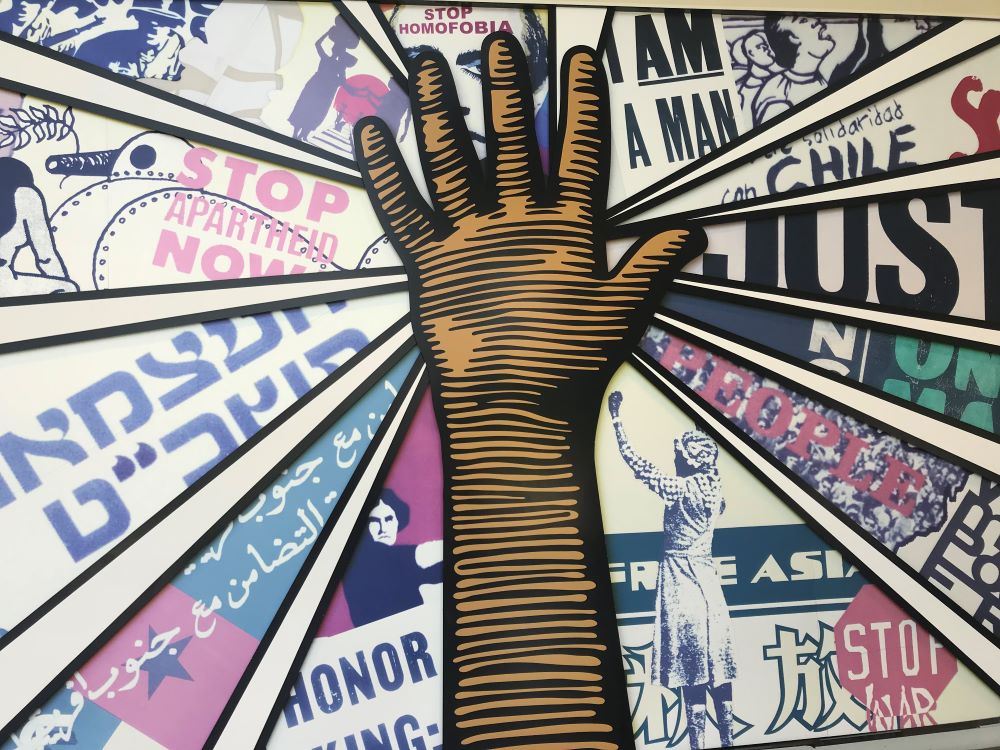 Connect