Noteworthy New Hotels and Renovations in the Caribbean and Cancun (2023)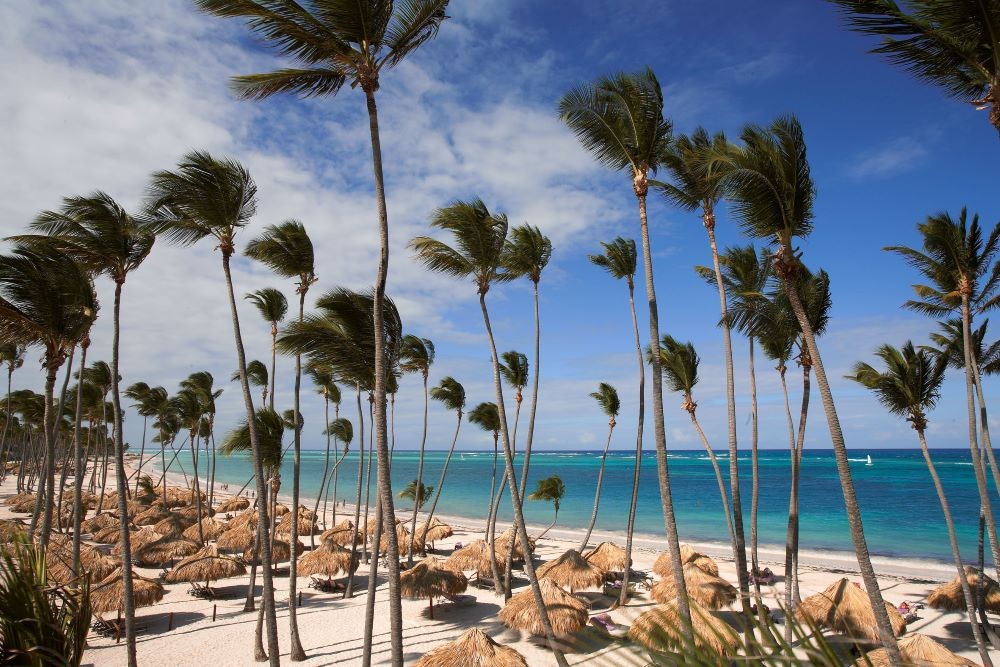 Paradisus Palma Real Golf & Spa Resort by Meliá, Punta Cana, Dominican Republic
In early June, the Caribbean Tourism Organization (CTO) delighted the travel industry with its first Caribbean Week since the pandemic. Held in New York City, this lively event showcased the Caribbean's unique culture with a media marketplace for press updates and a tourism marketing forum discussing current travel trends and future projections for the region's main economic driver: tourism. 
Kenneth Bryan, Chairman of the CTO who also serves as the minister of tourism and ports for the Cayman Islands, reported that member countries and territories have continued an upward trend in post-pandemic recovery, with many destinations performing better than they did in 2019, with average daily rates "through the roof." 
Indeed, growth continues apace with new hotel builds and renovations throughout Caribbean islands. According to Discover Puerto Rico, visitor arrivals this year jumped 18.6% from January through April alone; this (literal) hot spot welcomes an impressive array of meetings and events.  
The Caribbean, well known for its all-inclusive resorts, inspires meeting professionals to book groups, as much for the ease—and price—from budget friendly to five-star. Fabulous restaurants abound and an electrifying nightlife awaits, juxtaposed by the astonishing, dazzlingly clear cerulean seas and white-sand beaches. 
Following are some significant hotel enhancements in the Caribbean and Cancun. 
Dominican Republic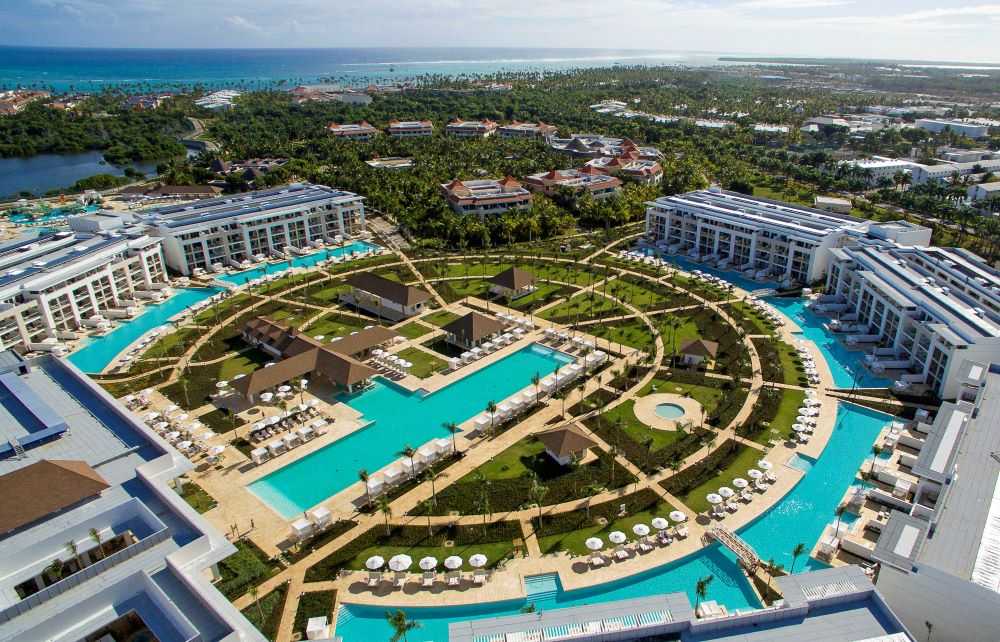 According to the CTO, the Dominican Republic is the most visited of the Caribbean islands, best represented by the upmarket 596-suite Paradisus Palma Real Golf & Spa Resort by Meliá on the renowned 30-mile long Bávaro Beach in the wildly popular Punta Cana area. The $40 million renovation includes 58 swim-up suites, adults-only spaces, personalized perks, restaurants and bars. All new decor enhances the property's revamped 42,000-square-foot convention center, featuring 12 multi-function rooms with a variety of facilities fit to accommodate groups of up to 1,500 guests. Eleven swimming pools, the YHI spa and fitness center and nearby Cocotal Golf & Country Club round out the numerous amenities. Mina steakhouse offers meat lovers a casual dining paradise, and Blue Agave dishes up innovative Mexican fare, certain to please any palate.  
Falcon's Resort by Meliá All Suites Punta Cana is a five-star, all-inclusive resort that opened this year, also on Bávaro Beach. The resort touts a "resortainment" experience, blending resort amenities with entertainment. Resort guests have access to a new world-class theme park, Katmandu Park Punta Cana, steps away from the property, which opened in March. Falcon's Resort is a transformation of an existing Meliá property, Paradisus Grand Cana, now comprising 432 rooms, three swimming pools, Origen restaurant for a taste of Taino Dominican island culture, among others, and a world-class spa and fitness center that incorporates the beauty of the Caribbean. 
Construction on Grupo Posadas' new hotel, Fiesta Americana Punta Cana, is expected to begin this year, with completion scheduled for the end of 2025, adding about 400 rooms to its existing inventory of over 500 rooms at the Live Aqua Beach Resort Punta Cana. This 5-star deluxe hotel is located on Bávaro Beach.  
[Want to explore Punta Cana? Meetings Today LIVE! is heading to the Dominican Republic this November. Apply to attend!]
Cayman Islands
The Cayman Islands, renowned for the spectacular Seven Mile Beach on Grand Cayman, is the idyllic location for the 295-room Grand Cayman Marriott Resort. Following an extensive renovation, highlighting beachy hues and organic textures, six meeting rooms offer a total of 9,822 square feet to accommodate up to 1,125 guests.  
Jamaica  
Jamaica is stepping up with several new hotels, and no one could be happier than Michael Farmer, manager, engagement group, of the Wisconsin-based Meetings & Incentives Worldwide.  
"I have had the pleasure of hosting many successful MICE groups at great Jamaican resorts over the years, and the post-event survey results always receive high marks," Farmers said, adding that the Jamaica government has invested so much into their tourism sector that there is always something new and interesting to experience.  
"In Montego Bay, for instance, larger-scale meetings and congresses can use the convention center, a convenient distance from dozens of great beachfront resorts, while full-on incentive groups can experience every imaginable outdoor adventure from world-class golf, to canopy ziplining, to climbing the renowned Dunn's River Falls." 
New properties include the all-inclusive, 260-room Sandals Dunn's River in Ocho Rios where guests have their pick of cuisine with an array of eateries dishing up Greek, French, Italian and Asian flavors. The resort offers water sports, snorkeling and a fitness center—and complimentary greens fees at one of the premier golf clubs in the Caribbean. The largest meeting space is 1,596 square feet.  
Opening this fall, the 352-suite Hideaway at Royalton Blue Waters, An Autograph Collection, is an all-inclusive resort in Montego Bay and includes varied restaurants, such as Calypso for West Indian Cuisine and Armadillo for Tex-Mex fare. Nightly entertainment will delight attendees as will The Royal Spa, a full-service health and wellness facility with a menu of luxurious spa treatments. The hotel offers an array of venues to host events of all sizes. 
Puerto Rico 
Home to 600,000 square feet of total meeting space, Puerto Rico has earned its bragging rights, having the largest convention center in the Caribbean with the Puerto Rico Convention Center in Isla Grande. In addition, there's meeting space at the 525-room San Juan Marriott Resort & Stellaris Casino, which boasts a ballroom that accommodates up to 800 attendees. This winter, the hotel will unveil its renovations with contemporary and spacious oceanfront guest rooms with private balconies overlooking the Atlantic Ocean.  
The 107-room Wyndham Palmas Puerto Rico Beach & Golf Resort recently revealed its multimillion-dollar transformation to guest rooms, common spaces and landscaping. With 14,000 square feet of indoor and outdoor event space accommodating up to 400 guests, attendees will enjoy amenities like the infinity pool, beach access and numerous outdoor activities including two world-class golf courses. Also updated is Trova Coastal Kitchen, helmed by James Beard-nominated chefs Jeff McInnis and Janine Booth. 
[Related: Puerto Rico Meetings and Tourism on a Record Pace]
U.S. Virgin Islands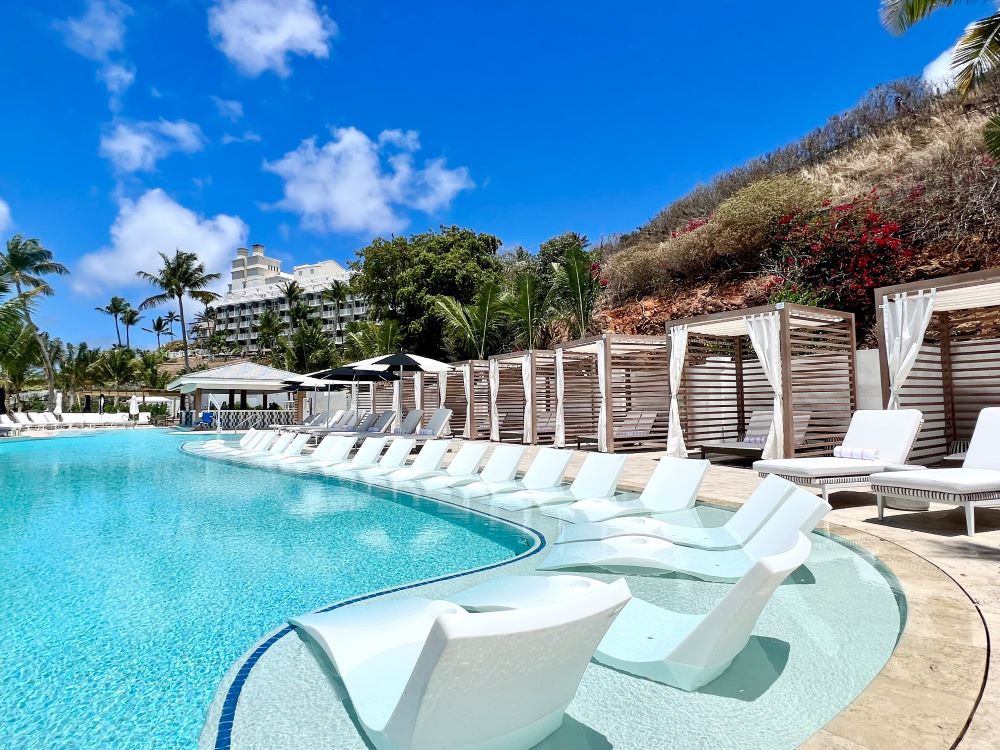 St. Thomas, one of three U.S. Virgin Islands (USVI) (the others are nearby St. John and St. Croix), lies between the Atlantic Ocean and the Caribbean Sea. St. Amalie on St. Thomas, the capital of the USVI, is renowned for its spectacular scuba diving, restaurants and shopping. Reopened in May, the Morningstar Buoy Haus Resort at Frenchman's Reef, Autograph Collection features 94 guest rooms and 13,000 square feet of meeting space. Following an extensive $425 million rebuild at Frenchman's Reef, the resort features numerous eateries, such as Salt Shack Beach Bar & Grill, just steps from the beach, serving such goodies as Baja-style tacos and cocktails with pineapple-infused rum.  
Joseph Boschulte, USVI commissioner of tourism, says the U.S. Virgin Islands remain a meetings hot spot for many reasons: "With nonstop flights from New York, Newark, Philadelphia, Charlotte, Atlanta, Miami and Boston, and no passport required, the U.S. Virgin Islands offers diverse meeting spaces, ranging from first-class luxury resorts to smaller more intimate hideaways, and elegant off-site locations provide event planners with the ideal combination of accessibility and amenities. The recent opening of the Morningstar Buoy Haus Beach Resort and the upcoming launch of  The Westin Beach Resort and Spa at Frenchman's Reef in St. Thomas (late summer 2023) will offer almost 400 rooms and more than 25,000 square feet of flexible indoor meeting space, expanding the hosting capacity of the territory and creating even more opportunities in the near future." 
Cancun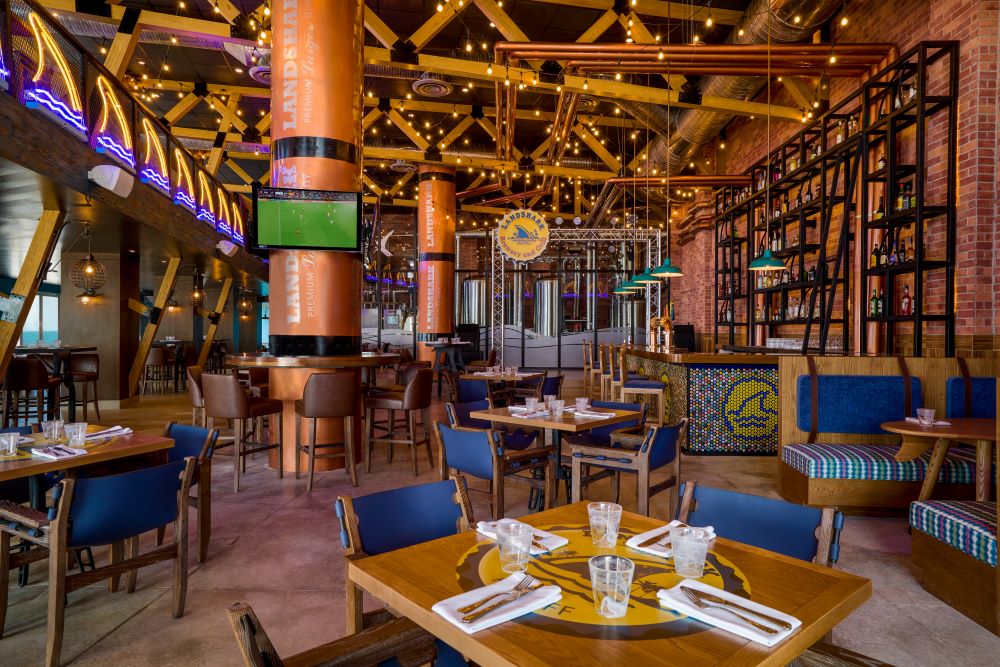 With a glimmering turquoise sea, coral reefs and white sandy beaches, Cancun is a perennial favorite for U.S. travelers and meeting and incentive programs. Improvements to its hotel infrastructure continue with Live Aqua Beach Resort Cancun, which features 371 refurbished rooms, each delivering a sensory experience through an aromatherapy menu offering select fragrances to suit your mood. The adults-only property offers groups The Large Aqua Room at just over 14,000 square feet and seating up to 1,000 theater-style, divisible into nine sections, in addition to seven breakout rooms. The Terrace off the Presidential Suite welcomes up to 30, while the Egos Terrace off the lobby serves up to 100 for cocktails. The beach and pool areas are also available for outdoor events.  
The new 1,005-room all-inclusive, Royalton Splash Riviera Cancun, Autograph Collection, features 12 restaurants, making all day dining de rigeur. Groups favor Gourmet Marche's all-day International Buffet dishing up fresh, local and international flavors. The convention center features 25,000 square feet of space, including a ballroom for up to 1,500 guests and 12 additional breakout rooms.  
Just opened in November, the Waldorf Astoria Cancun offers 173 oceanside rooms, all with dazzling ocean views and plunge pools on private balconies. Two pools, a 21-room spa and salon and several first-class restaurants are a draw for groups including MALPEQUE, with its open flame grill for whole fish preparation, incorporating smoke, char or fire. With 13,811 square feet of meeting space and the largest at 3,872 square feet, groups have several options for gatherings. 
About an hour south of Cancun is the adults-only, all-inclusive, 355-suite Margaritaville Island Reserve Riviera Maya. Opened in June, this luxurious yet casual resort features five Margaritaville-inspired restaurants with chef-curated menus and a beachside grill offering authentic cuisine sure to please every palate. Four specialty bars serve a chill atmosphere in addition to frosty premium cocktails. Meeting space totals 2,080 square feet for up to 400 guests. Nightly live music will inspire your attendees to dance the night away beneath starlit skies.