6 Outdoor Event Venues With a View in Maryland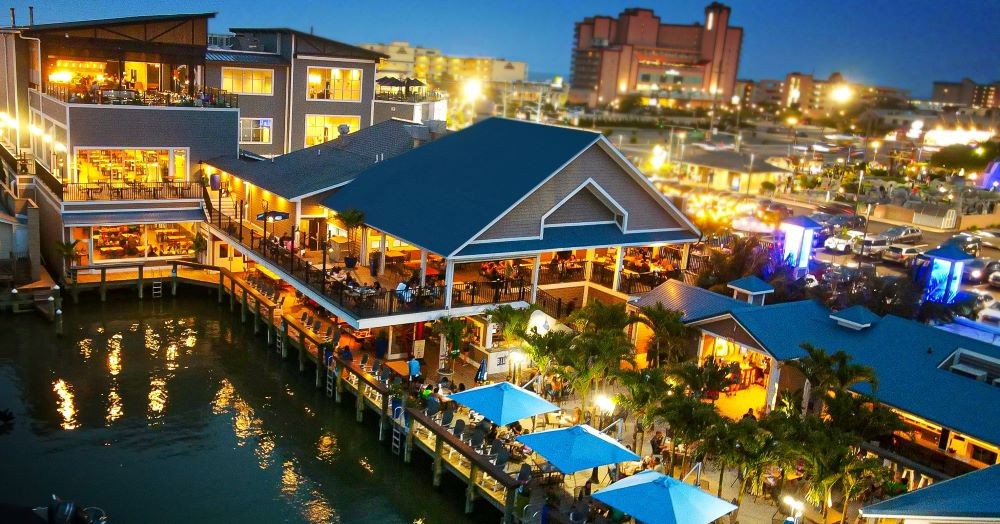 Steeped in history, maritime tradition and a seafood industry that is worth more than $50 million, according to Visit Maryland, the state of Maryland's key meetings markets are full of historic, waterside venues with views that will impress any attendee. Easily accessible by car from many East Coast metros, the cities of Baltimore, Annapolis and Ocean City should not be overlooked for your next event. 
Wow your event attendees by hosting an event at one of these fresh-air venues in Maryland that promise stunning scenery and the opportunity to educate visitors about the unique culture of the state. 
Embers and BLU Crabhouse & Raw Bar, Ocean City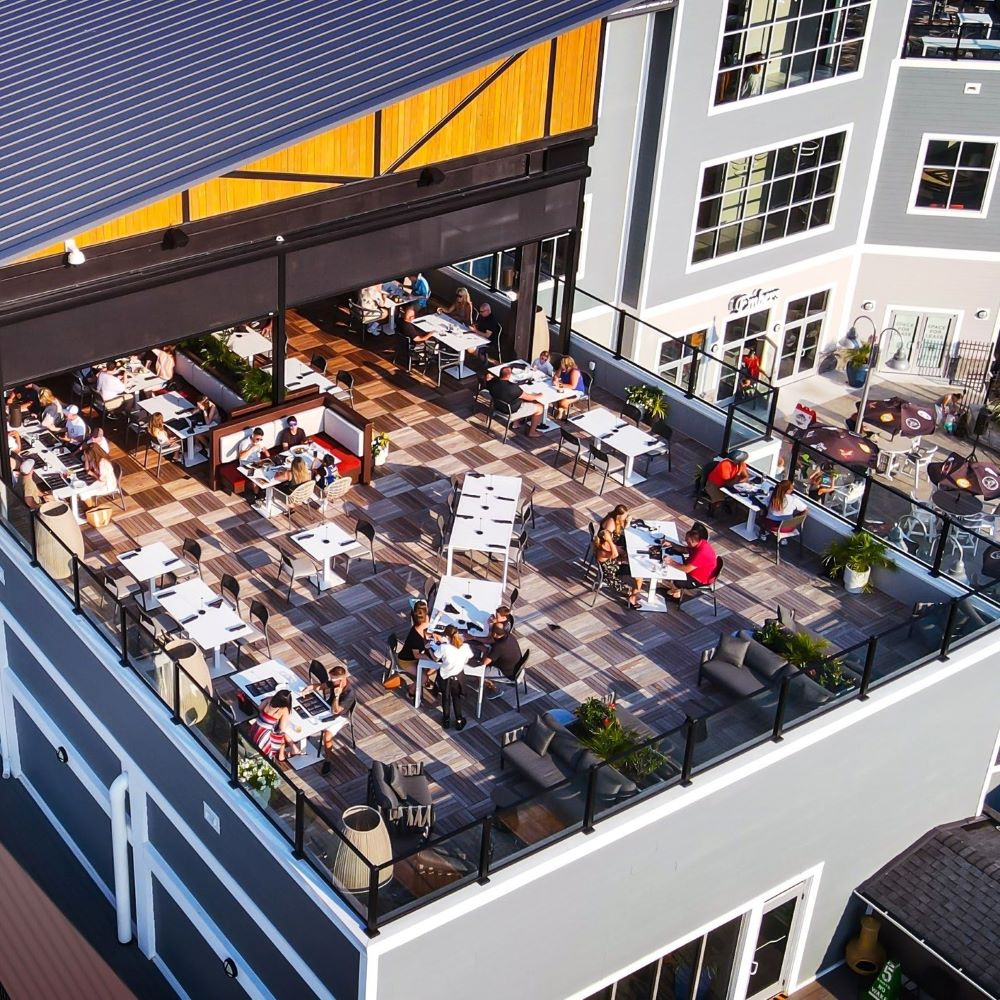 Ocean City is a coastal resort town in Maryland that promises a stress-free experience for groups in need of a seaside retreat, especially for East Coast-based groups from metro areas such as Washington, D.C., Philadelphia or Baltimore looking for a locale within easy driving distance. Once in town, planners will find a plethora of open-air venue options to enjoy the salty breeze.  
A short walk from the city's famed boardwalk, for multiple elevated experiences from The Taustin Group. Embers Restaurant was a staple in the Ocean City community for nearly 40 years, known for its all-you-can-eat prime rib and seafood buffet. It closed during the pandemic and reopened this year following renovations to both its space and its food offerings. Eastern shore seafood with "comfort-food style boldness" dominates the menu, offering many meals that are cooked in the two custom, hand-crafted Fiero Forni ovens. The third-floor rooftop space makes for an impressive private event venue, where up to 85 seated guests can enjoy small plates and sunsets over the bay. 
Also on property, The Taustin Group's BLU Crabhouse & Raw Bar is another option for private events. The famous steamed Maryland blue crabs, shrimp, clams, crab cakes and rotating selections of oysters promise a dream menu for seafood fans. The indoor-outdoor event space is flexible for groups, too, with the capability to host 80-150. 
Both restaurants can offer full service, passed hors d'ourves or buffet-style service for events, and The Taustin Group also has local connections to many vendors in town like bands, DJs and other entertainment providers.  
[Related: 3 Offsite Venues in Baltimore With Prime Waterfront Views]
Skybar, Lord Baltimore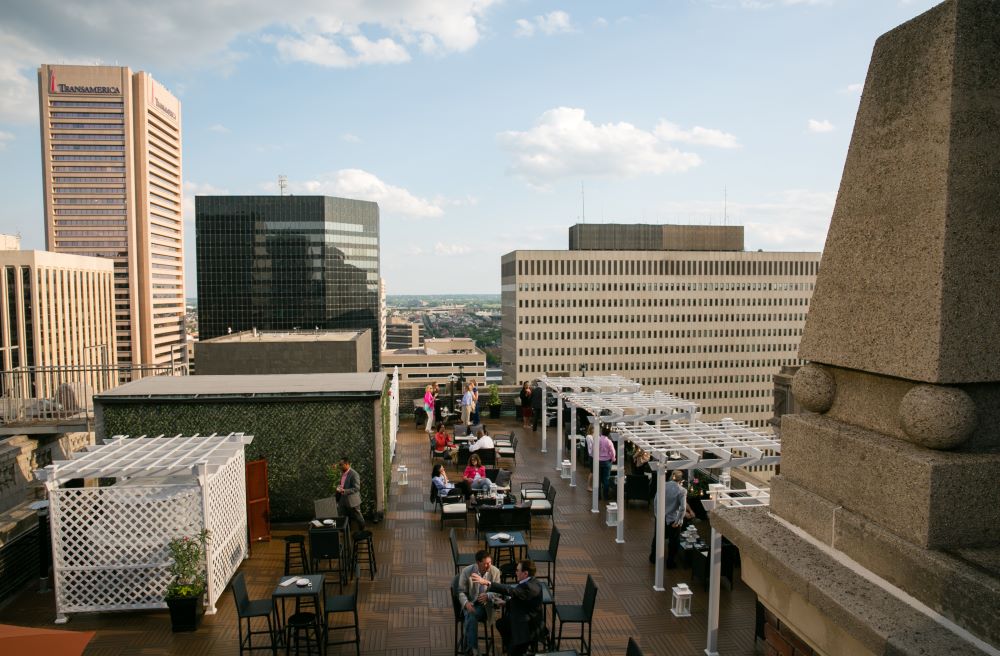 The most populous city in Maryland packs a lot of history. Groups in Baltimore can experience some of this at the meticulously restored 1920s Lord Baltimore hotel, which welcomes attendees with a grand piano in its lobby, classic oil paintings, polished brass and an award-winning vaulted fresco ceiling with a large Murano glass chandelier. It stuns at every turn, from its entrance to its ballrooms (the hotel hosted its first event in 1928!), thanks to relics from the past. That doesn't mean there aren't new things to explore at this 440-room historic hotel in the heart of downtown Baltimore, though. 
Enter Skybar, the new seasonal rooftop on the 19th floor with sweeping views of the Charm City skyline and water. Skybar is one of Baltimore's only rooftop lounges and includes cabanas with comfortable seating and an indoor bar for an indoor-outdoor experience. The space can be used for private events and can host up to 225 people. 
B&O Railroad Museum Pavilion, Baltimore 
Rail had a seismic effect on America when it was first introduced, and visitors to Baltimore can delve deep into its history at the B&O Railroad Museum—the site of where the first mile of commercial rail track was laid. Group tours of the museum are available for 20 or more people. 
The museum, which is set on 40 acres and is a National Historic Landmark, also offers 70,000 square feet of event space. The 1884 Baldwin Roundhouse—which was once the largest circular industrial building in the world—and the Royal Blue Observation Car, a vintage 1948 rail car, are among the most unique, historic spaces onsite. If you want to take your venue outside and enjoy a view, the outdoor pavilion looks on the historic Roundhouse and can host a wide variety of events like crab feasts, receptions and more for up to 6,000 for a cocktail reception or 1,500 for a seated dinner.  
Baltimore Peninsula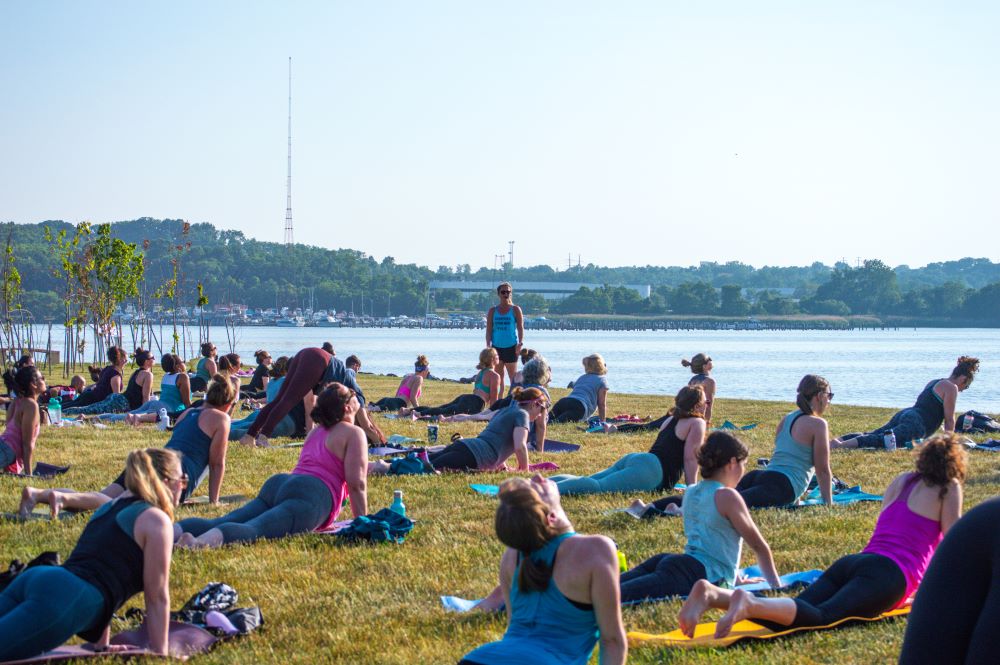 Encompassing 2.5 miles on Baltimore's waterfront, the Baltimore Peninsula is home to a plethora of options for engaging outdoor experiences and events. This mixed-use neighborhood project is full of retailers, restaurants and bars, wide-open areas and arts spaces, and more continue to be added this year and into 2024.  
A rotating mix of events are typically on deck, including free salsa and bachata dancing lessons every Thursday with Salsa Now at Rye Street Park; wellness classes on Mondays and Wednesdays at Rye Street Park; opportunities to play sports like beach volleyball, kickball and soccer at Volo Beach; outdoor movie nights and more. 
[Related: Montreal's New Marriott and More Eastern Property News]
Navy-Marine Corps Memorial Stadium, Annapolis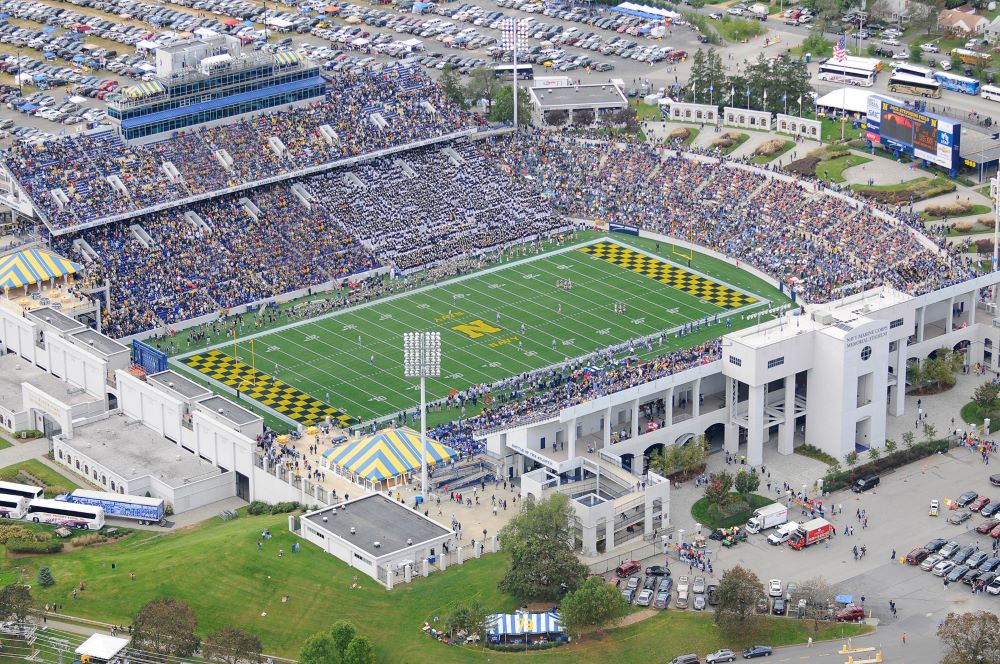 Annapolis is the capital of Maryland, but the "Sailing Capital of the U.S." is arguably even better-known as the home of the U.S. Naval Academy (USNA). Groups can harness the maritime tradition of Annapolis in a variety of ways at events, including at the Navy-Marine Corps Memorial Stadium at the Academy. On non-game days, planners can book several spaces—including Jack Stephens Field—for a variety of events.  
Use the 90,000-square-foot field for specific sporting events (custom paint lines on the synthetic surface are possible) or cover with a tent for a maximum-capacity gala event of 6,500 people. Go to the top of the stadium at The Clubs at Akerson Tower for scenic views of the stadium, downtown Annapolis and Chesapeake Bay. The VADM Lawrence N* Room is another popular option, with an 8,500-square-foot banquet hall for formal dinners and business meetings where USNA varsity letter winner plaques adorn the walls. VIP suites and a variety of outdoor spaces are also available, catering to events of many sizes. 
Annapolis Maritime Museum & Park 
Dive deeper into the maritime heritage of Annapolis and the ecology of Chesapeake Bay at Annapolis Maritime Museum & Park. According to the museum, The Museum Campus is the site of the last historic oyster packing plant in the area, the McNasby Oyster Company, and today, provides the Annapolis area with a waterfront educational facility, an exhibition gallery and an assembly hall that is in daily use for classes, history and heritage programs, lectures, concerts and community and business meetings. Planners can use the campus for meetings and events of up to 150. 
Over on the 12-acre waterfront park campus, educational programs are conducted that cater to over 15,000 children and adults annually, and the Merrill Family Pavilion on the shores of Back Creek was recently opened, giving planners another option on campus for teambuilding, corporate events and more.  
For a unique on-the-water experience, organize a private charter and set sail on Wilma Lee, one of the last remaining skipjacks (traditional fishing boats used on the Chesapeake Bay for oyster dredging) and the state boat of Maryland. Originally built in the 1940s and restored in 2019, Wilma Lee can accommodate two-hour charters for 30-35 passengers for private events including teambuilding, cocktail parties, and more. 
Connect 
Visit Annapolis & Anne Arundel County 
Read this next: Newport, Rhode Island Is for Classic Coastal Connections