Newport, Rhode Island Is for Classic Coastal Connections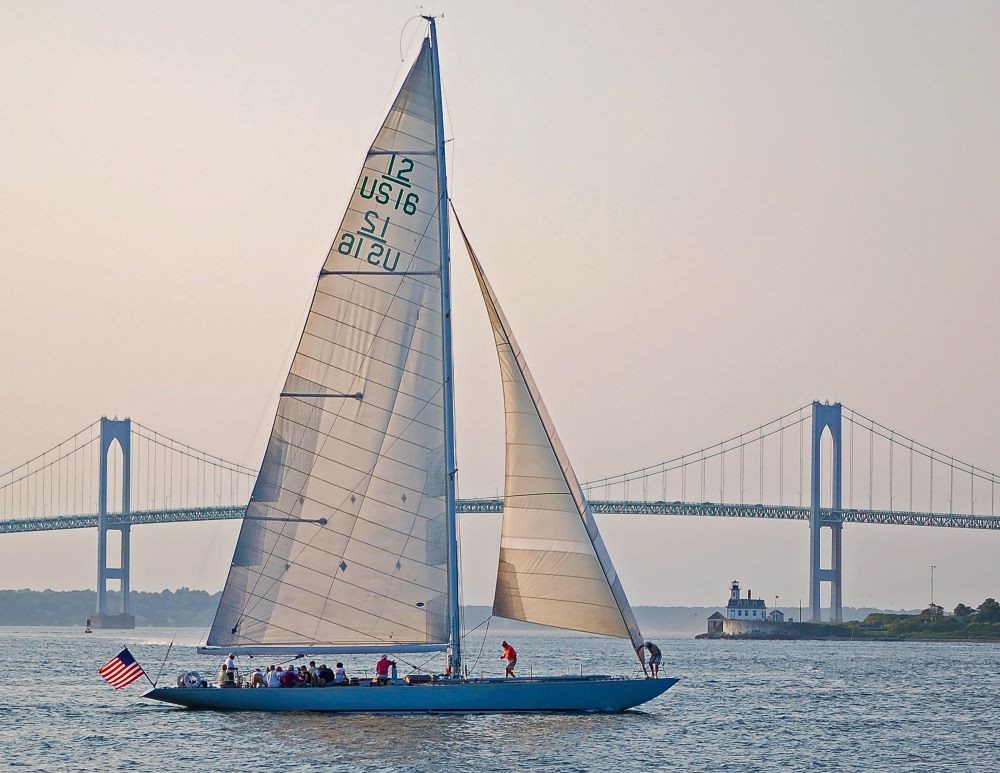 Sailing Newport Harbor. Credit: 12 Meter Charters
Talk about an insightful and inspiring site inspection. Soon after Rhode Island lifted COVID-19 restrictions last year, Discover Newport sailed back into action, welcoming a regional corporate gathering with attendees from New York, New Jersey and other locales in New England. 
"Having sat on their meetings budget for so long, they were pumped to be there," said Discover Newport's vice president of sales, Tim Walsh. "Their activities included our classic recreated America's Cup Regatta race. You should have seen them getting prepped over breakfast. They had four teams competing against each other and were so excited."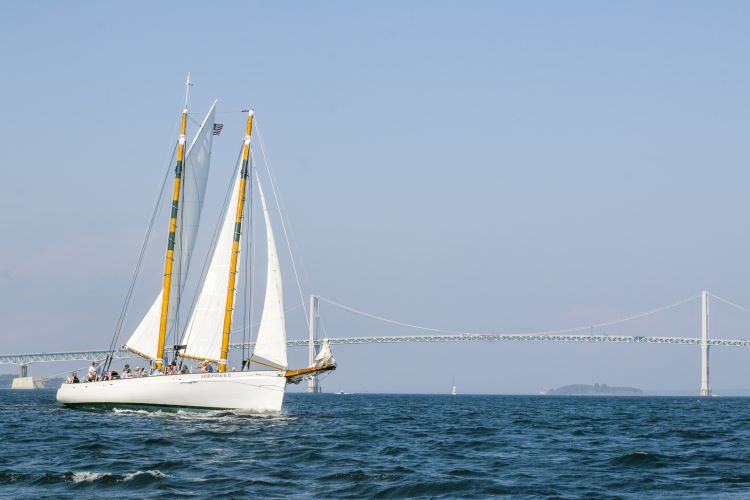 That same day, Discover Newport was showing a prospective client around town.  
"While touring the new harbor-facing Hammetts Hotel," Walsh continued, "we went to the window and saw the other group heading out to sea in four vintage 12-meter yachts. As one of our most thrilling and sought-after teambuilding events, it was a quintessential showcase moment." 
Back on the tradeshow and sales circuit, the industry veteran always enjoys speaking with repeat customers, but especially likes the "clean slate" opportunity when presenting Newport to prospects yet to experience the rich allure of "America's First Resort." 
Walsh has myriad talking points when describing this centuries-old American jewel, starting with its prime perch at the southern tip of Aquidneck Island in Narragansett Bay. 
[Related: Host Your Event in The Great Gatsby Mansion and 5 More Notable Offsite Venues in Newport]
Road Maps and Flight Plans for Success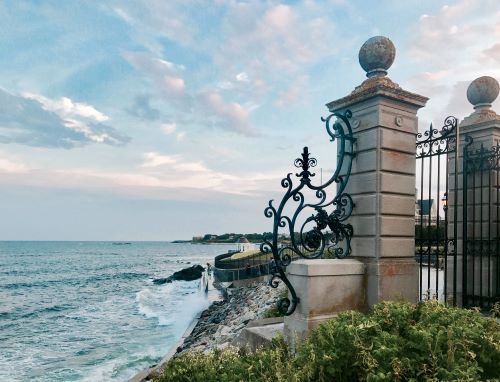 Newport is ideally situated within the Maine-to-Washington, D.C., corridor, with New York City some four hours away and Boston two hours due north.  
"We rely heavily on the drive market, which in our region encompasses every type of group business," Walsh said. "From high-end financial, pharma and other corporate meetings to architectural and military society groups, there is something here for everybody." 
Groups also have access to two nearby Amtrak stations, in West Kingston, 18 miles away, and in Providence, 34 miles away. Served by 11 carriers, including American, Delta, JetBlue, Southwest and United, Rhode Island T.F. Green International Airport, 26 miles away in Warwick, adds an airlift advantage. 
"Offering the ease of significantly reduced times from garage to gate, T.F. Green is our link to abundant association business from D.C. and Chicago, plus bookings from around the nation," Walsh said. 
With diverse hotel options (see Overnight Sensations), Newport specializes in groups of five to 500 attendees, including events and expos, typically attracting higher-end business  on peak and more budget-conscious bookings in the fall and winter.  
Away from the summer crowds, higher rates and major happenings like the Newport Jazz Festival and the Newport Folk Festival in July, shoulder season groups can book hotels, restaurants and attractions with ease. And for returnees and newcomers alike, Newport's charms, neatly packaged in just a few square miles, are endlessly inviting.  
Timeless Treasures and Gilded Glories 
One of America's oldest cities, Newport practically invented the concept of authentic sense of place. Reversing the traditional trend of vacation destinations inspiring people to come back for meetings, Newport meetings inspire people to stay or come back for vacations. The distinct local flair is apparent from the moment you cross the Newport Bridge and the ship masts, church spires, graceful trees and other landmarks of this fabled "City-by-the-Sea" come into view.  
Founded in 1639 and an important center of trade during the Colonial era, Newport later became the playground of American aristocracy, who first constructed their "summer cottages" here in the mid-1800s.  
As a filming location for HBO's "The Gilded Age," Newport's magnificent mansions are enjoying a recharged wave of interest. Through the Preservation Society of Newport County, planners can arrange receptions, tours and other programs at storied ocean-facing palaces, including Rosecliffe (1902), setting for the 1974 film classic The Great Gatsby, and the flagship of the collection, Cornelius Vanderbilt II's spectacular The Breakers (1895).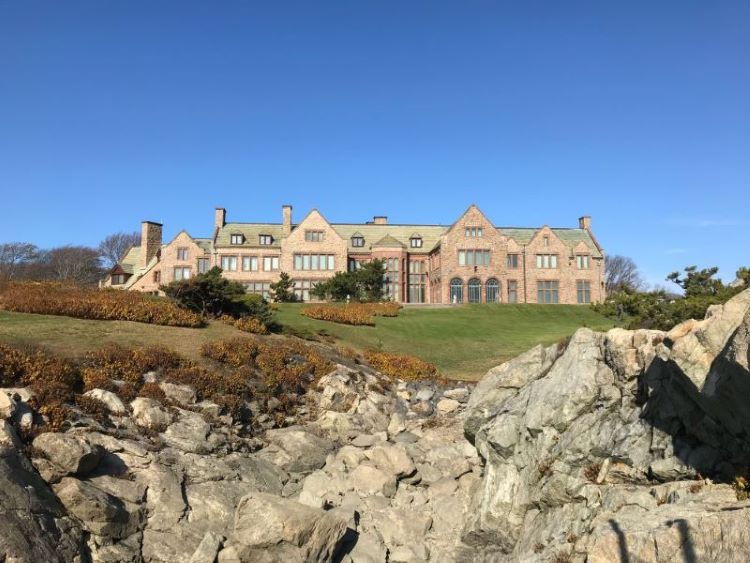 Also featured in "The Gilded Age," the International Tennis Hall of Fame hosted the first US Open in 1881. Today, groups can compete in grass court tournaments or play croquet at this historic shingle-style social hub, where rentals include boardrooms, club spaces and large event venues.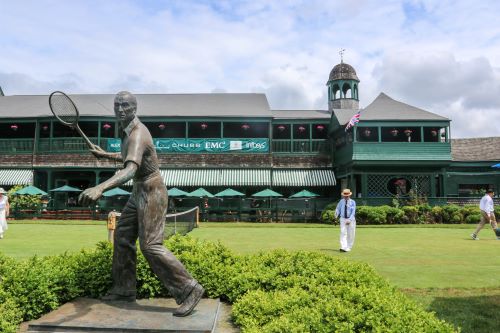 From 1930 to 1983, Newport, with its favorable light and predictable winds, hosted 12 editions of the world's oldest and most storied sporting competition, the America's Cup. This run included the famed 12-meter yacht era and half of the New York Yacht Club's unprecedented 25-win streak, the longest in the history of competitive sports, which invested Newport with lasting renown as one of the world's sailing capitals.   
Opened in May 2022, The Sailing Museum houses the National Sailing Hall of Fame and The America's Cup Hall of Fame and can accommodate 300-capacity events. Along with the America's Cup races, groups have plentiful coastal and harbor tour options. 
Originally Newport's colonial seaport, Bannister's Wharf is now the hub of Newport's harbor-side dining and shopping scene. This September sees the 17th edition of the Newport Mansions Wine & Food Festival, while offsite F&B options include tours, tastings and events at Newport Vineyards and sixth generation-run Greenvale Vineyards.  
Unique outings include a pair of six-mile Rail Explorer excursions along Aquidneck Island and Narragansett Bay, the one-way (shuttle back) historic railroad ride between Portsmouth and the Sakonnet River, and round-trip "Southern Circuit" exploration. 
[Related: Newport and Providence Are on the Post-Pandemic Comeback Trail]
Full Speed Ahead 
Newport is in strong position emerging from pandemic, Walsh maintains. 
"Everything that planners were looking for as COVID-19 started to wane is here, from our outdoor spaces and walkable downtown to our unique venues and harbor tours," he said. "The minute Gov. McKee lifted the restrictions, our phones rang off the hook. Now, as short-term bookings settle down and people head to the future, that momentum remains strong."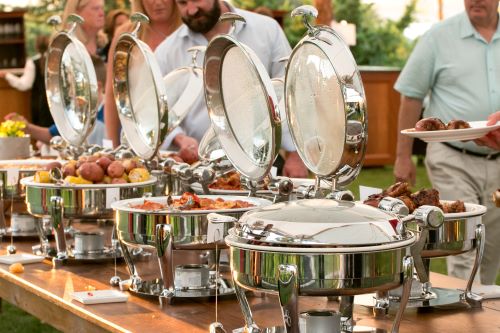 Navigating the pandemic pause also made this close-knit community even stronger.  
"Planners routinely comment after meeting with our hotel and other hospitality partners onsite inspections or at tradeshows on the shared passion of the destination," Walsh said. "They appreciate how everyone takes the big picture view. If a particular property does not suit a group's needs for whatever reason, the general manager or sales executive will still encourage them to think about Newport. We also emphasize that our expert destination and planning services are completely free, including RFP distribution, arranging site inspection itineraries and escorting planners on the sites. That speaks for the spirit of how we all work together—and the exceptional full-service welcome awaiting groups in Newport."  
Group-Friendly Hotels in Newport
Versatile hotel options in Newport start with four downtown convention properties offering a combined 900-plus rooms and 70,000-plus square feet of space. The largest is the 320-room Newport Marriott, offering 16 meeting rooms and 24,000-plus square feet of space, followed by the 257-room Gurney's Newport Resort & Marina, where 22 flexible spaces include the 8,000-square-foot Grand Ballroom and 300-capacity Waterfront Pavilion. 
Larger groups also have the 208-room Hotel Viking, located on iconic mansion-lined Bellevue Avenue, and 133-room Newport Harbor Hotel. Upscale boutiques include 84-room Hammetts Hotel and 57-room The Brenton Hotel, both of which opened during the pandemic. 
Smaller groups have great buyout options including boutique inns and bed-and-breakfast properties. Situated on a 40-acre peninsula, Castle Hill Inn & Resort is a secluded Relais & Châteaux oceanfront gem. 
Other waterfront gems include The Chanler, located by the start of Newport's famed Cliff Walk, and the 1760 Francis Malbone House. Newport's surrounding townships offers another 700-plus rooms. 
Connect
Discover Newport 
(401) 849-8048 
Read this next: Providence Warwick CVB President & CEO Adamo Leads Pandemic Reboot