These 5 Texas Resorts Are Tried-and-True Options for Meetings and Events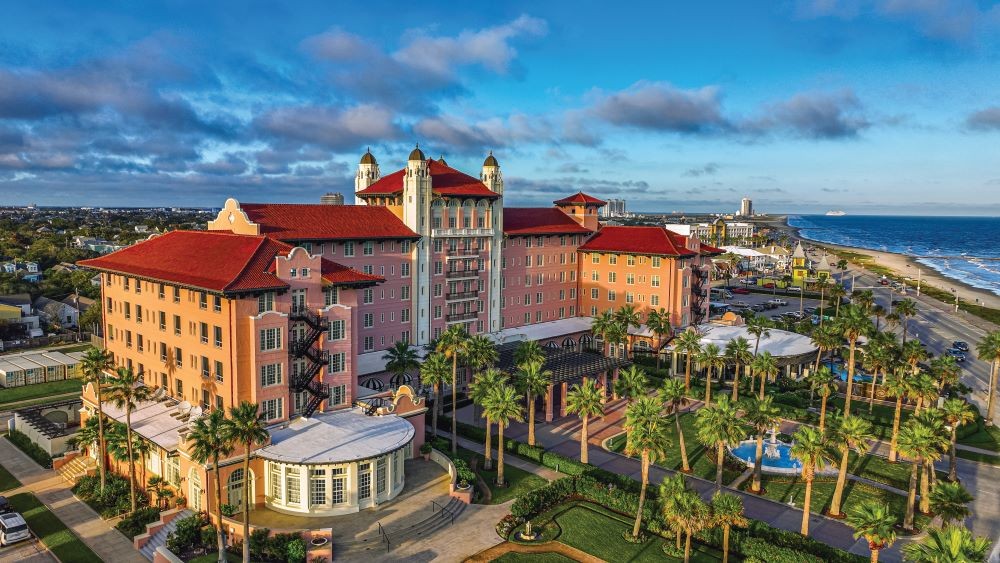 Grand Galvez, Galveston. Courtesy of Grand Galvez + Seawall Hospitality
The Texas hospitality landscape keeps expanding with new, planned, renovated and converted hotels and resorts.
The latest United States Construction Pipeline Trend Report from Lodging Econometrics, for Q1 2023, shows Dallas leading the nation in hotel construction pipelines, projects in early planning and scheduled starts in the next 12 months.
Renovations and brand conversions have been running hot for multiple consecutive quarters, too. Houston is currently second in the nation with 38 combined projects totaling 3,969 rooms.   
Amid these increasing options for Texas groups, established operators maintain their appeal. Here are five familiar guardians of Texas' high hospitality standards.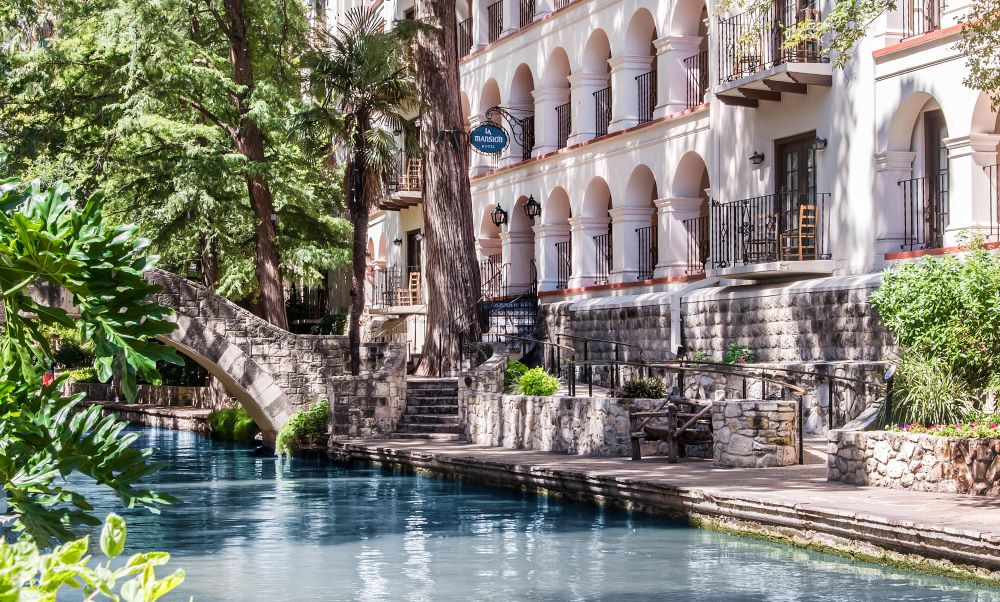 Concierge-led tours of this AAA Four Diamond hacienda-style landmark reveal an origin story and legacy as captivating as San Antonio itself. Arriving in 1852, just 16 years after the fall of the Alamo, four brothers of international Roman Catholic congregation the Society of Mary, or Marists, built a school on a site by the San Antonio River not far from the Alamo. 
Opened in 1853, St. Mary's Institute was expanded over time, including the 1934 addition of a law school. In 1966, former St. Mary's law student Patrick Kennedy purchased the property. Two years later, after adding a six-story extension overlooking the river and giving the building's exterior a Spanish Colonial Revival-style makeover, he opened La Posada Motor Hotel in time for HemisFair '68, the event that introduced San Antonio to the world. 
Acquired and renamed by Omni Hotels in 2006, this transporting 338-room time capsule conveys a captivating sense of place throughout. Groups have 18,000-plus square feet of flexible space in 16 naturally lit rooms and four ballrooms with modern amenities and technologies following a multimillion-dollar update in 2020. Distinctive venues include the 500-capacity Iberian Ballroom. 
Dining experiences include the year-old Four Brothers restaurant, blending Southern and South Texas cuisine with Latin and French influences, and speakeasy-inspired El Colegio Bar in the former law school space.  
Located across the River Walk, 99-room companion Omni property Mokara Hotel & Spa features the AAA Four Diamond Ostra seafood restaurant, Forbes Four-Star spa treatments and versatile spaces including a scenic rooftop terrace. 
[Related: These Fast-Growing Texas Markets Have It All for Meetings]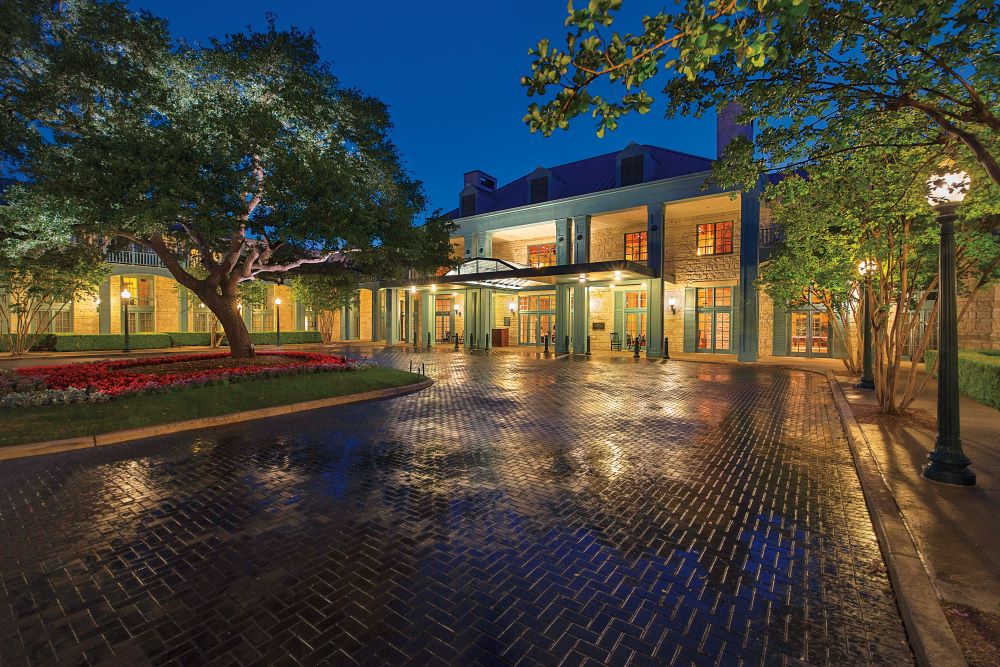 In May 2023, Hyatt Regency increased its Texas footprint to 13 full-service properties with the openings of Hyatt Regency Baytown-Houston and Hyatt Regency Conroe. That same month, Hyatt Regency Hill Country Resort and Spa, just 20 minutes west of downtown San Antonio, marked its 30th anniversary with the completion of a $50 million guest room and meeting space renovation. 
Set on the former 300-acre Rogers-Wiseman family ranch from 1887, the AAA Four Diamond property, offering more than 100,000 square feet of flexible and customizable indoor and outdoor space, has history and authentic down-home Hill Country charm on its side.  
The makeover of all 500 rooms and suites pays homage to the past with an upscale, ranch-inspired aesthetic and unique heritage-themed artwork and photos of the ranch and San Antonio. Meeting venues including the Hill Country Ballroom, Fredericksburg Ballroom and all indoor breakout rooms were updated with new carpeting, wall coverings, light fixtures and sound systems. 
World-class amenities include the luxurious Windflower Spa and championship golf at the 27-hole Hill Country Golf Club. Six dining concepts include the signature Antlers Lodge restaurant, serving locally sourced cuisine. Plus, the property features four pools, a five-acre water park and a country-style lazy river. 
San Antonio groups can also spread their wings at this luxurious 1,002-room haven set on 600 acres of rolling oak-covered hills some 20-plus miles north of downtown.  
That includes taking care of business on a Texas-size scale, with 267,893 square feet of total event space encompassing 40 event rooms and 52 breakout rooms. At 40,500 square feet, the 6,300-capacity Grand Oaks Ballroom is the largest group space.  
Featuring an indoor fireplace and Hill Country views, the standalone Sunday House sets an inspiring stage for board meetings, executive retreats and receptions.  
Top-tier amenities include the 18 Oaks steakhouse restaurant and bar, luxurious Lantana Spa and breathtaking infinity pool. At the onsite nine-acre River Bluff Water Park, the multi-use River Bend Pavilion offers 5,000 square feet of indoor space along with a 4,200-square-foot covered deck and 18,000-square-foot event lawn. 
Located 20 miles north of the resort in Spring Branch, Knibbe (ka-NIB-bee) Ranch is a partner venue for quintessential Texas events. Founded in 1852 by German immigrants, this fifth-generation working cattle ranch hosts memorable group gatherings in an all-weather facility with a live performance stage. Experiences include photo-ops with tame Texas Longhorns. 
[Related: 7 Texas Breweries to Tap for Your Next Event]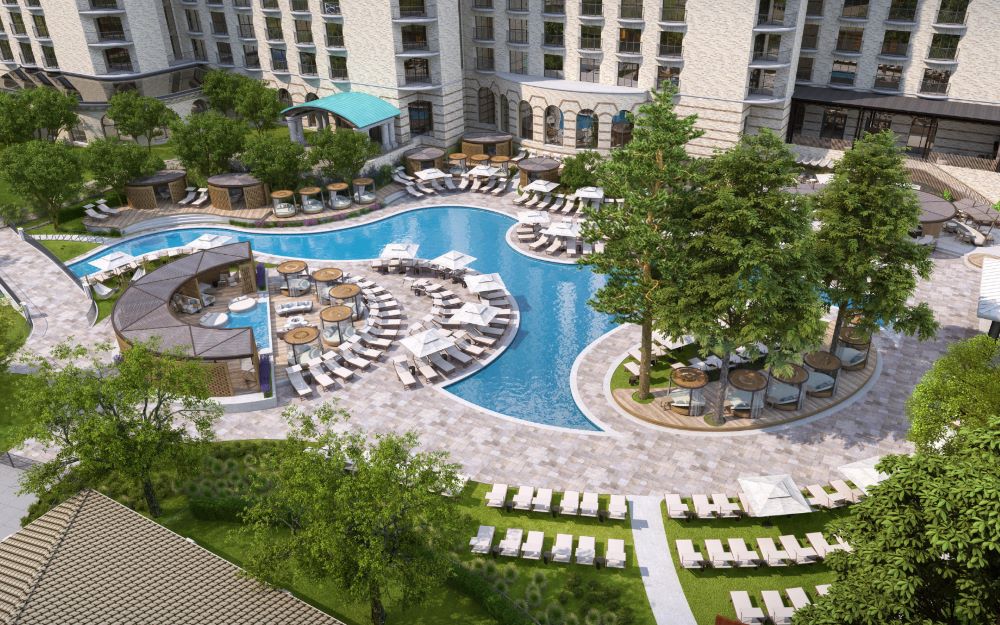 Opened in 1986, Four Seasons Resort Dallas at Las Colinas was Irving's longtime luxurious calling card for groups. Set on 400 acres, the 431-room landmark was also famed for its TPC Las Colinas golf course, home of the PGA Tour's annual AT&T Byron Nelson from 1983 to 2017.  
The property is switching to Marriott International's Ritz-Carlton brand under a new joint venture-led management agreement already in effect with interim renaming of the property as Las Colinas Resort Dallas. Following a $55 million property-wide makeover now underway, the resort will be reintroduced as The Ritz-Carlton Dallas, Las Colinas.  
Targeting completion in 2024, capital improvements include all guest rooms and villas, and the renovation of 84,000 square feet of group space. Other updates include new food and beverage concepts, a Ritz-Carlton Club Lounge, activation of the outdoor pool area and refresh of the 14,000-square-foot spa. The property is open throughout the renovation. 
Opened in 1911 and celebrated as the "Queen of the Gulf," Hotel Galvez has been renamed Grand Galvez following a multimillion-dollar renovation. Makeover highlights include all 220 guest rooms and renewal of the original Peacock Alley, the grand walkway from the lobby to the spa and ballroom not seen for 70-plus years. 
The most dramatic new element is the lobby mosaic. Designed by Grand Galvez owner Mark Wyant and his interior designer wife, Lorenda Wyant, this 43-foot by 7-foot Murano glass mosaic pays magnificent homage to the hotel's famed moniker.  
Fabricated by a family of artisans in a town north of Venice, Italy, the mosaic features a pink and red oleander garland, accented with classic native Texas Gulf shells, that surrounds a gold "Queen of the Gulf" banner. Assembled onsite, the mosaic comprises tens of thousands of Murano glass tiles in nearly 200 colors. 
Now part of the Marriott Autograph Collection, the AAA Four Diamond beachfront landmark offers a collection of grand event spaces. Sold together, the former Terrace nightclub and open-air Veranda form 5,000 square feet of ballroom space for 300-person seated dinners. Featuring the hotel's original lobby bar, the 5,000-square-foot Music Hall overlooks 300-capacity Centennial Green, a dramatic outdoor space with Gulf views. Other plein-air venues include the Oleander Garden and palm-tree framed Center Lawn.  
Named the Founders Bar and featuring portraits of the hotel's original five founders along with historical photographs and mementos, the new lobby bar serves specialty drinks such as the "Ghost Bride" after Audra, the spirit that reportedly still haunts the hotel.