The Z: How Gen Z Was Included and Where They Belonged at IMEX America 2023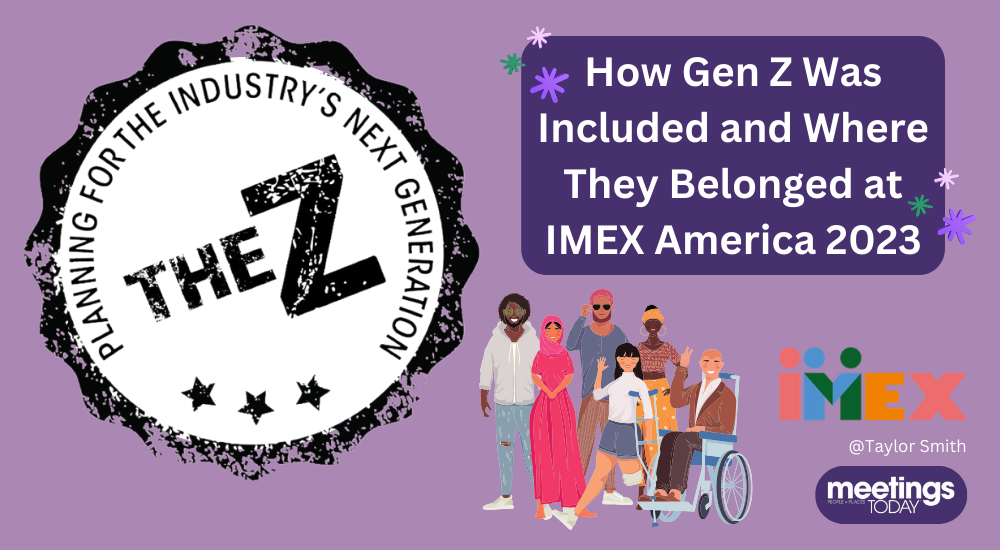 The Z: How Gen Z Was Included and Where They Belonged at IMEX America 2023
A lovely friend of mine by the name of Laura Lewis once said to me, "IMEX is the Disney World of the meetings and events industry."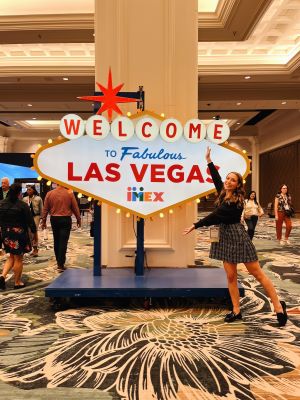 I instantly agreed because I also find both IMEX and Disney quite magical. Then, I gave her statement a little more thought, and I think Lewis, senior knowledge and events manager of IMEX Group, summarized the magic of attending IMEX America in the best way possible. 
Some people, like myself, love Disney. Others can't stand the sight of another pair of Mickey Mouse ears. But no matter how big or small your love for Disney may be, everyone knows that Disney means magic—and for those of us in the events industry, so does IMEX. 
The tradeshow floor felt just as electric as last year's, even for a second-time attendee, but this year I went from booth to booth saying hello to familiar faces, hugging friends I haven't seen in months a little tighter and cheering in excitement every time I locked eyes with someone I didn't expect to see. 
This year, I knew people, and they knew me.  
It's only been a year since I made my first friend on the IMEX America tradeshow floor, but it's because of those friendships that I had the privilege of being excited to see so many incredible people this time around thanks to the opportunities that came with the connections I made.  
That's the magic of IMEX America, and this year the team put an even greater effort into creating experiences for first-timers to feel they belonged on the exhibition floor. Here's where this year's young professionals got to experience the magic of IMEX America most.  
[Related: On the Scene: Experiencing IMEX America as a First-Time Attendee]
SITE Young Leaders Conference 
Nearly 100 emerging meetings and events industry professionals gathered before the start of IMEX America on Sunday, October 15 at Virgin Hotels Las Vegas for the SITE Young Leaders Conference (YLC), the association's annual event inviting attendees to network and exchange ideas with one another, build relationships and learn from industry experts.  
This year's YLC theme was, "The Event Horizon: A Future-Focused Professional Development Conference," and not only was the content geared toward a heavy Gen Z and Millennial audience, it called them forward with an emphasis on how vital their new perspectives are to the future of the industry.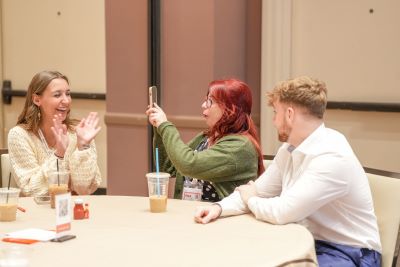 Some discussions addressed sustainability, a cause previous generations put in the spotlight and an initiative Gen Z expects to see implemented in events without having to ask for it. The industry's youngest professionals are also drawing attention to sustainability in new areas, looking at the bigger picture and questioning sustainable practices surrounding cultures and the economy as well as the environment. This year's SITE YLC made sure to let emerging leaders know their concerns are being addressed. 
A second topic of conversation was artificial intelligence (AI), something new to all of us in the meetings and events industry but an area of particular interest to the younger generation, who have tech-savvy skills that will help guide the entire industry into a new era of meetings and events. Discussions around AI not only stressed the importance of staying on top of and aware of what AI can help us achieve, but reminded young leaders that they are the ones leading the rest of us down this path to an unknown future. They're the group everyone is watching to see exactly what AI is capable of when used by those most familiar with the technology, and the rest of the industry depends on them to show them how AI is a friend, not an enemy. 
[Related: This Year's SITE Young Leaders Conference Is Focused on the Future]
What I appreciated most about this year's SITE YLC, though, were the two keynote presentations delivered by Melissa Majors, CEO of Melissa Majors Consulting, and Courtney Stanley, host of Meetings Today's Dare to Interrupt podcast.  
Majors' "The 7 Simple Habits of Inclusive Leaders" shared a powerful message that many Gen Zers hold close to their hearts: It doesn't matter where you come from or what your past may be. What truly matters is the effort you put into understanding where others have been and your willingness to be open-minded to new ideas and perspectives. Until you know what it looks like to welcome everyone to your table, you won't truly be an inclusive leader.  
Stanley followed with a vulnerable story we all needed to hear, a reminder that just because one person makes you feel small doesn't mean what you have to offer the world isn't worthwhile, and for a generation that often finds themselves struggling with imposter syndrome, her keynote was more than timely. Stanley's "The Ambitious Leader: 4 Unspoken Strategies that Align Purpose, Hustle and Success" took young leaders through exercises that encouraged them to pinpoint their value to the industry, showcase their greatest skills and assets and remind them that even in a room full of "higher-ups," their voices matter just as much as anyone else's.  
It's not every day that Gen Z feels they have a seat at the table, but at this year's SITE YLC, they sat at the head.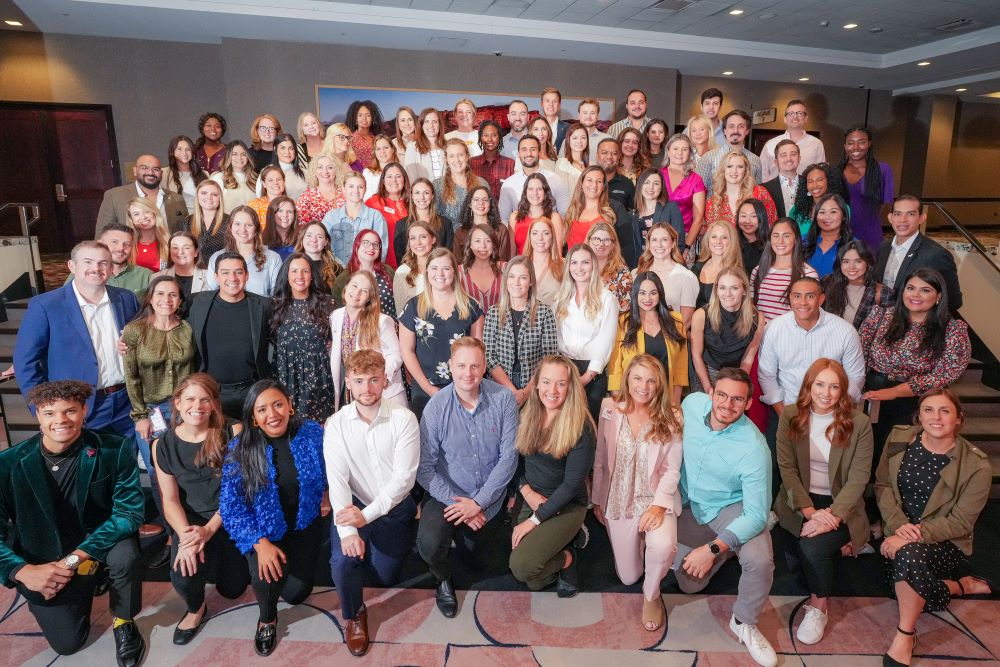 MPI's Smart Monday 
No matter how long you've been a part of the meetings and events industry, MPI's Smart Monday is beneficial to attend. Every year, the schedule is packed full of educational presentations and insightful discussions addressing everything from new approaches to wellness to a look at the future of incentive travel and destination selection.  
For me, MPI's Smart Monday is where I found my industry "niche," and it provides a great opportunity for new industry professionals to do the same. 
Every education session I attended helped me pinpoint the areas of our industry I was most interested in learning about—and the areas that felt a little outside of my comfort zone—which also helped me realize where I needed to work on educating myself a little more. And with experts from a variety of industry sectors and topics walking around the floor between sessions, it's also one of the greatest ways to connect with professionals who can help you excel in the areas you are most interested in learning more about, too.  
This year's Smart Monday included a session that brought the SITE Young Leaders Conference to the tradeshow floor, where a panel of four young professionals discussed the future of the industry from their perspective and gave insights into changes the next generation of professionals may bring.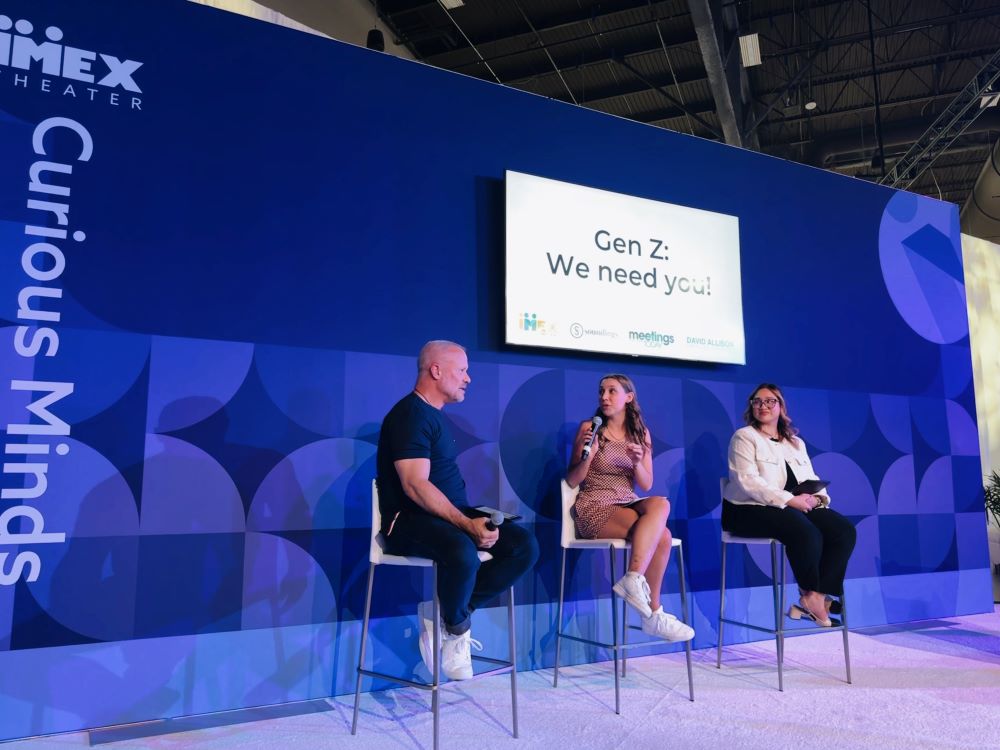 IMEX Inspiration Hub Sessions 
Throughout the three-day tradeshow, IMEX America's Inspiration Hub sessions touched on everything from tips and tricks for first-time IMEX attendees (a great session, if I do say so myself, as I was one of the presenters! ;-)) to the industry's newly discovered focus on the importance of belonging. Across the board, Gen Z's values and interests were brought to the forefront. 
For me, the IMEX Inspiration Hub is where I saw my generation shine most. In every session I attended, I could actively see how the industry was preparing for and planning ahead of the shifts that the next wave of industry professionals will bring. 
Again, discussions addressing sustainability and AI packed the daily agendas, but what made the IMEX Inspiration Hub such a magical place this year was seeing the show's diversity, equity, inclusion and belonging (DEIB) initiatives put into action.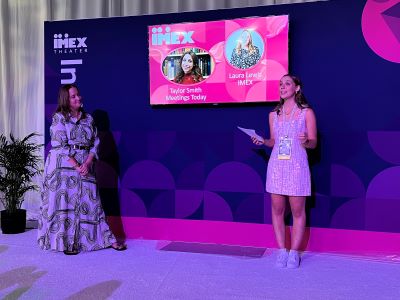 Attendees from all different backgrounds and demographics broke out of their shells at the Google Xi CoLaboratory, where Jacques W. Martiquet, better known as The Party Scientist, used the power of joy, connection and dance to create a human-centered environment in which everyone belonged. Keynote speaker, CEO and founder of Valuegraphics, David Allison, led a panel discussion all about what it means to build events in which everyone, no matter their background, felt safe and included.  
Just next door was Encore's "Break Free" experience, which served as a reminder that, even when we feel included individually, it's important to remember that not everyone is the same, and sometimes it requires going out of our way to make sure we are all given the opportunity to be a part of something bigger.  
What made me happiest to see—and to be a part of—were the words "Gen Z: We need you!" boldly displayed in the Inspiration Hub's Curious Minds theater, which was just another way IMEX America made sure young professionals were reminded of their place in the industry. The eye-opening conversation reminded us all that, no matter how different we are on the outside, what makes us all the same is what we value most: shared experiences, building relationships and financial stability.  
[Related: The Z: Tips and Tricks for First-Time IMEX America Attendees]
IMEX Future Leaders Forum 
A very important component of IMEX America—and one I believe deserves more attention than it receives—is the IMEX-MPI-MCI Future Leaders Forum, a two-day program for students in their final year of a hospitality, event or tourism management course. The free opportunity helps students gain expert insight from inspirational industry experts while connecting with fellow students, and this year's agenda proved full of valuable education and industry contacts.  
Dozens of students gathered in Mandalay Bay's North Convention Center on the morning of Wednesday, October 18th to register as Future Leaders Forum attendees and meet the faces behind the scenes that made the forum possible: Thuy Diep, senior meeting planner, CWT Meetings & Events; Drew Holmgreen, chief brand officer, MPI; Juliano Lissoni, managing director, MCI Canada; Heidi Nizowitz, director convention services, Mandalay Bay; and Hannah Lee, conference producer, knowledge and events senior executive, IMEX Group. (Hint: These are probably all names you, as a future leader, should have on your radar.) 
During the Future Leaders Forum roundtables session is when students really got to use their voices, asking panelists some of the toughest questions they could think of, being vulnerable and open about their biggest fears and challenges entering the industry and most importantly, sharing their ideas for ways we can make the future of meetings and events even better.  
It takes time for anyone to find their place in the world, no matter what career path they choose to follow, but thanks to the magic of IMEX America, emerging industry professionals have a good idea of where to start. 
Logging out with love, 
Taylor 
Have a question about Gen Z or a topic you'd like to learn more about? Share your thoughts with Taylor at taylor.smith@meetingstoday.com, on Instagram at @tay__writes or on Twitter at @taywrites. 
Mission Statement: "The Z: Planning for the Industry's Next Generation" is a Meetings Today column discussing the meetings and events industry's newest and youngest members—the incoming Generation Z. Written by Meetings Today's Taylor Smith, a member of Gen Z herself, The Z explores how to welcome, work with, understand and plan for the industry's next wave of professionals while serving as a guide for members of Gen Z themselves, planners and attendees alike. 
Read more from "The Z: Planning for the Industry's Next Generation."