Bizzabo Data Shows Promising Industry Outlook for 2023

Results and data from a recent Bizzabo survey highlight trends in the ever-changing meetings and events industry, from attendee priorities for in-person events to new hybrid and virtual event strategies planners hope to implement next year, as 68% of planners, according to Bizzabo's data, hope to include a virtual component at in-person events going into 2023.
Meetings Today sat down with Lauren Grady, director of global event center of excellence at Bizzabo, discusses the state of in-person events in relation to data collected by Bizzabo this year, including how, looking ahead to 2023, 85% of event organizers plan to host at least three in-person events next year.
Listen to the full interview:
Read the full Bizzabo report. A full transcript of the interview is also available below.
Transcript
Taylor Smith: Hello, and welcome to this Meetings Today podcast. I'm Taylor Smith, destinations and features content developer with Meetings Today, and I'm here today with Lauren Grady, director of global event center of excellence at Bizzabo, to discuss the state of in-person events related to data collected by Bizzabo this year, including how, looking ahead to 2023, 85% of event organizers plan to host at least three in-person events next year. Thank you so much for joining us today, Lauren. 
Lauren Grady: Thanks so much for having me.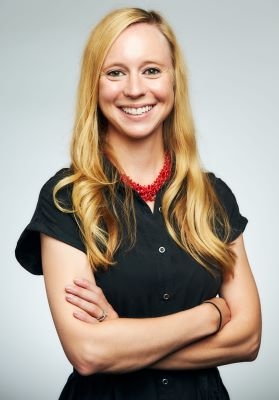 Taylor: Of course! So, after attending IMEX America 2022, it's clear to me that in-person events are not just returning, but nearly back in full swing, as the event recorded 12,000 people in attendance this year at Mandalay Bay Convention Center in Las Vegas. When it comes to 2023, Bizzabo data shows 85% of planners are hosting three or more in-person events, in comparison to nearly 70% last year, according to PCMA research. What does this jump mean for our industry and the future of in-person events as pandemic concerns alleviate?  
Lauren: Sure, so to add to the data that you just shared from our recent survey, we also have seen an increase of over 700% of in-person events being hosted on the visible platform. So, to your point and what you saw firsthand at IMEX in person events, they're definitely happening and they're being planned for next year. It's not all that surprising to me because when you look at the goals and the purpose of an event, virtual has been much more conducive to learning and to educational sessions, whereas in-person and hybrid is much more conducive to networking, and deepening relationships and really accelerating many forms of partnerships. So the ability to really strengthen those connections was a really big void that was felt during the pandemic, that along with the growing surge of screen fatigue, which I think we all still feel a little bit of today. 
That really caused pent-up demand that helped the industry, I think, rebound in the way that it has and the time that it has matched with the fact [that they are] being made possible by loosening travel restrictions, etc. But the biggest takeaway I would say, for me, you know, from IMEX, for example, it's that it wasn't just that the attendee numbers were almost equivalent to 2019, but it was the fact that people were doing business. 
I've heard, and you were there as well, a lot of great feedback about the number of events and meetings being booked and just the quality of conversations there that were had, so that's a great indicator to me that that show itself wasn't just about, 'We're in a good spot right now,' but it was really a signal of hopefully a strong 2023. 
Taylor: And 72% of event organizers agreed that in-person events are a crucial part of their organization's overall marketing strategy. Why do you think that's so, and what was lacking in the years these organizations struggled to meet in person? How does your outlook for 2023 compare to data Bizzabo has collected in years past? 
Lauren: So, over the last few years, there's been this really unique and exciting opportunity for us all to evaluate and really redefine the role events have in the overall marketing strategy and to better demonstrate the value of events. So, if you take event format out of it for a second, the data insights that have been made available have really enabled marketers to be even more successful in their roles. So the data that we've been able to now collect, it's influencing campaigns and sales strategies. We're personalizing outreach and follow up in a way that's really never been made possible before. 
With this influx of data, marketers have been able to better integrate events into demand-generation efforts to engage and nurture their audiences to drive revenue in that business impact. So, for me, it's really about event marketers being more intentional because of that.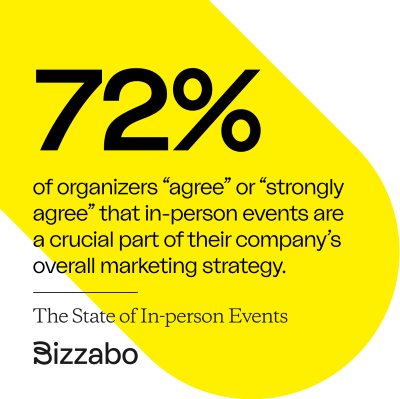 So for example, now that we have all of this extra information, we can align it better with the buyers' journey. We can create a thought leadership event specifically for those who are in the awareness stage. We can create an event that's around customer stories for those in the consideration stage. We know that we can create a smaller user group experience for those who are much further along in the buyers' journey. So this evolution of where you know a lot of companies haven't been in the past has helped turn non-believers into believers when it comes to the power of events. And when you match that going back to in person with just the innate human need for people to meet and collaborate and wanting to catch up with industry peers, that's best served being together face to face, and to drive and foster that human connection that was really missing during the pandemic. 
So, all together, I think it's this evolution with data that it's really brought us to this point where events now have a very clear role in the overall marketing strategy, which makes people much, much more confident in the value of them. And then you have the benefits of in-person. And it really is just a win-win in terms of people seeing how beneficial they really are. 
[Related: PODCAST: Will Meetings and Events Prices Ever Come Down? Maritz' Steve O'Malley Discusses Major Industry Trends]
Taylor: While the number of those ready to get back to live-and-in-the-flesh experiences is high, there is still a relatively large number of professionals hesitant to return to in-person events, which makes the 68% of event organizers planning to have a virtual component at their next onsite event important. Why, despite the seemingly large desire to return to in-person, should it remain a priority to have a virtual or hybrid events strategy going into the new year? 
Lauren: I love this question, because although the world of in-person events is ramping up quite quickly, event organizers, they're still embracing virtual elements. That's not going away, and it's a really smart approach for several reasons. And that's simply to maximize the benefit of virtual events. 
There's so many benefits, the extended reach that companies have been able to capitalize on, virtual events have removed the common barriers to entry, such as having to travel or the price of an event. So why would you want to alienate an audience that you've been actively growing and nurturing over the last two years? 
And if you have an audience that's very much dispersed, now, you can lead with a global mindset. The fastest and most cost-effective way to engage with those individuals in those companies is through virtual or digital experiences. Not to mention, if you're tracking attendees' preferences and priorities, a hybrid experience, or having a virtual component, gives the attendee the most flexibility and power of choice to attend how they want. And this is even pre-pandemic, it might be safety concerns, but there are some folks that just don't want to travel because they're introverts or because of work-life balance.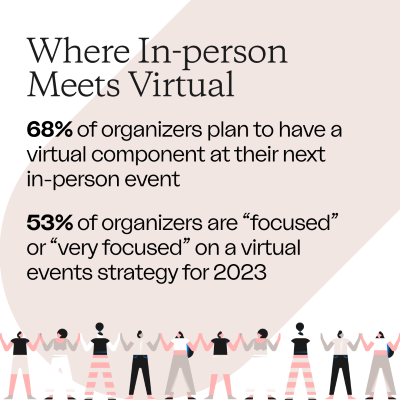 So, you're really hitting on all of those points, not to mention the data that we just discussed and the amount of behavioral data that's available through virtual prioritizing safety, minimizing risk. And then you can also move forward your sustainability efforts. Travel is the main factor in events and environmental impact, and it almost eliminates that completely, or to a large degree. Accessibility, lower production time, cost—I mean, there's so many reasons. 
But I really would say that if people continue to add virtual elements or produce virtual events as they should, I do think we'll see a little bit more of event organizers humanizing virtual experiences. So they will continue to involve, giving people more of an opportunity to express themselves, to connect with one another, to react with to what's being said. 
There's a lot of really great features that are coming out with networking, for example, where it's not just pairing people, it's pairing people who are like minded through AI-driven recommendation engines. So we're going to see a lot continue to evolve there. But I do think it's a very smart approach to continue to reap those benefits that virtual has proved us to have. 
Taylor: And it's exciting, too, to think about where the virtual community and the virtual events can take us. And you know, those developments, like you said, and new software's and technologies that are being developed just open doors to so many more opportunities for that virtual component to come to life. 
Lauren: 100%. 
Taylor: It's no surprise that tradeshows and exhibitions were among the most popular in-person events hosted in 2022, as people had so much to share after years of being apart, according to the Bizzabo survey. Does the industry look similar in 2023? Can we expect to see an increase in the types of events organizers have in their calendars for next year, or even a decrease in others? 
Lauren: The transition from in-person to virtual for tradeshows and expositions really proved to be the most difficult, and I think collectively, as a whole, we tried to replicate the in-person tradeshow experience in a digital medium. And what we learned was that we didn't really need to match the experience, what we needed to match were the outcomes and the value that we got from in-person tradeshows, but that the design and the delivery of that really should look very different, because we want to understand the medium that we're working with. 
So with that being said, it makes sense that those were the first types of events to come back and return to in person because we all didn't really do that great of a job of redefining what that looks like in the digital space. But I would say in terms of trends, we're seeing a lot more of smaller, which I mean, you know, under 500 attendees, smaller events becoming a lot more popular. 
There's this focus on quality of the audience over just quantity now because teams have become more intentional with how and who they design events for. Again, stemming from the power of data. So I foresee many flagship conferences still being in person or having an in-person component, maybe adding a roadshow to it or using a hub-and-spoke model where there's this central headquarters for the event, but then there's smaller local gatherings happening at the same time. 
I think that mega shows, so the Consumer Electronics Show and Dreamforce and those types of shows, will continue as is and maybe even continue to get larger. We're seeing the shift in event strategy happening more at that mid-size event level. And it'll be really interesting, too, to see internal events. Some companies are prioritizing that their sales or company kickoff will be in person because it's one of their only opportunities to bring together their workforce, while others are slow to return in person in that way because they have found that virtually, they can be much more inclusive and include more of their employees, and it's much more cost efficient. 
So, you know, we're seeing trends in certain places, and then other places such as internal events, I'm just curious, really to see what happens there. 
[Related: PODCAST: How Marriott is Staying on Top of Industry Trends]
Taylor: And with many reporting their event budgets have stayed the same or increased from 2021 to 2022, what can we expect going into 2023? Are organizers utilizing their budgets to create full-blown in-person event experiences, or do you see some taking the opportunity to incorporate more virtual and hybrid opportunities into their events with larger or increased budgets allowing them access to new technology to do so?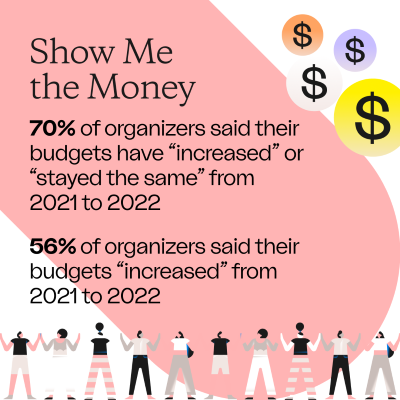 Lauren: I do think that there's an emphasis on being fiscally responsible, even if your budgets have stayed the same or if they've increased, just as we all continue to monitor the economic and political global landscape. But since many have been able to demonstrate the value of events much better, they've proven that it's a critical pipeline source. And for that reason, they're continuing to receive and use those resources. 
It's more about being intentional in designing those events with a clear purpose so that you're really matching the intended audience with a certain design, and you have clearly outlined measurable objectives. But if an event or marketing team's budget has been impacted, I think virtual events or moving forward with a digital-first approach to a hybrid event is a really smart strategy to still be able to fuel new leads and to add new contacts to your CRM, to accelerate pipeline, etc. 
Taylor: While 42% of organizers are planning events for fewer than 500 attendees, the number of those planning events for more than 1,000 is one to note because, like you mentioned, those mid-sized events are becoming popular. How has in-person attendance changed this past year, and what do you predict 2023 will look like in comparison when these mid-size events are seeming to take the lead? 
Lauren: So, in-person events, most have achieved about 65% of their pre-pandemic numbers. That's a number that's been reported by Skift Meetings, and Freeman had a very similar number recently. So of course, that's not inclusive to everybody. There have been plenty of Bizzabo customers who I've spoken with personally who have said, 'We actually did achieve the same attendance numbers as pre-pandemic,' and they saw very similar registration patterns in terms of where they saw the spikes in registration throughout the year. 
So it's on a case-by-case basis, but on average, about 65% of attendance rates have recouped. Why I think we'll see more events with under 500 attendees in the future is because in-person is all about strengthening those relationships. And oftentimes, that's just more attainable with a smaller group. So you can personalize the experience more, you can spend more time with them, you're more targeted about who's in the room. 
But for those in-person events that are multipurpose or brand awareness is the primary goal or it's an organization that simply has a larger pool of qualified leads or customers, they'll continue to engage with their customer base in person, and you'll probably continue to see them invest in growing those audience sizes. But for those who are unable to kind of get over that 65% halfway hump and are more at that mid-size level, is I think where you're going to start to see strategies shift a bit. 
Taylor: Bizzabo also asked event organizers a bit about their event priorities and measuring event success. While attendee engagement remains top of mind for nearly half of the event planners surveyed, what other trends did data highlight? And what types of things are planners considering when evaluating an event's success and going into planning next year? 
Lauren: I'll start with the event measurement piece because I just love talking about event measurement. But our survey indicated that attendance and engagement were the front runners in terms of event success, and then it was tracking pipeline, then it was overall satisfaction. And the number of registrations was actually last on that list. 
I think that shows a bit of an evolution because in the past, number of registrations was the focal point for many. And I laugh about it because there's been so many stressful moments in my career related to watching that registration number and tracking it hour by hour. But now, if I look at virtual events, the no-show rate is on average anywhere between 35-50%. And then we look at in-person events, and hotels have indicated that they're seeing an increase in room reservations three weeks prior to an in-person event. 
It's no longer just about how do we market to someone to get them to register online, and there's much more emphasis on that registrant-to attendee conversion and developing a specific strategy with email and social campaigns about how to motivate them to actually show up, or if it's in person, at least book their travel, because many of those registrations are still fully refundable up until a certain date, so I think we've seen a shift there.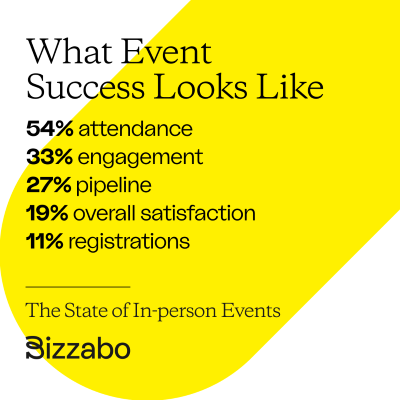 With engagement being the No. 2 metric for event success, that's also a part of how we've redefined event success in the last year or so. We're not stopping at the quantity. We're not stopping at how many people registered, how many people attended, but we're actually asking the question of how engaged were they with our brand in the event itself? So if it's online, what was the dwell time? How many questions were asked? How many messages were sent? How many one-on-one meetings happened? How many emoji reactions were used? 
From there, you can bucket your attendees, which helps you to guide sales. So you can say to sales, you want to prioritize your top prospects who were highly engaged during the event, so this top X amount. And from there, you can actually assess to see if those who are highly engaged event attendees, did that end up correlating to being more sales-qualified leads than those with low engagement? 
So it's a really exciting time, and I'll pause here, but even all of this activity data and behavioral insights that we've been able to collect virtually, with in-person events now, we have wearable technology. You can now still capture all of this same data with in-person events, which is the best of both worlds because you get the qualitative data of being in person, which is really that front-row seat to hearing and seeing and all, and then the activity data as well. 
Taylor: On the other hand, attendees are preparing for 2023 meetings and events, too, and their priorities are slowly switching from ensuring there are COVID-19 safety regulations for some to also getting back on the road for others. What trends on the other side of the industry are you seeing in attendee expectations and priorities? 
Lauren: The top priorities for attendees right now are travel considerations. As we know, there's kind of been a nightmare with travel recently. COVID-19 safety is still up there. And then the time investment piece, you know, 'Do I want to spend time away from my personal life and my family to attend this event?' 
So I think from here on out, we will always—and by 'we' I mean event organizers and meeting planners—will always have to be on top of attendee priorities and preferences because those are going to continue to change as the environment around us changes. Every industry and audience is different, so general trends are very helpful, but I would highly recommend keeping a pulse on your customers and those in your database, sending them pre-event surveys, taking a look at other engagements that are targeting your same audience to see how those are performing in order to make informed decisions.  
I would also say networking was very high on that list in terms of what attendees cared about, it wasn't that much farther behind the travel considerations and the time-investment piece, so focusing on how to create the right environment in person to facilitate networking. And if you're hosting a virtual event, really humanizing that experience a little bit more just to foster that human connection piece. 
Taylor: Well, thank you so much for sharing your insight today, Lauren. I really enjoyed this conversation. I think that data and trends is one thing that isn't typically top of mind for a lot of planners to look into all the time because they're always thinking about others and attendees and prioritizing their needs, like you said, but this is so important for our industry to be aware of and so important looking to the next year, so I appreciate your time today. 
Lauren: Thanks so much, Taylor. This was a fun conversation. I appreciate it. 
Taylor: Of course. Did you have any final thoughts that you wanted to share? 
Lauren: I mean, I would just say and end with the fact that in-person events, they're not displacing virtual or hybrid events. We really are just now having even more opportunities to drive business impact and to fuel our revenue goals. But I really do see a future where attendees simply move fluidly between virtual and physical experiences. 
Taylor: I agree. I see a future where there are a lot of opportunities to attend and participate in events in a way that opens the door to a lot more people. And I think that's always a good thing. 
That was Lauren Grady, Director of Global Event Center of Excellence at Bizzabo. Thank you for joining us for this Meetings Today podcast. I'm Taylor Smith, destinations and features content developer for Meetings Today. If you are interested in listening to any more of our podcasts highlighting premier meeting and event destinations, industry trends and more, check out our website at MeetingsToday.com. Thanks for listening!