Epic Rock 'n' Roll and More: Discover Lancaster's Edward Harris on the Many Unexpected Lures of PA Dutch Country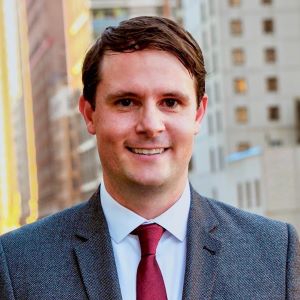 From the mammoth stage production facilities at Rock Lititz, where top acts such as Taylor Swift, Billy Joel, Rihanna and Justin Bieber tighten up their stage show before tours, to excellent teambuilding opportunities and the simple pleasures of the Amish way of life, Lancaster, Pennsylvania, offers up surprising lures for meetings groups.
Discover Lancaster President & CEO Edward Harris shares some of these "secret" offerings, such as wineries, breweries, ziplining and hot-air ballooning, as well as the destination's GBAC-accredited convention center and his experience joining and then leading the DMO through the pandemic.
[Related: Lancaster: A Dutch Country Treat for Meetings Groups]
Listen now:
This podcast was produced in partnership with Discover Lancaster.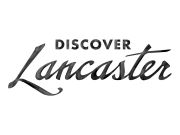 Transcript:
Tyler Davidson: Hello, and welcome to this Meetings Today Podcast. I'm Tyler Davidson, vice president and chief content director for Meetings Today, and we are joined here today by Edward Harris, president and CEO of Discover Lancaster. Thanks for joining us, Ed.
Edward Harris: Thanks for having me, Tyler. Love being on your podcast.
Tyler: Yeah. I'm looking forward to it. I've known you for quite a while, and I was really happy when I read two-and-a-half, almost three years ago. that you took the top job there in a great, interesting destination. So, how's it been? I know—wow!—you jumped in right in the middle of the pandemic? How's it been? What's it been like?
Edward: Sure. Well, I would summarize my Discover Lancaster tenure so far...I would say it ended up in maybe three different chapters or buckets. 
Chapter 1, I began working here in June of 2020, so during the pandemic, and in those early days it was about keeping the lights on and survival, working with a skeleton crew—like a lot of organizations—meeting new people on Zoom, filling out a lot of paperwork to request any grant dollars that might be available. 
And then I would say that kind of phased in sort of the second phase or chapter, which was more about receiving the grant money, spending it on travel-safe advertising—you know, showing things to do outside—and our TV campaigns and really adding back furloughed staff, and for me developing a new three-year strategy for the organization. 
And then, more recently, it's been more about implementing that newer strategic plan, spending more time in person with elected officials, board members, business owners and, thankfully, watching visitors return to our destination in a big way—in a surprisingly big way. 
So much so that both 2021 and 2022 for us happened to be stronger than 2018 and 2019—before the pandemic.
[Related: Lancaster County, PA Is Upping Its Meetings and Events Offering]
Tyler: Yeah, and I guess you're one of those destinations that have, you know, probably fared better than other ones because you're relatively close to a huge drive market. And people who were kind of cooped up during the pandemic, when it was okay to kind of go out and about, they didn't want to travel by air. 
So, Lancaster is a great option from a couple giant metro areas, right?
Edward: It definitely is. You know, we're within three hours of places like New York City; Washington, D.C.; a shorter drive to Philadelphia and Baltimore. And so, Lancaster is such a unique place that when you do that road trip, you feel like it's just far enough to feel like you're getting away to a very unique destination. 
And I have to say, as a resident, I love the food here. There's lots of farm-to-table restaurants; ice cream is off the charts because we have quite a few dairy farms…the cookies, the pretzels, the pies, etc. They're all made from farm-fresh ingredients. 
And so, you know, that Pennsylvania Dutch cooking that this area's famous for? From the chicken pot pies to the whoopie pies and the shoo-fly pies—I really need to watch my waistline.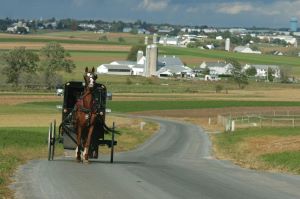 Tyler: Yeah. Sounds like you're settling in pretty good. In general, what are some of the challenges facing the DMO community? You know, what are you hearing from your colleagues these days?
Edward: Yeah, like a lot of my colleagues, we've had to transition our cultures into a more adaptable and flexible place to work. And we have to kind of come to grips with the reality that having some unpredictability is our new normal, right?
And, you know, this new world allows for more virtual flexibility, like this podcast we're having right now. And I think it requires leaders like us, and staff, to be more nimble. And I think as soon as we can all accept this, it's easier to move forward. And, you know, maybe not hold on to all the routines of the past.
I think change can be uncomfortable for some people, but I also think staffing in our industry is going to be a challenge for a little while. And you know, as leaders, we need to not only find the right people to fill open positions, but maybe more importantly now than ever before, we need to focus on retention.
So, those are definitely some of the challenges. I think I'm speaking for most DMOs when I talk about staffing shortages; being more adaptable in this new climate we're in. And just being able to kind of make decisions on the fly. I think this is new for a lot of us.
Tyler: I've always admired that you came into the DMO industry after doing senior positions in retail marketing. I forget the exact companies, but I always thought that you brought a really fresh sort of air of marketing strategy.
Edward: Thanks, I appreciate that. Yeah, you're right. I mean, my background is unique in the sense that it may not be similar to a lot of people who are leading destination marketing organizations, but, you know, the first 20 years of my working career we're spent working in marketing roles in the for-profit sector, specifically for sneaker and fashion brands. 
So, I did chapters at Under Armour, Timberland, Converse. And so there are some parallels from a marketing perspective in that. Instead of there being a new product line to tell stories around every quarter, here in the tourism arena, we're telling stories about things to do on a seasonal basis. And it's more experiential versus selling products. But there are a lot of similarities. 
But I would say that it's a true honor to serve in this role in destination management. And I feel really lucky to work with this awesome team here in Lancaster. 
And I will also say, though, that being a CEO is very different than being a CMO. It's a chief marketing officer, which was the role I was in with Valley Forge Tourism before I relocated to Lancaster. And, you know, this role involves spending more time, I would say, with a wider range of leaders, so from board members to elected officials to hoteliers, restaurants, tours or even local university presidents and business owners. Because you really have to know the poles of the community in a roll like this...
Tyler:...a lot of stakeholders, huh?
Edward: Exactly, and that's how you learn about the trends. And that helps sort of set the strategy and guide the staff day to day.
Tyler: Are you sitting on like a trove of vintage sneakers? Those things are...that's like retirement money there!
Edward: Well, yeah, it's funny you bring up retirement, because one of the nice things we've seen since the pandemic is Lancaster has received some national attention. U.S. News & World Report ranked Lancaster for the first time in 2022 as the number one place for retirement. And I think a lot of that has to do with what you talked about early on, Tyler, our geographic proximity to some of the bigger cities.
Tyler: So, what area does Lancaster cover? It's not just the city of Lancaster, right?
Edward: Right. Yeah, we're one of the bigger counties in the state of Pennsylvania. And you know, we sit about 90 miles, 90 minutes actually, drive from the Inner Harbor area of Baltimore or Center City, Philadelphia. So, we kind of sit right there just above Maryland but in Pennsylvania. 
And I'm a big sports fan, so it's been interesting to work with Eagles fans, Ravens fans, Steelers fans, it's sort of an interesting mix. A melting pot, I guess you could call it from a sports fan standpoint. 
But yeah, so from the retirement publicity we've received to a couple websites like WalletHub, which ranked us as the number one small city to live in America, and a company called Ownerly, another real estate website, ranked Lancaster as the number one U.S. city for remote workers. 
So, we've definitely been put more on the map over the past year as there's this virtual flexibility and some people would rather take the train in or drive. I've been to New York a couple of days a month and I live in the countryside.
Tyler: Yeah, that's really interesting. What makes Lancaster a unique destination for meetings? What do planners need to know about it?
Edward: Yeah, well, just a quick stat: We do have over 120 hotel options. So, basically for any budget, our team will work with the meeting planner, and we do have a GBAC-certified convention center right in Lancaster City.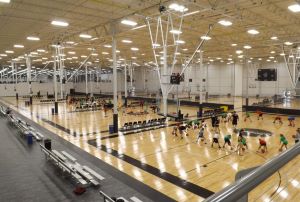 We have the largest indoor sports facility in North America, which also hosts events. We know that the American Quilt Show will be returning to Lancaster for three more years going forward. That was a recent development. And so you know, we have the space. 
But in addition to kind of checking the boxes on the accommodations and the meeting space, we do have a wide range of very unique experiences when it comes to things like team outings and teambuilding, because we've got everything from peeking into the simple life of our captivating Amish neighbors to experiencing things like our vintage Strasburg Railroad experience. Our wineries and breweries...we've got hot-air balloon rides, ziplining, axe throwing, so you know, there's all kinds of things you can do with your group here.
So, it sounds like a cliche, but we do feel like there's something for everyone. And at the end of the day, were significantly much more affordable than many other destinations.
Tyler: You mentioned some of the things that might be surprising to planners. I just wrote a story about Lancaster and I may not be pronouncing this right, but there's a Rock Lititz. It's the production facility where all these major touring acts rehearse, and I guess it's available for planners or events, also?
Why don't you tell people about that? And if there's anything else that you think they would be kind of surprised to hear about there?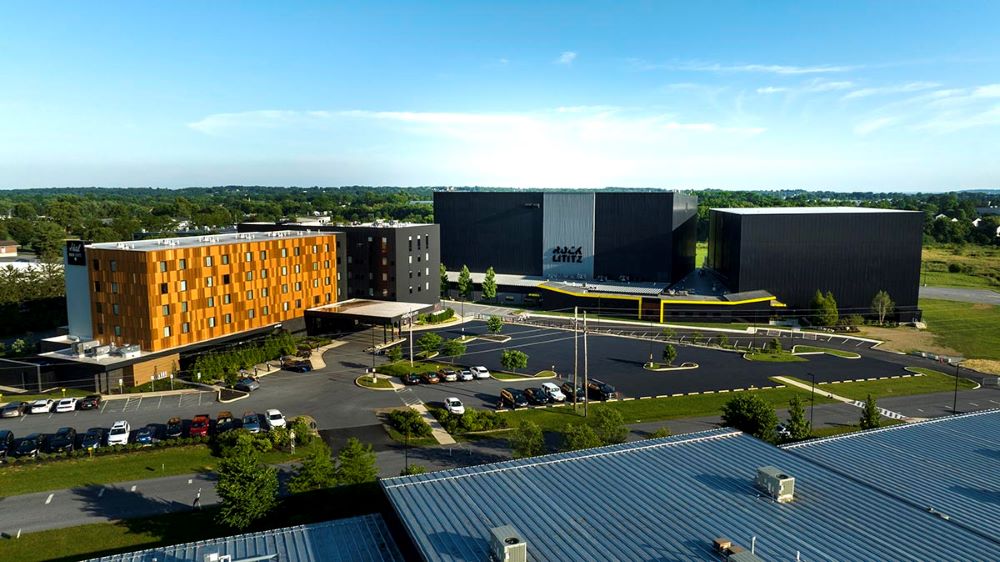 Edward: Yeah, sure. So, Rock Lititz has become the go-to place for some of the biggest entertainers/rock stars in the world to practice before they go out on tour. And so, they have these mega spaces where you can test all your pyrotechnics, all your sound, all your massive video displays that happen behind the stage, and everyone from Taylor Swift to Billy Joel to Rihanna and Justin Bieber, all these big names in the rock and music/entertainment world have been coming through Lancaster over the past couple of years.
And that complex, this place called Rock Lititz, is getting just bigger and bigger.
They just announced they're adding another hotel. The whole crew for these bands who are doing all the lighting in these big arenas and everything, need a space and a place to practice all of this sophisticated technology that goes on. The average person is entertained but has no idea all the details that are going on behind the scenes at some of these big, massive concerts. 
And they practice all of these world tours here in Lancaster, at the facility called Rock Lititz. And, you know, people are more interested, Rolling Stone magazine did a big article on Rock Lititz and all the celebrities that come through this sort of quiet, peaceful destination to turn up the volume and practice loud rock concerts. But it's interesting when, you know, the local news shows photos of big entertainers having breakfast in a local diner here. 
Rock Lititz also does meetings, and they've got a bunch of hotel rooms. So that's another place, to your point, that maybe not your average planner is that familiar with, although the word is starting to spread about these big names who come through here,
Tyler: Right? It's so cool. And I don't know if you play any instruments, but I hope that you can plug into the system. Oh, yeah--plug it in and play a chord, you know?
Edward: Oh, well, that's the other thing. As you might imagine, the crew that works with some of these bands and entertainers, they need all the stuff that musicians may need. So, the next time you're in town, Tyler, remind me to take you over there and see the campus, because, I mean, there's all these stores that have guitars and different instruments, whether it's acoustic or electric guitars, and it's massive. All kinds of different lighting. 
And like I mentioned, the pyrotechnics and fire and all the stuff that happens at a big giant concert is very accessible to all these people that need to work on these shows. And one of the things they do is they actually have a stopwatch, and they practice the setup and breakdown of these massive stages that go in and out of arenas so that they can get everything on the truck and get to the next city and set up on time—all of that coordination. All that practice also happens at Rock Lititz.
Tyler: That is amazing. I definitely will take you up on that. I want to see that. Well, thanks for joining us. And before we end the podcast, is there any news from the area that planners should be aware of?
Edward: Yeah, I think in addition to spending time here in Lancaster, planners sometimes forget that we're a short drive to great nearby Central Pennsylvania attractions like Hershey Park and Gettysburg National Military Park.
So, you know, 45 minutes to an hour after your meeting here in Lancaster, when it ends, you could be riding giant roller coasters or taking a tour to see how they make Reese's Peanut Butter Cups, and Hershey Kisses over at Hershey Park, or you could be touring the battlefield at Gettysburg. 
So, those are nearby attractions that we're trying to get the word out more about, because you can really build a jam-packed itinerary and it totally fits into this leisure trend. We're seeing where people want to extend their trip to Lancaster a few days.
Tyler: Great. Well, thanks for joining us.
Edward: And thank you for having me. Always happy to talk to you, Tyler.
Tyler: Likewise. That was Edward Harris, president and CEO of Discover Lancaster. I'm Tyler Davidson, vice president and chief content director of Meetings Today. 
Thank you for joining us for this Meetings Today Podcast. If you're interested in more of our podcasts with industry thought leaders, head on over to Meetingstoday.com and check out our podcast section. 
I was just a PCMA and kind of overdid it on the [podcast] interviews, but I think you might enjoy it. There's some really interesting thought leaders as I mentioned in the industry that share some intelligence with you there. 
So, thanks for joining us and whatever you're up to with the rest of the day, go out and make it a great one.
Read Next: Pennsylvania's Harrisburg, Hershey and Lancaster Serve Up Tasty and Creative Group Outlets