"Brave Wilderness" Host Coyote Peterson on His Home Range of Columbus, Ohio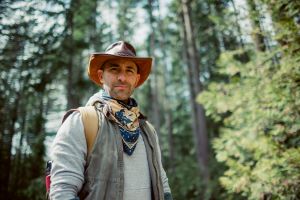 While millions know Coyote Peterson as the guy who gets stung and bitten by just about every animal under the sun in his YouTube hit Brave Wilderness–where his videos have been viewed more than 4.3 billion times worldwide–he's also a fan of his adopted hometown of Columbus, Ohio, headquarters of his media company.
[Related: Columbus, Ohio, Is a Creative City of Superlatives for Meetings and Events]
After meeting him during a familiarization trip to Columbus before PCMA Convening Leaders 2023, Meetings Today touched base with Peterson to record a podcast about why Columbus holds such a special place in his heart, as well as more details about his globetrotting derring-do.
After traveling the planet for the past decade to get up close and personal with often misunderstood animals in extreme environments, this Emmy Award-winning hunkers down in Columbus, which has become a center of innovation and entrepreneurship stemming from The Ohio State University (where Peterson is an alumni) and many Fortune 500 companies.
Listen:
Listen to more Meetings Today Podcasts