Australia Next: New Properties and Incentive News From Australia's Crystalbrook Collection
To celebrate the launch of Australia Next, Business Events Australia's new incentive magazine for North America, Meetings Today catches up with Kylie Brajak of Australia's Crystalbrook Collection—their new Cairns hotel Bailey is featured in the first edition of Australia Next—to learn more about their trifecta of new properties in Cairns, Australia as an incentive destination and more. Listen now.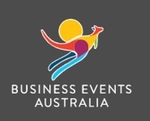 *This podcast was created in partnership with Business Events Australia. All photos are courtesy of Business Events Australia​.
[Start transcript]
Danielle LeBreck: Hey everyone, welcome to the Meetings Today podcast. I'm Danielle LeBreck, the lead destinations content strategist for Meetings Today.
This is a special edition of the Meetings Today podcast because we will be talking all about Australia today. This came about because Business Events Australia actually just launched a magazine for North American planners called Australia Next.
It's packed full of inspiration for incentive travel. And we'll link to the magazine and the notes of this podcast so you can take a look for yourself, but it's a great resource for our listeners that are planning incentives for when we emerge from this pandemic. You can stay on top of the latest news in the Australian incentives and meetings industry while you're at home, like some of the new hotels, what's happening in the different cities and more stuff like that.
One of the articles in this inaugural edition is about a new hotel called the Bailey, which is the newest property in the Crystalbrook Collection. That leads me to today's special guest.
Joining me today is Kylie Brajak. She's the group director for global sales and distribution for the Crystalbrook Collection, and she's tuning in virtually from halfway across the world in Australia. So welcome, Kylie!
Kylie Brajak: Yes, good afternoon. It's lovely to be here.
Danielle: Yes. Thank you so much for joining us today really looking forward to discussing some more about new properties and meeting and incentive options in Australia.
Kylie: Absolutely, I'm looking forward to sharing some of our news and highlights of Crystalbrook Collection with all of you.
Danielle: Yeah, so I've actually been reminiscing a lot about Australia lately. You know, 2020, of course, has been such a crazy year because of this pandemic. The last business trip that I took for Meetings Today was actually to Australia last December. It was my first time in Australia. I had such an amazing trip. I just mentally take myself back there when I'm really missing travel this year. It's just an amazing destination.
Kylie: Oh, that's so good. I'm so pleased that we're your last highlight. Prior to this dreadful situation that we're all going through at the moment, it's lovely to know that Australia is right there top of center on your mind.
Danielle: Exactly. So, you and I know how great Australia is. But for some of our listeners who might be unfamiliar with Australia as an incentive destination specifically, can you just give us a little bit of an overview of what you think makes Australia special and what it has to offer?
Kylie: Wow, where do I start? Australia has so much choice as one of the most aspirational destinations on the planet. I know you'll all agree with me, it's high on most Americans bucket list. And truly Australia provides so many unique destinations to choose from. We're spoiled for choice with so many world class cities and regional locations. As a country, we're so blessed with a diverse array of standalone and multicenter destinations and experiences that it makes creating a bespoke incentive program a piece of cake.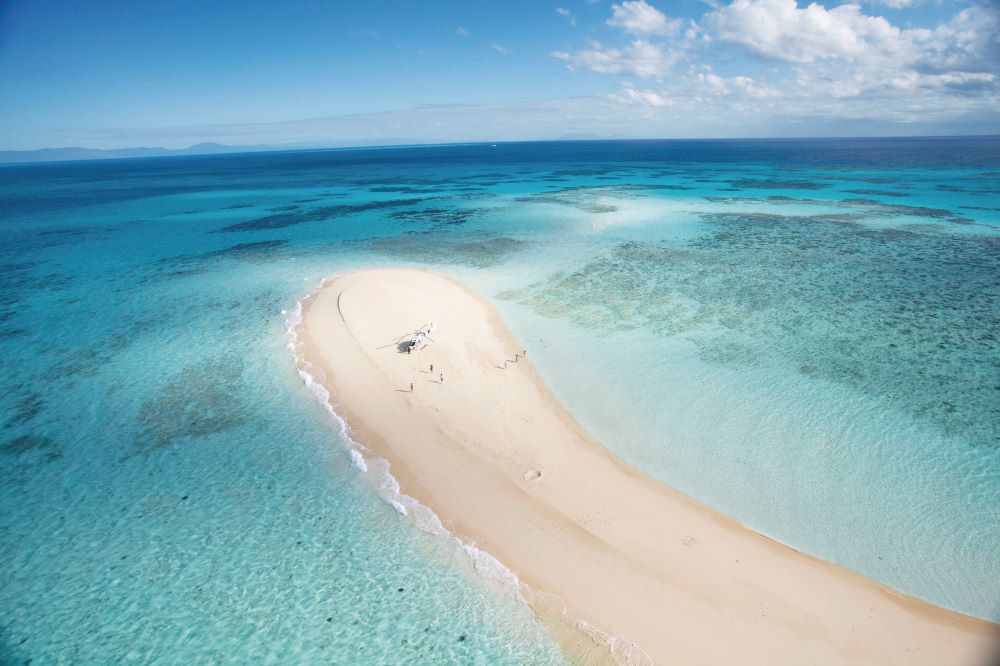 Vlasoff Cay in North Queensland
We've got terrific wildlife in nature, amazing food and wine, great indigenous cultural experiences, and creative artwork. Of course, we've got our 19 iconic sites on the World Heritage listing, which is quite a feat. It's taken us forever to actually get through all of them. We believe that all of our wonderful destinations belong to the world, and we would love to showcase as many of them as we can to your audience.
In the far north of Queensland, we're so blessed. We have so many ancient natural formations, we've got the Daintree Forest, we've got the Great Barrier Reef both very close to my heart, and we'll talk a little bit later about our destination. But we've also obviously got the iconic Opera House in the harbor and cosmopolitan Melbourne, which is my hometown, and I have a very soft spot for Melbourne and the coastline.
We've got Western Australia, which covers the entire western third of our great country and some of the most beautiful scenery. And of course, they have their own world-class vineyards and incredible wildlife. So, each state has some amazing unique Australian incentive experiences for a first-time visitor or a 10th-time visitor, and I'm sure you're well aware of that also.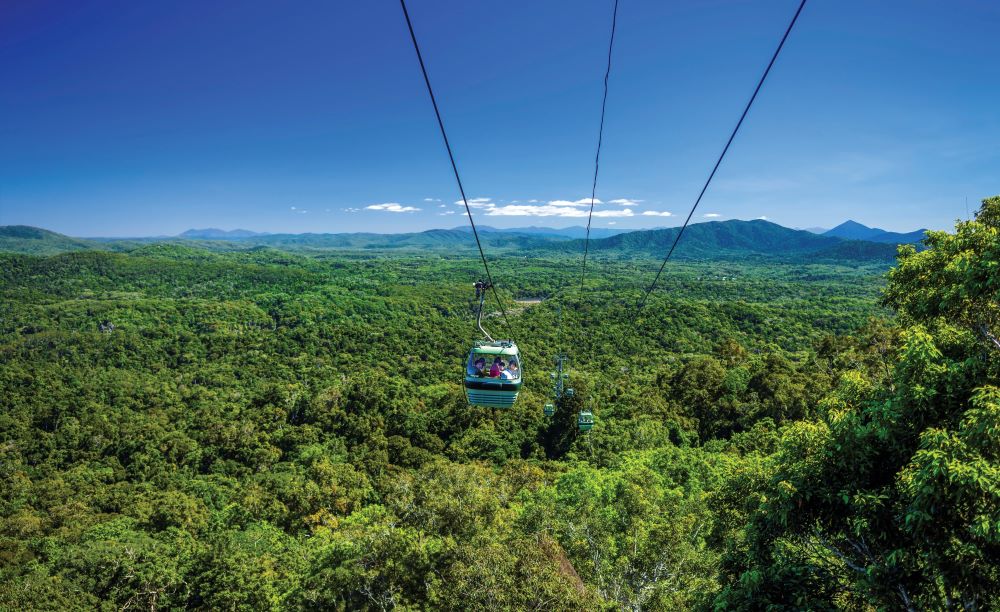 Skyrail Rainforest Cableway over Australia's Wet Tropics World Heritage Area
Danielle: Absolutely. I just I cannot wait to get back. I feel like what you just said there are so many once-in-a-lifetime experiences for people who aren't from Australia that they can experience when they're there that it really makes it special.
What do you think incentive attendees, particularly from North America, what do they find most surprising when they come to Australia for the first time?
Kylie: I truly believe that the unique experiences, which can be tailored in a very short itinerary and can surprise and delight at every turn. I believe there is real surprise at what an amazing action-packed itinerary we can create for short stays and medium stays in Australia, knowing that time is of the essence.
Bespoke experiences are curated for each and every incentive group that comes to Australia. And whether it's a one destination stop or a multi-center, we have amazing people on the ground here that can help create forever memories, highlighting the true essence of the individual destinations that incentive customers visit.
There's always a chant on departure of "we will be back." Because everyone always feels like they've seen just a small part of Australia because it has so much to offer.
Danielle: It really does. Let's talk a little bit about the Crystalbrook Collection, which you represent. Can you tell me a little bit more about the portfolio for our listeners who aren't familiar with it, maybe just a rundown of the properties and their locations in Australia and what makes your brand unique?
Kylie: Absolutely! Crystalbrook Collection is a young brand. We commenced our creation of our brand in 2017. So really, we're into our third year of operation. And we build our brand as a portfolio of distinctive personality-led hotels, where differences are applauded. We wanted to be an iconic Australian brand that really spoke to our local destination. And each hotel and resort carried their own authentic expression.
We've got three five-star hotels and resorts in Cairns, tropical North Queensland, and like siblings each share many similarities, but they're also very unique and maintain their own personality. We have Riley, which is very much about living in the moment, quite a discerning hotel.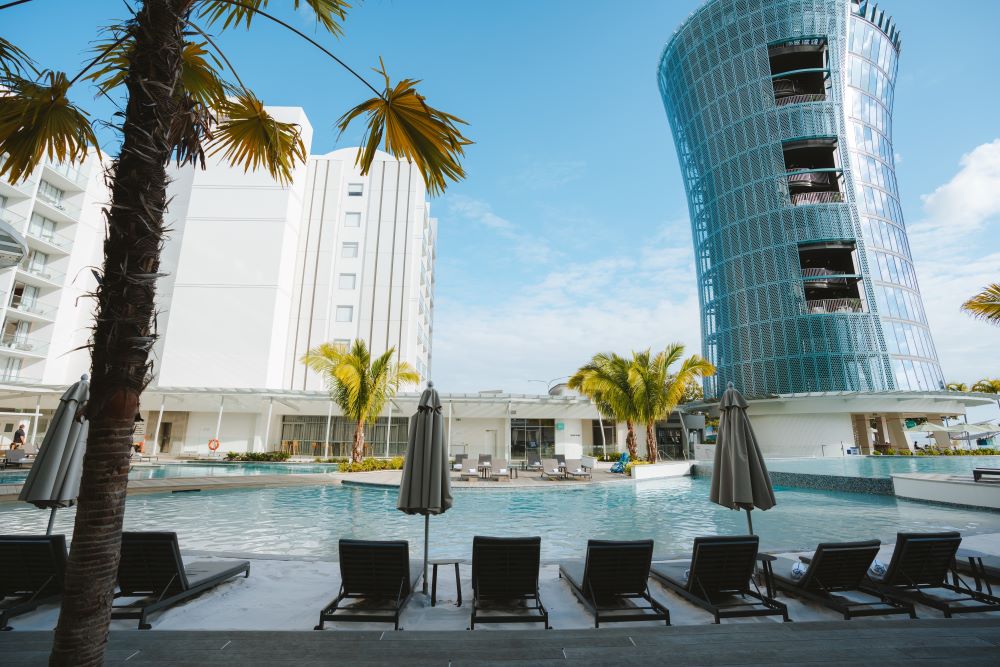 Riley exterior and pool area
And then we have Bailey, which is our thoughtful arty child, and we like to see them as siblings. Then we have our third property Flynn which is actually opening in November, which is our wild child, with lots of entertainment and activities. That's our third property in Cairns.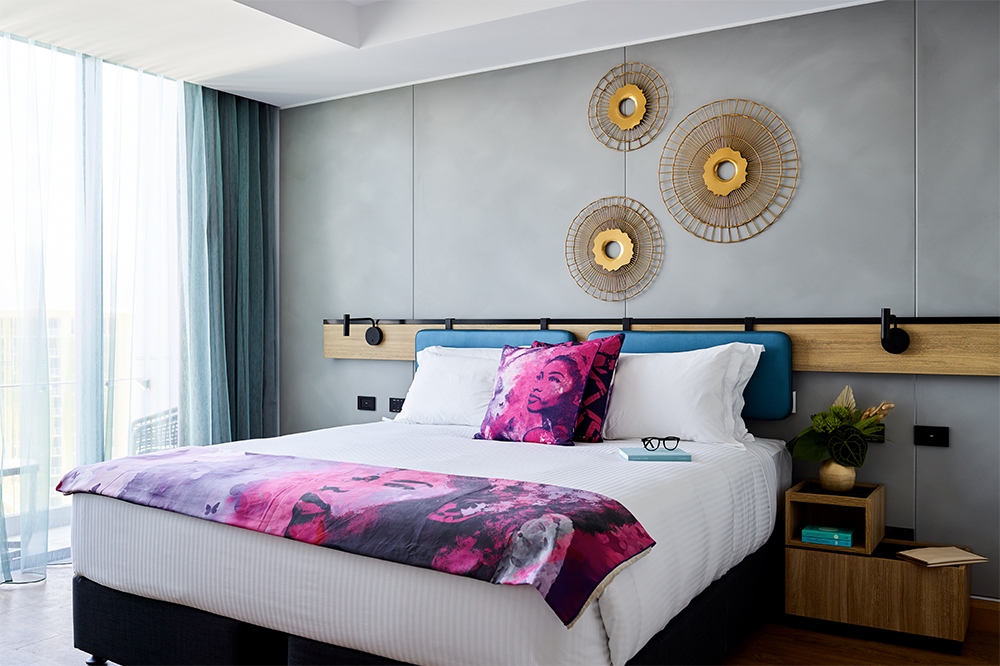 Guest room at Flynn, opening November 2020 in Cairns
Moving south down the New South Wales coast. We have two properties and one under construction. We have a beautiful, beautiful hotel in Byron Bay, which has become such an iconic, well-known destination since the arrival of so many American celebrities.
We have the Hemsworth brothers living there and we have Zac Efron there at the moment and Nicole Kidman and Melissa McCarthy are shooting a movie just down the road from our resort.
Byron at Byron is a celebration of nature. And it's just a short drive from the town of Byron Bay and also a half-hour drive from the local airport where you can travel from the Gold Coast, Brisbane or Sydney. So, easy access and a beautiful 90-suite property; always regularly named as one of the top 10 luxury hotels in Australia.
[Related: A Tour of Australia's Enchanting Whitsundays]
We were blessed to purchase Byron at Byron in October last year. And it's just going through a refresh and opened up in September to really great business and welcoming lots of Australian guests currently.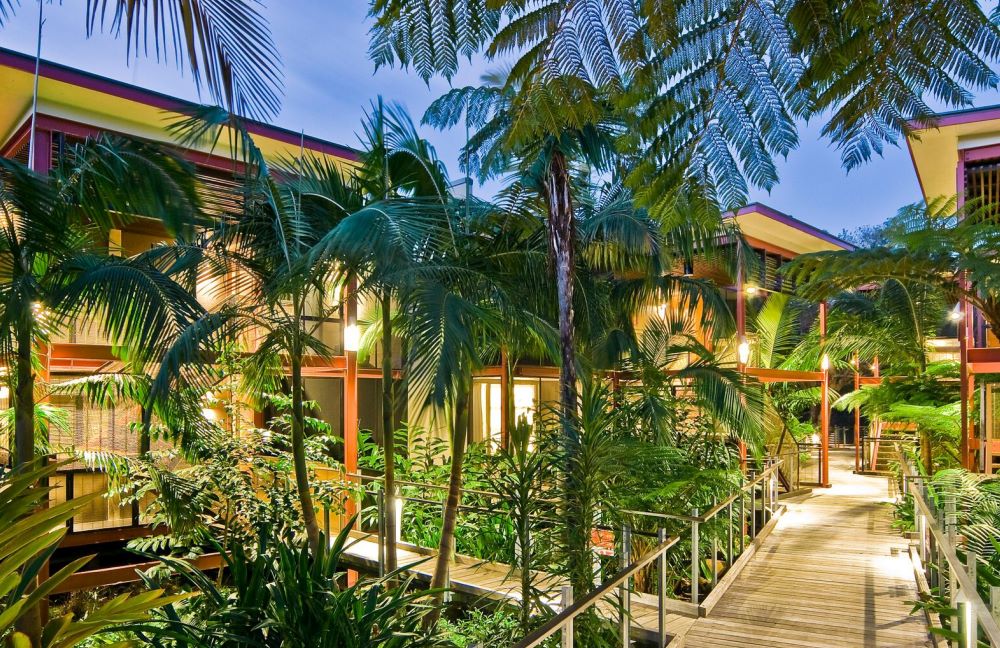 Byron at Byron Rainforest suites
Located in Surry Hills, which is an inner-city suburb of Sydney, a 20-minute stroll down to the opera house and to the main CBD area. It's a very artistic and quirky suburb, we have a boutique property called Little Albion there, and it's such a stunning home away from home.
It's housed in a unique heritage building full of history dating back to its original construction as a former convent in 1903. So it comes with lovely, eclectic heritage, but with a true contemporary detail, true to its own DNA and also that of its local destination.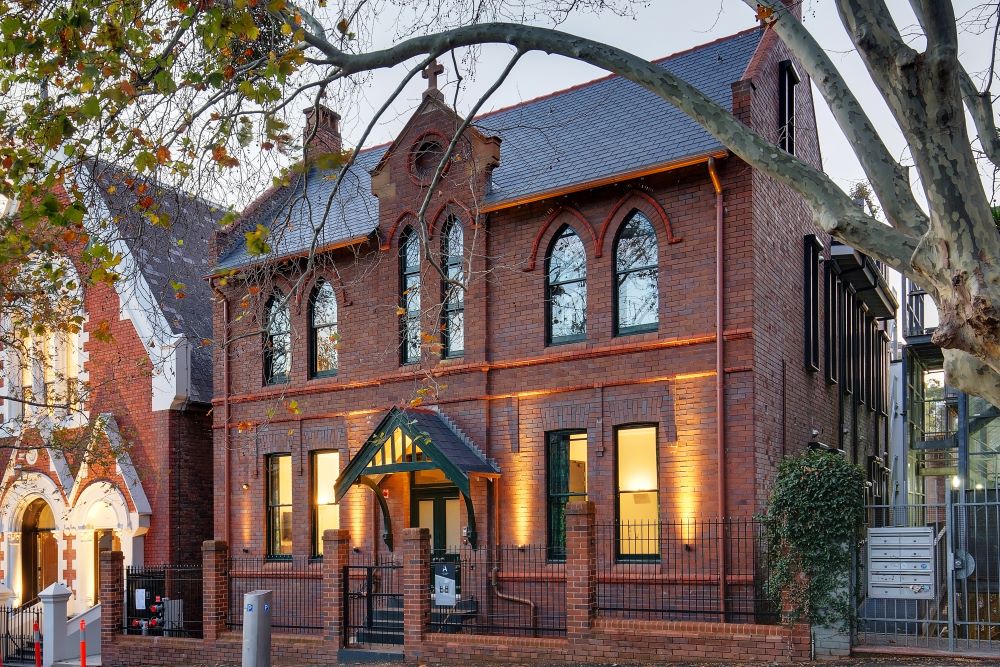 Little Albion in Surry Hills
In April 2021, will be opening a new property in Newcastle, which is a two-hour drive north of Sydney. Kingsley will be opening to with 100 rooms in what is becoming the seventh-largest city in Australia, and the gateway to the Hunter Valley. So, a really tremendous location, Kingsley will be the first five-star luxury hotel to open in Newcastle.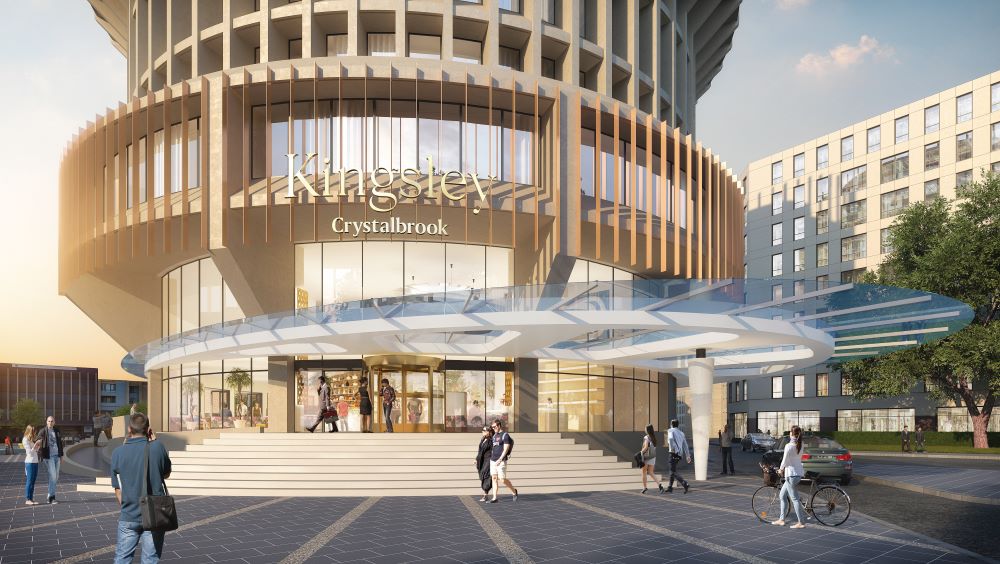 Rendering of Kingsley, opening in 2021 in Newcastle
Danielle: Yeah, we will definitely be on the lookout for that. I love how each property really seems to take inspiration from its destination from the local scenery, local culture, I think that's really valued today. People want to experience the destination that they're in whether they're in the hotel or outside of it. So, I love that.
There are a few properties that you guys have chosen to plant in Cairns. I would just like to talk about that destination a little more. For our listeners who don't know, it's in northeastern Australia in Queensland.
Can you just tell us a little bit more about Cairns and why you chose this destination for those three properties you spoke of earlier?
Kylie: Absolutely, absolutely. Look, we were so blessed to open in Cairns. Cairns as a destination is, obviously, it's the entrance to the Great Barrier Reef and the amazing Daintree forest.
It's located a three-and-a-half-hour flight from Sydney, also does have international flights coming in from Singapore and Hong Kong as a connector. But also, it's an hour-30 out of Brisbane, which is one of our largest international airports also.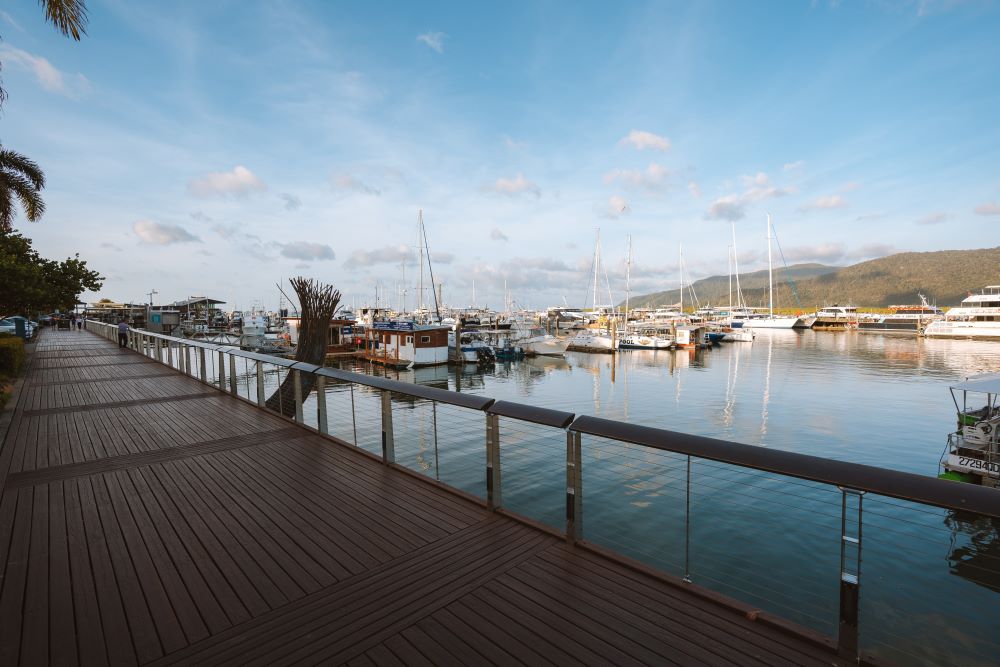 Marlin Marina, Cairns
In terms of access, Cairns is in a great location. The hotel precinct is just 10 minutes from the airport. Our programs can start really quickly or people can have the opportunity to have some downtime in that afternoon period before they come together for part of their program. But Cairns is located on the edge of the beautiful Coral Sea. So, amazing views, beautiful fresh air.
And it's flanked by obviously the two world heritage sites that I mentioned previously, the Daintree Forest and the Great Barrier Reef. It's a very special part of Australia for Australians and the world. And it's so rich in natural beauty, diverse culture and an abundance of fresh produce and experiences. Just too many to count on one head.
Most of the experiences and the activities within a short walk or drive from the hotel precinct. So again, the ease of operating an event in Cairns is really top of mind.
Crystalbrook Collection has definitely changed the Cairns skyline. We've invested just over $550 million into the destination in three years. So, it's been an incredible journey.
So Riley, a Crystalbrook Collection resort, opened in November 2018. With an amazing sophisticated personality, it really is our most discerning luxury resort and tends to be the most attractive resort to the incentive customer and the meeting customer.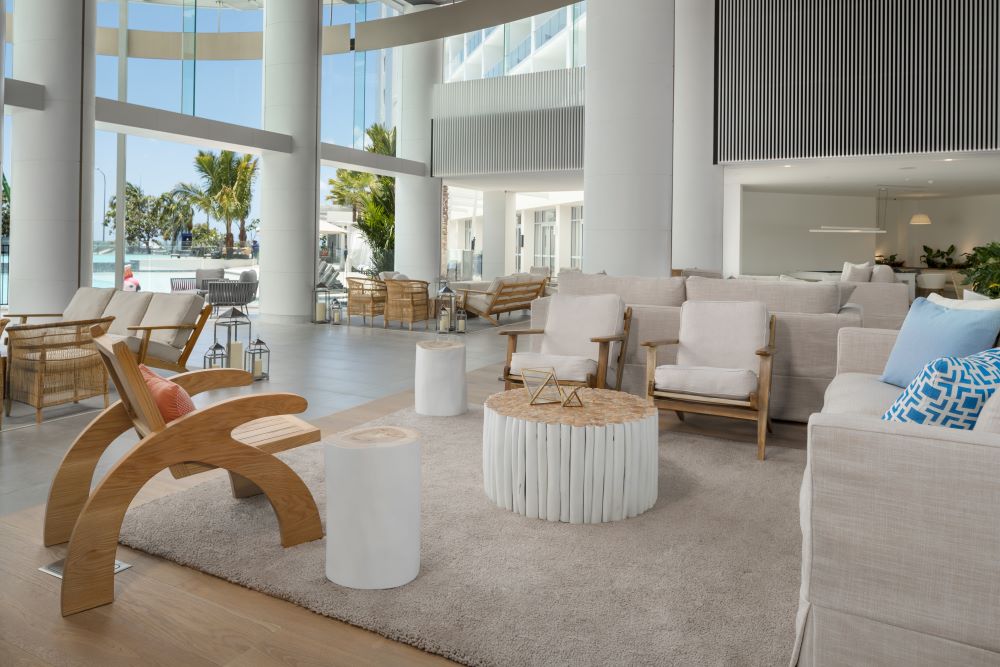 Riley lobby area
The resort also has a 1,000-square-meter lagoon swimming pool and a manmade beach, a beautiful day spa, and Cairns' only rooftop restaurant and bar that opens up out to the beautiful sunsets that we enjoy in Cairns. So, an amazing property.
Bailey, which was so fortunate to be featured in the first magazine [Australia Next] that came out and will be shared with your listeners. Bailey opened in November 2019. And it's modern, innovative, and has a true appreciation for the arts.
We've connected this property with the Conservatorium of Art, and so we're tapping into all of the activities and diverse showcases that we have in Cairns. We've set up amazing relationships with artists both local and further afield.
Whether they be in Queensland or Tasmania, we brought in art installations, so that if our guests are only coming into Cairns and not traveling across Australia, they still get a look through the hourglass at all of the other art opportunities that we have across Australia.

Outdoor meeting space at Bailey
I really wanted to share, if I could, across the group, the core pillars of our brand design are really unique and really, it's where we start when we look at a new destination and either purchase or build a new property.
Design and technology: We provide fast and free Wi-Fi and every one of our properties. We've also removed 80% of paper in every single room and guest space. We've replaced that with in-room iPads and interactive information. We're really locally aware, and we make sure that our hotel teams unearth and curate the best of local experience.
[More: Perth's Renaissance Put On Display During Dreamtime 2019]
You mentioned earlier, we do try to really get underneath the skin of our local communities and curate individual guest stays. So, they can live like a local. I think whenever we travel, we always want to find those little local nuances that are not available to the mass market traveling public. We really focused on trying to create that for both our individual guests, and also for our incentive customers.
Danielle: Definitely, I feel like—yeah, that is always one of the No. 1 things whether you're traveling on your own or if you're with an incentive group, you really want to immerse in the destination and learn more about it and experience it up close. So, that's great.
You mentioned the transition from 80% paper being eliminated. I want to talk a little bit more about sustainability and this responsible luxury idea, because I know that this is really important to the Crystalbrook brand.
Can you talk a little bit more about that? Because I feel like it's such a relevant topic in today's environment.
Kylie: Again, as a small independent startup business, we've been able to really start from day one, and create a truly responsible luxury product. One of our most important pillars of commitment is this responsible luxury component. We're very much committed to walk the talk, even if it does sometimes cost us a little more to do so.
We design and build our hotels with luxury, responsible luxury, in mind at all times. We look to purchase fixtures, fittings and furniture from like-minded businesses both locally and abroad. We've banned 90% of the usual plastic from a typical hotel room.
As I mentioned, we've purchased iPads for rooms and operate paperless in our hotel suites. Our room keys are recycled bamboo, which are really a lovely little touch.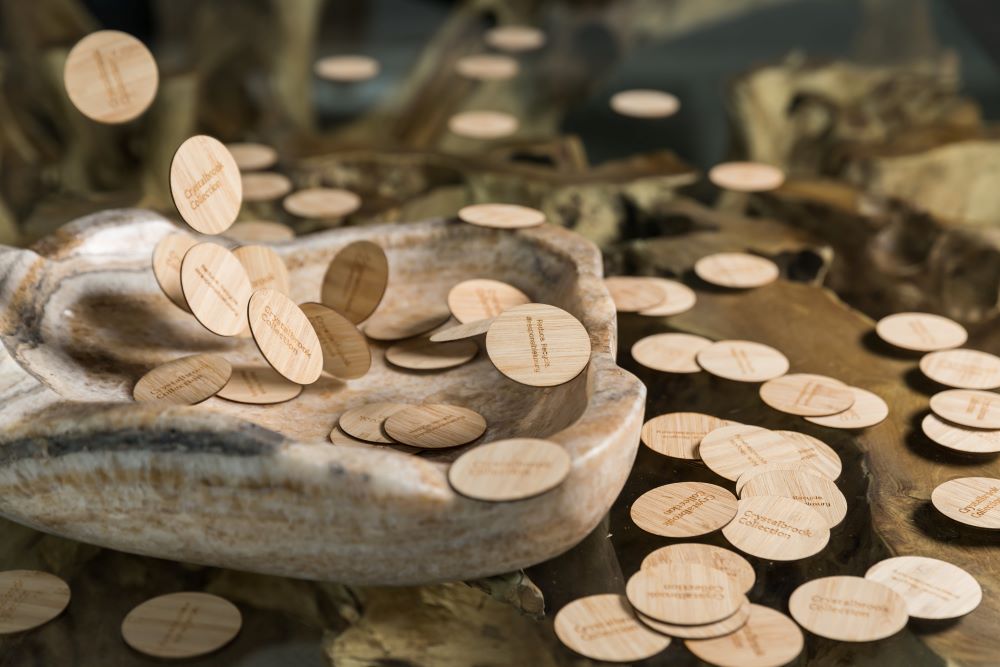 Recycled bamboo guest room key cards at Bailey
Our coat hangers, believe it or not, are recycled birthday cards. They are really tremendous. And I must say they do tend to leave the property quite often.
Danielle: A really unique souvenir!
Kylie: It is a little souvenir. We're very happy because we're very happy that people reuse them. For us, it's all about having as little single-use products in our property as possible.
In line with that, we've replaced those pesky little small bathroom amenity bottles, and we've designed in-house beautifully large, designed pump bottles with bespoke Australian native ingredients inside them—something that's truly luxurious, but moving away from that single-use plastic.
Another lovely touch is that we farm our very own beef at our own pastoral station, which is located three hours west of Cairns. We know truly that we have an amazing paddock-to-plate experience for our customers and obviously own 100% of the quality control of what we put before our guests.
And a really nice touch is us ensuring that we only purchase our fresh produce for our restaurants within a three-hour radius of each property where we service. So, really exciting.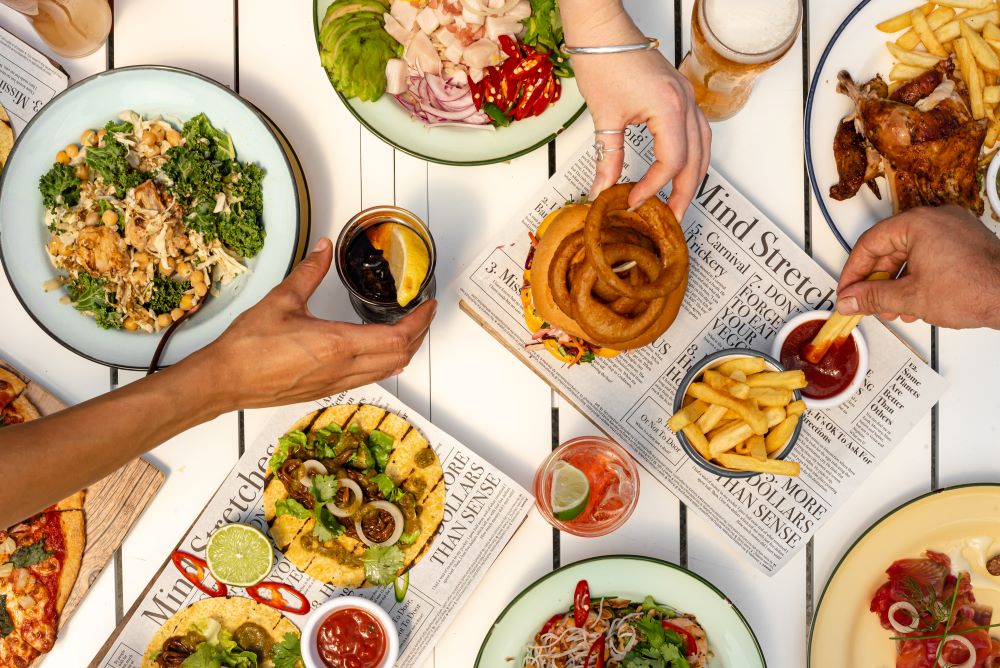 Food spread at Boardwalk Social at Flynn in Cairns
At restaurants, our straws, disposable bags and takeaway containers are all plastic-free, made from corn, sugar cane and fully degradable material.
We work very closely with a wonderful charity called Oz Harvest, who collects unused food which they distribute to communities who need it most. And believe it or not, here's some amazing statistics.
In less than three years, we've saved 1.8 million plastic amenity bottles and 700,000 plastic water bottles from going into landfill alone, and every decision we make at a corporate and local level really has our responsible luxury tagline attached.
It's so important. And something that's a really lovely touch and we tend to involve our incentive customers and our meeting groups into it is, we're founding members of the Citizens of the Reef, which is a wonderful movement up in North Queensland, to support change for a consumer understanding of how everyday actions can have an environmental impact.
With our incentive programs, we created an automatic donation within all of our pricing to provide a small token gesture to the Citizens of the Reef, so that they continue the great work that they're doing up in North Queensland.
Danielle: Yeah, I love that. I think the events industry is kind of known in the past as being a little wasteful. I think a lot of attendees of incentive events, meetings, conventions, whatever they may be, they really are more environmentally conscious, especially when they're visiting destinations that aren't their home, and they want to leave them how they found them.
[Read next: 3 Venues that Showcase Australia's Wildlife, Heritage and Personality]
So, it's great to hear of all the initiatives you guys have going on in that realm, because I think it's getting more and more important with each day, it seems.
Kylie: We agree! Absolutely. And we do find with most of our planning, when we're initiating proposals for the incentive industry, whether it's domestic or international, we do try to find an activity or a gesture within each program to support the local community and to show way of commitment to what is most important in that destination.
Danielle: My last question is a fun reflective one. You've mentioned you've hosted incentive groups at the Crystalbrook properties. I would just love to hear of some standout incentive programs that you have hosted that really stick out in your mind as being special, just so we can give our listeners who are at home and who might be planning future programs or thinking about future programs, what sort of examples are possible in Cairns and beyond.
Kylie: We've been so fortunate, as I mentioned, we opened in November 2018 with Riley and we operated 21 incentives and meetings in the first 12 months of our operation. So, it's truly been a great start. And it does show that there is definitely pent-up demand and energy to utilize Cairns as a destination for both local and international events. And again, it's due to that amazing choice of activities and options.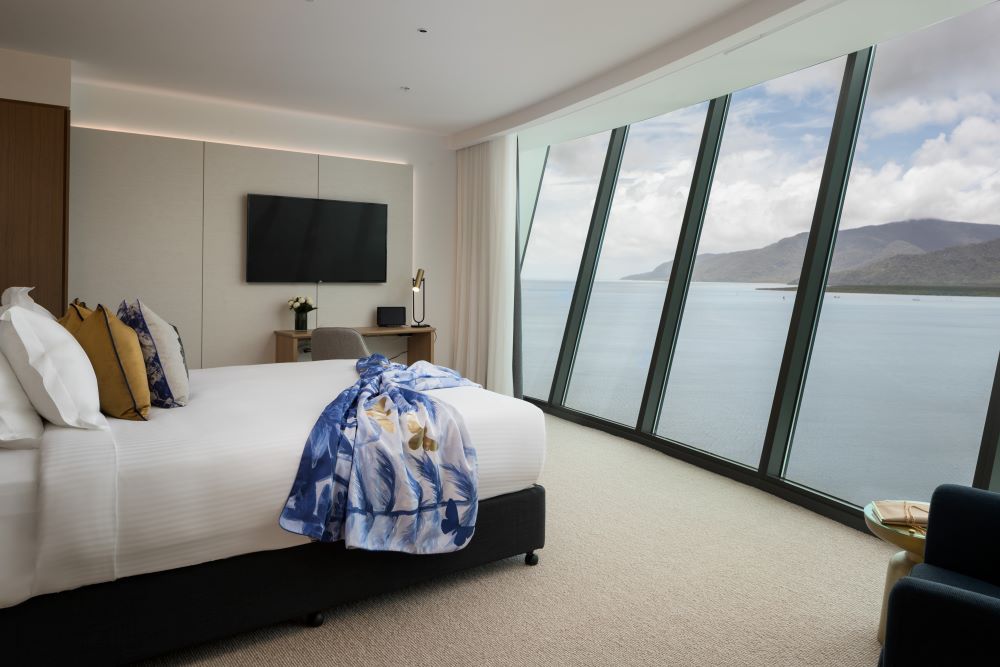 Riley guest room overlooking the Coral Sea
We were very fortunate. We were host hotel of the recent Amway China incentive. And this was probably the largest event that Cairns held in many, many years. It was seven full night waves across 28 nights—so, incredibly hard work for the Cairns team, and we really had the opportunity to show how we shine through adversity.
There was very little sleep for both the guests and the operations. But truly the groups experienced the very best of the destination.
The program was so unique in that they utilized multiple hotels, they created a themed venue amongst the WWII artifacts in the Tanks Museum, an iconic venue, just a five-minute transfer from the main CBD area. They held that for 1,200 guests each night of the 28 nights utilizing external catering and theming companies. They also hosted 12 unique experiences each day for their guests.
[Listen now: The Case for Bringing Your Incentive Trips to Australia] 
It's certainly one of the larger events and certainly not the average size that we would receive for an incentive out of the U.S. or any other international market. But it gives you an idea of the breadth and the capabilities of the destination to operate something that's incredibly detailed and really fine tuned.
In December last year, we also hosted a global pharmaceutical company. Primarily, it was booked out of Singapore but primarily U.S., Canadian and Asian customers were attending. We had just over 350 guests at Riley and we hosted the entire event ourselves.
They obviously loved this day. They got to sample various activities, which were hosted over the duration. Some of the ideas that we put together for them. We had master guides on private luxury cruises out to the Great Barrier Reef. Customers had the opportunity to dive but also snorkel.
Also, for those that aren't you know, water babies, not everyone is a water baby, they had the opportunity to do amazing sightseeing or sailing and more land-based activities. The magical Mossman Gorge dreamtime walk, which is definitely one of my favorites, and we do try to weave it into many of our international incentive programs, where guests get to experience authentic indigenous culture, hosted by indigenous guides, with a traditional welcoming ceremony and gourmet meals down at the gorge—a truly memorable experience.
We've also hosted bespoke dinners in the sugarcane fields, recreating the harvest. And I'd say in terms of wow, that definitely is right up on the top of the list. To have an amazing creation of what is such an iconic Queensland activity recreated for a guest and something that you can't do on a holiday vacation. It definitely is a destination where for reasonable budget, we can create activities that the average holiday maker just can't access. So really creating an amazing incentive venue.
Danielle: Yeah, it sounds like the breadth of opportunities to see nature, to experience the local culture, to have just super memorable dinners and surrounded by beautiful scenery. It really sounds like an amazing place. Thank you so much for painting a picture for us, so we can envision that for when we're back someday and able to travel again. So, thank you!
Kylie: And we look so much forward to meeting up again, when time is right. And until then we can all keep dreaming with Australia Next.
Danielle: Exactly. We'll stay tuned for the new news coming from Crystalbrook with these new properties on the horizon, there's still some great things to look forward to. So I really appreciate you walking us through all of this great information today. I just I can't wait to get back to Australia. So, thank you.
Kylie: We can't wait to have you here. Thank you so much for having me on this morning (or this afternoon). And I really, really appreciate the opportunity to share a little bit of the Crystalbrook Collection story with you.
Danielle: Yeah, and then for those of you listening, you can find more information about the Crystalbrook Collection and Australia's incentive offerings in the Business Events Australia magazine, Australia Next, and we'll make sure to link to that on meetings today.com/podcasts along with more resources and links to the hotels that we talked about in this interview. So, thanks to Kylie and thanks to you all for tuning in today and we will see you next time.
[End transcript]
---
About our guest Kylie Brajak
Kylie Brajak heads the global sales and distribution strategy for Crystalbrook Collection managing all business segments including leisure, wholesale, corporate, groups, meetings and events.
She joined the company in its first year of operation in 2017, bringing with her 30 years of experience managing customers in Asia Pacific, United Kingdom, Europe, CIS, USA and the Middle East.
Resources: