Wolfgang Puck Catering Explores the Post-Coronavirus Shutdown Events F&B Experience
What will the meetings and events F&B experience look like after the COVID-19 shutdown ends?
Meetings Today's Tyler Davidson sat down with Mary Cline, regional director, catering sales-East Coast for Wolfgang Puck Catering to get an idea of what the meetings cuisine scene will look like when we all start meeting face-to-face again.
From social distancing and room capacities to more outdoor events and pre-packaged meals, the F&B experience will change dramatically in the period right after we start meeting again.
Meetings Today has covered Wolfgang Puck Catering many times in recent years, including shadowing Puck and his team during the 2018 Oscar's Governor's Ball.
Discover what the leading top meetings and events catering company believes will be the post-shutdown dining experience by listening to this Meetings Today Podcast. Listen below.
Also available on iTunes, Google Play and Pocket Casts.
 
Rather read the transcript?
[Start transcript]
Tyler Davidson: Hello, and welcome to this Meetings Today Podcast. I'm Tyler Davidson, vice president and chief content director for Meetings Today, and today we are joined by Mary Cline, Regional Director for catering sales for the East Coast for Wolfgang Puck Catering. Thanks for joining us today, Mary.
Mary Cline: Thanks for having me.
Tyler: And right now we are right in the midst of the coronavirus pandemic, and really the hospitality industry, the travel industry, the meetings industry, has sort of come to a standstill. And, of course, you know, Wolfgang Puck Catering is in a lot of big convention centers—serves a lot of big conventions facilities, a lot of events. Why don't you tell everyone how you guys are faring and what you're seeing out there?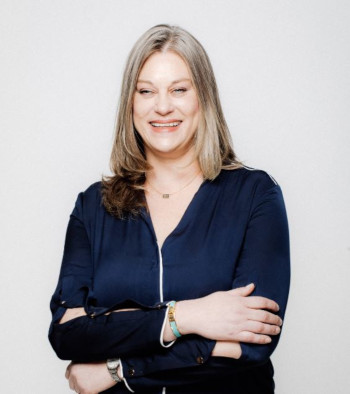 Mary: Sure. Thanks, Tyler. So, obviously, we're in a business that is centered around bringing people together and helping folks celebrate or helping folks support their meetings or their particular business event initiatives. In addition to offsite catering in multiple cities, we are also partnered with a lot of venues that have meeting spaces or ballrooms or large event spaces. So for the entire business events industry to come to a standstill has obviously impacted us enormously.
(Photo: Mary Cline, Regional Director for Catering Sales for the East Coast for Wolfgang Puck Catering)
Which brings me to kind of the first challenge I would say that hit us and probably everyone on the hospitality industry side is, you know, how do we pivot from here?
How do we go from doing what we've always done, and what we've always done well, to providing services and hospitality and food and beverage in, you know, the COVID era now, within restrictions that are out there, and what does it look like when we come back out of this, so people feel safe and want to entertain perhaps in the ways that they used to or host a meeting in the way that they used to?
[Related: Wolfgang Puck Takes Catering to Famous Heights]
Tyler: Yeah, I think that's a great observation. And, you know, our readers—our listeners—are always wanting to know when this is, quote, unquote, over and we do get back to face-to-face meetings, what is the environment going to look like? And I know covering the hotel side of it, it's not a matter of a hotel just flipping a switch and saying, 'Okay, everybody, come back—we're back at 100% service and capacity.' There's going to be ramping up. There's going to be a new environment. So what advice do you have for meeting and event planners, as far as the catering and F&B side of this, when we start meeting again?
Mary: You know, I think the important point in there that you brought up is, there's a ramp up. In the way that the world shut down around us kind of in this winding down of, 'Okay, today, you can have 250 people, tomorrow, it was 50. The next day, it was 10, then it was none.' You know, it's going to be a process of managing the numbers of folks allowed to gather in an enclosed space or maybe even outdoors—how close they can be next to each other—and what that means from the service perspective.
You know, for planners, it's going to be difficult to have the conversation about making a plan of well, you know, normally I would have a big elaborate continental breakfast with mounds and mounds of pastries, and a fruit display, and I might have a buffet lunch, and I might have open bowls of chips and snacks and things in the afternoon. And those days are certainly gone for a good chunk of time.
My best guess is folks won't feel 100 percent comfortable in public or even private meeting or event settings until there's a widely available vaccine and proven treatment with efficacy. So, that could be a few months—depending on which version of the news you watch—it could be a year.
So I think from the hospitality and the planners standpoint, we need to start thinking through what we do now that is sustainable in terms of practice and service level, you know, for months out. It's not something like flipping on a switch—'Okay, we're all going to be in masks for a month, and a month from now, it'll be normal.' And I think there are a lot of people that are still wrapping their head around that, that it's going to be a phased return to normal.
Tyler: Yeah. And I think maybe a key word is patience, too, right? Because we're dealing—everyone is dealing—with sort of new business models on the fly. Right? And then like you said, you can almost kind of break this up into a period where, okay, we're going to have to wear masks, we're going to have to definitely respect social distancing. How long is that going to last? Is it going to be a month, two months, three months, six months? Or is there going to be some vaccine in three months, and we're just going to go back to normal, so it must be hard even from a planner's perspective, to be working with catering company like yours, to even make a budget for an event.
[Related: 5 Planner Takeaways From the 2018 Governors Ball]
Mary: Right. I think what a lot of the planners that, you know, we're working with now ,their events were already booked. So now they're having to double back and try to find a new date and move them into the future. Well, guess what? Now they have to revisit every single step of what they originally planned, and is that still going to be a viable plan for my event in September?
Tyler: That's a very good point.
Mary: And the other piece is that, you know, this is going to vary pretty dramatically around the whole country. What may work and be legal or viable in Atlanta may not be the same story in Seattle or L.A. or New York or Boston or Texas. So, the other piece of this is that, you know, you hear a lot 'We're all in this together,' but to a certain extent, we're also all very much alone. And that's a difficult piece of it as well.
You know, the planner that may have always worked from home but produces events around the country—maybe even for the same client—may now have to go back and say, 'Okay, your event can look like this in one city but it's going to be dramatically different in another.' And, whereas I think that they a lot of times we're able to put a framework to it and execute essentially the same style or in the same manner, city to city, it's likely to vary now.
Tyler: Sounds like everyone's going to have to sharpen their pencils and put in a lot of overtime to figure all this out. Right?
Mary: This is this true. Working from home was not a reduction in our schedules!
Tyler: And I'm wondering, too, I mean, you hear varying reports that, 'Oh, you know, the latest I heard today—which is May—is being outdoors is a good thing now.' And you so do you think, especially heading into warm weather months, that will give a catering or F&B program a little more leeway to work with it, if they can, bring it out outdoors and do a tented setup or something like that?
Mary: Yeah, I would think so for sure. I mean, the first phase of this really for everyone—caterers and restaurants alike—is you know, the whole concept of either curbside pickup or contactless delivery, so everything pre-packaged or individually packaged or packaged for a family size. And if outdoor events can get up and running, for sure that opens up all kinds of possibilities for doing picnic packages or movie packages, or different ways of looking at it where you would be in an outdoor situation where it would be perfectly normal to get a packaged meal, right?
So whereas like an indoor, all-day meeting, it might not feel normal to be getting individually packaged breakfast—unless you were out and maybe in like a fast-casual dining environment. But, you know, box lunches certainly were always on all of our menus as a meeting option, but for the most part, meeting lunches were either a seated served meal or a buffet.
But now if you could actually go and take your lunch break outdoors getting your package, a picnic box or something, it would feel normal. So I think our piece of what we need to look at and think about is, what can we offer from a food and beverage standpoint that helps people feel more comfortable and feel like there is some sense of normal?
[Related: Behind the Scenes at the Oscars' 2018 Governors Ball]
Tyler: I think if you're lucky enough to work with a company such as yours, which has a lot of very creative people that can navigate through a situation like this, and really not lessen the attendee experiences as much as it could happen...
Mary: Yeah, for sure. I mean, everything from when you first walk in the venue to what the actual event or meeting feels like start to finish—every single touchpoint—and now it's hard to even use the word touchpoint, because how do you make touchpoints contactless touchpoints but still have them have meaning, right?
So for those of us in the hospitality business it's all about smiling and shaking hands and making that human connection, and now it's like, okay, how do we still accomplish that? And how do we still accomplish that through food, right?
I mean, we've always for hundreds of years—as a society or even as humans—food has brought us together and helps us create really special experiences or helps facilitate meaningful conversations like in that business event setting. So what does that like if the whole experience is now very different from what was normal?
Tyler: Yeah, food has become like an entertainment experience in meetings as of late, and to sort of lessen that kind of lessens the overall experience of the get-together. Right? Do you think there's going to be any supply chain difficulties? There's a lot of meat plants that have gone down. You're the real experts on that. What do you think we're going to see when we go back to meeting, and do you think people are going have to be a lot more flexible with their menus?
Mary: I would agree. It's actually something I've been thinking a lot about, you know, pre-COVID. You know, we were having a lot of plant-forward menu conversations. So it was a big thing that the Oscars menu was 70% plant forward and we were seeing a lot of associations trying to dabble with providing an all-vegan lunch for their program, and people were really starting to experiment with it and having those sustainability conversations.
You know, I don't know that I can look into my crystal ball and say for sure, yes or no, about supply chain challenges. I know that there's been a lot of press coverage on chicken and pork in particular. I do think that for longer-term sustainability, we'll be returning to really looking at more plant-forward menus because we need to be able to be flexible on that front.
It's interesting because then you also get into the conversation of now do events—you know, business events and social events—now become more of a sustainable business because we're producing less waste, like we're almost forced into action, whereas before they were casual conversations, or maybe we were experimenting. I think we're moving into a time now where people will be forced into that direction faster than maybe they thought they were ready to.
[Related: On Location With Wolfgang Puck Catering at The 2018 Oscars Governors Ball]
Tyler: Yeah, that's interesting. Through this whole experience, every question brings another question. And every solution brings out the possibility of further solutions. It's amazing. So thank you for joining us. Before we end the program today, though, are there any specific questions that you think a meeting planner should ask a facility, F&B or catering department coming out of this?
Mary: I know our company and many other organizations in hospitality, whether it's hotel or catering or a venue providing all of the onsite services, we're all working very, very hard to develop health and safety SOPs and documents to provide to our clients so that they are comfortable with where they're walking into and they can confidently share with their stakeholders that yes, this is a safe place for us to meet and this is a safe place for us to have our meals.
So from the planner's perspective, I would ask for what those plans look like. A lot of us are now just in the early stages—again, because restrictions at this moment are very crystal clear—but coming out of it, you know, our best guide or what governments have provided for restaurants that are in the process of reopening. So, you know, we're all dabbling with what do our potential layouts look like? How can you set this room up?
You know, if someone really wants to stick to the original plan that they had for their food and beverage service, how can we still deliver that? Does it cost more? I think planners are going to need to ask what does and does not cost more? Or what could you provide for me that is at the original planned spend? And I think having those conversations just straight out of the gate and trying to clarify what's possible, and what will if there is a little bit more money to spend on it. And, you know, we're gonna all come out of this basically in the same situation, right? We're all going to want to gather. We're all going to want to have our meetings. We're all going to want to be together again.
And we're all gonna be anxious about it, right?
Tyler: We all we all better talk with each other and realize, too, that, as you said before, things change in different destinations—things are different; there are different requirements. And I guess, you know, having patience and having very open lines of communication and being willing to adjust what people expect and what can be delivered is going to be very important.
Mary: I would say the only last thing that comes to mind, if you think from the planners perspective, is to ask, 'What is the guest experience going to look like?'
You know, we can have conversations about how the rooms are going to lay out and what menu we're going to provide, but, you know, I think the other important thing to ask is what are my attendees' experiences going to look like from when they walk in the door to when they're served, and think through from that very human level—'Well, okay, if I'm the attendee, am I comfortable with that?' You know, is there something else I might want to see that might make me more comfortable?
It's a lot of thinking, but we have a lot of time to think on our own.
[Related: Zoom In Q&A With Wolfgang Puck]
Tyler: And I think, too,  communicating to attendees, letting them know beforehand, we are taking these measures. You know, you went to our event last year, and it may have looked like this. It may look a little different this year. But, you know, it's all in mind of your safety and the safety of the staff working it that they were doing these things. So, you know, I think that's an important thing to mention there, too.
Well, great. Well, thank you, Mary. This has been very informative. Thanks for joining us today.
Mary: Thank you.
Tyler: And that was Mary Cline with Wolfgang Puck Catering. Thanks to her for joining us and thank you for listening to this Meetings Today Podcast.
If you want to learn some more from industry thought leaders head on over to MeetingsToday.com/podcasts. We have a wealth of podcasts available there on a variety of topics, and a lot, of course, recently on the coronavirus pandemic and how people are adjusting and strategies you can implement for your meetings.
So, thank you for joining us today and have a great rest of the day, no matter where you are.
[End transcript]
Read next: COVID-19: Complete List of Coverage - New Content