Dreamtime Australia Begins in Brisbane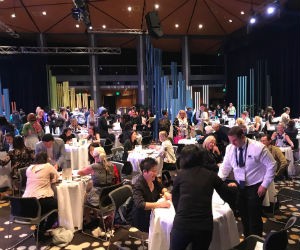 BRISBANE, Australia
Dreamtime 2017, the premier incentive travel product event in Australia, kicked off Dec. 4 at the Brisbane Convention and Exhibition Centre (BCEC) in South Brisbane, Queensland.
The two-day show featured 89 representatives of Australia's business events industry and nearly 100 international incentive travel buyers, who met in one-on-one appointments and then joined post-event travel programs showcasing the country's tourism offerings for incentive programs and groups.
Brisbane, which in the last few years has held the G20 Brisbane Summit and the World Science Festival Brisbane, and most recently the Rugby League World Cup 2017, is undergoing a massive influx of tourism development that will play out until 2022.
"We're going to see the most exciting times the city has seen until about 2022," said Brett Fraser, CEO of Brisbane Marketing, the DMO that represents the east coast Australian City.
"There's close to $10 billion [AUD], investment ($7.6 billion [USD]) in major projects from the private sector," Fraser added. "Queen's Walk [development] will see about a $3.5 billion [AUD] investment ($2.65 billion [USD]), with a Ritz-Carlton and a casino hotel like Marina Sands [in Singapore], which will be a major driver of visitation."
Other major projects include the first new-build W hotel in Australia, scheduled to open by the end of spring 2018; a doubling of capacity of the Brisbane Airport, which will result in its capacity exceeding that of the international airports in Hong Kong and Singapore; and a new cruise ship terminal.