Renaissance Schaumburg Celebrates Historic Wetlands in Refreshed Interior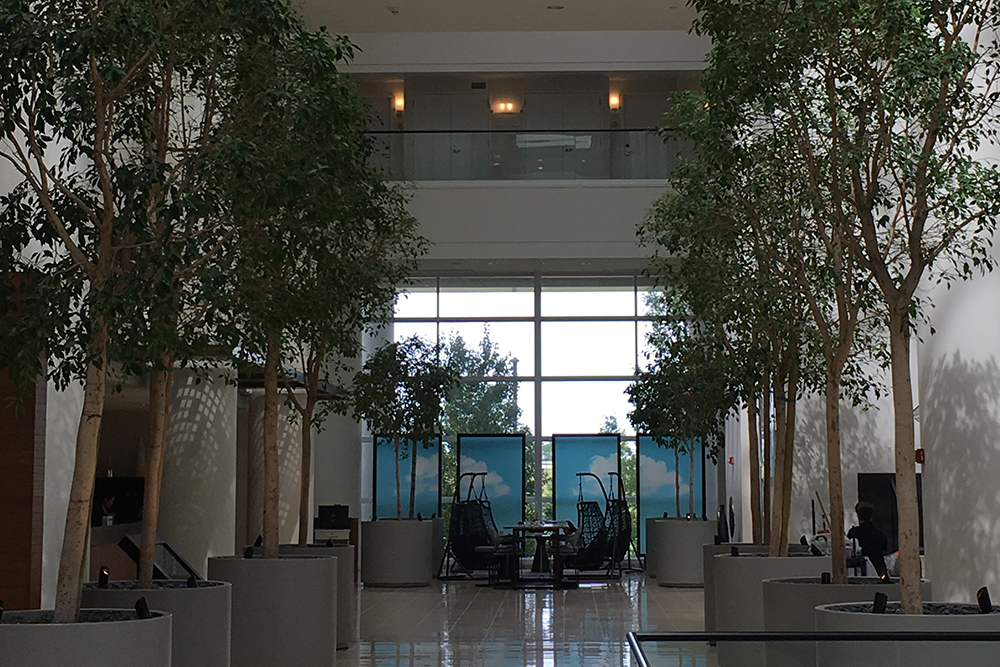 More than 300 natural plants thrive inside the Renaissance Schaumburg Hotel and Convention Center. Located right outside Chicago, the Marriott Convention & Resort Network property's recently refreshed meeting spaces, guest rooms and lobby fully embrace the area's wetland history and the lush greenery that surrounds the property today. 
Drew Eckman, destination sales executive for the Renaissance Schaumburg, said multiple design elements—from carpet in meeting rooms to names of suites—tell a tale about the historic wetland. He noted that plants in particular are an added natural element that "really represent the property's brand."
"Everything from the floral arrangements you'll see at the desk and front entrance to our Ficus trees in the lobby area all really do circumference [our brand], which is protecting and really focusing in on those wetlands," Eckman said.
Biophilic Meeting Spaces
Biophilic design is a concept used within the architecture and design industry. It practices connecting people and nature within the built environment.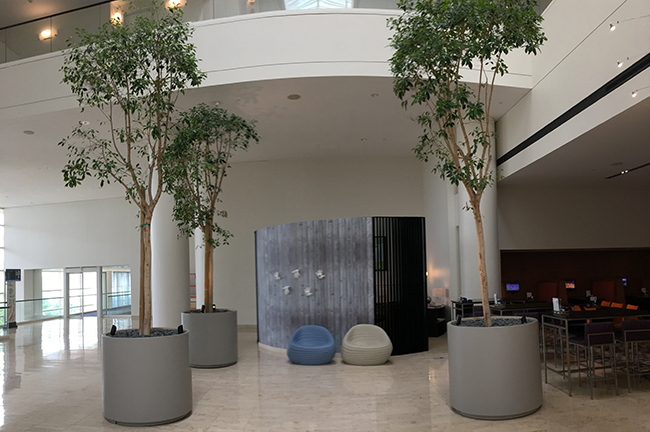 Living Plants Accentuate Renaissance Schaumburg's Seating Areas, Credit: Christoph Trappe
The abundance of botanicals found outside and inside the Renaissance Schaumburg include the hotel's 150,000 square feet of meeting space.
The convention area contains live plants, along with added elements like nature-themed carpet. Eckman said the floor is meant to resemble flowing water from the wetlands.
The convention center also has multiple living walls that can be moved to break up the meeting floor into smaller segments. Since the center can hold up to 6,000 attendees, the green walls provide a refreshing and quick way to reconfigure a room.
The influence of plants carries through in the setup of one meeting room that includes comfy chairs in the front for presentations.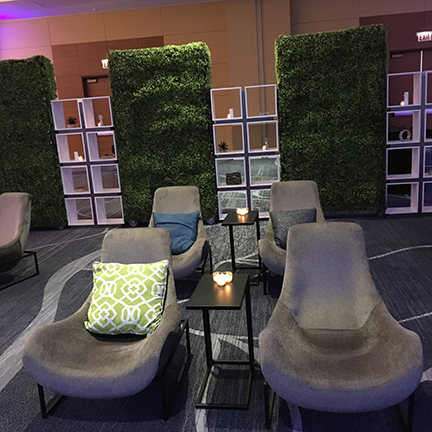 Renaissance Schaumburg Comfy Chairs in Front of Living Walls, Credit: Christoph Trappe
In the back of the room, behind the living wall, are workgroup tables set up with 15-minute timers.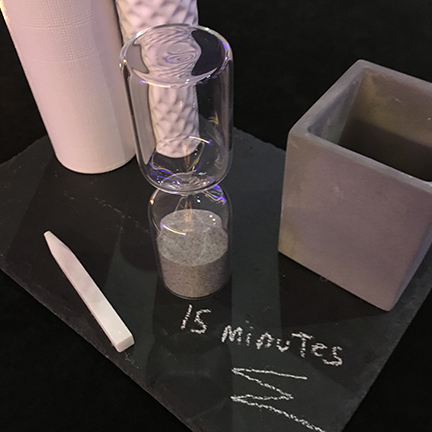 Renaissance Schaumburg 15-Minute Timer Breakout Space, Credit: Christoph Trappe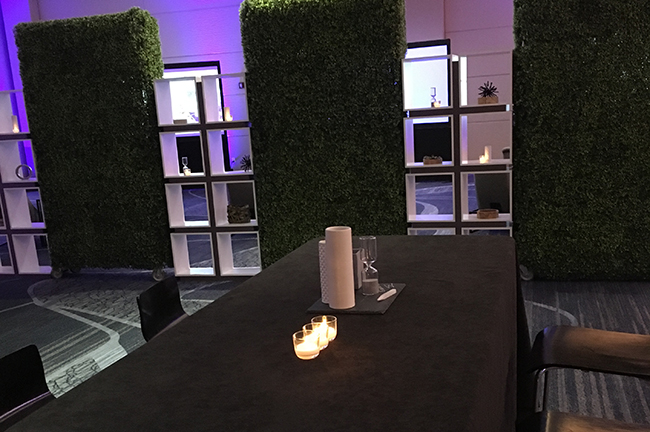 Renaissance Schaumburg 15-Minute Timer Table Behind Living Wall, Credit: Christoph Trappe
Bringing the Outdoors In, One Room at a Time
The Renaissance Schaumburg's all-natural inspiration flows from one area to the next.
Meeting and event attendees staying in one of the 500 guest rooms will notice how each is named after local indigenous flowers—the most deluxe rooms are named after two rare types, the Golden Aster and Golden Alexander. 
"We thought that with our two most luxurious, most gorgeous suites on property, we wanted to name those after those gorgeous flowers," Eckman said.
[Related Content: Airport Lounges—The Trick to Happy Passengers]
The recently renovated lobby also contains green touches, including succulents, fresh floral arrangements and an assortment of small trees. Some added artwork adds a floral vibe, too, while working double as an acoustic element. For example, lilies made out of mesh stainless steel work as sound barriers in the lobby and help control noise from the atrium above.
Listen to Christoph Trappe's full interview with Renaissance Schaumburg's Drew Eckman:
Outdoor Options That Embrace Nature
Guests can continue to enjoy naturistic views outside the Renaissance Schaumburg.
"Any north-facing view from the property has nice floor-to-ceiling windows that give you a great, beautiful view of what we call 'Embrace,'" Eckman said. Embrace is comprised of 25-foot-high pillars that circulate the wetlands and "make the hotel look as if it's almost hugging the natural habitat." The pillars light up at night for a stunning look of the land.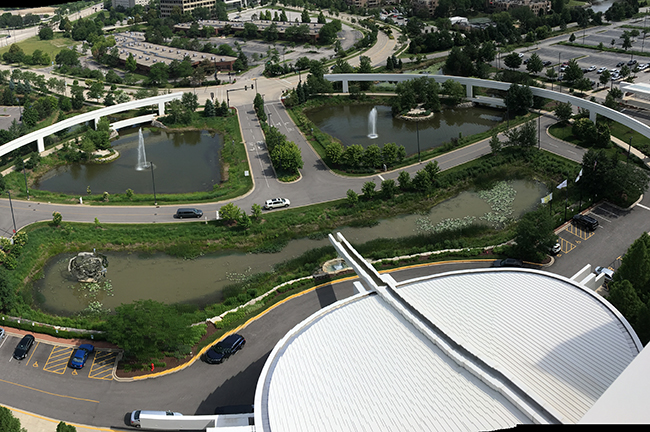 Renaissance Schaumburg North-Facing Hotel View, Credit: Christoph Trappe
Eckman noted that attendees and guests often enjoy the hotel's Shoreline Stroll.
It's an outdoor path that shares facts on signs along the route about the surrounding wetlands and indigenous flowers and plants that grow there. Attendees can enjoy a break outside and come back to the hotel refreshed and reenergized for their next session.
Biophilic elements like those found at the Renaissance Schaumburg are currently a top trend in commercial interior design. Adding a bit of green to your next meeting space can provide multiple benefits for attendees, including improved mood and increased productivity.
Consider these six biophilic trends for your next meeting space that you can use to change how your attendees engage and interact.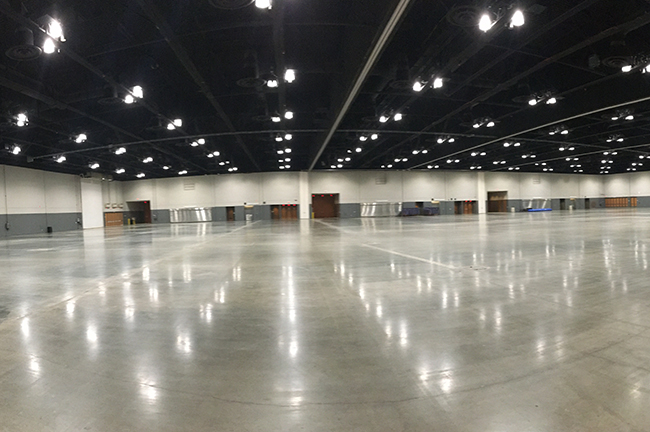 Larger events, expos and a muscle car show (broadcasted on TV) have been and can be held at the Renaissance Schaumburg's Expo Hall, Credit: Christoph Trappe
[Read This Next: A Look at Hilton's New Approach to Meeting Space Design]