3 Route 66 Attractions for Groups in Springfield, Illinois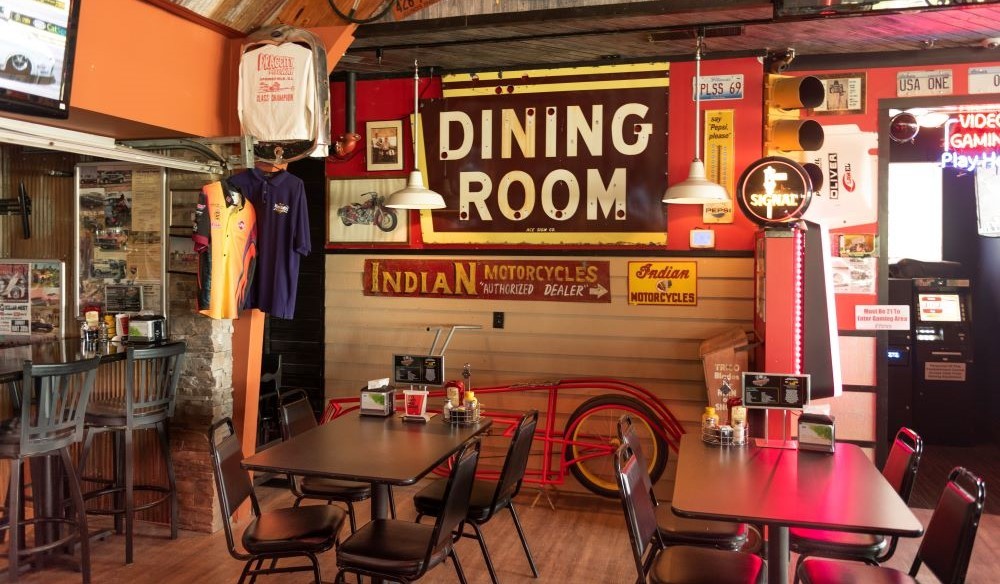 Illinois' capital Springfield is packed with history. The city is perhaps best known for its ties to President Abraham Lincoln, who spent much of his adult life in Springfield before his move to Washington, D.C. The city is home to his presidential library, former home, former law offices and tomb, which all make for inspiring stops for visiting groups.
Renowned architecture is visible here, too, starring Frank Lloyd Wright's turn-of-the-century Dana-Thomas House that's available for private functions, and the old Illinois State Capitol building.
These main historical attractions are a big hit with attendees coming to Springfield for their meetings and conferences. (Abraham Lincoln characters will even show up at events for specialized meet-and-greets, if planners ask the CVB to arrange it!)
[Related: Central Illinois Unique Culinary Experiences]
But Springfield is home to more than just Honest Abe attractions. Route 66—the iconic U.S. highway that once served as the primary route across the country in the early 20th century—is still famous for its Americana relics. A number of them are scattered around Springfield, making for quirky, fun history-filled visits after meetings.
Amy Beadle, sales and marketing manager at Springfield CVB, says that the destination has seen a 20% increase in sales bookings for meetings over the past year—the largest in six years. As a result, a lot of attendees are coming to town for the first time and are discovering the city's rich Route 66 history, which they may not have been previously aware of.
"A lot of times we hear attendees say, 'We are just passing through!' And by the time we are done talking to them they are like, 'I wish I had known how much there is to do!'" she said.
If you're bringing a meeting or event to Springfield for the first time, make sure you plan some time into the agenda so your attendees can experience the following vibrant treasures of Route 66.
Cozy Dog Drive-In
The Midwest is well-known for its state fairs and fried foods on sticks. Fans of this fare will want to make the Cozy Dog Drive-In a priority for post-meeting sustenance.
Established in 1949, the family-owned Cozy Dog Drive-In claims to be the home of the original deep-fried hot dog on a stick, using the same batter recipe today that Ed Waldmire developed in 1946, which debuted at the Illinois State Fair that same year.
The diner has sat right along the famous Route 66 since 1949 and remains a popular pit-stop for travelers passing through Illinois as well as tourists visiting Springfield.
Inside the diner, you'll find a packed selection of Route 66 memorabilia and souvenirs, along with cozy dogs for $2.25 each, plus a variety of diner food like burgers, sandwiches and bottled Route 66 root beer.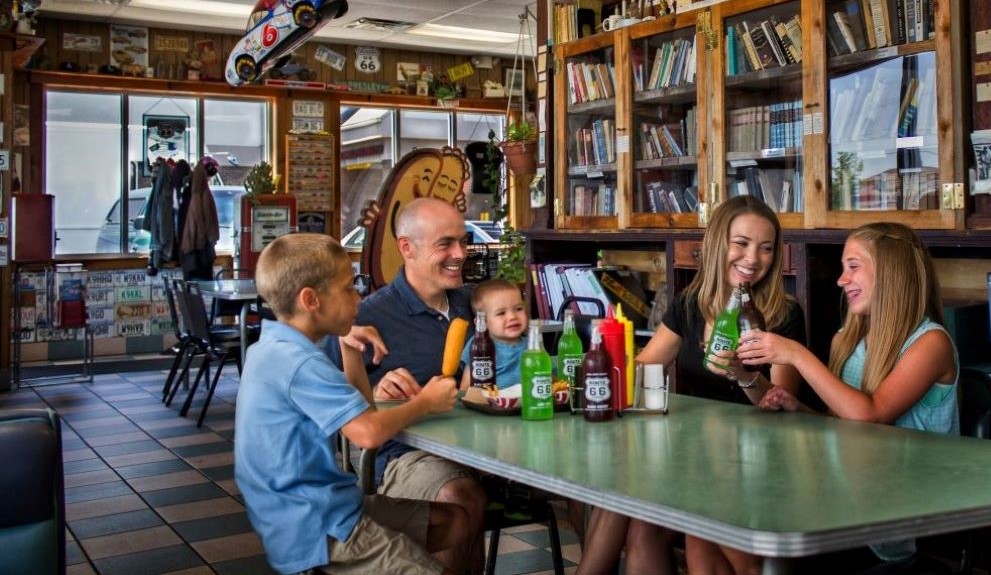 Photo: Cozy Dog Drive-In; Courtesy of Springfield CVB
Motorheads Bar, Grill & Museum
Though it was only introduced to Springfield's restaurant scene in 2019, Motorheads Bar, Grill & Museum pays homage to Route 66, housing the Route 66 & Motor Museum. The building was originally a Stuckey's—a common roadside convenience store off major highways in the U.S.—built in 1970.
Open seven days a week, the restaurant, bar and museum is designed with serious car enthusiasts in mind—race cars are even perched on top of the building's roof, signifying its passion for the auto upon arrival.
"It has all kinds of relics. There's also a beer garden area that hosts bands in the summer when it's nice out," noted Beadle, saying that the patio is a favorite group gathering spot post-meetings to enjoy some leisurely networking time.
Inside, visitors will find the walls adorned with pieces from Harley-Davidson and Dale Earnhardt Jr., vintage signs include an original Route 66 attraction sign, and a 1915 Model-T.
The museum also has a banquet room for private offsite events amid all of the automotive artifacts and memorabilia, complete with a full-service bar and food options.
Motorheads also hosts motorcycle rallies, car shows and other events throughout the year for true open-road fans.
Route 66 Twin Drive-In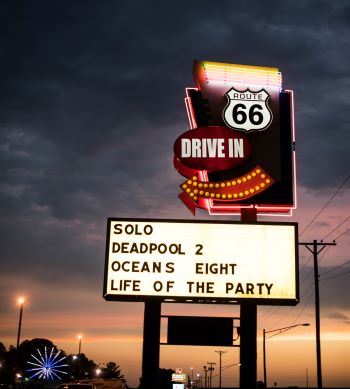 The historic Route 66 highway runs just blocks from this fun outdoor drive-in theater, which Beadle says is a popular post-convention activity among visiting groups.
(Photo: Route 66 Twin Drive-In; Courtesy of Springfield CVB)
Attendees that drive into Springfield—a common mode of transportation for folks that hail from Chicago or other accessible Midwestern cities—will find this activity a welcome way to relax after work and transport  back to the bygone drive-in era, where Springfield visitors used to roll into the theater from Route 66.
Beadle noted that it's also a popular attraction for those participating in family-friendly meetings.
The drive-in is home to two screens showing double features starting in April and is open seven days a week through the summer months.
New Passport Program
Beadle explained that catching all of the must-see historic sites is about to get easier when the CVB launches its Explorer Passports program this month. The all-in-one booklet will have two parts: one that guides visitors through 12 Abraham Lincoln sites, and another section that details Springfield's eight "living legends" of Route 66. You can grab the free booklets at the city's visitor's center and get stamps for each place you visit. Those who complete their passports can submit them for prizes as souvenirs of their time in Springfield.
"We want people to understand that Springfield is more than one day," Beadle said. "We want to be in that bleisure market—you should definitely plan to stay a day before or day after [your meeting]."
With increased meeting buzz and a trove of enduring attractions, it's clear that Springfield has a lot to offer meeting attendees.
Connect
Springfield CVB | 217.789.2360
A Quick Guide to Springfield's Convention Areas
Springfield has three convention areas that all have distinct features for groups. With new shows and meetings coming to Illinois' capital at a quickening pace, newcomers or meeting planners considering the area should decide which area is best for their group.
Historic Downtown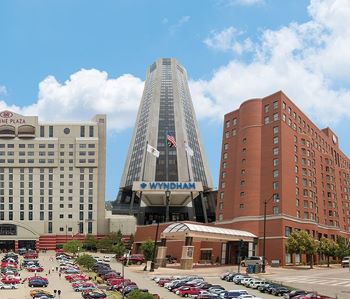 For groups that want to be in close proximity to some of Springfield's most famous historic sites, shopping and various dining options, historic downtown is a good home base. It's ideal for large groups, too, home to 900 guest rooms and a collective 130,000 square feet of meeting space, including convention facility the Bank of Springfield Center. Notable group hotels include Wyndham Springfield City Centre and President Abraham Lincoln Springfield—a DoubleTree by Hilton Hotel.
(Photo: Historic downtown Springfield is a main hub for meeting and convention groups; Courtesy of Springfield CVB)
Southeast Corridor
Off of I-55 and historic Route 66, plenty of attractions, entertainment and dining options are in Springfield's Southeast Corridor, along with luxury convention hotel, The Crowne Plaza Springfield, with over 70,000 square feet of meeting space.
Northeast Corridor
The Northeast part of town is near the 366-acre state fairgrounds, which offers a lot of space for outdoor shows and events. About 60,000 square feet of covered meeting space is available at the fairgrounds as well, and nearby are 200 total guest rooms and plenty of dining options.
Read Next: Illinois Is the Birthplace of a Host of Vintage Venues