12 One-of-a-Kind Group Experiences in Florida (That Aren't Theme Parks)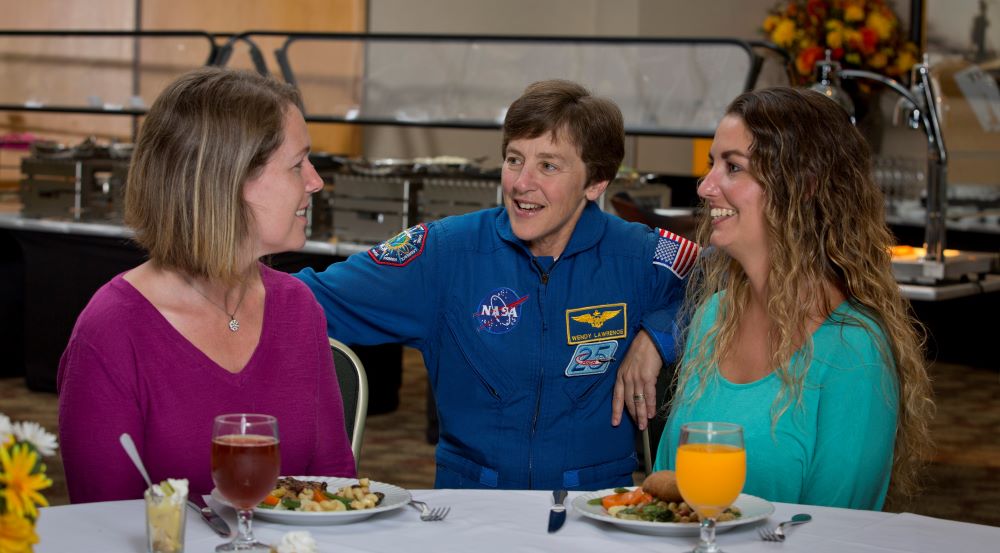 So, you've done beach Olympics, theme parks and golf scrambles. For planners running out of unique group activities in Florida, don't worry—there's a never-ending supply of excursions you haven't tried.
Here are some out-of-the-box activities your group will remember long after the final night banquet.
Food & Wine Classic, Walt Disney World Swan and Dolphin Resort, Orlando
Each November, Walt Disney World Swan and Dolphin Resort hosts the Food & Wine Classic, which brings in thousands of people from around the globe. The hotel's culinary team offers samples that showcase the hotel's offerings from its 18 restaurants and lounges.
Additionally, wineries and breweries offer tastings at the event. Add live bands and carnival games, and it's no wonder people come from hither and yon.

Photo: Events in the causeway are popular at Walt Disney World Swan and Dolphin Resort.
Before the Classic opens each night, there are classes held on everything from wine pairing to champagne tasting accompanied by charcuterie or chocolate and fruit, all planned by the resort's chefs and beverage experts.
Luciano Sperduto, director of food and beverage at the resort, says that no matter what month of the year groups come to the hotel, they can set up these same classes with their chefs and create an exclusive "Food & Wine Classic" for individual meeting groups.
"We recently did a champagne tasting for a group of healthcare professionals and we kept it interactive and fun. We've also done Italian wine blending and craft cocktail classes," he said. "We can also stage the Classic with food and wine tasting stations in the causeway between the Swan and Dolphin Hotels. Those events we've done for up to 1,600 people in the causeway or for smaller groups of 400-600 we have a location right off our private lake that is ideal for this type of event."
Cattle Drive, Westgate River Ranch, River Ranch
Most groups don't realize that Florida has the longest history of ranching in the country, said Al Snow, convention, meeting and event representative for Visit Central Florida. So, attendees may be a bit surprised when they pull up to the 1,700-acre Westgate River Ranch Resort & Rodeo overlooking the Kissimmee River for a cattle drive. 
This authentic Florida dude ranch lies just one-hour south of Orlando in Polk County, where guests can return to the days of "Old Florida" when it was home to cowboys and cattle ranchers. The Ranch also stages a Saturday night rodeo with a street party following with a DJ. Onsite, the Westgate Smokehouse Grill offers steaks, seafood, ribs and even gator bites. 
If pushing cattle over the open plains on horseback seems exhausting after meetings all morning, the property also offers relaxing, one-hour horseback rides on meandering nature trails.
Circus Museum, The Ringling, Sarasota
Though the circus doesn't come to town anymore, groups in Sarasota have the chance to relive the days of the Ringling Brothers Circus from beginning to end, with memorabilia dating from the 1800s at the town's Circus Museum.
Old circus posters, props and costumes are on display as well as the custom train John and Mable Ringling used to use to travel the country looking for circus acts. The film The Life and Times of John and Mable Ringling details the couple's life, history of the circus and the building of the Venetian Gothic Ca' d'Zan, Ringling's winter home.
[Related: Space Coast Daytona Beach Unique Venues]
In the interactive Tibbals Learning Center visitors can walk the wire and squeeze into a clown car, or groups can host an event in the Art Courtyard for up to 400 guests or underneath the tent of the Big Top for up to 50. The Ca' d'Zan Terrace and Bayfront can be used for up to 250.
Sunken Gardens, St. Petersburg
Sunken Gardens, designated a local historic landmark in 1998, was once deemed a top tourist attraction in the 1950s and still has a following. Set in the Old Northeast section of St. Petersburg, this garden has 50,000 tropical and subtropical plants on four-acres of land, now owned by the city.
The Gardens began in 1903 when avid gardener George Turner purchased the land, including a shallow lake he drained to form the "sunken garden." He planted citrus fruit and other exotic plants and eventually opened a nursery. The enterprising Turner started charging guests to visit the gardens and waterfalls and by 1935 he was getting 25 cents a pop for those who wanted to visit his Japanese and Butterfly gardens, water lilies and fruit trees.
Private garden tours are available, as well as space for meetings and private receptions. The Garden Room, a 2,600-square-foot hall overlooking the gardens, seats up to 175 guests. The Classroom can be used for up to 40.
Castillo de San Marcos, St. Augustine
In the heart of the bustling tourist area of St. Augustine, the oldest city in the U. S., with vibrant restaurants, five-star hotels and tourist shops, Castillo de San Marcos sits overlooking Matanzas Bay.
Construction began in 1672 under Queen Mariana of Spain, who decided the city and its port needed protection from privateers.
[On Topic: Top Miami and Fort Lauderdale Chefs on 2020 F&B Trends]
Made of coquina, a mix of limestone and broken shells, the fort was completed after 23 years.
The fort changed hands many times between Spain, Great Britain and the United States during its illustrious history and was also once used as a prison.
Today the 20-acre site is now part of the United States National Park Service and is visited by 650,000 people each year. Cannons are fired every weekend, and visitors are greeted by Spanish period soldiers that represent the 1740s in St. Augustine. Additionally, on special occasions reenactments retell stories such as the winter of 1779 when the British controlled the fort.
Richard Petty Driving Experience, Daytona International Speedway
The closest most people come to the Daytona 500 is seeing it on TV. Groups in Daytona, however, can actually take the wheel of a race car once driven by a NASCAR driver at Daytona's International Speedway.
At the NASCAR Racing Experience in Daytona, drivers suit up in a one-piece racing suit and meet with a crew chief, receive some one-on-one instruction, and then it's off to the races as they get behind the wheel and take a spin on one of the country's most famous speedways.
Instruction continues from a spotter over two-way, in-car radio. Rides last from eight to 48 minutes. For longer rides, after every eight minutes of track time drivers get a brief pit stop and head back out of the pits to work on faster speeds. The experience can be customized for groups of any size and budget.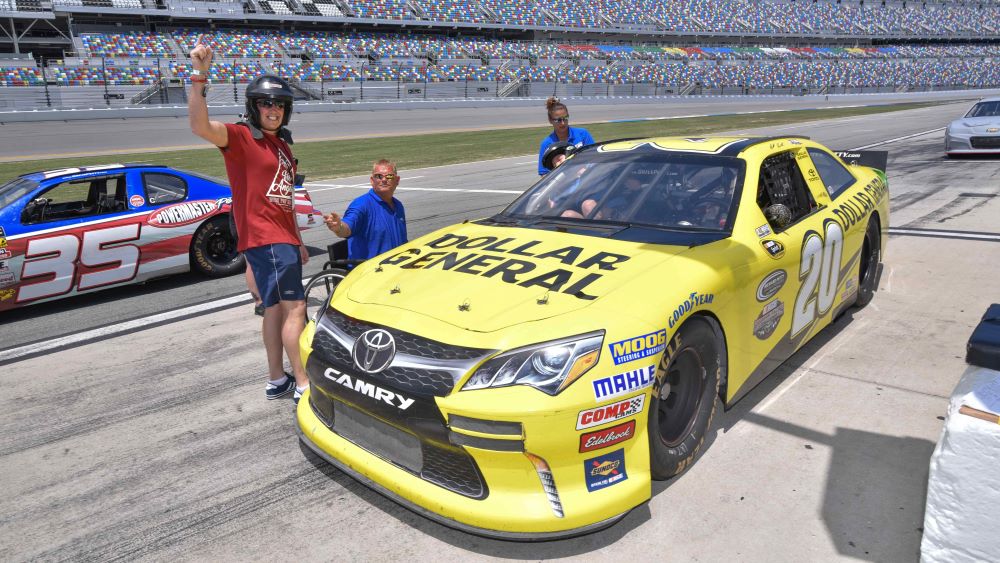 Photo: The Richard Petty Driving Experience is a popular, adrenaline-packed activity for visiting groups in Daytona.
Turtle Recues, Palm Beach
While Kirkland Event & Destination Services does everything from elegant parties at the "Winter White House" Mar-A-Lago to meet-and-greets with players at the International Polo Club Palm Beach, the DMC is also known for teambuilding events that incorporate corporate social responsibility. Kirkland plans beach cleanups with an eye toward protecting sea turtles through the Loggerhead Marinelife Center, known for its rehabilitation of turtles.
"We'll take a group from the swanky Eau Palm Beach Resort & Spa and bring them to the beach for a cleanup and then to the center where they can see the turtles in the tank and get a tour with one of the hospital's doctors," said the DMC's president, Paget Kirkland. "Many have adopted the turtles when we visit. These turtles are indigenous to Florida and we love having a hand in protecting them.
"After one group did a cleanup and loggerhead experience, we did an evening of wine blending where groups were naming their wines 'Tortoise Beaujolais' and 'Rowdy Turtle.' It was a great way to end the day on a high note," Kirkland said.
Swim with Dolphins, Discovery Cove at SeaWorld, Orlando
The all-inclusive day resort Discovery Cove gives attendees relaxation in a tropical paradise of rocky lagoons and white-sand beaches. Here, guests can feed stingrays, interact with dolphins and even snorkel with sharks.
Cabanas are tucked away in their own private space overlooking the water with lounges, unlimited snacks, drinks and a "beach butler" to ensure everything stays stocked.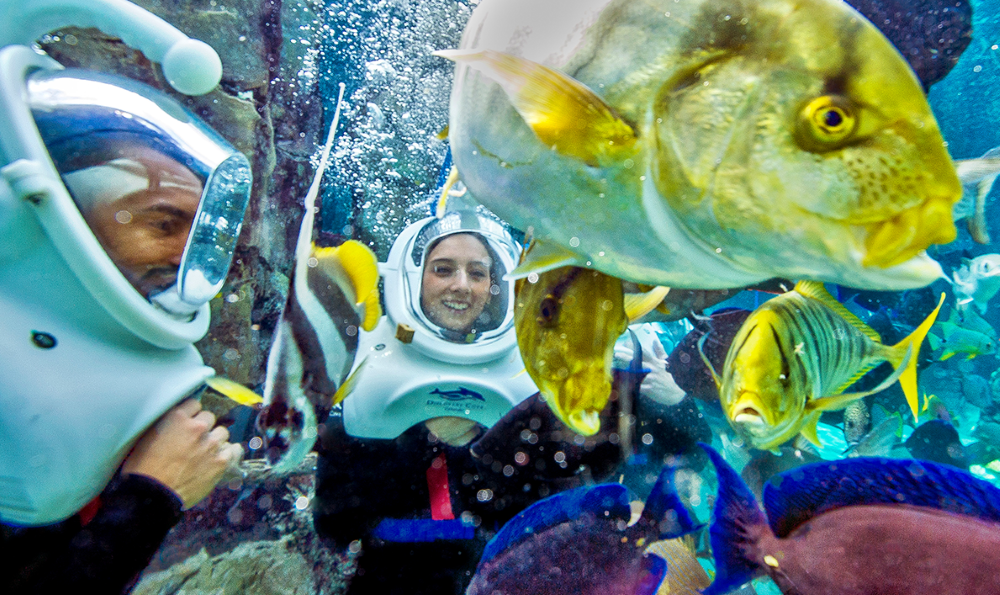 Photo: The all-inclusive day resort Discovery Cove in Orlando gives attendees a chance to swim with dolphins. 
Longtime meeting planner Hugh K. Lee, owner of Fusion Productions, has brought many groups to Orlando. After an event at Discovery Cove, where attendees swam with dolphins, he said, "It's hard to impress 200-plus C-suite association executives who have seen it all, but from the tranquil setting to the experiential event space to the quality of the food, entertainment and service, our attendees were thrilled."
Visit a Medium in Cassadaga
Halfway between Orlando and Daytona, Cassadaga Spiritual Camp, dubbed the "Psychic Capital of the World," is a town where time stands still. Listed on the National Register of Historic Places, the town is full of residents in historic homes who are trained mediums and healers. 
The town was founded in 1894 by spiritualists and native New Yorker George P. Colby, who mesmerized people with his seances. The story goes that at one point he met a Native American spirit guide who instructed him to travel to Florida and establish the spiritual center.
Today, groups take day trips to have their aura read, channel a deceased relative or shop for crystals, candles and books on mysticism at the Purple Rose Trading Co., one of several gift shops. There's also Sinatra's Ristorante and Lost in Time Cafe in the Cassadaga Hotel for lunch or dinner.
See the Mermaids, Weeki Wachee Springs State Park
About 45 minutes north of Tampa there's a mystical Florida attraction where "mermaids" swim underwater with the assistance of air hoses while people watch through thick glass.
The attraction was created in the 1940s by Newt Perry, a member of the Florida Gators swimming and diving team at the University of Gainesville. Since, Weeki Wachee has attracted not only thousands of visitors, but Hollywood producers who have used the attraction in several films, including Mr. Peabody and the Mermaid and Neptune's Daughter, both shot in the '40s.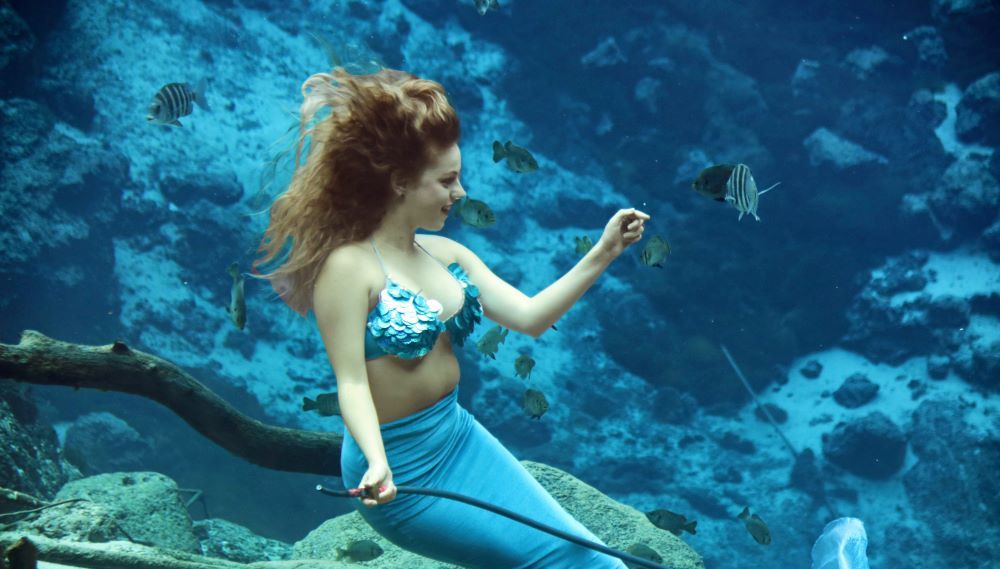 Photo: Caption: Weeki Wachee Springs State Park is famous for its unique mermaid attraction; Credit: Weeki Wachee Springs State Park
Perry's daughter performed as one of the youngest mermaids at Weeki Wachee in 1948 at 13 years old in what was then an 18-seat theater. A newer theater, with a capacity of 50, is now embedded in the lime rock of the spring with viewing windows below the surface of the water, allowing guests to watch the mermaids perform.
Several dining options are available onsite, including Mermaid Galley for burgers and salads and Tiki Bar for frozen drinks.
Fashion Shows and Seminars, Naples
Spouse programs for wives may have gone the way of the dinosaur, but fashion soirees are still de rigueur for groups meeting in posh Naples. Marilyn Hellman of Marilyn's on Fifth Ave. can customize private seminars for groups of eight or more with topics ranging from Tips on How to Update a Wardrobe to The Latest Summer Fashions.
Her store is filled with hats, as well as designer fashions all from Europe that can't be found anywhere else in the U.S., including its own brand of Italian blouses, pants and dresses. 
"We close the shop for groups for a champagne and appetizer shopping experience and our staff is on hand to help with their VIP experience," Hellman said.
Rocket Launches, Cape Canaveral
There are few places you can see a rocket launch, and Kennedy Space Center Visitor Complex is one of the best. Here, groups can witness crafts like the SpaceX Falcon 9 CRS-20 on a mission to deliver supplies to the International Space Station. 
Groups not in town for an actual blast off can meet luminaries like astronaut Wendy Lawrence and other retired astronauts for a meet and greet.
Each astronaut has a different story to tell about his or her experience in space and participants have the opportunity to ask questions, get an autograph and take pictures with the "Astronaut of the Day."
The Florida meeting and events landscape is always changing. Stay up to date by reading the 2020 edition of Meetings Today Florida.