Rosen Shingle Creek Chef Relishes Independence and Reveals Post-COVID-19 Thoughts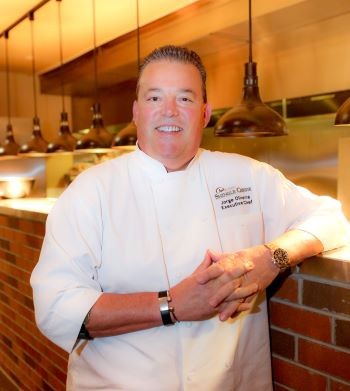 A veteran of the Orlando hotel food and beverage scene since the late 1980s, Rosen Shingle Creek Executive Chef Jorge Oliveira has seen the major meetings destination's cuisine offering grow by leaps and bounds.
"Suffice it to say that when I entered this marketplace in the late 1980s, group dining was fairly 'vanilla' in nature," Oliveira said. "Standard plated meals consisting of prime rib, chicken, filet mignon, shrimp—pretty basic staple offerings. Over time, there has been an incredible renaissance in the Orlando marketplace and clients are significantly more discerning in terms of quality of product, presentation and dietary requirements."
Oliveira has spent the lion's share of his time in Orlando with whom many consider the lion of its hotel industry, Harris Rosen, the fiercely independent owner of Rosen Hotels & Resorts who owns and operates eight hotels in the Orlando market.
"I've enjoyed nearly 30 years working for Mr. Rosen and, in my opinion, the key difference in our company culture is the fact that we can operate with a keen sense of freedom," Oliveira said." As an independent owner, Mr. Rosen has an entrepreneurial spirit that is inspiring and that many of us have adapted over time. Major chains tend to be much more restrictive in terms of our ability to operate beyond the traditional borders."
[Related: Hotelier Harris Rosen Shares His Success]
Oliveira said this entrepreneurial encouragement results in he and his staff being able to make purchasing decisions with the guest experience firmly in mind, which can be a challenge at larger chains.
As a native New Englander, Oliveira's roots are reflected in his cuisine preferences, citing his love of fishmongers and fresh seafood. One of his favorite signature dishes is a Portuguese rendition of seafood Cataplana with sauce Madeira. Venturing back to terra firma, another favorite of his entrees is Arcadian rack of lamb served with a warm Arcadian marinade.
Classically trained in French cuisine early in his career, Oliveira has experience in virtually every station in a kitchen and now oversees 15 restaurants and the catering operation at Rosen Shingle Creek. The resort's AAA Four Diamond restaurant, A Land Remembered, is named after a historical novel telling the multigenerational story of a Central Florida family whose last generation builds a hotel, which is reflective of the Harris Rosen story in some respect.
For meetings clients, Oliveira points to action stations that mix elements of grilling, frying, sautéing and spit-roasting, as well as the enviable Central Florida climate and property layout that cry out for open-air events.
Post-COVID-19 Shut Down Considerations
The ample events space available at Rosen Shingle Creek is also an advantage during a time when social distancing could be major factor for groups meeting after the COVID-19 shut down.
"With the unique, over-sized indoor and outdoor meeting spaces available at Rosen Shingle Creek, we have plenty of elbow room to ensure social distancing is considered into our new meal concepts moving forward," he said. "Given the fluid nature of current social distancing and limitations on the size of potential gatherings, my sense is that on the onset we will operate on a predominantly individually prepared packaged food scenarios, both hot and cold. I believe that buffets and action stations will both be re-imagined in line with the prescribed guidelines."
[On topic: Posadas Corporate Chef Gerardo Rivera Reveals Top F&B Trends for 2020]
Indeed, the post-COVID-19 shut down environment has caused food and beverage operations—and really all other departments of hotels—to adapt quickly in order to survive.
"We are currently operating in a very unique time," Oliveira said. "Our goal remains focused on the safety and well-being of both our associates and our guests, and while the current environment is changing every day, we are doing our diligence in keeping up with every possible detail related to our enterprise.
"We have task forces in place exploring creative initiatives that will ensure that our operation is in complete compliance and, at the same time, providing an approach that will ensure consumer confidence," he continued. "Once again, nothing is more important than the safety and security of our associates and clientele."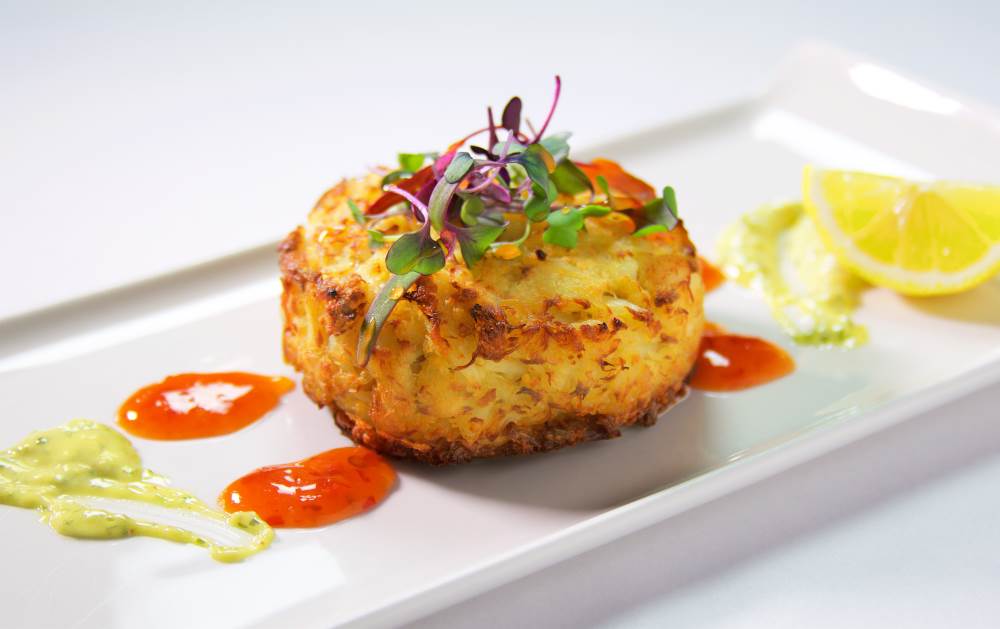 Photo: Crab Cake; Credit: Rosen Shingle Creek
Recipe:
A Land Remembered Crab Cake With Red Chili Gastrique
Serves: 4
Ingredients
1 lb. Jumbo Lump Crab
2 eggs
2 oz. mayonnaise
¼ tsp. Worcestershire sauce
¼ tsp. Tabasco sauce
½ lemon (juiced)
Salt and pepper to taste
2 oz. breadcrumbs (fresh)
Red Chili Gastrique
1 tsp. red chili flakes
½ tsp. chopped garlic
2 oz. orange juice
8 oz. water
1 cup sugar
Method
Crab cake: Whisk eggs and add mayo, Worcestershire and Tabasco sauces, and lemon juice. Season with salt and pepper. Add breadcrumbs and gently fold in crab meat. Form into desired-size crab cake. Pan sear in whole butter over medium heat until golden brown. Flip the cake and repeat. Before serving, make sure crab cake is warmed through.
Red Chili Gastrique: Cook on low in a small sauce pot until it is a syrup consistency.
Read next: Hotelier Harris Rosen Donates $12M to Fight Brain Tumors