Outdoor Venues in Austin and the Hill Country for Fresh-Air Events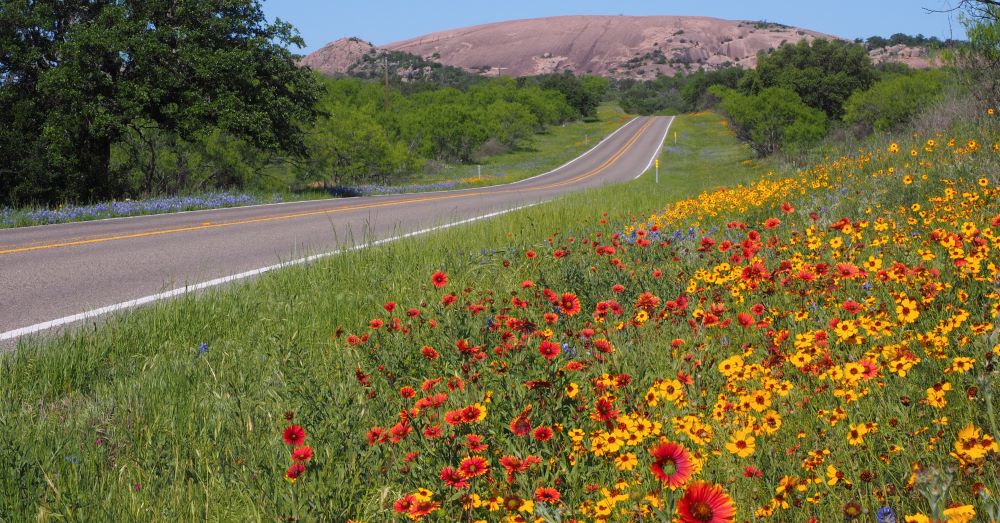 Founded in Austin in 1987 as a music festival and adding interactive and film components in 1994, South by Southwest, or SXSW attracts major attention every year as a premier global event.
This year, SXSW made the news as an early high-profile COVID-19 cancellation.
Paused, too, is the show's headquarters, the Austin Convention Center. With its own top status as one of the nation's most technologically advanced convention facilities, the LEED Gold-certified, gigabit-rated building is presently engaging in community support.
Staff initiatives include packaging more than 1,000 self-stable meals per week for those experiencing homelessness through the Eating Apart Together (EAT) program. The venue is also providing space for the assembly and distribution of some 30,000 face shields to area first responders and medical professionals.
[Related: 6 Free Group Activities in Austin]
Like the Texas bluebonnet, the beloved state flower that carpets parts of neighboring Hill Country each year along with poppies, primroses and other wildflowers, Texas's restlessly creative capital city will blossom with activity again. When the time comes, here are some diverse outdoor venues and activities for spreading your meetings' wings.
UMLAUF Sculpture Garden and Museum, Austin
Opened in 1991, this urban oasis features dozens of stone and bronze works gifted to the city by noted 20th century American sculptor Charles Umlauf and his wife Angeline.
The couple moved to Austin in 1941, when Umlauf began his 40-year career as a life drawing and sculpture instructor at the University of Texas.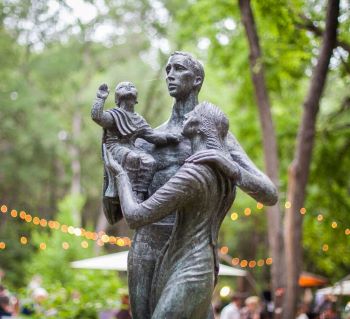 Located near Barton Springs just blocks from the heart of Austin, the roughly five-acre site had been neglected for decades before its transformation into a secluded haven of native Texas plants, winding pathways and tranquil waters.
Unique features include a gravel path laid out as a giant peace symbol and protective wax, principally for visually impaired visitors, that allows for touching of the bronze works.
(Photo: Family sculpture at an event at Umlauf Sculpture Garden; Credit: Studio Uma)
Exclusive rentals include The Garden, which can accommodate seated dinners for 20 to 250 guests and 600-capacity receptions.
Live Love Paddle, Austin
In 2009, shortly before getting married, Casey and Beverley Vick saw an opportunity to help people better experience Austin's rivers and waterways. "Tours then were mostly in big boats," Beverley said. "So with Casey's experience as a whitewater rafting guide in West Virginia, we created our kayak and paddleboard tour company."
Operating from Lady Bird Lake's less crowded east end, the couple works with planners and DMCs on group excursions for up to 95 people.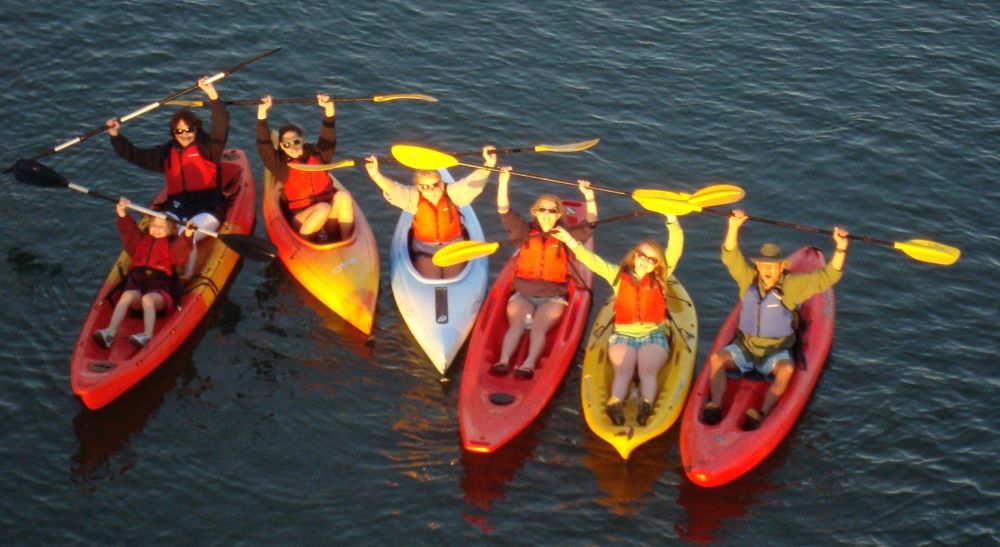 Photo: Group Kayaking with Live Love Paddle; Courtesy of Live Love Paddle, LLC
"Most popular is our kayak tour showcasing the Congress Avenue Bridge bats at dusk," Beverley noted. "Corporate groups like the convenience of our daytime Urban Kayaking Tour, and we offer fun teambuilding competitions for up to 30 people. Or, attendees can rent kayaks or paddle boards for their own use."
Luckenbach, Texas
Located about 10 miles southeast of Fredericksburg, this Texas icon, comprising a dance hall and combined post office, saloon, and general store, was originally an 1849 trading post for German settlers and Comanche Indians.
After eccentric local folk hero Hondo Crouch and friends purchased the property in 1970, Willie Nelson and Waylon Jennings made the hamlet forever famous with their 1977 song "Luckenbach, Texas (Back to the Basics of Love)."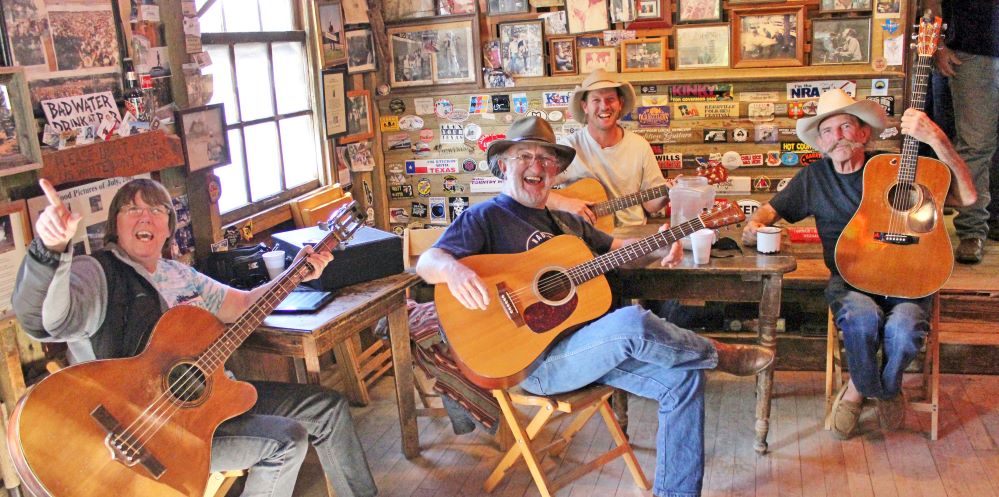 Photo: Luckenbach, Texas musicians circle; Credit: Jeff Heilman
Set amid 500-year old oak trees, "Laid-back with a vengeance" Luckenbach today attracts fans from around the globe with live music seven days a week.
The Fredericksburg CVB routinely schedules Luckenbach for offsite functions. Rentals include the dance hall and full buyouts of the ten-acre venue, which offers comprehensive event services covering catering, dance bands and more.
Wellness-focused Resorts and Rock Star Parks, Hill Country
The Hill Country brims with event spaces that make it easy for groups to enjoy the great outdoors, many of which focus on well-being. Some notable wellness resorts and experiences include:
Omni Barton Creek Resort & Spa, which relaunched in May 2019 following an extensive $150-plus million renovation and expansion. This 4,000-acre escape offers golf, treatments at the new 13,000 square-foot Mokara Spa and workouts in the 11,000-square-foot fitness center.
Lake Austin Spa Resort is world-renowned for its wellness experiences like 100 different treatments and services at the 25,000-square-foot LakeHouse Spa. Plus, yoga, hiking and diverse water activities.
Miraval Austin, formerly Travaasa Austin, is a mindfulness-focused resort on Lake Austin that gets groups in "Miraval Mode" with spa treatments, yoga, water aerobics, hiking and more.
Hyatt Regency Lost Pines Resort and Spa is a 405-acre Hill Country sanctuary set along the banks of the Lower Colorado River offering golf, horseback riding, kayaking, rafting and birding. The resort adjoins 1,140-acre McKinney Roughs Nature Park, where amenities include rental facilities and premier zipline experience Zip Lost Pines.
The Hill Country's natural attractions make getting fresh air as a group easy, too. For example, at event-capable Natural Bridge Caverns near New Braunfels, groups can fly above the treetops at the 60-foot Twisted Trails Zip Rail and Ropes Course and tour 180-foot deep caverns.
Additionally, the massive namesake pink granite dome at Enchanted Rock State Natural Area north of Fredericksburg is steeped in Native American and Texas legend. Activities like guided rock-climbing tours, day and night hikes, yoga, and catered BBQ dinners at the 100-capacity pavilion are great options to get groups working together outside.
[On topic: Texas Meetings Best Barbeque Roadmap]
Designated an International Dark Sky Park (Fredericksburg was also just named an International Dark Sky Community), Enchanted Rock also offers "Rock Star" stargazing parties.  
Green space is abundant in the city as well. Austin's original grid design included central Capitol Square and four secondary squares. These gathering spots were later repurposed for non-public use such as storage and garbage. In 1976, one of the smaller squares was returned to the people and renamed Republic Square in tribute to the Republic of Texas. Newly renovated as an urban green space, the square features daily programming and is available for large-scale events.
Site of the massive annual Austin City Limits music festival, 351-acre Zilker Metropolitan Park features the Zilker Botanical Gardens, Zilker Hillside Theatre and spring-fed Barton Springs Pool.
Hill Country Destinations for Al Fresco Dining and Drinking
Get groups outside the four walls of a meeting room and into more relaxed outdoor settings with these notable fresh-air F&B spots.
County Line on the Hill
Opened in 1975, the original County Line on the Hill in Austin is for slow-smoked BBQ and 25-mile Hill Country views from the 100-capacity private room with two outdoor decks. The County Line on the Lake location offers a 120-capacity party tent and lakeside event lawn. Both cater events.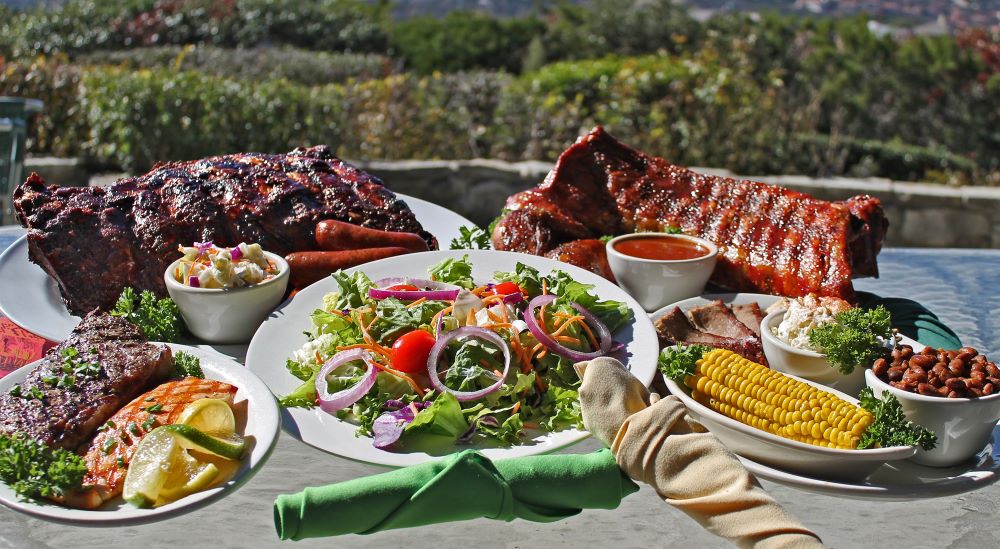 Photo: County Line on the Hill patio; Courtesy of The County Line
Treaty Oak Distilling
Named for the 500-year old tree in Austin under which Stephen F. Austin signed agreements defining Texas's borders, Treaty Oak Distilling uniquely combines its distillery, one of the first in Texas, with a brewery and winery. Located west of Austin in Dripping Springs, the 28-acre property, The Ranch, offers tours, tastings and versatile event hosting.
Becker Vineyards
Nearly half of Hill Country's 50-plus award-winning wineries line along Highway 290, or the Fredericksburg Wine Road 290. Housed in a replica 19th century German stone barn surrounded by lavender fields, Becker Vineyards is among the largest, hosting meetings and events along with customized wine tastings, lunches and dinner celebrations.
Gristmill River Restaurant & Bar
Part of the circa-1840's German-settled Gruene Historic District in New Braunfels, Gristmill River Restaurant & Bar opened in 1977 in the ruins of an 1878 cotton gin. Dining and event spaces include the 140-capacity River Room, with large windows overlooking the Guadalupe River below; tree-nestled River Grove patio; and beer garden.
Texas Rangers Heritage Center
Events at the Texas Rangers Heritage Center in Fredericksburg include cowboy breakfasts, chuckwagon dinners and guided tours of adjacent Fort Martin Scott, the westernmost fort on the frontier.
Connect:
Fredericksburg CVB | 830.997.6523
The Greater New Braunfels CVB | 800.572.2626
Visit Austin | 512.474.5171
Read next: New Expanded Convention Centers